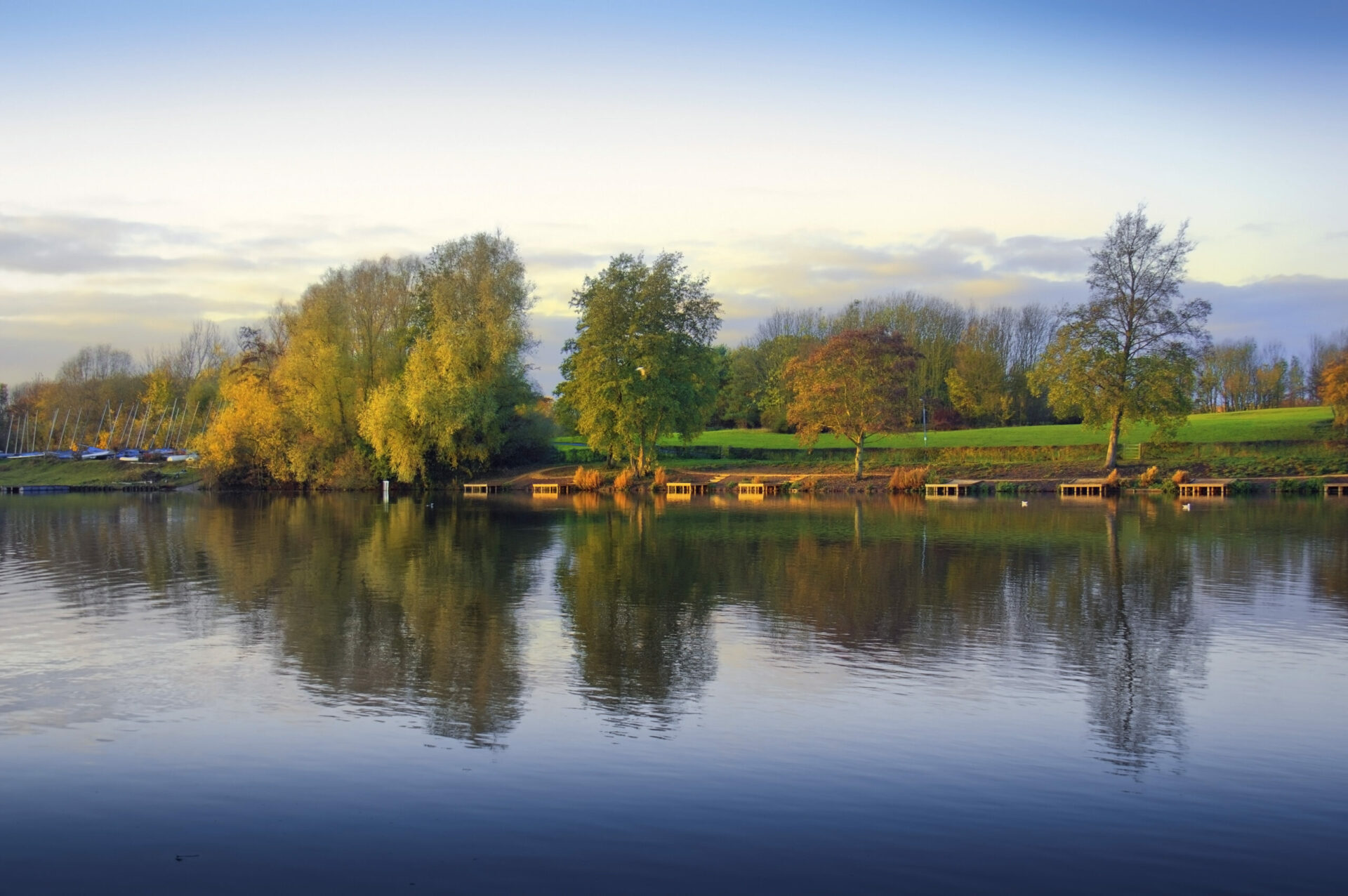 Fishing in Worcestershire
Worcestershire's lakes, rivers, canals and angling clubs will particularly appeal to coarse anglers.
Think of Worcestershire and the River Avon, the Severn, Malvern Hills, the Vale of Evesham and Worcestershire Sauce may well come to mind, not to mention the home of Edward Elgar, Worcester Cathedral and Tewkesbury Abbey.
A delightful county, it offers a variety of fishing including rivers, lakes, reservoirs and canals. The delightful River Avon and its tributaries the Arrow and the Isbourne flow through the county while the mighty River Severn has its feeders the Salwarpe, the Stour and the famous River Teme. They all hold good stocks of fish.
Stillwater coarse fisheries in Worcestershire
There are a host of stillwater coarse fisheries in Worcestershire offering a wide variety of angling. Three large fisheries which are also famous for being major match venues in the county are Woodland View near Droitwich which offers eight pools together with a well-stocked tackle shop, a fully-fitted cafeteria which seats more than 100 anglers; Moorlands at Hartlebury near Kidderminster has hosted prestigious events such as the Kamasan British Open, Drennan All Winners Final, Fish-O-Mania qualifiers, Angling Times Maver Pairs Challenge and NFA Angling Trust National Championships; whilst Larford Lakes near Stourport comprises a specimen, match and mixed pleasure lake, plus some fishing on the River Severn.
Smaller fisheries offer plenty of variety
Of the smaller fisheries, Furnace Mill at Wyre Forest near Kidderminster is reputedly one of Matt Hayes favourite day-ticket coarse fisheries. Comprising four pools on a 27-acre woodland site in the heart of the Wyre Forest, it has a new fishing lodge that sells a range of hot and cold drinks and confectionery together with an increasing range of baits and tackle. Leigh Sinton Fishery near Malvern has been developed over 40 years and is set in a 260-acre site specialising in Christmas trees. The fishery consists of six pools offering a wide variety of species including carp said to run to specimen size.
Broad Acres Fishery at Hanbury near Bromsgrove has been developed since the early 1990s into a four pool match and pleasure venue with its own clubhouse cafe and ladies and gents toilets. Much of the fishery is suitable for disabled anglers and there is ample car parking a short walk from the pools. Hawford Bridge near Ombersley has become renowned locally for its large head of ghosties, common and mirror carp to 20lbs which provide anglers with plenty of sport . The four lakes also hold some impressive perch which top 4lbs. Hawford Bridge also offers a stretch of the River Salwarpe.
Lower Broadheath near Worcester is known locally as 'The Jam Factory' has six pools that offer a mix of pleasure and match angling in waters that hold carp to 35lbs plus decent sized bream and tench, chub to 5lbs, as well as quality roach and perch, crucian carp and even a head of stillwater barbel. Alcott Farm at Weatheroak near Alvechurch is an out-and-out pleasure fishery with three pools which does not hold matches and where there are few rules. The main pool is stocked predominantly with common and mirror carp which are known to run to just over 20lbs but which average between 4lbs and 5lbs.
Willow Farm at Lenchwick near Evesham has three pools which offer pleasure and carp fishing in a woodland setting with carp to 35lbs, perch to 5lbs as well as bream and tench to 6lbs. Brookend Fishing Pools is also a lovely little fishery, set in 8 acres, Brookend is a beautiful place to sit and enjoy the rural peacefulness of the stunning Worcestershire wildlife. Anglers can fish all year round, with a good head of silver fish for the winter and predominantly carp in the summer. 
Clay Farm Fishery is a family run farm offering camping and caravanning as well as 3 lovely pools offering pleasure angling. The biggest of which is the Carp Pool, at 3/4 of an acre it is around 12 feet deep in the middle and holds a range of fishing including Common, Mirror, Crucian and Grass carp, up to 25lbs.
Worcestershire's canal fishing
The most popular canal venues for local anglers are perhaps those found along the Birmingham and Worcester Canal with much of the fishing being controlled by the Birmingham Anglers Association whilst fishing can also be had on the Staffordshire and Worcestershire Canal which links the River Severn at Stourport with the Trent and Mersey Canal in Staffordshire, and the Droitwich Canal was built primarily to carry salt from the spa town of Droitwich to the River Severn.
River fishing for trout in Worcestershire
The Gamefishers Club On the Cradley Brook in Worcestershire, south-east of Worcester, close to Longley Green and Storridge, there are two beats, one about half a mile of double bank wild brown trout fishing and the other about a mile of mostly double bank wild brown trout fishing. On the Leigh Brook in Worcestershire, south-east of Worcester near to Leigh Sinton there is a beat of just under a mile of single bank fishing, and another 200 yards beat further upstream at Batchelor's Bridge: both are wild brown trout and grayling fishing.
Coarse fishing on rivers in Worcestershire
Whilst much of the river fishing in Worcestershire is available through local angling clubs, the day ticket stretch of the River Avon at Anchor Meadow in Harvington has stood out with several catches of barbel to over 16lbs having been taken in recent years.
Stillwater trout fishing in Worcestershire
Bransford Game Fisheries at Worcester has three pools that are stocked with Shasta rainbow trout which average just under 3lbs, although the venue record is just over 18lbs, as well as brown trout between 3lbs and 6 lbs which must be returned if caught. Broad Oak Trout Lakes at Hanley Castle has two spring fed lakes totalling four acres which were designed to have plenty of back-cast room and no unfishable water. Both are stocked with rainbow, blue, brown and tiger trout.
Lenches Lakes at Church Lench near Evesham offers fly anglers fishing for rainbow, blue, spartic and brown trout around the 2lb mark on two mature spring fed lakes of about three acres each. Around the lakes are some 30 fishing stands, many of which have seats. Brockhill Fishery at Redditch consists of two lakes 'which are regularly stocked with brown and rainbow trout from 1lb 8oz to specimen fish well into double figure weights.
In addition to its trout river fishing, The Gamefishers Club offers fishing on the small Mathon Lodge Lake near Malvern which is stocked as required with brown, blue and rainbow trout whilst the Trimpley Anglers Association offers members fishing on Trimpley Reservoir at Bewdley
Coarse fishing clubs in Worcestershire
Although based in Birmingham, the Birmingham Anglers Association has a good selection of stretches on both the River Severn and the River Avon as well as some lakes, pools and canals in the county which are available to members whilst the Evesham and District Anglers Association has fishing in the Crown Meadow and Corporation Meadow stretches of the River Avon in Evesham at a few pounds a day payable on the bank. Another Evesham-based club is the Evesham Jubilee, one of the oldest fishing clubs in the area, which runs the three pool Jubilee Fishery, near Bishampton.
Worcester Angling Society provides a variety of angling to anyone living within 15 miles of the City centre and has a limited number of places allocated to anglers who live outside of this boundary. The society controls three beats totalling about three miles on the River Teme, West Diglis on the River Severn and three beats on the river Wye near Ross-on-Wye. It also owns a pool at Brockamin near Leigh.
The Worcester based Wards 84 Angling Club has a stretch of the River Teme at Bransford Bridge and pools at Grove Farm which offers fishing for specimen carp and at Wards Pool, a mixed fishery. Another Worcester club is the St Johns Angling Society which has five pools plus a stretch of the River Teme and River Severn.
Fishing tackle shops in Worcestershire
Whilst several of the larger fisheries in Worcestershire have their own tackle shops there are also dealerships in most of the major centres including Worcester, Kidderminster, Redditch, Pershore, Bromsgrove, Droitwich, Bewdley, Evesham and Stourport on Severn.
Search by Region or County
Find new places to go fishing in your local area or county by choosing your destination below