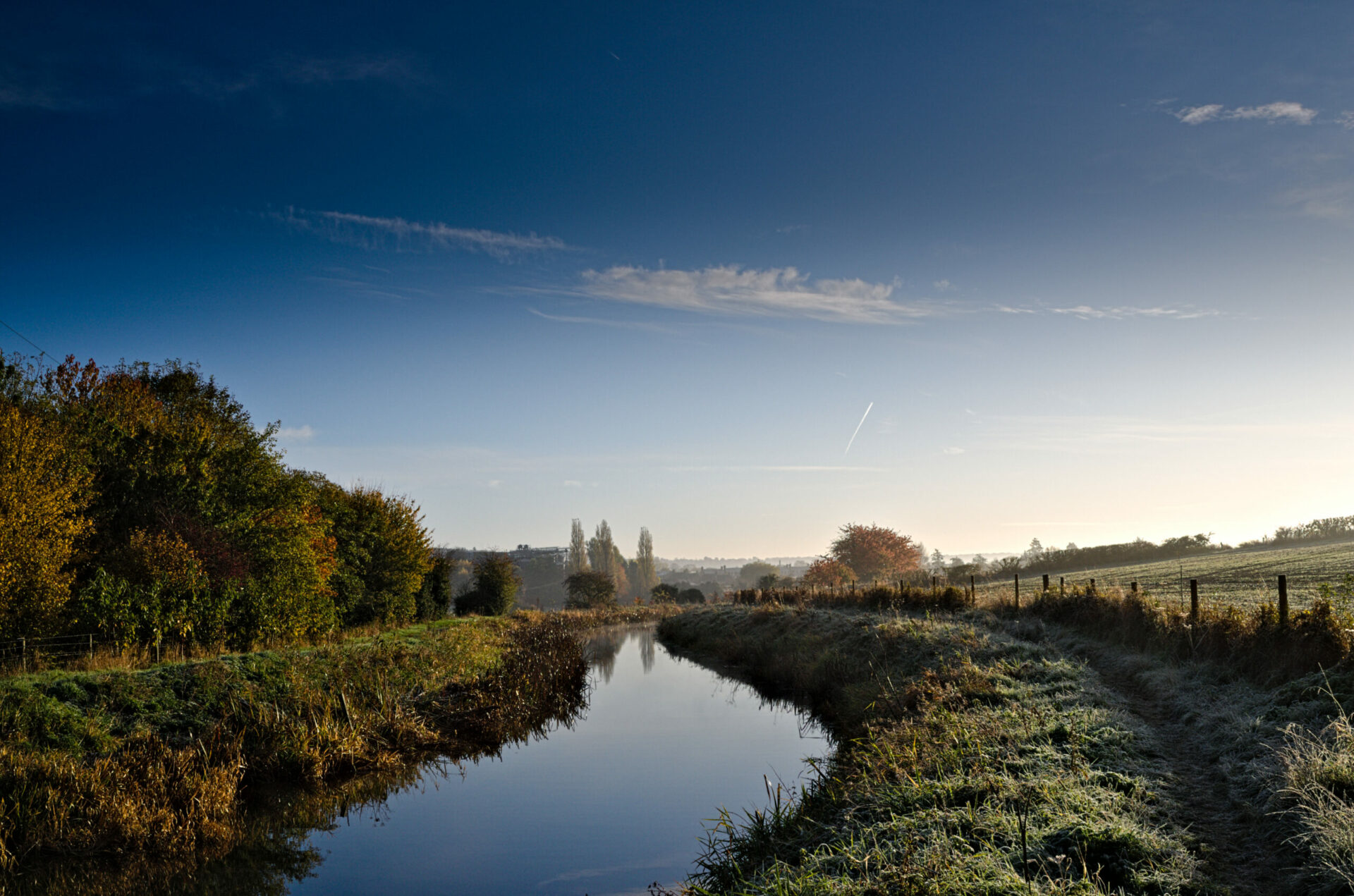 Fishing venues in Hertfordshire
Hertfordshire offers angling on a large number of commercial fisheries, rivers, lakes and canals.
Hertfordshire – watershed of the rivers Lea and Colne
Renowned for the beautiful Chiltern Hills, Hertfordshire is the watershed between the two river valleys of the River Lea and the River Colne, both of which flow south. Its major towns and cities include Stevenage, St Albans, the county town of Hertford, Luton, Hitchin, Welwyn Garden City, Berkhamstead, Hemel Hempstead, Harpenden, Watford, Potters Bar and Bishops Stortford.
There's a lot of water in Hertfordshire!
It is said that, for a landlocked county, there is a lot of water in Hertfordshire with its abundance of rivers, lakes and canals – which means there are a lot of places where you can go fishing.
The River Lea and River Colne
The 68km long River Lea runs from its source near Luton, through much of Hertfordshire and on to its confluence with the River Thames near Bow. Although it was once a natural river, it has been greatly canalised to provide a more manageable waterway for local industries along its route. The county's other main river, the River Colne, is also a tributary of the Thames. Just over half of its18km length runs through Hertfordshire.
Hertfordshire trout fishing in river and lake
Although the county is not well endowed with trout fishing there are several lakes and angling clubs with stretches of river reserved for fly fishing for wild brown trout. The Amwell Magna Fishery at Ware controls a stretch of the River Lea which was allegedly fished by none other than Izaak Walton in the 17th Century. Indeed, the club claims to be the oldest angling club in Britain which still fishes the same water as when it was set up.
Fly fishing on the River Rib
Another group which has river fly fishing is the Latchford Fly Fishers which has a three acre trout lake in Ware and a stretch of the River Rib reserved for brown trout fly fishing. The Redbournbury Fishery near St Albans has river fishing for wild brown trout that can be fished for on a Catch and Release day ticket from the beginning of March to the end of September together with a trout Lake which is open all year round for fishing for rainbow trout. In addition the fishery has a coarse fish lake which is available on day ticket and holds silver fish and carp to 22lbs.
Well known fisheries in Hertfordshire
One of the well known fisheries in Hertfordshire is Rib Valley Lakes, again at Ware, which offers fishing for trout and coarse fish with trout fishing on its five acre Millenium Lake and coarse fishing on three lakes. In addition, the fishery controls a stretch of the Rib which again offers coarse fishing. One of the largest fishing clubs in Hertfordshire must be the Verulam Angling Club which controls a variety of coarse fishing on rivers, lakes, gravel pits and canals as well as offering waters dedicated to fly-fishing for trout. Night fishing is available on a number of its venues.
River, lake and canal fishing in Hertfordshire
The Watford Piscatorials provides coarse fishing in and around Watford on at least four attractive lakes within five miles of Watford as well as fishing on the Grand Union Canal and stretches of the rivers Gade and Colne. The Boxmoor and District Angling Society has still water and river fishing for coarse fish at several venues around Hemel Hempstead, Watford and Stoney Stratford with membership being open to anyone living within 10 miles of Boxmoor, although a limited number of memberships are available to anglers living further away.
The Luton Angling Club has a range of venues including several lakes, stretches of river and more than 12 miles of the Grand Union Canal whilst the Bishops Stortford Angling Society controls fishing on four lakes, one close to the town centre and the other three in Great Hallingbury. It also has stretches of the River Stort at Bishops Stortford and Harlow. In addition there are other coarse angling clubs in Berkhamstead, Shefford, Royston, Rickmansworth, Barnet, Chipping Barnet, Borehamwood, Barnet and Waltham Cross.
Commercial coarse fisheries in Hertfordshire
As though that's not enough fishing for one county there's also a mass of commercial and privately run fisheries which are available to coarse anglers in Hertfordshire. At Holyfield Carp Lakes in Waltham Abbey anglers can choose from two carp lakes which hold specimens to over 36lbs and a match lake, plus a stretch of the relief channel which joins the River Lea.
At Waltham Abbey, Nazeing Meads has three large lakes covering 125 acres which were developed for the Lee Flood Relief system plus a small two and a half acre gravel pit. The main lakes hold monster specimen carp dustbin lid specimen bream. At Wormley, the five acre Turnford Complex Railway Pit is predominantly a carp lake with specimen fish to over 40lbs and a good number in the 20lb to 30lb range.
This heartbreak is an angler's dream
At Broxbourne, Carthagena Fishery, Brooke Lake is possibly one of the oldest gravel pits in Hertfordshire. Despite its former name of Heartbreak Pit, this five acre lake is a carp angler's dream whilst at Cheshunt the 35-acre Bowyers Lake holds specimen carp with the majority of fish being over 30lbs as well as tench, bream, pike and other silver fish. Stanstead Abbots' Amwell Fishery comprises two of the most picturesque waters in the Lea Valley.
Hertfordshire is well served with fishing tackle shops
Hertfordshire is well served with fishing tackle shops with tackle dealers in all the major centres including Welwyn Garden City, Watford, St Albans, Hatfield, Baldock, Waltham Cross, Luton and Stevenage.
Search by Region or County
Find new places to go fishing in your local area or county by choosing your destination below