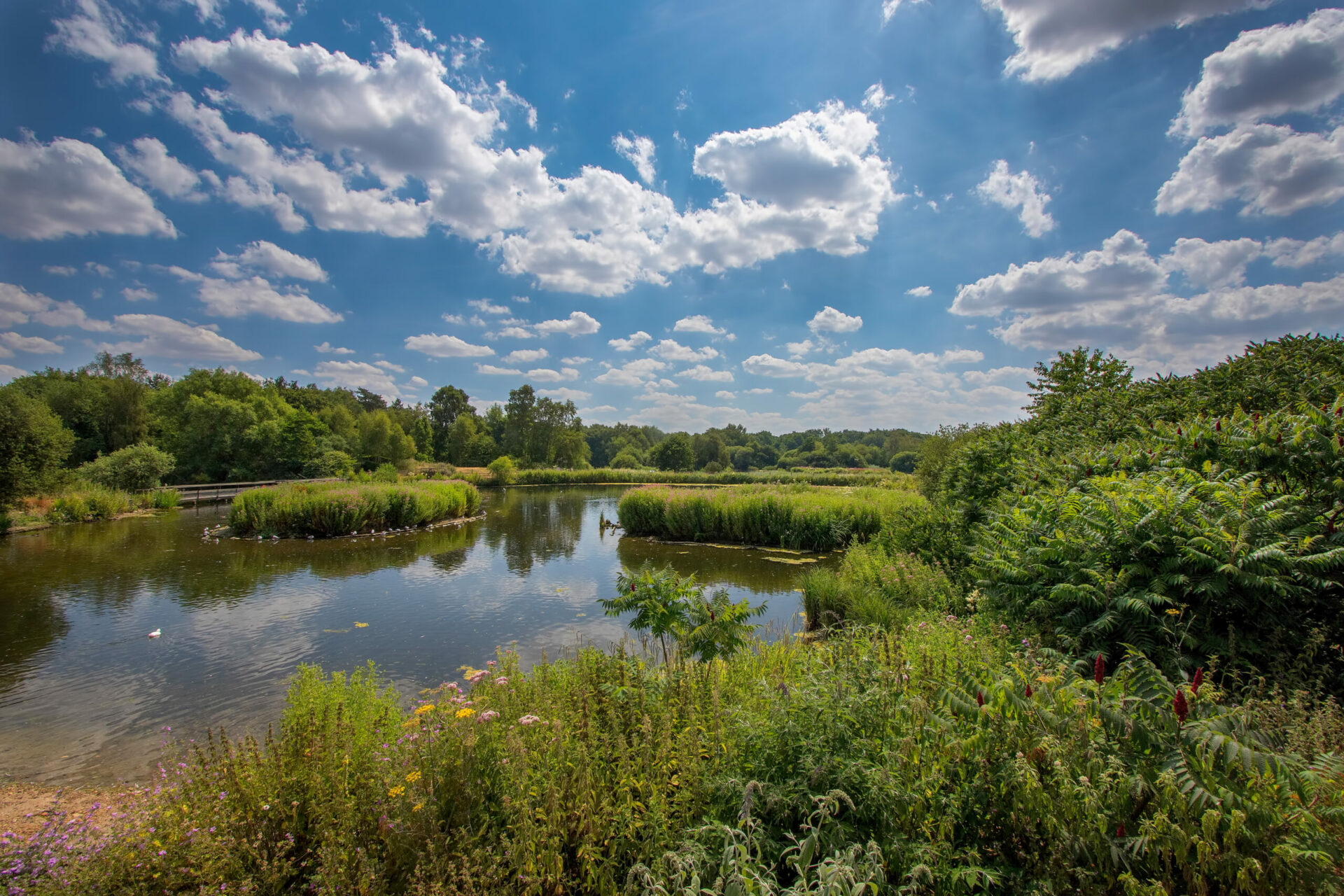 Where to go fishing in Suffolk
The county of Suffolk features a diverse selection of lakes, as well as the River Waveney which flows through the area.
Renowned for its historic pink-washed cottages, the town of Newmarket which is the headquarters of British horse racing and Felixstowe, one of the largest container and ferry ports in Europe, Suffolk's is home to the River Stour which forms part of the Dedham Vale Area of Outstanding Natural Beauty which is also called Constable Country.
Other major fishing rivers include the River Waveney which forms the boundary between Suffolk and Norfolk; the River Deben which flows through largely unspoilt countryside for nearly 25 miles from its source near Debenham to the North Sea at Felixstowe Ferry; The River Alde; the Ore; the Blythe and the River Little Ouse. Because of Suffolk's low-lying countryside, stretches of many of these are tidal.
River fishing in Suffolk
When it comes to coarse river fishing in Suffolk the main river is the River Waveney where the North Cove and Barnby Angling Club offers two miles of fishing with the predominant coarse species being bream, pike, perch and roach. For trout anglers, the Lark Angling and Preservation Society has about eight miles of fly only water on the River Lark, the only remaining designated chalk stream in Suffolk, which is stocked annually with brown trout. There are also a number of wild brown trout which are easy to identify but which must be returned. For coarse anglers, the stretch also holds carp, chub, pike, dace, roach, rudd, tench and perch.
Stillwater trout fishing in Suffolk
For stillwater trout anglers, Willow Lakes is a family owned fly fishing fishery in Chediston, near Halesworth, which allow fishing on two lakes for hard fighting rainbow and brown trout which are stocked weekly to 6lbs whilst Larkwood Trout Fishery at Bury St Edmunds has two lakes of about three acres each which are stocked daily with rainbows and 'home grown' brown trout in season. There is a lodge on site.
South Elmham Lakes at Saint Cross South Elmham has three spring fed fly fishing lakes stocked with rainbow trout to just under 13lbs and brown trout to 12lbs. Whilst anglers can take home the rainbows the brown trout must be returned to the water.
Coarse fishing in Suffolk
One of the biggest coarse fisheries in the region is Suffolk Water Park at Bramford which has five fishing lakes containing most still water coarse fish species with its Big Lake holding carp to 40lbs and pike to 20lbs. Hermitage Fisheries at Sudbury has three lakes with fishing for common and mirror carp and silver fish whilst Broome Pits comprises four former gravel pits, the largest being 14 acres in size, on Suffolk heathland near the Norfolk border. A nice 'big fish' water, Broome holds carp to over 40lbs as well as large tench, bream and roach.
More specimen carp fishing in Suffolk
With a total of four lakes, Hintlesham Fisheries near Ipswich offers fishing for specimen carp to over 30lbs and catfish to over 20lbs, Bromeswell Lakes near Woodbridge comprises four lakes, the most popular of which is Horseshoe Lake,which holds plenty of carp over 20lbs as well as tench, roach and rudd. The Harleston, Wortwell and District Angling Club manages the six Weybread Pits fishing lakes in the Waveney Valley, together with some stretches of the River Waveney itself. Two of the lakes and the river can only be used by members whilst the other four lakes are day ticket waters. The pits vary in size from the small Club Pit to to 100 acre Ocean Pit.
Medieval fishing lakes
Hawstead Fishing Lakes two miles south of Bury St Edmunds dates back to medieval times and offers three and a half acres of water in an ancient parkland which holds carp to over 30lbs as well as fishing for tench, roach, bream and perch. Somewhat younger is the Norton Fishing Lake near Bury St Edmunds which has an attractive specimen carp lake and a match lake, both of which are growing in popularity due to the quality of fishing and the stamp of fish. Creeting Lakes at Creeting St Peter near Stowmarket has three lakes, two of which are general fishing lakes, and a carp lake with fish from 10lbs to 25lbs
Fishing with the saints
St Genevieve Lakes comprises three lakes and is named after the delightfully sounding nearby village of Fornham St Genevieve. St Genevieve's Lake is the oldest and most mature lake on the estate at over 20 acres in size and holds carp to over 30lbs. The 12-acre St Martin's Lake is the newest lake on the complex and holds carp over 25lbs whilst All Saints Lake is a former silt pond of about six acres with fish to just under 30lbs.
Fishing tackle shops in Suffolk
There are a good number of fishing tackle shops in Suffolk with several in the major towns of Ipswich, Bury St Edmunds, Felixstowe and Newmarket as well as the smaller towns of Beccles, Saxmundham, Southwold, Woodbridge, Sudbury and Lowestoft.
Search by Region or County
Find new places to go fishing in your local area or county by choosing your destination below