Lower Broadheath Fishery
The six pool Lower Broadheath is a productive venue offers a mix of pleasure and match angling in waters which hold carp to 35lbs plus big bream and decent sized silver fish.
Lower Broadheath Fishery
Ample parking near many pegs
Ticket money collected on the bank
No spectators allowed - anglers only
Night fishing by advanced booking
Suitable for pole, waggler and leger fishing
Match record just under 300lbs
Corn and meat baits very effective
Floating baits not allowed
Open from 6.30am until 7.00pm in summer
Known locally as 'The Jam Factory' because it can be found down a track behind a former jam factory off the main Worcester to Tenbury road, Lower Broadheath Fishery is an example of how success breeds success.
History of Lower Broadheath Fishery
The venue started life in 1985 as an old irrigation pool which was bought by dairy farmer John Jordan who owns the land which overlooks the fishery. Having bought what is now known as Old Pool, John found he was increasingly being asked by anglers if they could fish the water. When he realised its fame was spreading he decided to build a second pool to cater for the increased demand for angling.
As a result there are now six pools at the fishery which offers a mix of pleasure and match angling in waters which hold carp to 35lbs plus big bream and tench, chub to 5lbs, decent quality roach and perch fishing, crucian carp, rudd and even a head of stillwater barbel. The average depth of all pools with the exception of Elgar Pool is about 10 feet.
A busy venue at weekends
For many of the regulars, one of the attractions of Lower Broadheath is that you never know what you are going to catch. However, because Lower Broadheath is a popular match water, it is often busy at weekends, although there is usually a good choice of available pegs mid-week when the venue is quieter.
Although the floating bait ban may seem unusual, this is a practice being introduced by several fisheries as inexperienced anglers who fish floating baits tend to strike at a take as they would a submerged bait. As there is little or no water resistance, the resultant strike can often severely damage a carp's mouth. Anglers should also be aware that, because there are a lot of good sized carp in all the Lower Broadheath waters, they may need to scale up their line strength.
Facilities and night fishing
In addition to new ladies and gents toilets, the fishery has also recently introduced night fishing when anglers can use two rods for a charge of £25.00 for a 24-hour session. All night fishing must be booked in advance. For day ticket anglers, the fishery is open from 6.30am until 7.00pm in summer and from daybreak until dusk in winter. In summer the gates are locked at 7.00pm.
Sycamore Pool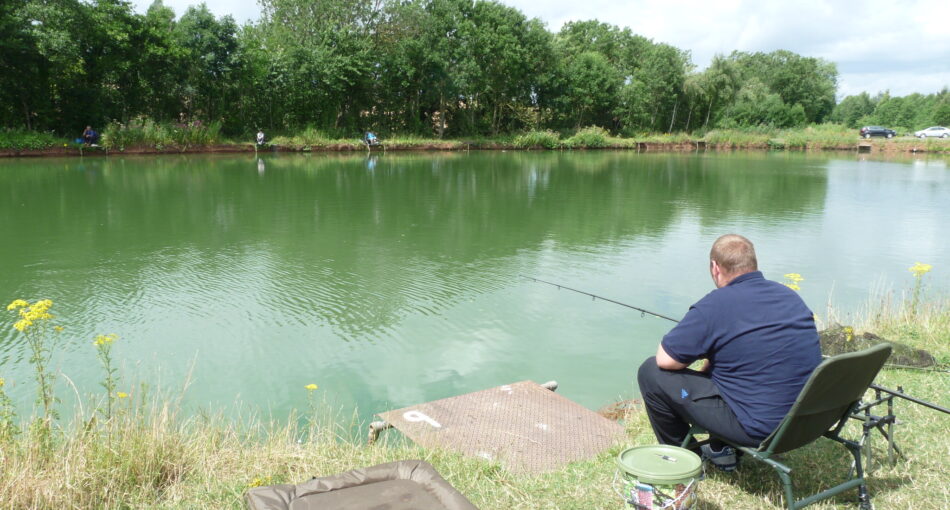 Probably the largest mixed fishery on the Lower Broadheath site, Sycamore Pool is suitable for pole, waggler or feeder fishing and offers a good selection of fish including carp, bream and tench to over 8lbs, some big roach, chub to 5lbs and even the occasional barbel. Because of this it is an ideal venue for anglers of all abilities and no matter which technique you choose you are likely to catch a net of decent fish.
Venue match record
Sycamore now also holds the five-hour match record for Lower Broadheath following Scott Smith's impressive performance when he took an all-carp bag weighing 291lbs 6oz. Scott fished sweetcorn over pellets to take the new record from Peg 20.
Just as impressive were the back up weights – with the top 14 placed anglers all weighing in with over 100lbs! Second place was taken with 230lbs 8oz, third with 224lbs 6oz and fourth with 216lbs 0oz. On the same day, a match fished on Willow Pool was won with 219lbs 8oz with second place coming in with 195lbs 10oz and third place with 148lbs 13oz.
Fishing on Sycamore Pool
As with all the Lower Broadheath waters, the far side of the pool nearest the stream which runs along the fishery boundary offers the deeper water with the bottom sloping gradually to a maximum of about 10 feet when viewed from the entrance side of the water. Because it is a good mixed fishery, nearly all techniques work well, although when the fish are in the deeper water the pole and feeder are probably most popular.
Corn and meat baits are the most predominantly used, although chopped worm often provides excellent results particularly if you bait the swim well. Fishing maggots on the waggler is also popular and productive, but this technique runs the risk of attracting some of the smaller nuisance fish such as small roach, rudd, perch and skimmer bream.
Old Pool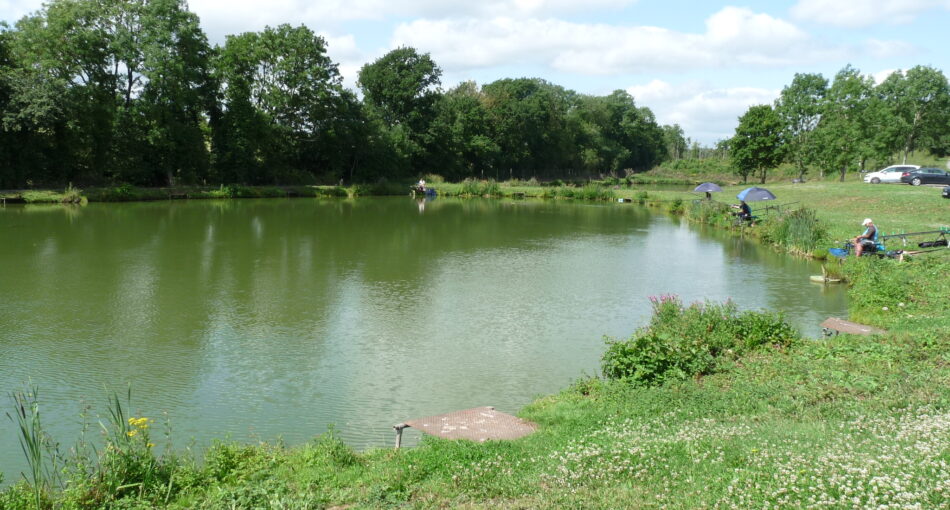 The original Lower Broadheath Pool
With a backdrop of trees, Old Pool is the original fishery at Lower Broadheath and holds the venue's biggest carp, some of which are reported to run to over 30lbs.
Particularly popular with pleasure anglers, Old Pool is predominantly a carp and roach pool. Shallower at both ends where there is about six or seven feet of water, the bottom falls to between 10 and 12 feet in the centre whilst off Pegs 20 to 23 there is about 10 feet of water. There is also a deep hole off the end of the jetty, although this is so small that it is not worth finding.
Although sweetcorn, luncheon meat and worm are the most popular baits, many of the anglers visiting Old Pool are now having success with most exotic offerings including some of the new flavoured baits. As one would expect, maggots are a popular bait but again these can have the drawback that they attract smaller nuisance fish and can lead to irritating false bites. However, these small fish can often have the benefit that the disturbance they cause attracts the larger fish which push them out of the swim and can lead to some excellent catches.
Willow Pool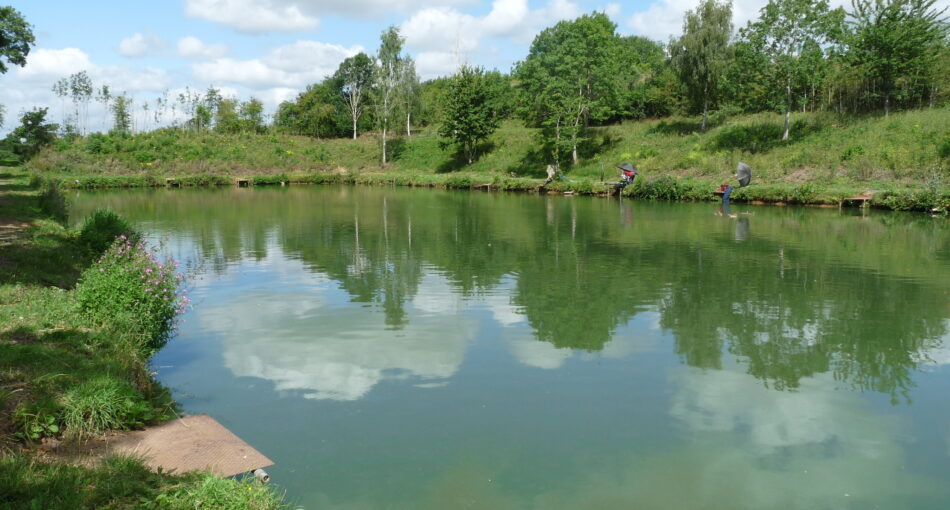 Home to a great number of big fish, Willow Pool is one of Lower Broadheath's main competition waters and until July 2005 held the fishery match record with a 231lbs 2oz haul taken in July 2003 – a record which still stands for the water. Generally deeper than Old Pool with an average depth of about 12 feet, Willow is deeper at the Old Pool end than at the Ash Pool bank where between six and seven feet of water can be found between five and seven metres out.
A favourite amongst anglers
Widely regarded as 'everybody's favourite' because of the general stamp of the fish, Willow holds a good head of quality carp to over 20lbs plus some good tench and, until recently, bream between 4lbs and 5lbs. Whilst the bream were a common sight, these have not shown as often in the past couple of years. Although the tench tend to average about 3lbs there are a good many fish a lot bigger than this as well as a good head of decent rudd and Orfe running to 4lbs.
Ash Pool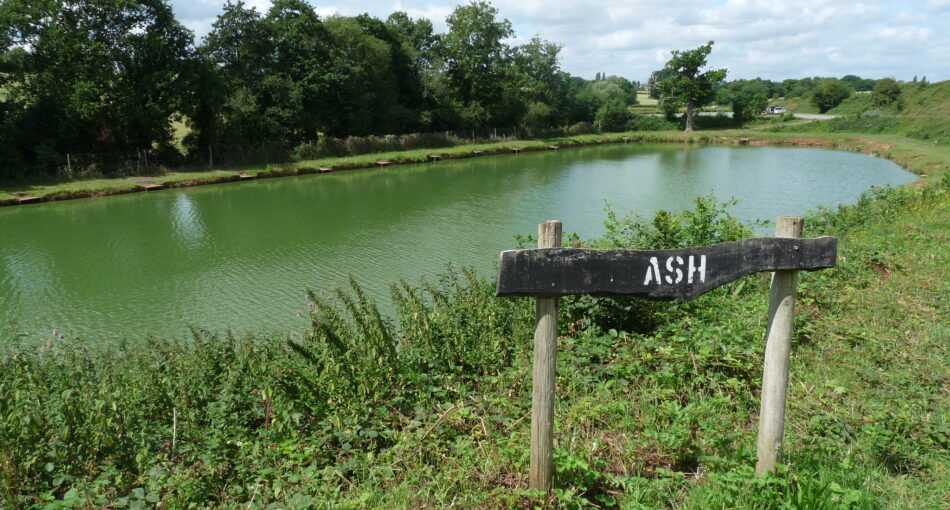 According to some anglers there are more big fish in Ash Pool than any of the other Lower Broadheath waters and with carp to over 20lbs and some big ghosties, plus a decent head of good sized tench and bream, there's certainly plenty to go at. Again, like the other pools, Ash is quite deep with six feet of water four to five metres out falling to just over 10 feet in the centre.
Fishing on Ash Pool
Whilst the pole is again a popular method for fishing this water, the feeder works well as does waggler fishing, although it is not usually necessary to fish far out as good catches can be taken near the side.
Indeed, many anglers fishing Ash Pool prefer the tried and tested technique of fishing two rods with one fished in open water and the other dropped down the margin – a cracking method for picking up the patrolling carp, particularly in the summer months when they swim up and down under the banks picking up anglers discarded bait.
Island Pool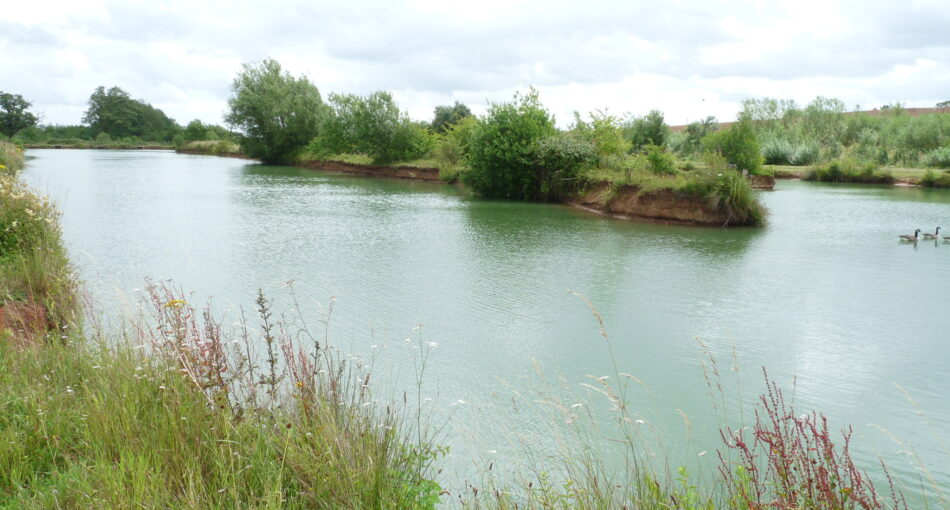 A pleasure water with over 300 double figure fish, Island Pool offers plenty of space for Club matches and plenty of fish for the competitors – so much so that even when not being fished for matches it is a popular pleasure water and well worth a visit. The largest known fish to come out of Island Pool to date was a 32lb 9oz common carp caught by Colin Corbett early in 2005 on luncheon meat.
Where to fish on Island Pool
Although Island is well-established, it seems that over the past couple of years this pool has really come into its own with most anglers preferring to fish along the two main banks, rather than either end of the pool, where there is a ledge which runs the length of the pool. Although it is traditional in waters like this for people to fish on top of the ledge, that doesn't seem to work on Island and the most favoured technique is to fish a small ledger down the face of the ledge where it runs into deeper water.
Fish to catch on Island Pool
Plenty of bankside parking at Island PoolIn addition to the usual mix of carp, roach, rudd and some tremendous crucian carp, Island Pool is also home to an unusual blue strain of carp which have been nicknamed 'Blueys' because of their colouring. These fish have a reputation for fighting three times as hard as conventional carp with anglers likening them to a double decker bus once they get going! In addition there is a small head of shubunkins up to 2lbs plus and some koi carp. As may be expected, the most favoured techniques for fishing Island Pool is the pole with sweetcorn, luncheon meat, chopped worm and maggots again being favoured baits.
Elgar Pool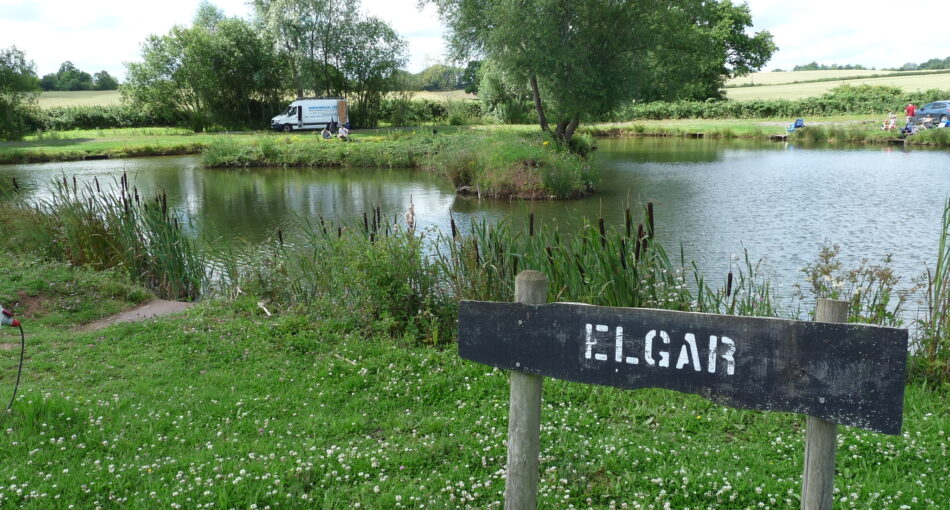 The smallest of the Lower Broadheath waters, Elgar Pool has matured nicely and was given its name because it is the water nearest to the birthplace of Edward Elgar, the world-famous composer, which is just over the hill from the fishery. Although Elgar is only small at about three-quarters of an acre in size, it holds some big fish and is well-worth the trip to the far end of the fishery if the other pools are looking busy.
17 pegs to choose from
Ranging in depth between six and eight feet and offering 17 well-spaced pegs, Elgar has a reputation for its large roach as well as common, mirror and crucian carp. In addition, there are a lot of rudd in the water which offer great sport, particularly in summer when fishing for them just under the surface with caster certainly provides an entertaining few hours! Those after the bigger fish are advised to fish pole or waggler using sweetcorn, luncheon meat or chopped worm.
Prices
Day and afternoon ticket prices are for one rod, an additional rod is charged at £2.00 for all anglers. Two rods maximum. 24-hour tickets cover two rods and must be booked in advance. In summer the gates are locked at 7.00pm and re-opened at 6.30am. Anglers must pay for their tickets with the correct money as change is not given.
Day tickets

Adults
Jr/OAP/Disabled
Day Tickets

Day Tickets
10.00
8.00
Half Day (from 2pm)

Half Day (from 2pm)
8.00
7.00
24hrs (two rods)

25.00 (30.00 for three rods)

25.00 (30.00 for three rods)

24hrs (two rods)
25.00 (30.00 for three rods)
25.00 (30.00 for three rods)
Rules and conditions
Trout pellets, trout pellet paste, groundbait and liquidised baits of any kind are not allowed and the maximum permitted hook size is Size 8.
Only carp pellets, maggots, worm, casters, luncheon meat, sweetcorn, hemp, cheese, prawn, bolilies on the hook and sinking bread can be used for hookbait. Keepnets can be used although anglers should return fish over 5lbs to water after unhooking.
Because of the possible danger to other anglers and animals, luncheon meat, sweetcorn and other tins should not be taken onto the fishery, and should instead be pre-prepared.
Lower Broadheath is an 'anglers only' fishery – spectators are not allowed.
How to get there
Lower Broadheath Fishery can be found off the B4204 Worcester to Martley, behind the Senoble Bakery
Turn into the complext with signs for Elizabeth the Chef, Senoble Broadheath and Vandemoortele.
Continue towards the rear of the bakery, at the Senoble reception turn right and continue to a sign directing you to 'fishing'
Do not follow satnav unless you use wr2 6rf
Get directions on Google Maps
Comments