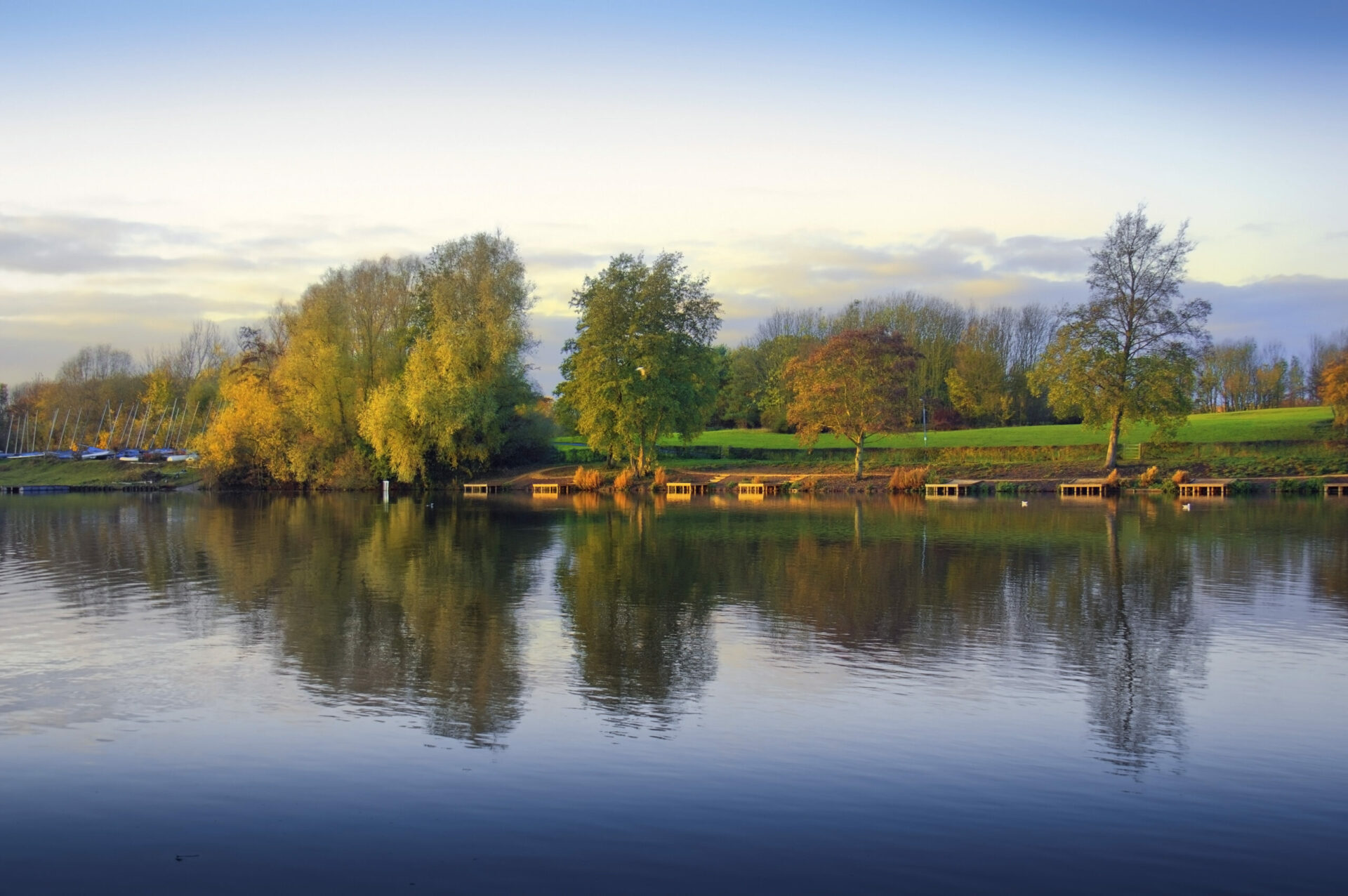 Fishing in Northamptonshire
Northamptonshire features several substantial lakes and resevoirs, some of which are considered top in the country, as well as miles of waterways.
Northamptonshire is home to some of the most iconic fisheries in the country with miles of rivers, canals, reservoirs, lakes, former gravel pits and commercial day ticket fisheries. In addition to several nationally renowned day ticket stillwater fisheries with a reputation for big fish there are also well-known venues including the Grand Union Canal, the River Great Ouse and the River Nene.
Trout fishing in Northamptonshire
Although there is little fishing for trout on rivers in Northamptonshire there are a handful of quality day ticket stillwaters. These include the nationally renowned Pitsford Water reservoir between Northampton and Leicester which has a reputation for double figure brownies; the 50-acre spring-fed Elinor Trout Fishery and nearby Ringstead Grange where there is a Camping and Caravan certified site near to the fishery. Ravensthorpe Reservoir is a114-acre Victorian reservoir run by Anglian Water which offers anglers trout and predator fishing from the bank, boat, kayak or float tube.
Coarse fishing in Northamptonshire is a different story
However, it's a different story when it comes to day ticket coarse fisheries with venues galore spread throughout the county, including some national names famous for big carp, bream and decent sized tench.
The famous Billing Aquadrome
Billing Aquadrome, famous for its monster bream, has four well stocked lakes and a stretch of the River Nene which are available on day ticket. Grendon Lakes comprises eight lakes set in 150 acres whilst Castle Ashby Fisheries has three waters between Grendon and Castle Ashby. Stanwick Lakes Fisheries is a 46-acre complex comprising six mature lakes adjacent to the eastbound carriageway of the A45 between Wellingborough and Thrapston.
Bluebell 'big fish' venue
Perhaps one of the most famous 'big fish' venues is Bluebell Lakes at Tansor near Oundle which until recently was home to two 60lb carp including 'Benson' whose was so famous amongst anglers that his death made the national news. Despite this loss the venue is still home to carp to over 50lbs and well as specimen sized silver fish including bream and tench. At Nether Heyford is Dennetts at Heyford whose Snake Lake is one of the UK's first ever canalised lake making Heyford Fishery one of the first ever true commercial fisheries in England.
Dynamic Drayton and Boddington reservoirs
Another nationally renowned venue is Drayton Reservoir whose owners the Canal and River Trust say if arguably one of the best easy carp fisheries in England whilst at Byfield its Boddington Reservoir is a popular bagging-up water for pleasure and match anglers alike.
Fishing Northamptonshire County Council park lakes
Northamptonshire County Council also allows day-ticket fishing on a few of their country parks including Barnwell Country Park, Fermyn Woods and at Sywell Reservoir which is regarded as one of the country's leading tench fisheries.
Angling clubs in Northamptonshire
The Wellingborough and District Nene Angling Club has a great variety of venues from large scale gravel, clay and sand pits to stretches of the River Nene and Ouse, the Grand Union Canal and several estate lakes and private fisheries whilst the Northampton Nene Angling Club has a variety of waters in the River Nene, The Grand Union Canal, The River Great Ouse plus a handful of still waters.
Fishing tackle shops in Northamptonshire
With such a wealth of fisheries in Northamptonshire it's not surprising there is a decent number of fishing tackle shops in the county. Several of the major fisheries have their own on-site tackle shops whilst there are several outlets in Northampton itself as well as Kettering plus dealers in the towns of Wellingborough, Corby, Daventry, Milton Keynes, Rushden and Earls Barton.
Search by Region or County
Find new places to go fishing in your local area or county by choosing your destination below