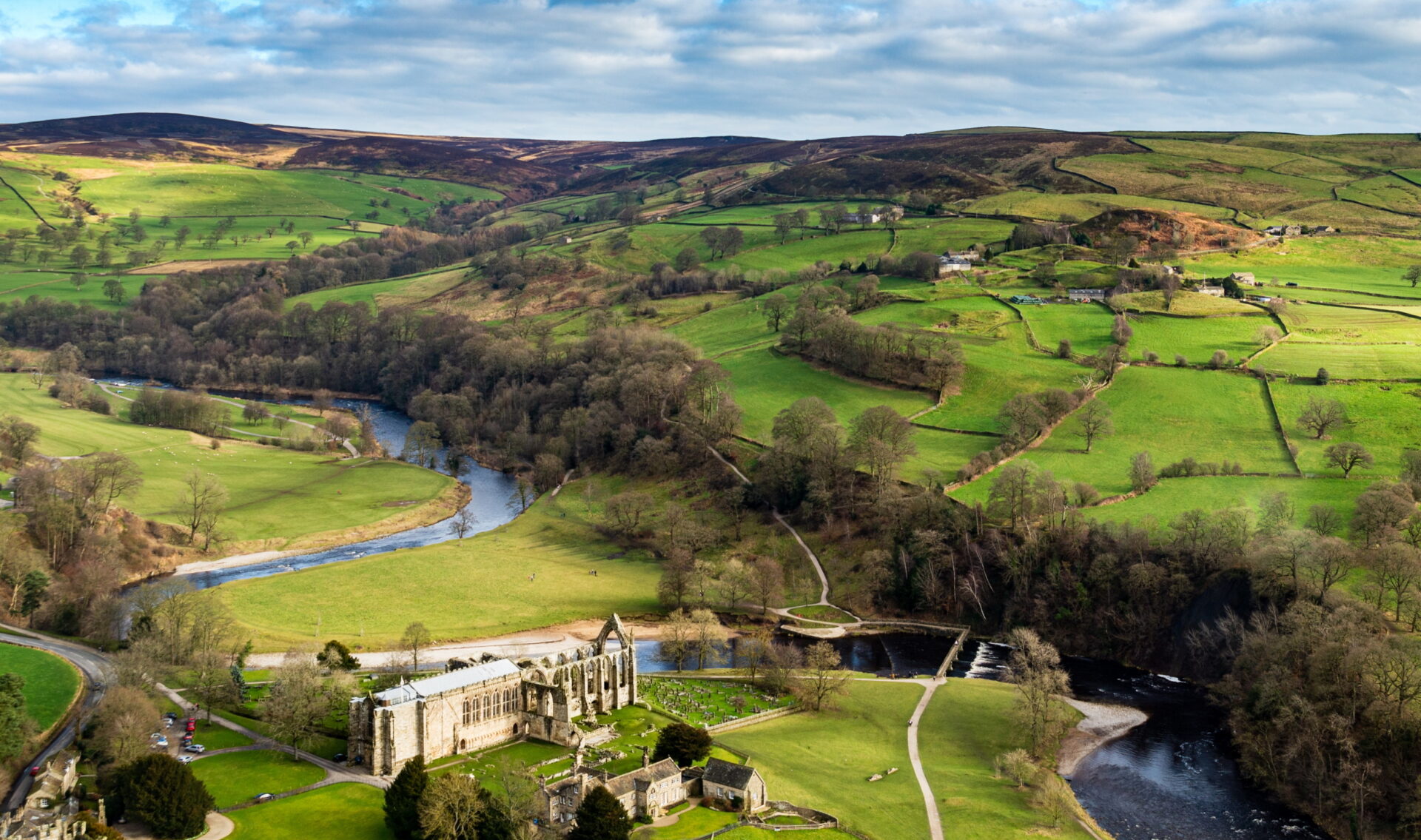 Fishing in Yorkshire
Yorkshire features a wealth of clubs, plus a vast number of commercial fisheries to accommodate anglers looking to fish in the county
Yorkshire, the UK's largest county by area, offers a huge number of opportunities for the angler with river, lake and reservoir fishing, angling club memberships, canal fishing and a host of day-ticket commercial coarse fisheries. Whether coarse fishing or game fishing, there's something for everyone in what the locals call 'God's own county'.
The rivers of Yorkshire
Home of the Yorkshire Dales, the North Yorks Moors and part of the Peak District National Park, Yorkshire's rivers include the River Tees and smaller River Esk to the north; the River Ouse and its tributaries the Derwent in the north and the Swale, Ure, Nidd, Wharfe and Aire in the centre of the county while further south there's the River Don. All in all they offer mile upon miles of quality fishing for trout and coarse fish alike.
Stillwater trout fisheries in Yorkshire
In addition to fishing for trout in many of Yorkshire's river there are also a host of stillwater trout fisheries in the county. These are just a few of what's available. Maran Lakes, also known as Marston Wyse Trout Farm at Long Marston near York, has five lakes which each offer a different challenge for rainbow and brown trout.
Run by the Nidderdale Angling Club, Scar House Reservoir at the head of the River Nidd is remote but stunning and provides day-ticket fishing for brown trout from the bank with the option of fishing for brown trout and grayling on the River Nidd in the valley below. Because of its moorland location, the reservoir is best fished on calm days.
Trout fishing in the Yorkshire Dales
Coniston Hall Lake between Gargrave and Hellifield in the south west corner of the Yorkshire Dales is run by Coniston Hall Hotel and stocked with hard fighting rainbow trout. The lake can become very weedy from June to September so it is often classed as an early season venue.
Plus a few more
Low Osgoodby Grange has brown and blue trout varying in size from 1lb to 5lbs; the four-and-a-half acre Helwith Bridge Fly Fishery close to Ingleton and Settle in the Yorkshire Dales is stocked with triploid trout, blue trout, golden trout and rainbow trout between 2lbs and 14lbs; the Barnsley Trout Club offers 40 acres of trout fishing near Penistone; and the Kilnsey Park Estate Fly Fishery in Upper Wharfedale has two spring-fed lakes which are stocked with fish from 2lbs to over 20lbs.
Angling clubs in Yorkshire
Yorkshire is well blessed when it comes to angling clubs with many of them offering day ticket fishing on their waters as well as full membership. The Leeds and District Amalgamated Society of Anglers offers individual and affiliate membership for fishing more than 40 waters. Members automatically gain membership to The Anglers Club social club in Leeds. Amongst the clubs waters are a stretch of the River Aire at Ferrybridge; a stretch of the Aire and Calder Canal plus lake fishing at Moor Monkton Pools, three lakes at Kippax Park near Kippax, Knotford Lagoon at Otley, Sandwich Lake at Church Fenton and Highfield Fishery near Barwick in Elmet.
The York and District Amalgamation of Anglers encompasses 10 individual clubs and has over a thousand members. It has fishing on more than 20 stretches of Yorkshire river fishing on the Yorkshire Ouse, the River Derwent, River Nidd, River Foss, River Rye and River Seven (not the River Severn!); The Pocklington Canal and the Selby Canal plus11 miles of fishing on the Aire and Calder Canal and seven stillwaters, each with their own individual character.
The Wetherby and District Angling Club has fly and coarse fishing on stretches of the River Wharfe at Collingham and Wetherby, the Aire and Calder Canal and Sicklinghall Ponds at Wetherby. The club also has an agreement with the Ilkley Angling Association which allows limited numbers of members from both clubs to use each other's waters free of charge. The Ilkley AA has game and coarse fishing on the River Wharfe at Ilkley and ponds at Ben Rhydding.
The Wakefield Metropolitan Angling Club has waters near Wakefield and Harewood. At Wakefield, as well as fishing at Bretton Lower Lake, the club has over half a mile of mixed fishing for coarse fish and trout on the River Calder at Stanley. Near Harewood it has a short stretch of the River Wharfe and fishing on two small ponds which are stocked mainly with carp.
The Middlesbrough AC has stretches of the River Tees and the River Leven as stillwaters at Hutton Rudby Ponds and Marske Reservoir. The Darlington AC has fishing on several stretches of the River Tees, whilst the Huddersfield AA has trout fishing on reservoirs near Holmfirth.
There are many other angling clubs in Yorkshire including the Driffield AC, the Treeton Dyke AC at Rotherham, the Skipton AA and Rybury ans Halifax Angling Society.
Commercial coarse fisheries in Yorkshire
Commercial coarse fisheries in Yorkshire are too numerous to mention but here are a few. Erics Willows at Catterick, near Richmond is a 25-acre gravel pit with a large stock of carp, the largest of which weighed in at 59lbs to set a Yorkshire record. Hemsworth Water Park at Pontefract has two lakes stocked with silver fish as well as carp to 36lbs.
The Catterick Complex at Scorton offers four lakes on an former quarry site and is stocked with carp to more than 30lbs. Scarborough Mere fishery has three natural lakes. The nine acre Specimen Pool has carp to 30lbs as well as similar sized pike, bream to 14lbs and tench to 10lbs.
Aston Park Fisheries Sheffield offers 150 pegs over five lakes which are stocked with carp to over 30lbs as well as a variety of silver fish including barbel. Brafferton Carp Fishery near York has four landscaped lakes which hold mirror, common, ghost and leather carp as well as a good mix of silver fish.
Another major venue is Woodland Lakes near Thirsk. A nationally renowned fishery, it is set in 40 acres with 380 pegs spread across its 13 lakes. Although it is a popular match venue, a minimum of five lakes are always kept free for pleasure anglers.
Specimen carp and catfish
Oakland Waters near Goole has four lakes offering mixed coarse fishing as well as fishing for specimen carp to 30lbs, catfish to 50lbs and pike to 30lbs. Covering more than 20 acres, the McCallums Bank End Fishery complex offers three lakes boasting a variety of day ticket fishing near Finningley, Doncaster.
Fishing tackle shops in Yorkshire
With so much fishing on offer in Yorkshire there are plenty of fishing tackle shops in the county with outlets in all the major centres including Leeds, York, Doncaster, Harrogate, Cleveland, Scarborough, Whitby, Northallerton, Barnsley, Rotherham, Sheffield, Goole, Kingston upon Hull, Hornsea, Hull, Brighouse, Dewsbury, Huddersfield, Ossett, Wakefield, Bradford, Knottingley, Otley and Castleford.
Search by Region or County
Find new places to go fishing in your local area or county by choosing your destination below