Alcott Farm Fishery
A lovely three pool pleasure fishery with few rules and behind the peg parking in dry weather. Suitable for disabled anglers.
Key facts about Alcott Farm Fishery
Attractive and well maintained
Large car park at the entrance
Parking behind pegs during dry weather
Suitable for disabled anglers
Ticket money collected on the bank
Common and mirror carp to 20lbs
Suitable for pole and waggler anglers
Cottage accommodation available
A beautiful little pleasure fishery
Although Alcott Farm Fishery is only a short drive from Junction 3 of the M42 motorway and celebrates its 20th anniversary in 2020, it is still a relatively little known and little fished venue. Having said that, it is popular with a growing number of regulars who love the open banks, quality pegs and clean, fin-perfect fish. Alcott Farm is an out-and-out pleasure fishery which does not hold matches and where there are few rules with the exception that nets must be dipped before starting fishing, and keepnets should be used when the sign at the entrance shows they are allowed. Boilies are not allowed and, as with most fisheries these days, only barbless hooks are allowed.
The facilities at Alcott Farm have recently been further improved with the provision of toilet facilities, resurfacing of the car park and paths which enables cars to be parked near pegs when the ground is not too wet, the removal of many small fish and the addition of larger stocks to improve the angling further. The pools were developed on former marshland at Alcott Farm in 2000 as the result of a partnership between farm owner Jane Poole and semi-retired construction engineer Richard Jennings who now runs the fishing on behalf of Jane and her husband John. John is an internationally acclaimed horse trainer and rider who has produced horses to Olympic standard for the British team.
In addition to helping husband John run the 65-acre equestrian Stud Farm and livery business at Alcott, Jane also runs the bed and breakfast side of the farm, which offers two double rooms and two twin bedded rooms in the farmhouse and a self-catering cottage in an adjoining converted stable block.
The two older pools, which can be found near the entrance to the long post-and-rail drive which leads to the farm, were both dug in 2000 whilst the newer silver fish pool – Banana Pool – was opened in 2011.
Excellent accessible pegs
Recently work has also been carried out to landscape the banksides with trees and shrubs whilst a hardcore and plainings drive and car park have also been installed which now serve all three pools. There is a gated entrance from the car park to the bankside which enables anglers to drive their cars to near their pegs in the dry summer months. The grass track around the pools is a great advantage for disabled anglers, for whom eight timber pegs have been specifically created on Roman Pool with assistance from the Environment Agency.
Roman Pool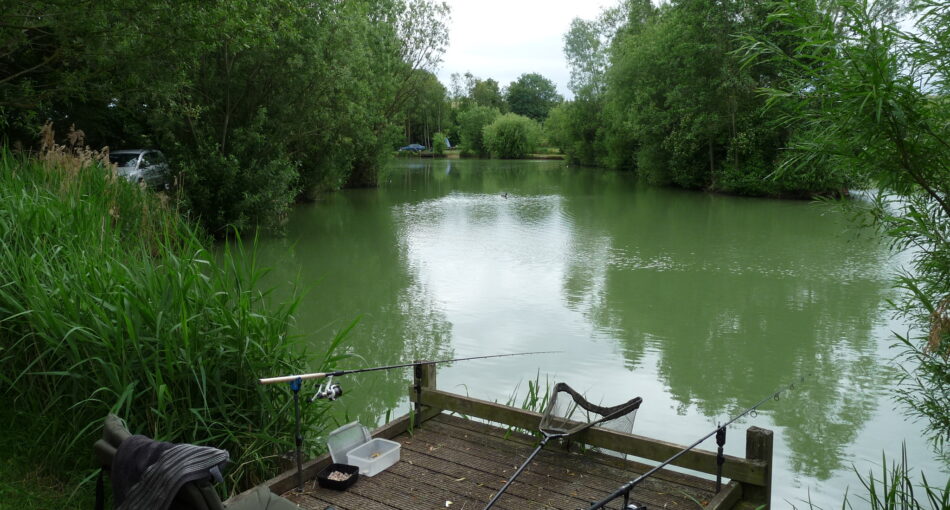 The pool nearest the entrance at Alcott Farm Fishery, Roman Pool is about 100 metres long by 50 metres wide and offers about an acre of water with an island in the centre and some 20 well-spaced pegs timber pegs, some of which are double sized. Eight of the timber pegs have designed specifically for disabled anglers.
Deepest at the end furthest from the entrance where up to eight feet of water can be found, Roman Pool gradually shallows to about four feet deep near the car park. Because the sides drop virtually straight to the bottom, the maximum depth for each peg can be found all the way round the pool.
Well stocked with Carp to 26lb
Roman Pool is stocked predominantly with common and mirror carp which are known to run to just over 20lbs but which average between 4lbs and 5lbs. There are also decent heads of crucian carp to about 1lb; tench to over 2lbs and bream which now average between 2lbs and 3lbs.  In addition, there are plenty of quality roach which are frequently caught between 1lb and 1lb 8oz but which run to 2lbs and some handsome perch to 2lbs which give a good account of themselves once hooked. New for 2018 were some F1 carp which were stocked early in the year.
26lb Common Carp
To reduce the risk of disease, in line with the other waters at Alcott Farm, Roman Pool is no longer used for matches but pleasure catches in excess of 100lbs are regularly taken, particularly in the warmer months. Also, several anglers report being broken by big fish. A 26lb common carp was caught and witnessed in 2017 but anglers who fish the venue regularly believe there could be even bigger fish in the lake. This all goes to make Roman Pool a great spot for both serious anglers and those looking for a few hours pleasure fishing with members of their families.
Although there are no particular hot pegs in summer the best fishing is usually done by anglers casting to the island or, when the venue is quiet, fishing close in the margins. The deeper water is usually most productive in winter. Pole and waggler both work well on Roman Pool, although anglers can't quite reach the island with the pole and tend to bait up a swim as far out as they can get or fish down the bank in the margin.
Bait recomendations
When it comes to baits, expander pellets fished over a bed of groundbait or feeder pellets are proving increasingly popular whilst maggots, luncheon meat and sweetcorn are particularly effective for the carp with smaller baits such as maggots, casters and single sweetcorn kernels popular with those after the tench and silver fish. Anglers should note that boilies should not be used at the fishery.
Because they give the best access to the island, the pegs in the centre of the road bank and those directly opposite on the farm bank are popular whilst the far two corners where the water is deepest are also well worth a try.
Although there are few rules at Alcott Farm, keepnets and landing nets must be dipped thoroughly before fishing with keepnets being banned when the weather is not too hot. Braided line is not allowed and the maximum hook size permitted in Size 12. Groundbait should be used only in moderation and the venue allows barbless hooks only.
Willow Pool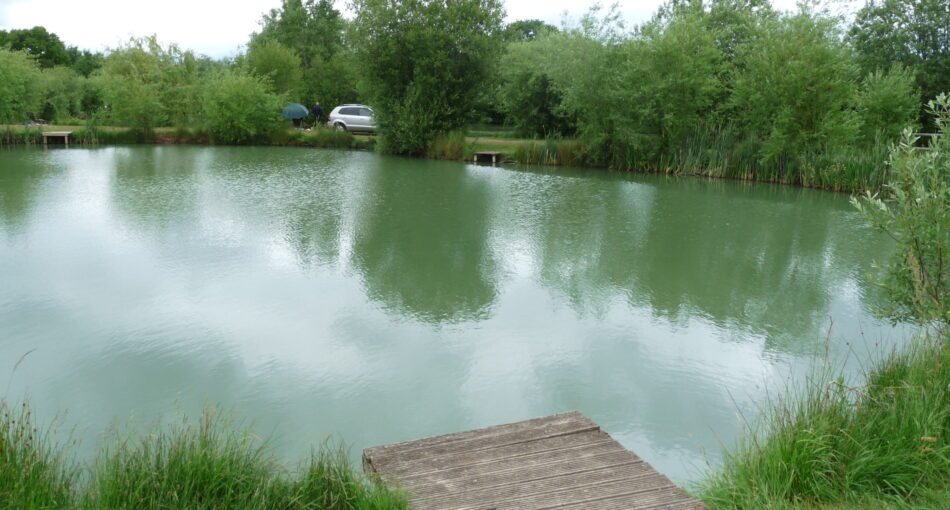 At just a quarter of an acre in size, Willow Pool is oval-shaped with only six designated pegs, although anglers can fish wherever they want on the grass banks of this open, snag-free water. It can accommodate about eight anglers in comfort.  Willow Pool is easy to fish because it has an average depth of only five feet with two or three occasional deeper holes where the bottom drops to eight feet. These provide ideal holding points for the fish in winter but makes plumbing the depth essential for those anglers who want to target these deeper points.
Although Willow Pool is not as big as Roman Pool, it is stocked with a similar range of species and sizes, so the opportunity to catch some nice fish is as good here as for those on Roman Pool. As a result, there are carp well into double figures to be caught as well as some nice roach, perch, tench, F1 carp, rudd, bream and crucians. Indeed, the opportunity to catch some nice fish was enhanced early in 2018 with the addition of further stocks of F1 carp.
A great pool for younger anglers
Willow Pool is again predominantly a pole and waggler water with maggots, sweetcorn, luncheon meat, pellets and bread being the most favoured baits. Although the size of Willow Pool may put some anglers off fishing it, this is not a water to be dismissed lightly. Also, because of its size it is a great pool for younger anglers or those wanting to try out new techniques and is a great little venue, being stocked with a decent stamp of fish for those looking for a pleasant day's fishing in the countryside.
Banana Pool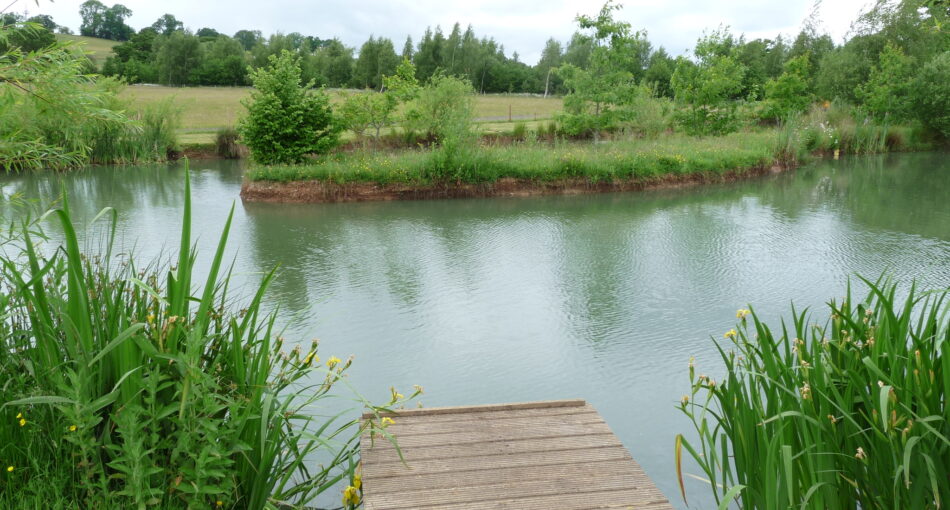 Banana Pool, the recently constructed silver fish water at Alcott Farm, is a banana shaped canal-style pool with a central island nine metres out which runs down its spine – making it ideal for either pole or waggler fishing. Built with sides which drop straight down to an average depth of five feet, Banana Pool has two deeper holes at each end where the bottom drops to about eight feet. These provide ideal holding points for the fish in winter but make plumbing the depth essential for those anglers who want to target these deeper points.
To provide year round angling, the water is stocked with roach, rudd, ide and chub to 12ozs; bream to 1lb; crucian carp and barbel to 2lbs; perch over 2lbs; and tench to 3lbs. At the beginning of 2018 a head of F1 carp were also introduced and these are already providing great sport. The most productive baits again tend to be sweetcorn, luncheon meat, maggots and pellets. Banana Pool has 10 purpose-built pegs but again anglers are allowed to fish wherever they want from the grass banks which surround the water.
The Cottage accommodation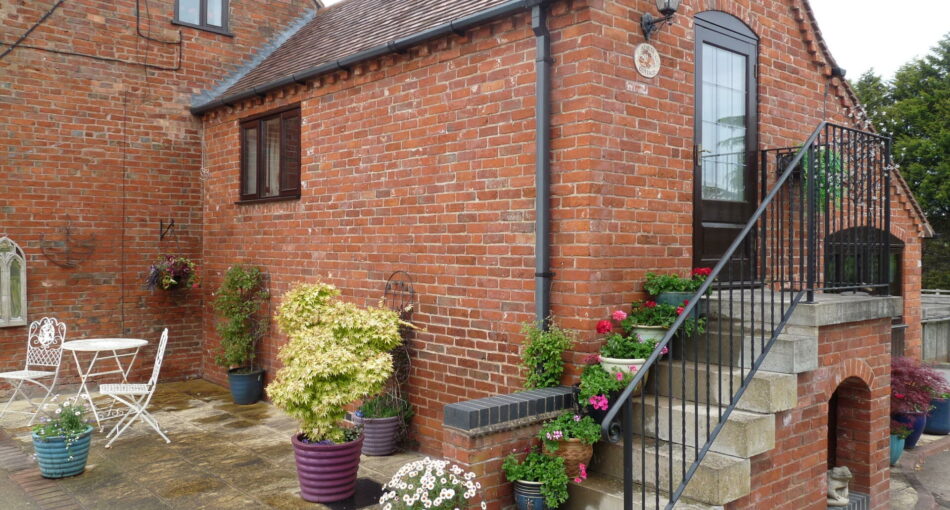 The cottage adjacent to the main farmhouse is a charming and tastefully modern stable block conversion with a kitchen and double bedroom downstairs and a lounge area on the first floor. The double bedroom is equipped with built-in wardrobe and bedside cabinet as well as a flat screen television.
The kitchen has everything you need for a pleasant and comfortable stay with a fridge-freezer, washer/drier, dishwasher and oven and hob whilst upstairs there is a comfortable three-piece suite and another, larger, flat-screen television.
The price for the Cottage is £295 a week including fishing. People wanting to stay for shorter periods are asked to contact the fishery.
Prices
Maximum two rods. Anglers should start fishing – day ticket fees will be collected on the bank. Children under 16 must be accompanied. Season tickets are available at £80.00 for adults and £70.00 for concessionary anglers.
Day Ticket Prices - 7.00am to dusk

Adults
OAP/Disabled
Per rod

Per rod
8.00
£7.00
Rules and conditions
Keepnets and landing nets must be dipped thoroughly before fishing
Keepnets are not to be used when the weather is too hot.
Braided line is not allowed and the maximum hook size permitted in Size 12.
Only barbless hooks are allowed.
Groundbait should be used only in moderation.
How to get there
Alcott Farm Fishery is a short drive from Junction 3 of the M42 motorway.
On leaving the motorway take the A435 towards Birmingham and immediately after the Esso garage take the slip road to the left.
At the T-junction turn left into Watery Lane and turn left again at the next cross roads into Weatheroak Hill.
Turn left again opposite the Coach and Horses pub into Icknield Street (signed Beoley Narrow Road)
The entrance to Alcott Farm will be found about half a mile on the right shortly after you pass the entrance to the two pools.
Drive up the long post-and-rail drive to the farmhouse.
Get directions on Google Maps
Comments