Furnace Mill Fishery
Reputedly one of Matt Hayes' favourite day-ticket coarse fisheries, Furnace Mill offers four pools on a 27-acre woodland site in the heart of the Wyre Forest.
Facts and features about Furnace Mill Fishery
On-site cafe tackle shop and toilets
Night fishing by prior arrangement
Scandanavian-style lodge for angling breaks
Closed Mondays and Tuesdays except Bank Holidays
Good head of silver fish crucians, chub and barbel
Flat banks with well spaced pegs
Pole and waggler fishing popular
Corporate Hospitality days available
'Red Hot' Furnace Mill!
Described in a 'Match Fishing' article as "Red Hot Furnace Mill" and reputedly one of Matt Hayes' favourite day-ticket coarse fisheries, Furnace Mill is set in some of the most attractive countryside in the Midlands. Comprising four pools on a 27-acre woodland site in the heart of the Wyre Forest, the mill which lends its name to the fishery was an old corn mill, whilst the furnace from which it takes its name was used to make canon balls during the English Civil war.
On-site facilities include a car park and toilets plus a new fishing lodge where anglers should purchase their day tickets before starting to fish.
Check out the Fishing Lodge
The lodge sells a range of hot and cold drinks and confectionery whilst between 10.00am and noon midweek and all day at weekends and Bank Holidays, breakfasts and hot sandwiches are also available. Hot food and other options can also be arranged for club matches and corporate events.
The new fishing lodge is now also stocking an increasing range of baits and tackle including pellets, paste, groundbait, maggots, casters, hemp, worms, meat, macaroni, catmeat, corn and flavourings. There is also the facility for payments to be made by debit and credit cards. It is also extending its range of fishing rods, reels, poles and other accessories as well as a range of equipment for those using its shooting range which is rapidly gaining a reputation as one of the country's leading air rifle target shooting venues.
Most of the pegs are accessible for disabled anglers and there is only one part of the fishery which is not accessible for wheelchairs.
Angling tuition is available
As well as welcoming individual pleasure anglers, club contest bookings and regular open matches, Furnace Mill also stages Corporate Days which are tailored to individual company needs. The catering for these events can range from providing breakfasts, snacks or barbecues to organising events in fully equipped marquees. In addition, the fishery also gives angling tuition on an individual or group basis as required
The Furnace Mill match record was set at 284lbs 6oz by Kidderminster's Kev Johnson, pictured left with part of his catch. Fishing Mucky Meadow, Kev pole fished pellet and maggot for a predominantly all carp catch, beating the previous match record of 255lb 12oz which was set by local angler Paul Cook from Stourport whilst fishing Peg 72 on Willow Pool. Although Furnace Mill holds matches, at least 20 pegs are always reserved for pleasure anglers, even during their busiest times.
Furnace Mill has few bait bans
The fishery has few bait bans with the exception that artificial baits should not be used. Anglers fishing pellets, paste and boilies should use only those which are purchased at the fishery to prevent potential dietary problems for the fish. These are sold in 1kg bags in the fishing lodge at a price that equates to prices charged at local tackle shops.
Furnace Mill also offers a two-rod ticket and has relaxed its rules on the use of groundbait. Anglers can now use Sonubaits and The Angling Bait Company's groundbait whether bought from local tackle dealers or the fishery.
Whatever the reason for your visit to Furnace Mill, it is always worth having a chat with Ed Brown, himself a very experienced angler, who will give help and up-to-the-minute advice to ensure you have a rewarding day.
Furnace Pool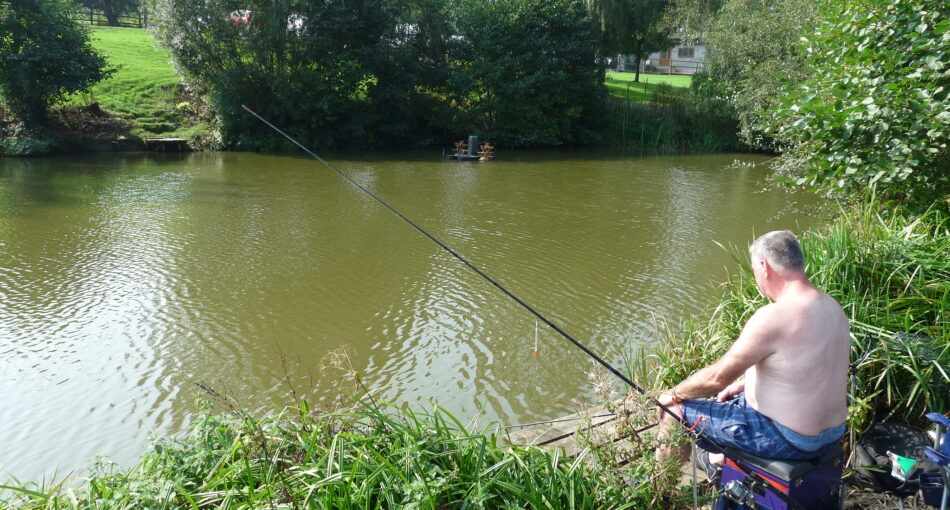 One-and-a-half acres in size, Furnace Pool is the largest water at Furnace Mill with 30 pegs and an average depth of about six feet. Linear in shape with a large rectangular pool at the entrance end and a basin near the car park, Furnace Pool offers a variety of outlooks with one end of the pool being out of sight from the other.
Roach to an impressive 3lbs
With roach to just under 3lbs; bream averaging between two and four pounds but running up to 11lbs; tench averaging 1lb to 3lbs, crucian carp touching 4lbs and eels to over 7lbs, the water also holds a good head of common, mirror and ghost carp averaging one-and-a-half to 4lbs with the largest mirrors and commons now running to 20lbs. Furnace Pool also holds decent numbers of barbel and ide.
Fishing the margins can be productive
The most popular methods for fishing Furnace Pool are pole or rod-fished waggler with the fish usually being caught at varying depths throughout the summer when many of the bigger catches fall to anglers fishing close into the margins where the bankside vegetation provides plenty of cover.
In winter, as can be expected, the fish tend to stay on the bottom in the deeper water, although they are caught higher up on bright, sunnier days. Enjoying summer sunshine on Furnace Pool at Furnace Mill FisheryAlthough pellets and paste, which can be purchased at the fishery, are good all year round, other baits vary according to the time of year.
Summer baits for summer days…
In summer, casters, luncheon meat, sweetcorn, red maggots and floating bread, dog biscuits and pellets are usually the most successful whilst winter favourites include maggots, worm and either bread punch or flake.
As with most waters, nearly all baits are usually most effective when fished over a bed of feeder pellets or hemp, the latter being especially productive when fished with luncheon meat on the hook.
Mucky Meadow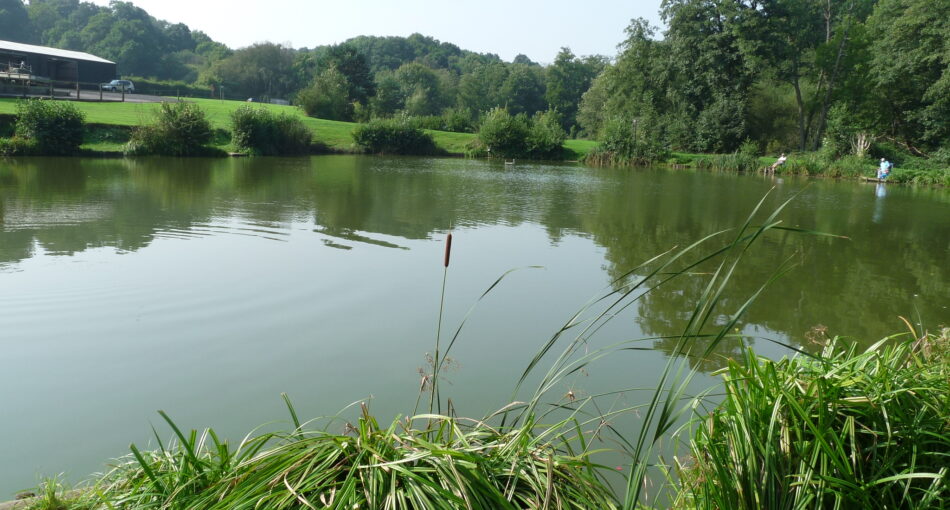 Mucky Meadow – so named because the pool is on the site of a former marshy meadow adjacent to the stream which runs alongside the Furnace Mill site – is nowadays better known for its head of chub which provide exciting year-round sport for anglers, as well as its good stocks of common, mirror and ghost carp which provide exciting sport whatever the time of year.
The chub are normally taken on shallow fished maggot on the waggler, quite often just below the surface in summer, and range in size from just over 1lb to about 4lbs.
Mucky Meadow is easy to fish
Covering one-and-a-quarter acres, Mucky Meadow holds 24 comfortably spaced pegs and ranges in depth from about eight feet at the outlet end to four feet at the inlet. Overall, the average depth is about six feet, making it an easy water to fish on pole, waggler or swimfeeder.
The average sizes for the fish in Mucky Meadow are: roach up to 3lbs 6oz with plenty of fish between 12oz and 2lbs; tench around 3lbs with some over 5lbs; bream 3lbs to an impressive 11lbs; common carp and mirror carp averaging 6lbs; ghost carp to just over 15lbs; and crucian carp to about 3lbs.
The biggest roach to have come out of Mucky Meadow was taken by John Knight, fishing for Willow Creek in a Winter League match which was held on Easter Sunday. Fishing Peg 43 with Furnace Mill's 4mm expander pellets he landed a specimen which weighed in at 3lbs 6oz. A truly pristine fish.
Carp to 30lbs
The biggest mirror carp now run to just under 30lbs whilst the biggest commons weigh a similar size and the biggest ghost carp around 15lbs. In addition, Mucky Meadow also holds some nice golden orfe, perch, rudd, barbel and ide. Mucky Meadow now holds the Furnace Mill venue record with Kev Johnson's 284lbs 6oz (see above).
Whilst most anglers use the pole or waggler, most methods tend to work well on Mucky Meadow and a lot of the carp are caught in the margins in summer. In winter, a small swim feeder or light lead are most effective. Best year-round baits are caster, maggots, sweetcorn, luncheon meat and chopped worms for the bream.
Willow Pool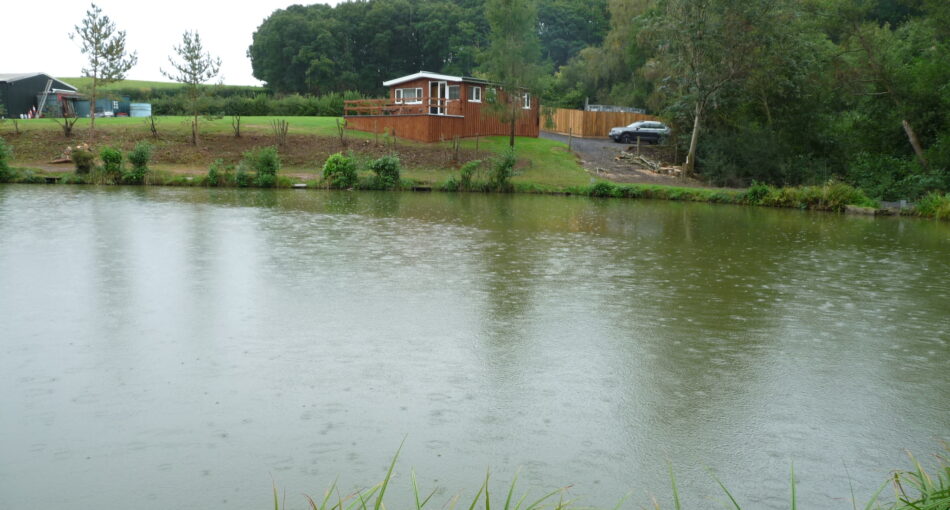 This one-acre pool with 20 pegs is, with Mill Pool, the smallest of the four Furnace Mill Fishery waters. Despite this, it is slightly deeper than the others with an average depth of seven feet falling to nine feet in the centre.
Ghosties to 25lbs
Whilst the stocking sizes, species and densities are much the same as for Furnace Pool, there are some larger carp in here with commons, mirrors and ghosties running to 25lbs. Having said that, the average size of the carp tends to be slightly smaller than in Furnace Pool.
Looking back towards the entrance end of Willow PoolWillow is a very mixed and productive pool holding roach, rudd, bream, perch, tench, barbel, orfe, ide and chub as well as the carp but despite this is fished less than Mucky Meadow or Purnace Pool as it is further away from the car park.
When fishing the right hand bank pegs 55 to 67, a lot of fish are caught very tight to the margins where there is a steep drop to a marginal shelf where the fish regularly patrol, particularly in the summer months when the water is warmer.
'Twitching' your bait against the slope works well
The left hand bank pegs 68 to 74 have margins which slope straight down to the bottom of the pool. A lot of fish feed up and down this slope, so twitching the hook bait back against the slope works well.
Also, this side of the pool is slightly deeper, so fishing up in the water works well as the fish come up to compete for the loose feed which should be introduced regularly to keep them going.
Until 2017 Willow Pool held the Furnace Mill fishery match record with a 255lb 12oz catch taken by regular open angler Paul Cook.
Mill Pool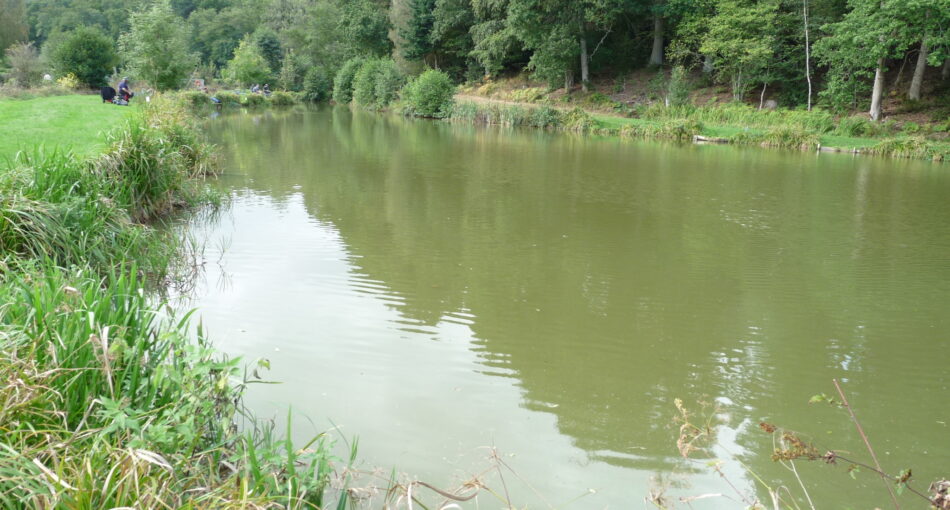 Like Willow Pool, Mill Pool is a one-acre water with 20 pegs. Although it averages about five feet for much of its length, the bottom goes to seven feet at the inlet end.
Secluded and partially surrounded by trees, many anglers fail to see this water when they drive into the fishery and as a result it can often be a place for those who like to be on their own.
Mill Pool is good for crucians
The narrower sections of the pool around pegs 75 to 78 and the shallower pegs 86 to 94 are particularly good in summer and on milder winter days. Whilst the fish densities, species and sizes are the same as for Willow Pool there are quite a lot of golden orfe which provide good sport in winter whilst the common, mirror and ghost carp again run to 18lbs. Mill Pool is also renowned for good catches of roach and crucian carp to just under 3lbs and perch to 4lbs in autumn and winter.
The majority of the carp in Mill Pool average between 1lb and three-and-a-half pounds, which is slightly smaller than the other pools, but they none-the-less provide consistent sport with non-stop action which makes this water ideal for parents with younger anglers.
Take an angling break in Willow Lodge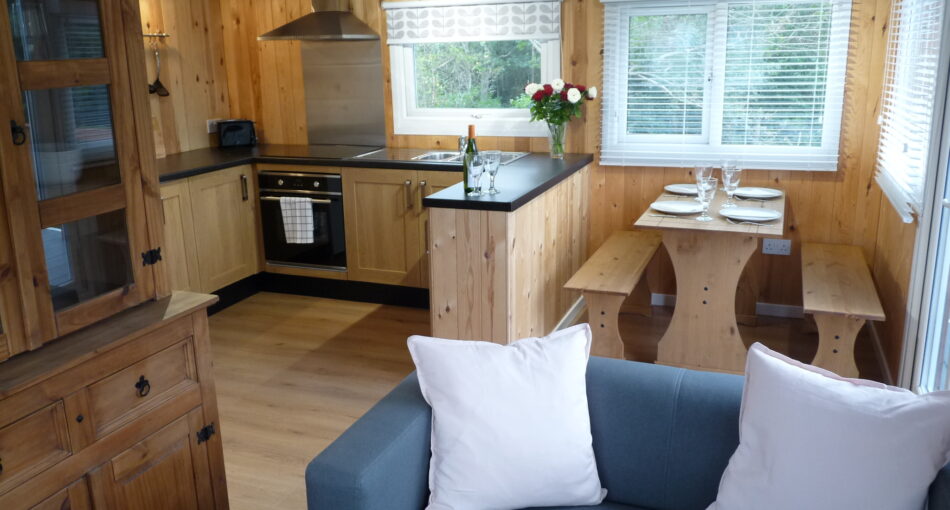 Furnace Mill is now offering angling breaks in its tastefully equipped lakeside Willow Lodge.
Offering accommodation for up to four people, the Scandanavian-style lodge has a lounge/kitchen, two bedrooms, shower room with toilet and wash handbasin, car parking and a patio overlooking the lake. A special feature of the lodge is that residents have a substantial part of Willow Pool reserved exclusively for their own use.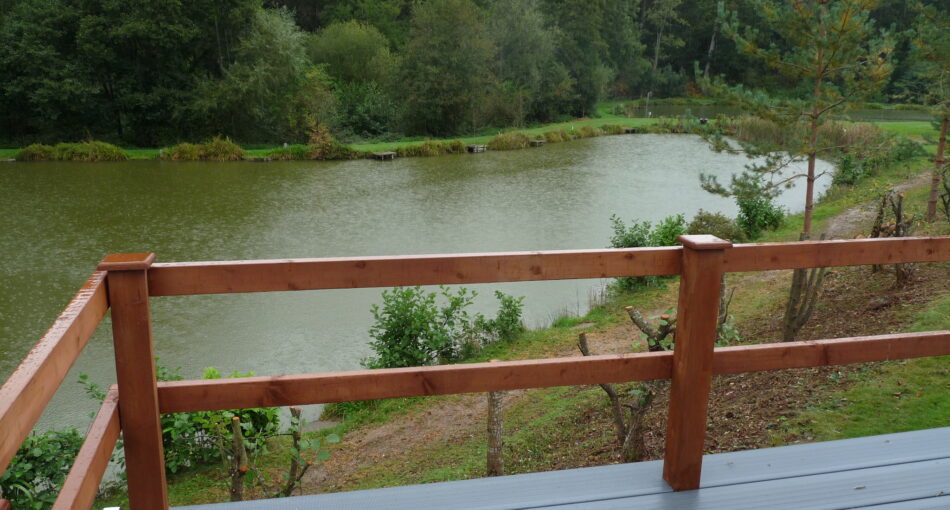 Corporate Days at Furnace Mill Fishery
Furnace Mill caters for a range of Corporate Hospitality days where events can include everything from fishing matches and packed lunches to breakfasts followed by a fishing match and finishing off either with an organised trip to a local country pub or a barbecue on site. Indeed, owners Ed and Jane Brown pride themselves on being able to organise virtually any corporate function for up to 80 or more guests including arranging for events in marquees.
Prices
Day tickets must be purchased from the Fishing Lodge before starting to fish. Closing times can vary slightly in summer but are marked at the entrance. Anglers should pack up when the siren is sounded.
Day Ticket Fishing Prices

Adults
OAP/Juniors
Day ticket one rod
Day ticket one rod
9.00
8.00
Day ticket two rods
Day ticket two rods
12.50
11.50
Half-day Tickets (four hours before close)
Half-day Tickets (four hours before close)
6.50
6.50
How to get there
From Kidderminster: Take the A456 from Kidderminster to Leominster. At Callow Hill turn right onto the A4117 to Cleobury Mortimer.
At Far Forest take the third road on the right after 'The Plough' public house and follow the signs for Furnace Mill.
After crossing over the small stone bridge at the bottom of the valley there is a sharp right hand bend and Furnace Mill is signed to the left.
Take this small road and the entrance to the fishery is a short distance on the left.
From Bridgnorth: Coming from Bridgnorth, take the B4363 signed for Cleobury Mortimer. After about nine miles you reach Kinlet where you will see the Eagle and Serpant pub. Turn left by the pub towards Bewdley.
After a mile you come to a T-junction where you should turn left and after about 400 yards there is a left hand bend where you turn right.
Follow this road through the forest and after about two-and-a-half miles it brings you down the valley where there is a very sharp left hand bend.
Take the road to the right and the entrance to the fishery is a short distance on the left.
SatNav users should enter: DY14 8NR.
Get directions on Google Maps
Comments