Willow Farm Fishery
Three delightful fishing lakes in Worcestershire, in a wooded setting offering angling for carp and silver fish in an informal setting.
Key facts about Willow Farm Fishery
Attractive lakes in rural setting
Ring to book day or 24-hour sessions
New purpose built toilet and shower block
Keepnets allowed for fish under 4lbs
Suitable for disabled anglers
Carp to 35lbs and perch over 5lbs
A wide variety of species can be caught
Suitable for pole, waggler, ledger and feeder
Silver Pool good for catching lots of fish
Go to Island Pool for the big perch
To be found in the heart of the Worcestershire countryside just a few miles outside Evesham, Willow Farm Fishery comprises three pools which offer general pleasure and carp angling in rural surroundings.
Each of the pools is different in character. Silver Pool, the first water you come to after driving through the farm, is open and easy to fish. The second, Willow Pool, is long and surrounded by willow trees whilst Island Pool, the last water, offers a mix of open and sheltered pegs, lily pads and an island to fish to.
Appealing to anglers who enjoy natural surroundings
Willow Farm will appeal to anglers who prefer more natural surroundings and whilst there are clearly defined pegs there are few other concessions to modern day commercial angling apart from a new purpose built toilet and shower block which is regularly cleaned and which can be found along the track between Silver Pool and Willow Pool. The block comprises two toilets and a separate shower room for use by anglers.
All three pools are suitable for disabled anglers although anglers can only park their cars near pegs on the roadside banks of the pools. There are also several small car parks dotted around the lakes. Offering everything from specimen carp and night fishing by appointment to angling for silver fish, Willow Farm has been run as a fairly low-key operation by owner Mark Ricketts with Willow and Island Lake being particularly suitable to anglers who want to get away for a day's pleasure or specimen angling.
Development of the fishery
The fishery was developed over 20 years ago on the site of former scrub land which was overgrown with hawthorn, blackthorn and willow bushes and was constantly boggy. It is virtually surrounded by trees which means that, whatever the weather, there are usually several pegs which are sheltered. And with carp to 35lbs and near record breaking perch to over 6lbs, there is plenty of variety for both summer and winter fishing. In addition, there are roach and rudd, tench to 7lbs, bream known to run to 6lbs, crucians and even some big gudgeon for those who like that sort of thing!
Opening times at Willow Farm Fishery
The fishery is open from 8.00am until dusk every day and the whole of both Silver and Willow Pools can be booked. Anglers should start fishing on arrival and their ticket fees will be collected by the bailiff on the bank.
Island Pool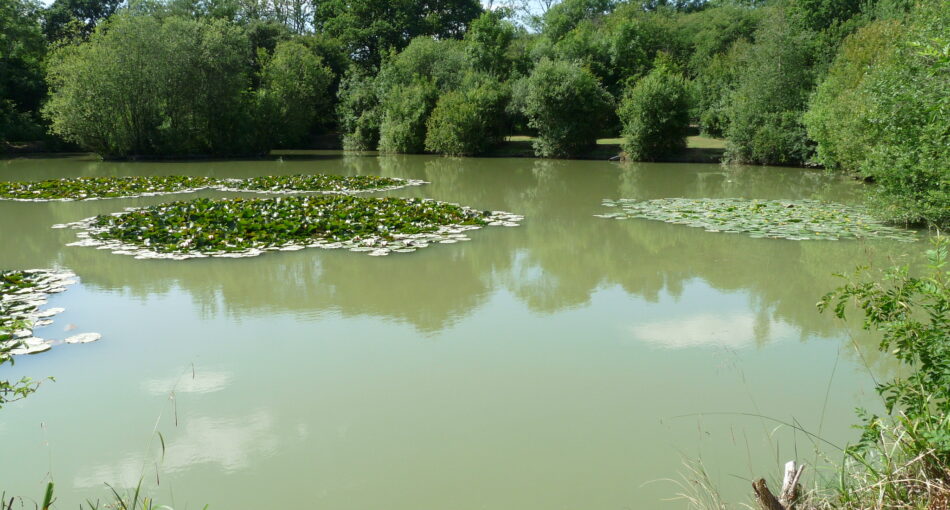 The furthest pool from the entrance at Willow Farm Fishery, Island Pool is reached by following the track past Silver Pool and Willow Pool to the very end where there is parking round parts of the pool and in a small car park near its entrance.
25 Pegs spaced out around an acre pool
At about an acre in size, Island Pool is a delightful water with 25 pegs which offers fishing in open water, to the tree-clad island towards one corner or to any of five banks of lily pads which grow near the entrance end of the pool.
The deepest water is to be found out from the left hand bank as you enter the lake where there is between five and six feet. From here the bottom rises gradually towards and around the island where there is between four and five feet of water, and towards the right hand corner near the entrance where the water is about four feet deep.
Well stocked with sizeable perch and carp
Island Pool is stocked with common and mirror carp which are known to run to just under 30lbs – a large number of which are caught well into double figures; tench which average between 3lbs and 4lbs but which run to 7lbs; a large head of bream to over 6lbs; roach and rudd to 1lb 8oz; and some lovely crucian carp which average 1lb 8oz but run to over 2lbs.
However, perhaps Island Pool's biggest claim to fame are its stock of big perch, the largest verified specimen of which was caught in winter 2003 and weighed in at an impressive 5lb 1oz. This fish has only been rivalled by one other Willow Farm perch – an even larger specimen which was caught in 2012 on Willow Pool and tipped the scales at 6lbs 1oz.
The Island Pool perch was taken by an angler fishing along the fringes near the entrance using float-fished maggots. This is a popular spot and technique for perch fishing in ther winter months.
Variety of good pegs
Because of the variety of swims on Island Pool there are no particular favourites or hot spots and virtually all pegs are popular with pole, waggler and feeder anglers.
Pole fishing is particularly effective from the pegs at the far corner of the lake where anglers can reach under the branches of the trees on the island – a spot virtually impossible to reach with a waggler. The pole also enables anglers to get very close to the edge of the lily pads, which is again difficult to achieve with the waggler without the risk of casting into the leaves.
Baits on Island Pool
Most popular baits on Island Pool tend to be luncheon meat, prawns and sweetcorn for the carp, tench and bigger bream with pellets, maggots and casters being good for general fishing. In winter, worm is a great bait for the perch whilst in summer floating bread and dog biscuits are popular with anglers surface fishing for the carp, particularly near the island and lily pads.
Willow Pool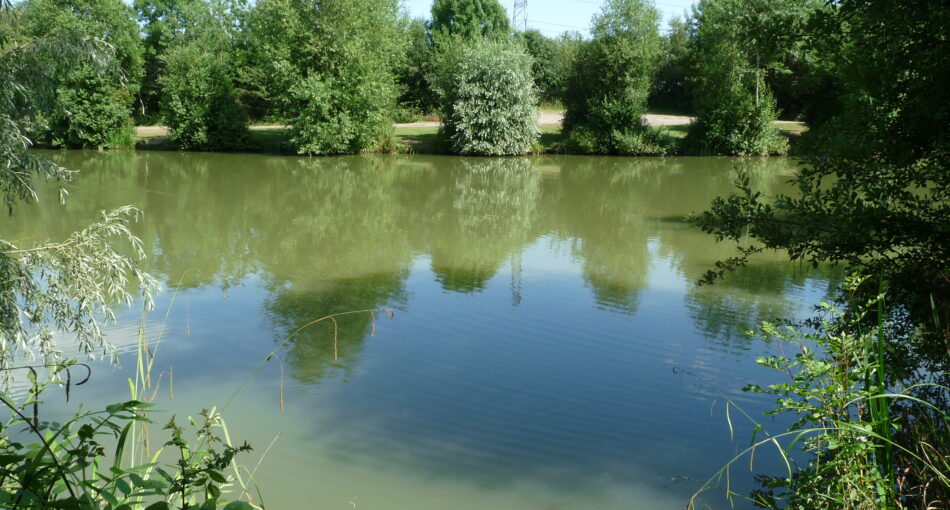 Virtually surrounded by trees and shrubs, the pear-shaped Willow Pool is the most popular water at Willow Farm Fishery with a large head of carp, the biggest of which was weighed at 34lbs, together with plenty of crucians, tench and silver fish.
Substantial Perch on Willow Pool
It is also from Willow Pool that the fishery's biggest perch are caught, the most recent being a fish which weighed in at 6lbs 1oz which was witnessed by Dave Packwood who runs 'The Bait Box' in Evesham. Other specimens include one which was caught by a young angler fishing maggot close in to the side. He first landed a fished which weighed a creditable 3lb 8oz but followed this on his next cast with a stunner which came in at 5lbs 3oz.
The 34lb common carp was caught in 2014 by a local angler who was float fishing a piece of luncheon meat on a size 14 hook from Peg 29, again fishing close to the bank.
More and bigger fish
Without doubt Willow Pool holds more and bigger fish than either of the other two Willow Farm waters making it a popular venue. It ranges from just a couple of feet deep in the margins at the entrance end before dropping off gradually to seven feet througout much of its length. Like Island Pool, the banks are steep and drop off quickly to a flat and even bottom.
Fishing experience on Willow Pool
Another feature of Willow Pool is that you never know what you are going to catch next. You may land a carp one minute, follow it with a tench or bream, pick up a couple of perch and then land a roach before the carp move back in.
Because it is an open water with few features to fish to, Willow Pool is again popular with pole, waggler and ledger anglers with luncheon and flavoured meats, sweetcorn, maggots and worm all being favoured baits when fished over a bed of pellets or with small amounts of groundbait.
However, unlike on many waters, fishing floating baits close into the side in summer does not seem to work particularly well with casting into open water being far more productive. However, to prevent free offerings drifting into other people's swims, anglers are requested to keep the feeding of floating samples to a minimum.
Good all year round venue
Because of the diversity of fish types in the water and the fact that it is virtually surrounded by trees and shrubs, Willow Pool is a good year-round venue which is well worth a try, particularly if you are after some of the bigger fish at Willow Farm Fishery.
Silver Pool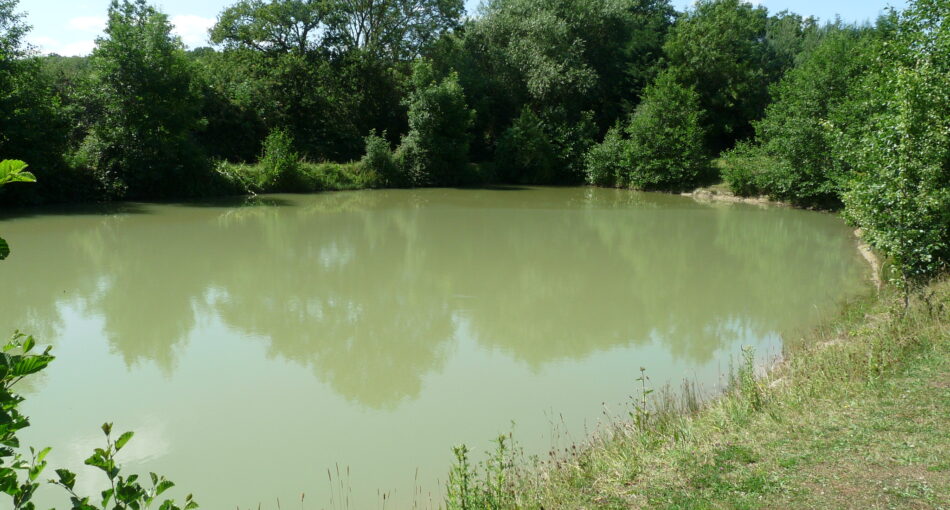 Over the last few years Silver Pool has developed into an attractive little pool with a high stocking ratio which means the fish are relatively easy to catch, making it without doubt the easiest of the Willow Farm Fishery waters to fish. About half an acre in size it offers some 12 pegs some of which are on open banks whilst others nestle in between bankside trees and shrubs. It is a great water if you want to catch a lot of fish relatively quickly or if you are visiting Willow Farm with youngsters who want to keep busy!
Restocking of the water
Silver Pool was originally Willow Farm Fishery's carp water and was prolific until about four years ago when catch rates suddenly and inexplicable dropped off. When the problem persisted it was decided to drain the pool and once this was completed only about 20 fish were found to be present.
Because there had been no signs of a fish kill, it was suspected that the water had been netted and the fish stolen. It was decided to take the opportunity to move the carp to Willow and Island pools and to stock the water predominantly with silver fish. As a result it now holds a large head of tench to 4lbs; roach, rudd, silver bream, perch, goldfish and nice crucians to about 1lb 8oz.
The end result is that Silver Pool is now the most prolific of the Willow Farm waters and the place to head for if you want to catch a large number of fish fairly quickly and easily.
Bowl shaped bottom
With a bowl-shaped bottom, Silver Pool is deepest in the centre where between four and five feet of water can be found and because it is only small, Silver Pool is popular with both pole and waggler anglers, although pole lengths should be restricted to a maximum of five metres because of overhead powerlines nearby.
Maggot is the best bait on this water, giving anglers an opportunity to catch all day long in the right conditions, although to catch the better fish it pays to use either meat baits or sweetcorn. Whilst meat baits do well all year round, sweetcorn is a lot more effective in summer than winter when worms should also be used.
Prices
The fishery is open from 8.00am until dusk. Anglers wishing to night fish must book in advance. All anglers should telephone when they arrive at the gates to be admitted
Tickets

All Anglers (Max 3 Rods)
Day Ticket

Day Ticket
10.00
24h Ticket

24h Ticket
20.00
Rules and conditions
Willow Farm has few rules, all the owners ask is that anglers behave responsibly, do not feed with bucketfuls of groundbait and do not drop litter or inconvenience other anglers.
As with most other fisheries these days, anglers should use only barbless hooks. Whilst keepnets are allowed, anglers are requested not to retain carp over 4lbs.
How to get there
Willow Farm Fisheryis set in the heart of Worcestershire countryside outside Evesham.
Travelling from Evesham, take the A44 road to Worcester.
Just before reaching the village of Chadbury look out for Chadbury Road on the right.
Take this road and you will see Willow Farm signed on the left.
Get directions on Google Maps
Comments