The Angling Trust explains how to fish legally
Going fishing for the first time can be a confusing business. This guide from the Angling Trust answers some of the most asked questions – and should help get you fishing safely, successfully and legally.
It's important to realise that no one in England and Wales has a right to fish wherever they like. So where should new and returning anglers begin ? What do you need to think about before you start and what is actually allowed? Here are some common fishing questions answers to get you going.
Do I need a licence to go fishing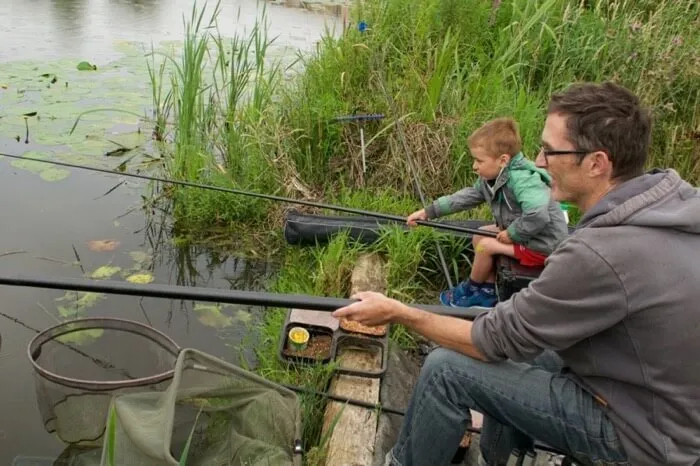 This is a common question – and the short answer is if you are over 12 years of age and fishing in freshwater in England & Wales then YES! Sea fishing does not need a licence, but for all rivers, canals, ponds and lakes you need a licence, regardless of whether these are public or private, even if you own the lake!
Young people, however, can fish for free (under 13s don't need any licence and 13-16s are free but must register.) A fishing licence for a day, week or year can be bought easily online (but do use the official gov.uk site to avoid online tricksters who will charge you extra!). For information on buying the correct fishing licence for you visit the Angling Trust's special blog, or visit our own guide on fishing licences which goes into detail on the subject.
Can I fish all year round and can I fish whenever I like?
This depends strictly on where you are fishing. On rivers with coarse fish (ie. all species except trout and salmon), there is a "Close Season" in spring which runs from March 15 to June 15 inclusive to protect coarse fish while they spawn. This means it is illegal to fish for coarse fish during this period on any river in England and Wales.
For trout and salmon fishing, the season is different, as these fish breed in the winter. The regions vary, but typically you can fish for trout and game fish from March 16th to Sept 30th. Again, please check to avoid getting into trouble! The best place to check this is the Government website https://www.gov.uk/guidance/national-rod-fishing-byelaws-for-england-freshwater-fishing-with-a-rod-and-line.
However, most other waters, such as lakes and canals, can be fished year round as long as you have permission from the owner with the exception of some waters which are designated as Sites of Special Scientific Interest where the coarse fish close season still applies. You can fish in the sea all year round, too.
What next?
Once you have your rod licence, you will still need permission to go fishing from whoever owns or has the fishing rights to that particular bit of water. You must find out first or you could be in trouble! Normally this involves buying a day ticket or joining the fishing club which owns or leases the lake.
It is usually quite easy to find out where to fish in your area. In addition to venues featured on Fisheries.co.uk you can find other venues near you by searching on the Internet or looking  at The Angling Trust Fishing Map which is a great source of information.
We should also mention tackle shops, too. These are a great source of information on local fishing often sell day tickets and club memberships and they have local knowledge you won't always find online! Don't be afraid to ask them directly when you buy your tackle and bait. Most are incredibly helpful.
What other rules do I need to follow?
Almost all club waters and fisheries have a set of rules which you need to follow, these will often be on a sign at the fishery, on your day ticket or on the website of the club. Make sure you read these and understand them before you begin fishing. Most rules are there to make sure everyone enjoys themselves and that the fish are looked after properly.
Litter, behaviour and respect for nature
One of the key other things to remember is that you need to leave no litter or any trace that you have been fishing once you have left. Don't cut down trees or branches, don't have BBQs or fires and don't leave any litter. Every angler sometimes get's tangles or manages to get their line caught in a tree or bush.
If this happens to you, do everything possible to retrieve the line safely, then wind it up and take it home with you. We highly recommend that any old line you want to get rid of is recycled via the Anglers National Line Recycling Scheme, but if this is not possible cut it in to small pieces and dispose of it in your rubbish bin at home. Similarly be very careful how you dispose of old hooks that you don't want anymore.
Fish quietly and attentively
Please remember that we share our planet with 1000's of species of animals, many of whom depend on our lakes, rivers and canals to stay alive. Fish quietly and attentively and you will find that fishing is a wonderful way to see nature close up that very few people are lucky enough to witness. Always be mindful that you are sharing this space with nature and pay close attention to waterbirds, who can become entangled in fishing line, particularly if rods are left unattended.
It's illegal to leave a rod and line in the water unattended or over which you do not have control. Never feed waterbirds while fishing, your fishing bait is unlikely to be suitable food for birds and it will encourage them to approach other anglers and beg for food causing issues and making it harder for others to fish safely.
Also be mindful of not disturbing others while you are fishing. Loud music, shouting to mates and running around will disturb others, most people are out in the countryside to enjoy the peace and tranquillity, so please respect this.
What gear will I need?
While you might have seen fishing on TV or people on the bank where you live, it's also important to think carefully about what you need. It needn't be a complicated hobby, but there are some essentials you can't do without.
Beyond a rod and reel, you'll need a landing net, for example, to land fish safely and a tool to remove hooks. Ninety-nine per cent of fish must be released these days, by law, so it's important to be equipped properly.
The Angling Trust's Get Fishing pages have loads of information on all kinds of fishing to help you get started, just click the link!
Where is the best place to start fishing?
There are so many places to go fishing where you live, but some are much easier than others! In the early stages, size doesn't matter – it's all about having fun and getting familiar with things. Here are some ideas:
Day ticket fisheries: Some of the best place to begin fishing are small lakes with plenty of fish and easy access. We have quite a few of these on our own website.
Fishing clubs: For affordable, friendly fishing, your local fishing club is very often the best place to start. See if there's one near you to join and contact them about finding easy waters to get started. They're always keen to get new members and kids fishing.
Free fishing events and fishing lessons: There are usually thousands of events all over the country each year. Perfect for families and beginners, they are often free to attend and allow you to ask any questions you might have. Indeed, an hour with a friendly coach could be worth several weeks of trying to suss things out for yourself! Take a look at the Get Fishing website for loads of useful ideas.
Quick fishing checklist – What do I need?
You need to buy a fishing licence before you go fishing in freshwater in England and Wales.
The coarse fish close season means that you cannot fish for coarse fish species between March 15th – June 15th inclusive on rivers and a small number of stillwaters and canals.
You must have permission, before you fish in any freshwater in England and Wales This usually means buying a day ticket or club membership. You cannot simply start fishing and hope for the best – it is up to you to check first!
You need to make sure you are using the right sort of tackle and have proper unhooking equipment.
Fish Should be returned to the water after capture. Virtually all coarse fish must be released, by law (there are some occasional exceptions to this, such as the capture of small fish for bait that are to be used in the same water body, however you must always check that you have permission before permanently removing any fish).
Comments
Search by Region or County
Find new places to go fishing in your local area or county by choosing your destination below