Make the most of the 2023 river season with this in-depth guide to fishing rivers
If you're new to fishing rivers, or just fancy a change from fishing stillwaters, this guide will help you make the most of the new 2023 river fishing season. With advice on reading the water, what species to fish for and the best baits and techniques to use, it could make this season a year to remember.
Time for a change – go fishing on a river!
A change is as good as a rest, or so they say, and when bites begin to dry up on your usual commercial pool or club water it might just be time to think about doing something completely different – heading to the riverbank for the challenge of fishing on a river.
One of the beauty of rivers is that they offer a change of scenery with many, particularly smaller rivers, combining slow moving deeper water with shallower fast flowing stretches. The other thing is that, unlike most commercial day ticket waters where you tend to fish a single peg and swim throughout your session, fishing rivers entices you to move and explore different swims. A deeper hole in one part may hold roach, bream and carp whilst faster water may yield a handsome barbel.
"I hate rivers – they move!"
For some unknown reason rivers frighten many anglers – as one 'big fish' angler said: "I hate rivers – they move!" However, rivers really are  easier to fish than most people think, and you probably won't need any kit you don't already have.
So why are so many anglers terrified of a current? As someone who learned to fish on a river the idea that moving water is a tougher nut to crack than stillwaters is an alien concept. I'd go further than that and say rivers are much easier to fish as they are usually so very easy to read; get used to their moods and features and they literally tell you where the fish are at any given time.
I suspect people dislike rivers because they move and when they move they bring with them all sorts of debris from weed and fallen leaves to, in the most severe flooding, whole trees and dead cows!
The movement also brings about the single most important reason why so many anglers fail to score on the rivers: the bait they throw in as loose feed does not fall straight down and land in a perfect pile around their hook bait; it is carried downstream a variable distance depending upon the depth, current speed and direction of the swim you are fishing. Get it wrong and you can empty you swim of fish in minutes! Get it right and you can really bag up. Let's see how by looking at three of the prime target species which will be feeding on a river near you now.
Barbel fishing on a river
Widely regarded aa the ultimate coarse fish river dweller the barbel is custom built to withstand any current. They grow big, fight hard and are, arguably, the easiest of all river fish to catch because of their almost sheep-like willingness to follow one another and feed.
The secret to catching barbel is bait application and this is the species where you really do need to get your baiting right or you could end up sending all the fish in your swim hundreds of metres downstream very quickly indeed – I know, I've done it! As far as bait is concerned you need look no further than pellets, luncheon meat, hemp and perhaps a few mini boilies, but it's what you do with them and where and when you put them that is so important.
Barbel are bottom feeders and to succeed you need not only to get your hook bait on the bottom but to make sure your loose feed is on the deck exactly where you want it to be –  and this means using a bait dropping system of one type or another.
There is no benefit at all from throwing in a handful of bait and not having a clue where the current is going to take it. You have to get it on the bottom around and below your hook bait with a flavour trail running downstream to pull fish up to you; what you don't want is fish swimming downstream and away from you as they follow your free offerings which have hit bottom a long way downstream.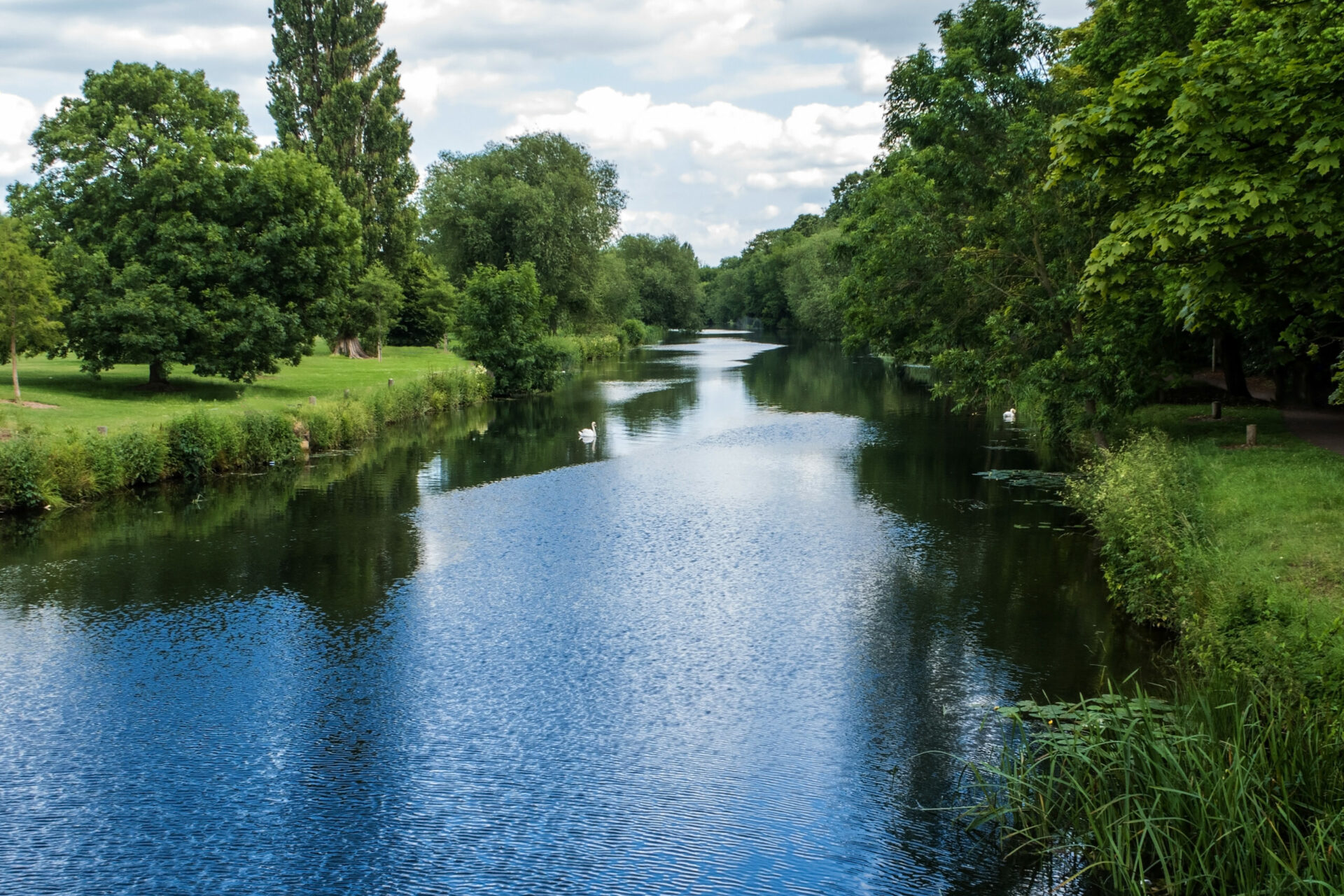 Get the bait to the bottom where you are fishing
The answer is simple either use a bait dropper to deposit your free offerings straight to the bottom, a PVA bag attached to your hook or a feeder. However, whichever you choose you must ensure you cast it to the same spot each time to keep the bait running along the same 'corridor'.
Standard light carp tackle will cope with most situations with a hair-rigged mini boilie or drilled 14 mm pellet on a Size 8 or 10 hook and 10lb or 12lb main line being ideal. I favour a straight forward running lead arrangement for most of my fishing with a flat lead of around 2oz usually proving ideal for most river conditions. Because it is important that your lead holds the river bottom don't be scared to step up if there is a strong push of water.
Barbel like faster moving water
As far as swims are concerned barbel are built to withstand currents so don't look for them in slacks, even in floodwater. Look instead to evenly paced glides over gravel or areas of weed or snags – especially if they are associated with a slight depth change.
If you have the time to drop out some bait and wait before you cast out then so much the better as the longer you can leave barbel feeding undisturbed the easier they become to catch! I like to walk along the stretch I'm on before fishing and bait three or four swims with a mix of hemp and pellets then fish them in rotation, topping them up with a little more bait before moving onto the next. This way I'm always moving onto baited and rested swims and bites are usually quick to come if there are feeding fish present. Barbel bites are savage so no need for fine quiver tips – just hold onto that rod butt or anchor it in a tight butt rest and wait for the tip to pull round 3ft!
Chub – the fish for all river conditions
Chub are the one species you can bank on to feed in almost any situation. They are not lovers of heavy floods but they are catchable even then and whatever the state of a river you will usually find one willing to have a go.
Unlike barbel chub can be really cute feeders and big fish in particular can be really cagey critters, so rather than carp tackle you will need a feeder rod with a soft tip to pick out those sensitive, quick pulls and scaling down your tackle can make a real difference with fluorocarbon hook lengths and small, light hooks a real advantage.
My standard approach for big fish would be 6lb main line with a 4lb fluorocarbon hook length and Size 10 hook, but I'll scale down to a single maggot on a Size 20 to 2lb or a lump of cheese paste on a Size 4 straight to 8lb line depending upon conditions. With chub there are no hard and fast rules!
Which baits work well for chub when river fishing?
In coloured water small cubes of meat, boilies, pellets or a nice smelly cheese will catch whilst offerings of bread or maggots work well in clear or clearing water. Unlike barbel, chub have a habit of picking up baits in the extremity of their lips so forget long hair rigs and put your bait directly on the hook or use a short hair or band to hold it tight to the shank.
A cage feeder packed with liquidised bread and a pinch of breadflake is my favourite approach and a fresh white sliced loaf whizzed to fine crumbs in a liquidiser is usually plenty for a day. Alternatively a couple of slightly stale – hard but not mouldy – loaves can be mashed with water to provide a highly attractive sloppy feed which you can introduce by hand in steady water.
In clear water don't ignore float fished maggots as few chub can resist a steady stream of grubs falling through a swim and will usually come up in the water to intercept them allowing a shallow fished waggler to be used to good advantage. As with barbel it pays to bait and wait before fishing to get the chub feeding confidently.
Chub generally favour slacker water than barbel with the classic swim a crease where currents of two different speeds meet such as below a bend or downstream of a snag. Rafts of collected rubbish are also great swims as chub really like a roof over their heads and such swims invariably hold a fish or two which can be persuaded to come out by steady baiting or, if you are in a hurry, a light link leger can be rolled under and straight into their dining room.
Glorious grayling – the 'Lady of the Stream'
Once the preserve of exclusive trout beats, grayling fishing is now available to most anglers on the upper reaches of rivers and every year opportunities for fishing for the 'Lady of the Stream' increase as beats open their doors to coarse fishing techniques. Best of all grayling will feed no matter how cold it gets!
If you are nervous of float fishing in fast, running water then grayling are the perfect species to target as, unlike roach, dace or chub, they are reasonably tolerant of poor presentation. Pound for pound they fight as well as any species in freshwater too so be prepared for fireworks when you strike into a good one!
Tackle and techniques for grayling fishing on rivers
You will need a crisp-actioned float rod of 13 to 15ft and a reel with line of around 4lb breaking strain. A large chubber or loafer style float is ideal with the shot bulked well down to get the bait quickly through the water. A hook length of 2lb and a Size 16 or 18 hook baited with a couple of red maggots is perfect.
Purists will argue your reel should be a centrepin and I admit trotting with a 'pin is delightful but any small fixed spool will do just fine – just remember to use your rod and fingers to keep your line in check and in a taut, straight line behind your float as it travels downstream and you won't go far wrong.
Don't worry too much about getting the depth spot on just slide the float up or down until you get a clean run through without snagging bottom and with a big pinch of maggots fed on the same line as the float every cast you will soon get bites if fish are present.
Try any swim along the stretch and move on if you don't get a bite within ten minutes as grayling are usually very quick to respond to feed. They tend to shoal in small groups or 'pods' so when you get one there are almost certainly a handful present so stay put and work the swim. Red maggots are the ultimate bait but a grain of sweetcorn will often single out the best fish so make sure you carry a few golden grains as a change bait and enjoy catching one of the most beautiful looking fish there is.
There's always something to catch on a river
Of course there are other river fish you will encounter and roach and dace in particular can be reliable feeders in warm and coloured and cold and clear rivers respectively. You will also find good perch and, depending on your river, your chub and barbel baits may well pick up carp, bream or even tench and trout. One thing however is for certain and that is whatever the conditions there will always be something willing to feed on a river – all you've got to do is get out there and catch them!
If you would like to know more about how to fish rivers…
If you would like to know more about how to fish rivers you should also read Chris Smith's in-depth article River Fishing – A Guide to Getting Started in which Chris talks you through everything you need to know including what to expect, how to fish a stick float, bait presentation, understanding shotting patterns, which floats to use, how to plumb a river's depth and choosing the right tackle.
Comments
Search by Region or County
Find new places to go fishing in your local area or county by choosing your destination below