Drayton Resevoir
Arguably one of the best easy specimen carp fisheries of its type in England with the majority of fish running between 16lbs and 20lbs. Wherever you fish you shouldn't go far wrong.
Key facts about Drayton Reservoir
Don't leave rods unattended or you'll lose 'em!
Fish over 20lbs caught every day
Boards past sailing club for night anglers only
Modern wooden walkway round most of the water
Night fishing by advanced booking
Anglers can bank 1,000lbs of carp in 24 hours
36 of the 123 pegs bookable for night fishing
Bookings taken by text messages only
The Canal and River Trust proudly says that Drayton Reservoir is arguably one of the best easy specimen carp fisheries of its type in England. And with the average size now being between 14lbs and 16lbs with much bigger fish being caught, it is not surprising that the water is popular with anglers of all ages and abilities.
Where fishing is permitted on the reservoir.
Angling is permitted throughout the water except from near the Sailing Club on the right hand side of the dam. It speaks for itself when the Canal and River Trust warn anglers not to leave their rods unattended when fishing. Over the past few years, more than 500 rods and poles have been dragged into the reservoir after being left unattended by anglers. Despite Drayton's popularity, anglers can always find room to fish, particularly since the venue stopped match fishing about three years ago. And with an abundance of trees and waterside vegetation there are some very attractive pegs.
In 2004 Drayton claimed its first 40lb carp, whilst fish weighing over 20lbs are caught virtually every day and even modest anglers can expect to catch several double figure fish at a sitting with afternoon sessions usually being the most productive.
Access to the reservoir
Like its neighbour Clattercote Reservoir, Drayton is unusual in that it is almost completely surrounded by a modern wooden walkway which leads to 123 individual jetty-style pegs which jut out into the water. These were installed for the beginning of the 2016 season and provide much more room for anglers with bivvies than the previous pegs. Night fishing is available at Drayton but pegs must be booked in advance.
Mark and Angie Ryder have managed Drayton for nine years and say that recently one angler banked 54 fish to well over 20lb in a single 48-hour session, adding that it's not uncommon for visitors to bank 1,000lb of carp in 24 hours.
Drayton Reservoir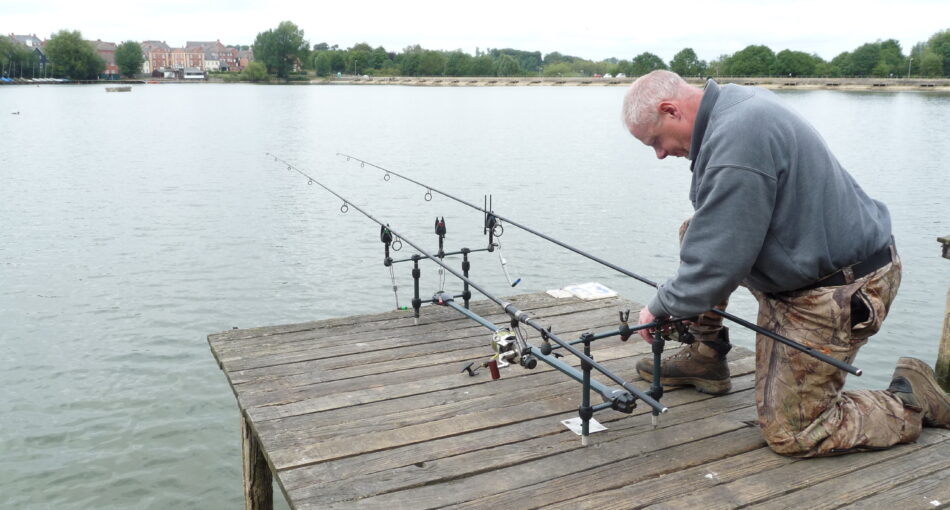 Plenty of pegs to choose from
Drayton Reservoir offers a total of 123 pegs, 36 of which are bookable night fishing pegs along the newly installed timber staging past the saling club on the right hand side of the reservoir and five of which are on the left hand side of the water. In addition, the fishery also has an area from pegs 63 to 79 down the left hand side which are reserved for night anglers who have not booked and are available on a first-come-first-served basis.
Lots of carp, as well as roach, perch, tench and pike.
Stocked predominantly with carp, a large number of which run to well over 20lbs but which average between 14lbs and 16lbs; as well as with perch to 2lbs 8oz; roach to 1lb 8oz; tench to 4lbs; and pike to over 26lbs, Drayton is a feeder reservoir for the Grand Union Canal and offers a variety of fishing from sheltered stretches in tree and reed-lines bays to open water fishing.
As one would expect, the deepest water – up to 30ft – is to be found off the dam wall whilst at either end of the dam it shallows to about eight feet. The depth shallows off towards the far end, running at only three feet near the banks to about seven feet in the middle at the far end.
Substantial 100lbs catches common on Drayton Reservoir
When it comes to fishing, Drayton is popular with anglers from as far afield as Llandudno and most people do well even on their first visit. With 100lb-plus catches of carp now commonplace, Drayton attracted more than 15,000 angler visits last year.
Because it is fairly large, Drayton is slow to warm up at the beginning of the year but by the same token fishes well late into the season as it retains the heat better than many waters. As a result, the best months tend to be from July through until about Christmas. During this time everywhere on the water fishes well.
Fishing during the winter
After Christmas, however, the more successful pegs tend to be in the deeper water whilst from the end of March onwards the fish tend to spread throughout the lake with the very far end yielding good results for those prepared to walk in search of a bit of seclusion. Drayton is also an excellent pike venue in winter with the pike season running from October 1 until March 31.
Ideal technique on Drayton Reservoir
The three main techniques used to fish Drayton are bottom fishing using a Method or groundbait feeder, an ordinary or bagging waggler and fishing either on the surface or using a Zig Rig to present the bait on or just under the surface. However, because the size of fish has increased over the past few years there has been a corresponding drop in the number of anglers using the pole.
As a result of the increase in size of the fish, most anglers now fish a 10lb main line tied to a 6lb minimum hook length and anything up to a Size 6 or 8 barbless hook. For float fishing in the deep water anglers are recommended to groundbait and loosefeed constantly and fish about six feet deep. Paste and pellet baits are also good, fished five to six metres from the bank.
Having said that, Drayton is another of those waters where you don't need to fish far out from the bank to catch and a waggler fished just off the end of the rod tip on the bottom often produces equally good results as baits fished at longer distances.
Also, it seems that almost anything goes. Two local anglers who have been regulars to the water for the past six years say they can remember having had only two blank sessions. Most times they fish the water they don't bother to take any hook bait, their favourite bait is ordinary groundbait squeezed tightly onto the hook and fished under the rod tip!
Key information to keep in mind
Because Drayton is a popular venue anglers are reminded that fish welfare is a priority so they should take a good padded unhooking mat with them and always kneel down with fish when having them photographed. They are also reminded that the reservoir is now virtually surrounded by adjacent housing. As a result, 'social angling' is encouraged with anglers being reminded to be quiet and respect neighbouring residents, especially when night fishing. Permits for Drayton are available from the patrolling bailiff on the bank. There are toilet facilities and car parking spaces.
Recommended gear, tackle and bait
The fish at Drayton are particularly powerful and so we recommend tackling up with a slightly heavier set up than you would normally. Runs are aggressive, even rod snatching, so make sure you have a bait runner reel or at least a reel with a good progressive drag.  The following tackle and terminal gear below is recommended by our team, who have had experience in fishing this venue. Bait wise, we've found most baits work well, but red hook-able pellets work very well and the carp love them!
Prices
Drayton Reservoir is open for fishing all year round from 7.00am until 9.00pm in summer (Monday to Friday) and 6.30am until 9.00pm (weekends). The fishery closes for day ticket anglers half an hour before dusk in winter. Night fishing is available by advance booking only off the new walkway past the sailing club.
Ticket costs

Adults
OAP/Disabled/Jr
Day

8.00 (1 rod) / 12.00 (2 rods)

5.00 (1 rod) / 10.00 (2 rods)

Day
8.00 (1 rod) / 12.00 (2 rods)
5.00 (1 rod) / 10.00 (2 rods)
Evening (after 5.00pm

5.00 per rod

5.00 per rod

Evening (after 5.00pm
5.00 per rod
5.00 per rod
Night (noon-noon)

25.00 (max 2 rods)

25.00 (max 2 rods)

Night (noon-noon)
25.00 (max 2 rods)
25.00 (max 2 rods)
Rules and conditions
For the safety of anglers the water is patrolled 24 hours a day, seven days a week.
Because of the stamp of the fish in Drayton, unhooking mats must be used.
In addition, anglers should not take metal tins for items such as cat food, luncheon meat or sweetcorn onto the site.
How to get there
Drayton Reservoir can be found on the northern edge of Daventry where the A361 nears the town and can be reached from the M1 motorway for anglers travelling from the North or South or from the A45 for those travelling east or west.
From the north leave the M1 at Junction 18 and head south on the A5. At the roundabout in Kilsby take the A361 heading south to Daventry and Drayton is on the right hand side.
Travelling on the M1 from the south east, leave the motorway at Junction 16 and take the A45 to Daventry, then follow the signs for Drayton Fields.
From the south west come off the M40 at Junction 11 and take the A361 to Daventry, then follow the signs for Drayton Fields.
Get directions on Google Maps
Comments