How to use Google to attract more anglers
Running or owning your own fishery or fishing venue isn't easy, nor is attracting new anglers to your fishery. In this article we look at how using Google Business Listings can help you get seen locally online.
Why is Google important to my fishing venue?
Google is the king of search and there are five billion searches on Google each day. Well that's great, but what the heck does that mean to my fishing business I hear you ask? Well, the one thing Google is very good at is working out how to give people results that are relevant and local to them. We've found that over 70% of searches by anglers are local searches, terms like 'fishing in oxfordshire' or 'fisheries in Warwickshire' and indeed most anglers tend to go fishing within an hour of where they live.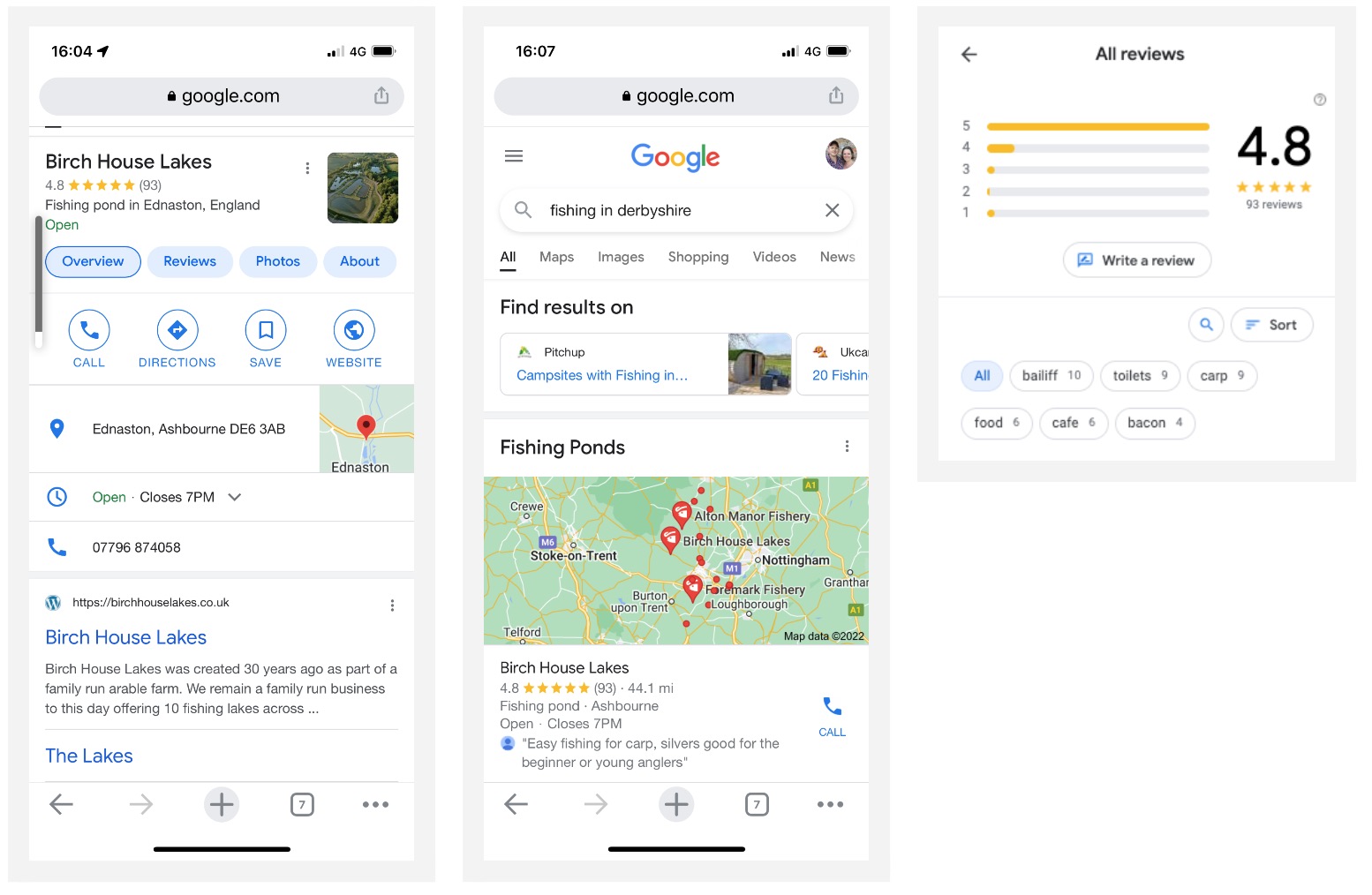 So how does Google do such a good job of matching local searches and local results? Well, one of the ways is through its Google business profiles, and if you have a Google business profile which has been set up well it will really help your fishery get found.
What is a Google Business Profile?
A Google Business profile (it used to be called Google My Business or GMB) is a service that helps local businesses and organisations be found more easily. The best thing about a Google Business Profile is that it's totally free, not just to set up, but also forever. You'll often see them come up on the right-hand side of the search results (on Desktop) like the example below.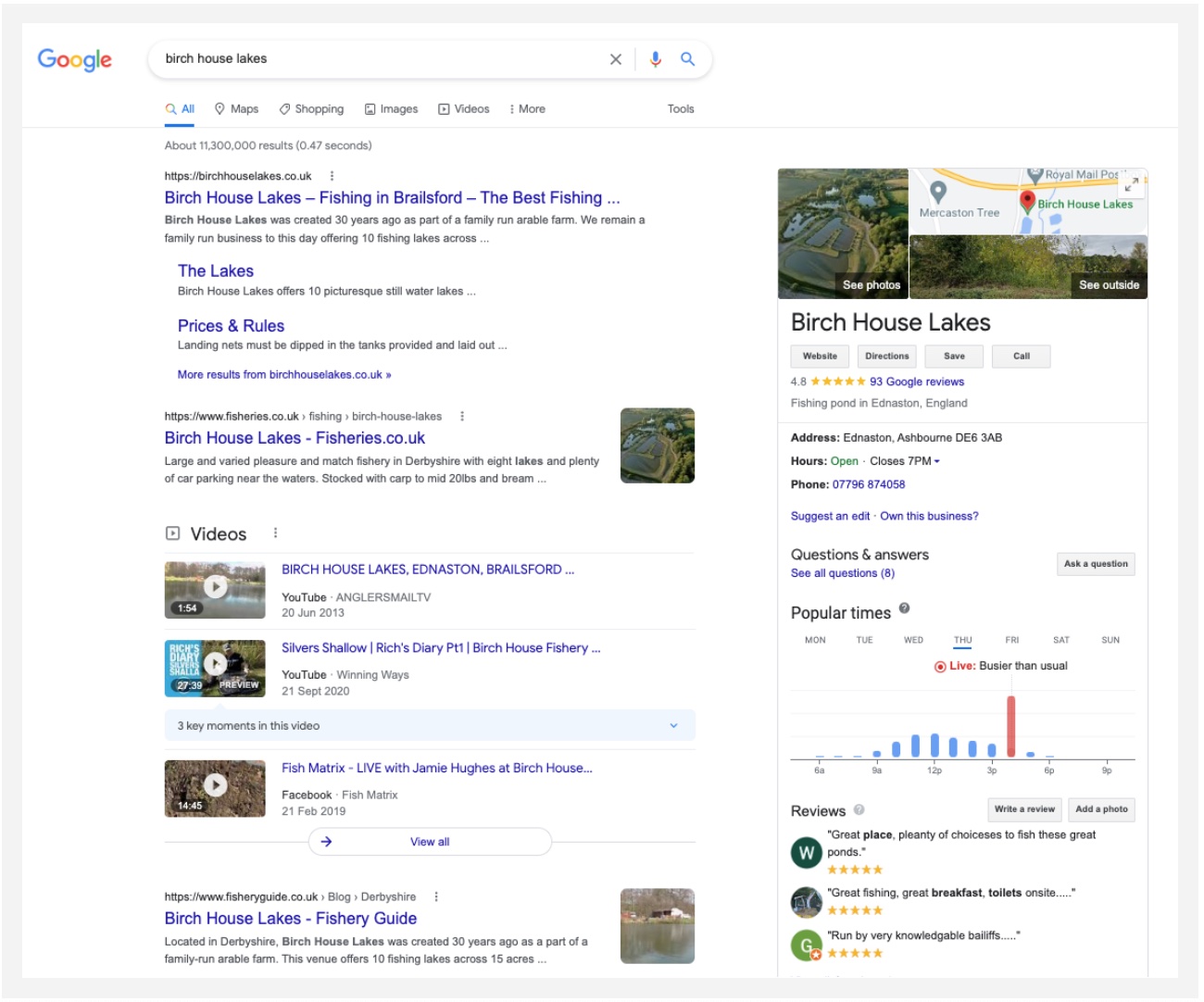 What are the benefits?
There are a number of benefits to getting a Google business profile and they include:
Makes it easier for anglers to contact you – Adding your phone number and email address will mean customers can click on these and contact you directly for free, without even visiting your website.
Makes it easier for anglers to find you – by setting up a Google business listing, you get your venue on Google Maps as well. Google Maps shows on the organic search results, on things like Google based Sat Navigation systems and also voice-activated search devices. So getting on the map with Google really tells them where you are and what you do.
Gives anglers an instant insight into your venue  – On your Google business profile, you can add all sorts of details about your venue, opening hours, pricing, events, promotions and photos. You can add as many photos as you want, these photos then will start appearing on Google Photo searches as well. The more detail you put on the more Google will know about your venue, which will help anglers find you.
Allows people to rate you – Who doesn't read reviews these days? Google business lets your anglers review your venue and show how good it is. What's more, if you get over 5 reviews, then Google priorities your venue above others – it's worth asking a few of your regulars to put on a review for you.
How to get a Google Business Profile?
First of all, check to see if your fishery has a Google business profile set up. Start by searching for your business on Google by typing in its name. Sometimes Google has automatically created a profile for you, using the information it has found on a website. If this is the case, you can claim it. There is a simple process to follow here.
If you've not got a business profile set up already, then you can create one. You'll need to register your fishery but the process is easy and setting your Google Business Listing shouldn't take you much more than an hour to do. You can start setting one up here. 
Don't panic if you can't get all the information in there at once, you can always come back to your profile and change it, add more photos and of course, add promotions and events. The more often you keep it up-to-date the better. We've set loads of these up in the past – so if you have any questions around this just drop me a line and I'll do my best to help.
Looking for an easy option?
If you're looking for a really easy option of getting found on Google, then you could add your venue to our site. Whether you have a day ticket, exclusive use, syndicate or holiday fishing venue, we've got you covered. And because we come up right at the top of Google for Phrases such as 'Fishing Lakes' Or 'Fisheries' you can just piggyback on our success – we really don't mind! Take a look at what we offer and drop us a line if you want to come on board.
Comments
Search by Region or County
Find new places to go fishing in your local area or county by choosing your destination below