Riddings Fishery
Four beautiful pools offering pleasure and match angling including a specialist crucian carp pool. Plenty of bankside cover and carp to 30lbs
Facts and features about Riddings Fishery
Gravel walkway to every peg
Suitable for disabled anglers
Keepnets allowed on two pools
Club match bookings taken - regular Open matches
Plenty of bankside vegetation
Suitable for pole, waggler and feeder fishing
Sweetcorn and luncheon work well as baits
Behind a row of houses set back from the main A5 at Grendon, between Atherstone and Tamworth, the family-run Riddings Fishery comprises four beautifully maintained pools on a 15-acre site which offer a combination of mixed pleasure and match angling, a specialist Crucian Carp pool and a big carp Specimen Pool where the record fish  stands at 39lbs 14oz although this has not been seen for several years. The largest carp are now thought to be around the 30lb mark. Developed in 1990, all the waters have been carefully planned and have matured nicely.
The bankside vegetation, shrubs and trees are set off by grass banks and verges which are regularly mown, whilst gravel walkways behind every peg make the fishery suitable for disabled anglers. Because the pools are fed with water from an on-site borehole, the water quality is high and the well-maintained banksides make this an ideal venue for anglers and their families… a great place for youngsters to learn and catch.
Next to the main car park, which is only yards from Riddings Pool yet screened from the water by trees and shrubs, is a cafe which is open seven days a week for hot and cold sandwiches, bacon and eggs, tea, coffee, cold drinks and confectionery. Next to the cafe are clean and well-maintained ladies and gents toilets. For many years anglers were not allowed to use feeder pellets at the fishery but in 2021 the venue introduced its own range of pellets which are available from the cafe and are the only feeder pellets that should be used.
The Riddings is open all-year-round from 6.00am until 9.00pm in summer and 7.00am until 5.00pm in winter. Keepnets are allowed on Folly and Crucian pools but not on The Riddings and Specimen pools.
Riddings Pool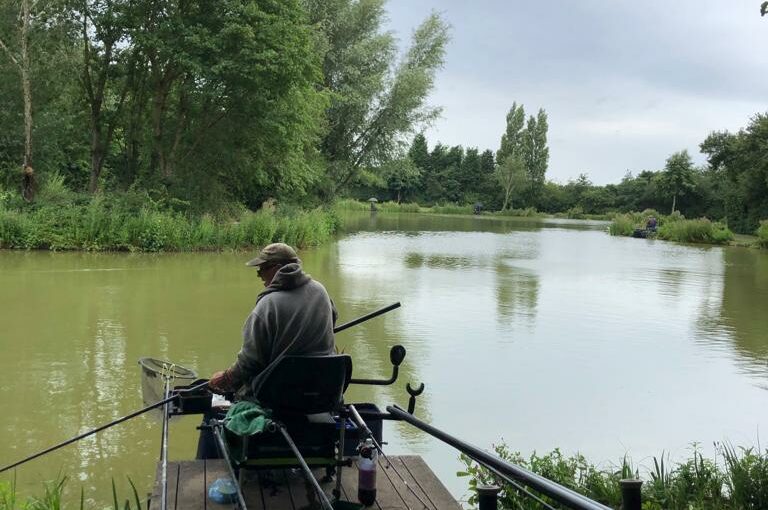 Mirror, Common and Ghost Carp
The main match and pleasure water at the fishery, Riddings Pool holds 35 well-spaced pegs and although predominantly a carp lake holds good stocks of silver fish, tench and Golden Orfe. The average size of the mirror, common and ghost carp is between 6lbs and 7lbs whilst specimen fish include at least one known mirror which came out at 35lb 4oz and another at 26lbs. There are also a lot of doubles between 10lbs and 20lbs which are caught daily.
Match record stands at 311lb!
With bream averaging 4lbs and running to 6lbs 8oz, tench to 7lbs but mainly around 4lbs to 5lbs, roach to 2lbs with 1lb specimens caught regularly and rudd to 1lb 8oz, there are plenty of decent size fish to go for. In addition, the pool holds chub to 4lbs and golden orfe to 3lbs 8oz. Currently the match record stands at 311lbs, set by Tamworth angler Chris Phillips with an mixed bag comprising mainly carp and bream taken on pole fished worm and casters from Peg 25.
About the Pool
The pool offers a variety of depths. Near the car park the water is about five feet deep running to six feet on the far side of the island and gradually sloping away to seven, eight and nine feet at the far end. The two bays where the pool widens out at the far end are even deeper, running to 11 feet.
Techniques that work well
Fishing the pole, waggler, feeder and ledger are popular and effective ways of fishing this venue. Anglers fishing the farm end should get their bait tight to the island or if fishing the far end should cast about 20 or 30 yards out towards the middle of the pool. Many pole anglers prefer to fish up in the water varying their depth depending on the weather using either sweetcorn or luncheon meat as bait. Pole anglers fishing on the bottom, however, tend towards cat meat or pieces of gammon which tend to stay on the hook better.
Alternatively, because there are a lot of established weed beds around the sides of the pool, many anglers float fish or fish the feeder close in by the weeds. Floating baits also produce good catches of carp and even bream which are regularly taken off the top. As a general rule the most popular baits tend to be sweetcorn and meat, although maggots are also widely used. Many anglers fishing for carp with a single piece of sweetcorn have been taking decent sized roach, so have doubled up on their hook bait. Sweetcorn is also the finest thing out for tench on the pool, although worm and caster are both very effective baits.
Ground bait only allowed in feeders or by cup.
Because groundbait is only allowed in feeders or pole cup, anglers are recommended to loose feed with sweetcorn and hook samples. Many anglers start fishing the Riddings by baiting a swim with sweetcorn before fishing luncheon meat over the top. They then loose feed at intervals with more sweetcorn and hook samples. Casters are another good hook bait and can be particularly effective when fished over loose feed maggots. Other good hookbaits are worm, bread and cat food.
The best catches tend to be taken by anglers who feed their swim quite heavily. Indeed, when Fisheries.co.uk last visited this pool we started by feeding quite heavily with a mix of luncheon meat and sweetcorn and were getting bites nearly every cast right from the start. By feeding a handful of loosefeed every cast the end result was a nice bag of common and mirror carp, tench and roach which kept us busy throughout our session.
Because Riddings Pool holds a good head of carp, mini-boilies are a good bait which also produce bonus bream, although loose feeding boilies and trout pellets is not allowed because they ferment in the pool. Anglers are recommended to use 6lb to 8lb line fished straight through to a 12 or 14 hook whilst pole anglers need to use either a 14 or 16 elastic. The large number of double figure fish make this a sensible minimum.
Crucian Pool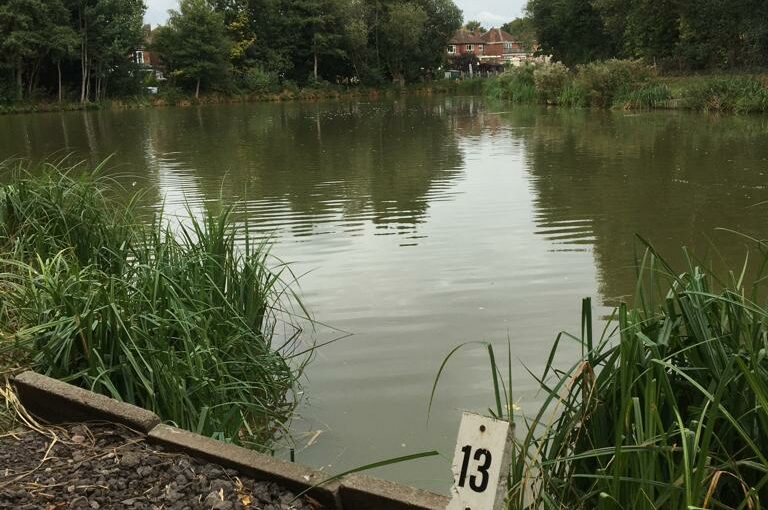 As its name suggests, this one-acre triangular-shaped pool started life as a predominantly crucian carp water and although crucians to about 2lbs are still the predominant species, it now holds a wide range of other species including a near record-breaking 7lb 2oz golden orfe. When caught by Tamworth angler Keith Cottrell from Peg 4, it was just 8oz short of the British Rod Caught Record. With roach and rudd to 12oz, tench, mirror and common carp to 6lbs and bream to 2lbs, Crucian Pool is a popular water with regulars to The Riddings.
A nice looking water
Although the water has three banks, fishing is allowed off only two to comply with planning regulations, but with 20 pegs there is still plenty of room. Whichever peg you choose, the banks slope straight down to between four and five feet deep which is the average depth throughout this pleasant pool. During colder weather, the golden orfe can be caught just as easily off the bottom, particularly using small red worms.
The Crucian Pool caters for small club matches requiring up to 20 pegs and the current match record of 120lbs 14oz was set by Tamworth angler Chris Phillips from Peg 4. Chris pole fished worm and caster in the margins for a mixed bag of mirrors and commons. Unlike the other pools, keepnets are allowed for pleasure anglers as well as during matches.
Because it is reasonably shallow with a level bottom, the most popular technique for fishing the pool is to use float with either rod or pole. Most anglers fish under their feet because the crucians tend to patrol around the edges, and handfeed maggots, casters, sweetcorn or meat, using small pieces of meat or sweetcorn as hookbait. Line strengths of 3lb to 4lb fished straight through to a 16 or 18 hook are recommended – go in much lighter than this and you risk being broken by the larger fish.
Folly Pool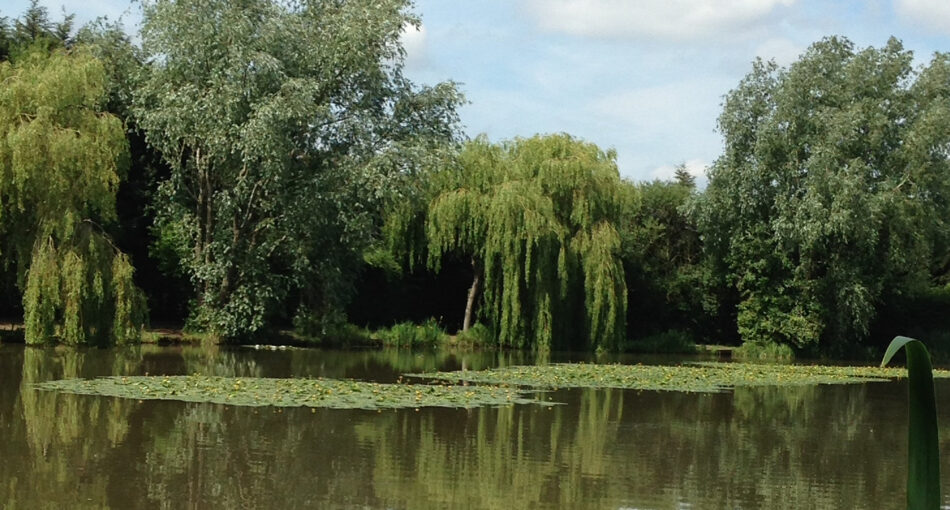 Dug in 1995 and left to mature for four years, the two-and-a-half acre Folly Pool has been stocked gradually throughout the intervening period with a broad range of fish including a lot of home-bred commons and mirrors. It offers a total of 33 pegs. The water provides good match and pleasure sport and holds chub to 2lbs; roach and rudd to 2lbs 8oz; tench and bream to 5lbs; crucian carp to 1lb; and a large head of mirrors, commons and ghosties, a few hundred of which run to double figures with the largest believed to be about 25lbs. The pool also holds a decent number of grass carp which run to over 2lbs.
Folly Poll is fringed with reeds
The pool is pear-shaped with a gradually shelving bottom which runs from eight to 10 feet deep at the entrance side of the reeds and six to seven feet at the far side of the reeds. The pool is at its deepest at the narrow end where up to 11 feet of water can be found.
Fringed all the way round with reeds, the water is protected from the wind by a planting of Leylandii and has well-maintained grass banks which make it suitable, particularly in summer, for disabled anglers. Folly Pool is also served by its own car park which is only a few yards from the water's edge.
Because the water is the furthest from the entrance to The Riddings and the car park and pool are well landscaped, even some regulars to the fishery are still unaware that Folly Pool exists! Those who have found and tried it, however, say that the pole and waggler both work well whilst maggot and groundbait feeder are also effective, particularly in the deeper water where some anglers find float fishing more difficult.
The barbel will take anything and provide lively sport once hooked, whilst a lot of skimmers up to 1lb are taken by fishing over depth on the bottom using maggot – double red maggot being particularly effective. Groundbait is only allowed in groundbait feeder or pole cup. In addition to being popular with pleasure anglers, Folly Pool is also a productive match venue with the current match record standing at well over 200lbs and weights of over 200lbs being regularly taken.
Like Crucian Pool, keepnets are allowed, another idea which has proved popular with visitors, although anglers are asked to return any fish over 3lbs and not use keepnets in hot weather.
Specimen Pool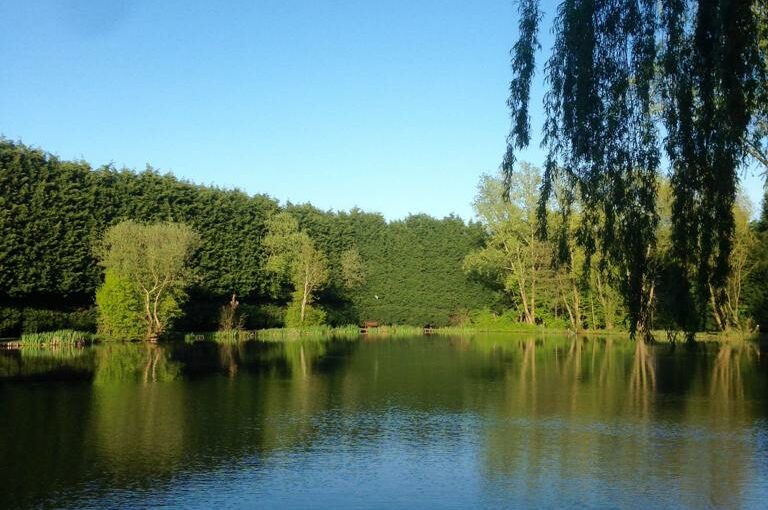 Although it has only eight pegs, Specimen Pool attracts anglers from far and wide, particularly from the North West. The rules specify that a minimum line strength of 10lbs must be used as at least four of the fish are known to be well over 30lbs and a further 40 well over 20lbs. To try to maintain a high minimum size, no fish under 10lbs are stocked and as many small fish as possible are removed from the water each winter. As a result, about half the fish range between 10lbs and 20lbs.
Most anglers who fish the Specimen Pool use modern carping techniques and boilies are by far the most popular bait with Scopex being particularly favoured. Most commonly used flavours include strawberry, vanilla and monster crab, although more traditional baits such as sweetcorn, lobworm, pellets and luncheon meat are all very effective. Good fish can also be taken using the float.
Best pegs and depths
The pool bed slopes gradually from the Farm end to the end nearest Crucian Pool with the farm end shelving from four to six feet by the island before turning deeper to 10 feet nearest Crucian Pool. The water in the bay off Pegs 9 and 10 is between 10 and 11 feet and is obviously favoured for winter fishing.
Prime places to fish are Pegs One to Four fishing tight into the opposite bank where there are no pegs and where the fish know it is quiet. However, as the secret is to get your bait as close to the reeds as possible, accurate casting is important!
Peg 6 looks straight between the two islands. Here, anglers should fish either close to the islands or between them – even though it is only about two feet deep – to pick up patrolling fish. However, if you fish between the islands you need to sit on your rods because hooked fish tend to bolt behind the islands and fish can easily be lost if they get round the back.
Anglers fishing Pegs 8 and 9 should use similar techniques. On Peg 8 you can either fish up to the island or into the bay to your right. Here it pays to fish close to the bullrushes and reeds which line the bay. On Peg 9 you again need to go to the island or into the deep water in winter. Peg 10 offers the most scope for anglers because there is the facility either to fish towards the island or to walk round the margin, drop your bait by the reeds and then run out your line as you return to your peg. Alternatively, Peg 10 is also good for stalking.
Prices
Match bookings are taken at £8.00 per peg. All juniors must be accompanied by an adult. Although keepnets are allowed on Crucian and Folly pools, nets must be emptied and put on the bank between 1.00pm and 3.00pm.
Opening times:
April 1 to October 31 – 6.00am until 9.00pm
November 1 to March 31 – 7.00am until 5.00pm
Ticket Prices

Adults
Juniors / OAP
Day ticket (one / two rods)

Day ticket (one / two rods)
9.00 / 10.00
6.00 / 7.00
Afternoon ticket after 2pm (one / two rods)

Afternoon ticket after 2pm (one / two rods)
6.00 / 7.00
4.00 / 5.00
Specimen Pool ticket (two / three rods)

12.00 / 15.00

12.00 / 15.00

Specimen Pool ticket (two / three rods)
12.00 / 15.00
12.00 / 15.00
Specimen Pool ticket after 2pm (two / three rods)

8.00 / 10.00

8.00 / 10.00

Specimen Pool ticket after 2pm (two / three rods)
8.00 / 10.00
8.00 / 10.00
Rules and conditions
See notice board in car park for any additions:
Handle all fish with care
Use only barbless hooks
Please put all litter, line, unwanted bait in bins provided
No dogs allowed on site
Please use the toilets provided
Use unhooking mats for landed fish
Please take home broken umbrellas, chairs, poles etc
No bolt rigs or elasticated feeders
Children must be supervised at all times
Respect other anglers – keep noise to a minimum
Groundbait must be fed in cups or feeders – no balling
No tiger nuts or peanuts
Use only Riddings own feeder pellets – available on site
How to get there
The Riddings Fishery is situated just off the main A5 between Atherstone and Tamworth at Grendon, only a few minutes drive from Junction 10 of the M42.
On leaving the motorway, turn towards Nuneaton on the A5, drive straight through Dordon and on entering Grendon look for the slip road between the houses on the right and the main A5
Turn into the slip road and continue parallel with the main road until you come to the entrance to a small lane on the right with the fishery clearly marked.
Coming on the A5 from Nuneaton, as soon as you see the sign saying Grendon look for the slip road between the houses on the left and the main A5. The entrance to the fishery is from this slip road between the houses.
Get directions on Google Maps
Comments