Packington Somers Fishery
One of the most successful and varied commercial coarse fisheries in the Midlands offering pleasure and match fishing with cafe and toilets
Facts and features about Packington Somers Fishery
About a dozen lakes and pools
Stretch of the nearby River Blythe
Purpose built fishing lodge
Limited amount of tackle and bait for sale
Several car parks near lakes
Popular match and event venue
Packington Somers has to be one of the most successful and varied commercial coarse fisheries in the Midlands, if not the UK, now offering a mix of fishing on eight main lakes, four smaller pools and a one mile stretch of the River Blythe.
Somers offers 60 pegs
A well established former gravel pit complex in the heart of the 'Meriden Gap' Green Belt between Birmingham and Coventry, Packington Somers largest water is the 60-peg Molands Mere which has carved itself a niche as one of the most successful match and pleasure waters in the Midlands. It has hosted the Sensas International Final as well as the Drennan 'All Winners' Final, the Drennan 'Superleague' Final, Round Two of the 'Match Fishing' magazine Cup and a qualifier for the Mavers 'Pairs'.
The fishing was further improved with the addition of a further 6,000lbs of f1 carp to 6lbs which provide plenty of sport for anglers. Fishery Manager John Burchall said: "These fish have transformed Packington Somers fishery in terms of match fishing with more 100lb-plus weights being taken now than ever before and back-up weights to match."
A popular open match venue as well as pleasure fishing
As well as some of the UK's top matches, Packington also holds its own regular Open Matches every Wednesday, Saturday and Sunday. Full details of these can be obtained by telephoning the fishery. In addition to the first-class match fishing there is excellent pleasure angling for carp to over 20lbs as well as quality tench, bream, crucians, perch and roach, whilst Packington Somers' nearby 'sister' fishery offers specimen carp syndicate waters.
Club house and tackle shop
Packington has a purpose-built fishing lodge which incorporates a tackle shop, cafe and toilets for both able-bodied and disabled visitors. The lodge is permanently manned in summer and serves everything required for a good day's angling from full English breakfasts, burgers, hot and cold refreshments and snacks to good advice, terminal tackle and baits. Environment Agency rod licences are also available in the fishing lodge.
Whilst there is a large car park near the lodge, non-members can drive their cars into the fishery and park in one of the many designated areas near the lakes for an additional payment of £2.00. Match bookings are available on Gearys, Molands, Little Gearys, Gratuities and the two new Siblings waters. The other pools are for pleasure angling only. All in all it is not surprising that Packington Somers has become one of the Midlands' premier venues which has been sympathetically developed over many years into a mature fishery offering a range of day, half-day, evening and season tickets.
Molands Mere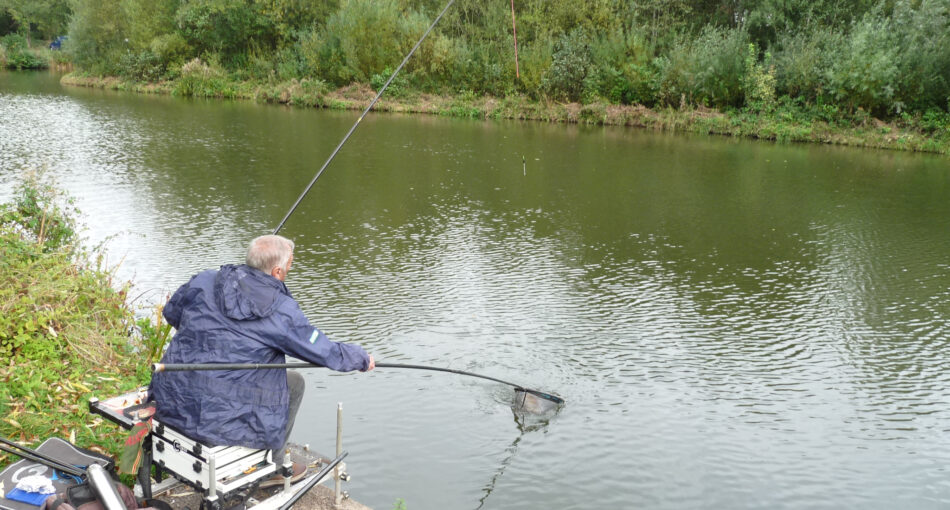 One of the most successful match and pleasure venues in the Midlands, Molands Mere is the largest of the Packington Somers waters with 61 pegs. Redeveloped to its current design from a former 10-acre gravel pit in 2000, it has an average depth of seven feet with a large irregular shaped island running along the centre which provides nearly every peg with a feature to fish to. The luxuriant bankside vegetation also means that most anglers can't see the person in the next peg.
Match weights of over 175lb
Although the water is suitable for most methods of fishing, most anglers opt for the pole although feeder and waggler fishing are both also popular. All swims offer at least 25 metres of water to the island. The current record match weight stands at 178lbs and was taken by Wayne 'Ted' Carter in 2013 whilst early in 2015 carp to 22lbs were already being taken.
Carp to 15lb and tench to 8lbs
The predominant species are in Molands are carp and tench with the carp running to 15lbs and the tench to 8lbs. Molands also holds good head of bream to about 8lbs, a lot of crucian carp, some of which run to over 3lbs, as well as good stocks of roach and perch.
Access is good all around the lake with a circular roadway and pathways to all pegs making the water popular with disabled anglers. Also, with at least 15 yards between each peg this is a 'comfortable' venue to fish.
Willow Pool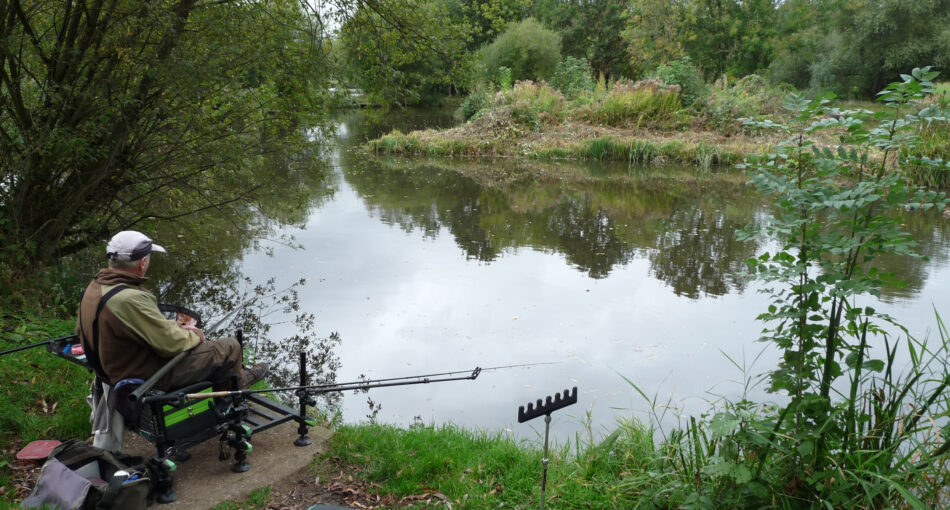 Willow was created by building a dam wall between the restructured Molands Mere and the old Third Bay. To improve features, an island was created in the centre. Offering 13 pegs and reserved for pleasure anglers with only the occasional match being held on it, Willow Pool is well stocked with some decent sized hard fighting carp averaging 2lbs to 3lbs but running to double figures, tench averaging 2lbs but going to 5lbs, crucians to 1lb, skimmers to 2lbs and roach to 1lb.
A very consistent 'bites' water, Willow is served by its own car park and popular with anglers who don't want to fish the larger Modlands. It is therefore favoured by those who are looking for a smaller, more intimate water, being an attractive pool with plenty of bankside vegetation and beds of water plants to fish to as well as more open water swims.
Regarded as a reliable water which consistently throws up good catches, Willow is a good long pole and waggler venue which favours smaller baits such as caster, sweetcorn, luncheon meat and pellet fished under a float. Larger expander pellets often account for the bigger fish.
Alder, Crescent, Reedy Bay and First Bay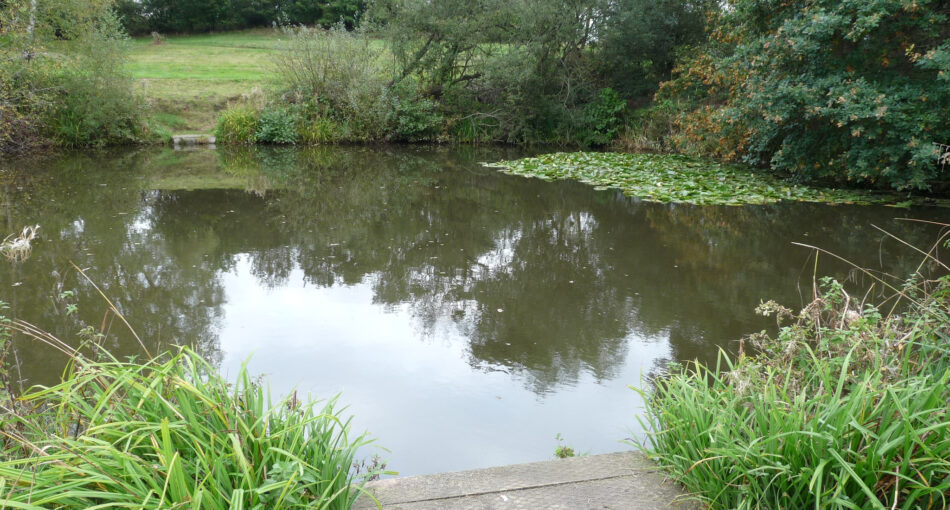 These four smaller ponds down the entrance side of Molands Mere offer good sport with decent sized tench and carp to about 5lbs, crucian carp to 1lb 8oz, rudd and roach to 1lb and perch to 2lbs. With plenty of trees, shrubs, reeds and lilies, these intimate pools hold a maximum of six anglers – although up to 11 anglers can be accommodated on the slightly larger Crescent Pool.
Whichever one you choose, they are all ideal for pleasure anglers offering excellent sport and well worth a visit. No more than five feet deep in the centre, they are ideal for younger anglers because they offer lots of bites on small baits such as maggot and casters. The pools are also good for fishing sweetcorn, luncheon meat and small 4mm expander pellets on the hook. Float fishing the pole or waggler close into the steeply shelving sides is a particularly effective method for catching fish.
Geary's Level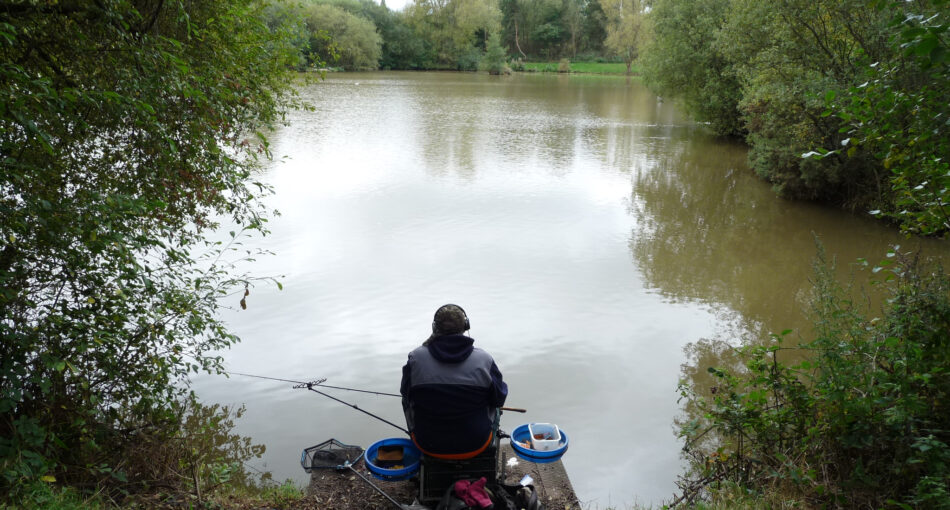 With Molands Mere, Geary's Level is probably the most popular water on the Packington Somers fishery being one of the venue's main match and pleasure venues with match weights to 170lbs regularly being taken even in three-hour events. Eight acres in size but with only 42 pegs, every angler has the opportunity to fish a variety of methods for a variety of species from large, open water swims to more intimate tree-lined bays.
Impressive match weights are caught often
Once again, carp are the predominant species but, despite the size of the water, the majority average only about 4lbs, although specimens to double figures are taken regularly. The largest carp known to have been caught was a 21lb common. Indeed, the smaller carp to 4lbs make up the bulk of match weights with the current lake record standing at 149lbs.
Increasing numbers of bream are also starting to show with fish to 4lbs now regularly being taken. These are in addition to good shoals of skimmer bream with a lot of individual fish weighing in between 1lb and 2lbs. Despite its size Geary's is a fairly shallow water being only four feet deep out from most pegs, although about five feet can be found off the high bank pegs numbers 1 to 15.
Look out for the gravel bar
About 70 yards out from some of the high bank pegs there are also markers which show where a gravel bar runs about two feet under the surface. This is a popular area for catching the carp. Popular pegs tend to be those in the middle of the high bank from Peg 7 through to 13; Pegs 16 to 19 and Pegs 30 to 36.
Nearly all techniques work well on this water although fishing the Method Feeder, straight lead with a pellet bait, or fishing the pole are the three most popular. Luncheon meat, 8mm hard coarse pellets, dead maggots and bread are all popular and successful baits. However, many anglers become preoccupied with catching carp on this water and ignore the large heads of roach, rudd, bream and tench that can be caught, often very close in, with maggots, caster and pellets fished on the float.
The lake is open for club matches, although there is a minimum booking of 20 pegs at weekends. Clubs that book over 30 pegs get the whole lake to themselves. In addition, regular Open Matches are held mid-week and at weekends which always prove popular.
Siblings Horseshoe and Doughnut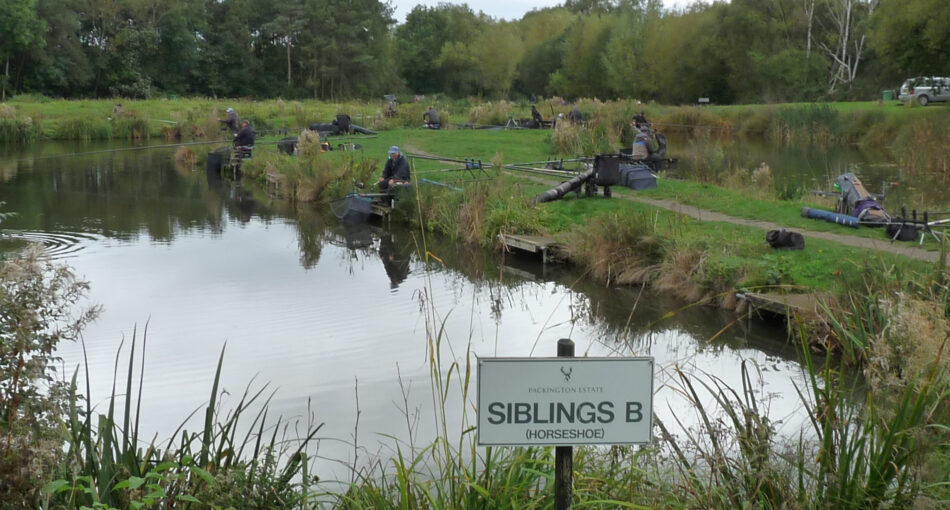 The two new Siblings pools, Horseshoe and Doughnut,  replace the previous single Siblings water which, although once known for its good sized tench and double figure carp, had increasingly proved difficult to fish and waned in popularity. When netted to make way for the recent alterations it was found to hold very few tench, some carp to 20lbs and a mass of skimmer bream. Being almost entirely surrounded by trees, it was also suffering increasingly from depleted oxygen levels because of the large number of leaves which were shed into the water in autumn.
Horseshoe, the water nearest the fishery entrance, offers 18 well spaced pegs whilst Doughnut has 22. Both have been developed with the match and pleasure angler in mind being stocked predominantly with mirrors and commons, f1 carp, tench and silver fish to provide consistently good year-round fishing.
Both waters have a central channel four feet deep with an 18-inch deep one-metre wide shelf marginal shelf off all banks. The changes have already proved successful with match weights of over 100lbs being taken off Horseshoe and similar weights from Doughnut. Not surprisingly, pole fished pellet and maggot are proving to be the best techniques, especially when fished close in or out to the far shelf.
Little Gearys
At just over an acre in size and offering good sport for match and pleasure anglers alike, Little Gearys has 30 solid platform pegs along a circular pathway to give ease of access and holds a good head of match-sized carp plus larger specimens to 8lbs including some nice F1 hybrids to this size. As Fishery Manager John Burchell says: "If there was a national rod caught record for F1s, I think Little Geary's would have it!" In addition, there good numbers of tench to 4lbs plus roach, bream, rudd and crucian carp.
For the most part the pool is between six and eight feet deep and is consistently a productive winter venue. Pole and waggler are the best methods, particularly when fished in conjunction with pellet, sweetcorn, maggot or caster. Because it is the furthest water from the entrance, anglers are allowed to drive up to the car park alongside the pool. Match bookings are taken for clubs of up to 25 anglers and the match record currently stands at 135lbs, taken by Fish O'Mania winner Mick Bull from Peg 28.
Gratuities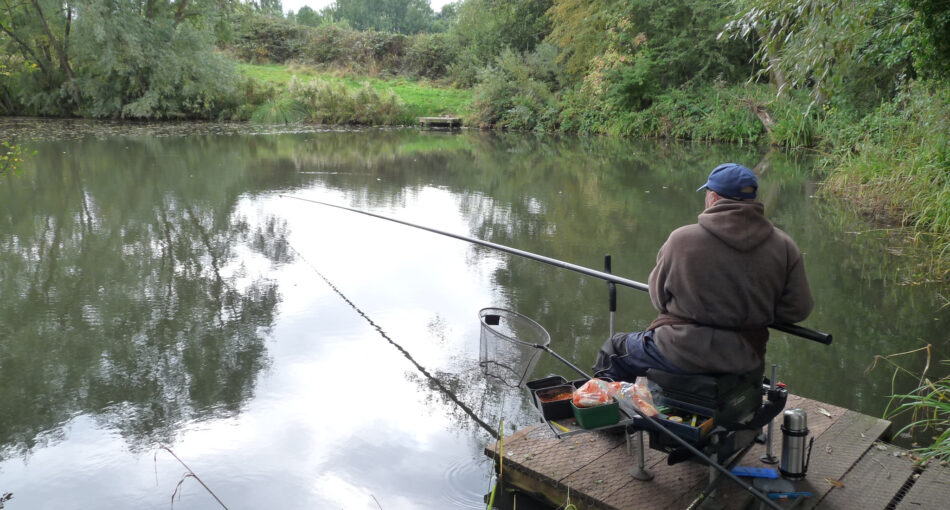 Known as 'Grats' by its regulars, Gratuities is a 16 peg pleasure and match water with a central island running down the spine of the lake. It regularly yields good match returns with the current match record standing at 89lbs. Between four and six feet deep with gently sloping sides which run down to a channel between the bank and the island, the water holds a good head of carp to 5lbs with a large number of small fish ranging between 12oz and 1lb 8oz; roach to 1lb; tench to 6lbs and a good number of crucians to 1lb 8oz. There are also a large head of skimmers.
Grats fishes best either close to the bank or up against the central island using either pole, waggler or small open ended feeder. Popular baits include pellets, sweetcorn, luncheon meat and maggots although anglers are advised to go easy on the groundbait. Grats can be found at the far end of Molands Mere and can be reached by taking the track to the left as you enter the Packington Somers complex.
Anniversaries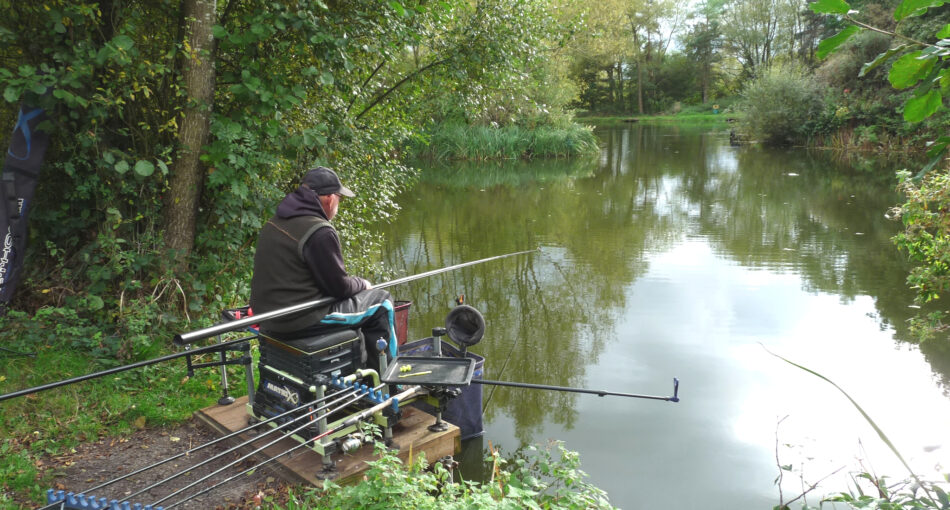 Anniversaries is a good mixed fish water with some 30 pegs. During the winter of 2014/2015 the lake was drained and many of the overhanging trees removed. After refilling the larger carp were put back and the water restocked with further common and mirror carp to 10lbs and F1s to about 3lbs. The skimmers, tench and crucians which were previously in the water were moved to Geary's Level.
With irregular shaped islands which are dotted around the water, Annies is as one of the more feature-packed of the Packington waters offering swims which vary from open water to channels between the banks and the island to bays where anglers can fish more intimate swims. Indeed, nearly every peg offers a feature to fish to and being only five feet deep at the most it is an easy water to fish whether float fishing on the pole or waggler or fishing more open water on ledger tackle.
Most anglers prefer the pole or waggler fished either tight to one of the islands where about one-and-a-half feet of water can be found on the shelves, or when it is quieter close into the marginal reeds and bankside vegetation where patrolling fish can be picked up. At two-and-a-half acres in size, Annies regularly throws up good catches with popular baits being coarse fish pellets, sweetcorn and luncheon meat for the carp and sweetcorn, maggots and casters for the silver fish.
Those going after the carp are increasingly using modern carping techniques with pellets, boilies, sweetcorn and meats being the most popular baits for fishing on the bottom and floating bread and dog biscuits the favoured option for floater fishing on the surface in warmer weather when it often pays to go with a minimum of tackle and stalk fish which can be seen cruising in all parts of the water. Annies is reserved exclusively for pleasure anglers.
River Blythe
Packington Somers controls one-mile of bank along the River Blythe and offers 20 good pegs on one of the few day-ticket stretches of this delightful river. With dace to 12oz, chub averaging between 2lbs and 3lbs but running to 6lbs, perch over 1lb and the occasional summer carp which have been caught to 10lbs, this stretch of river also holds tench, bream, rudd and more recently a small number of barbel which have now been caught to 4lbs.
Most anglers fish with a light Arlesey Bomb (quarter to half ounce) or trot the water with a stick float. Whichever you choose, look for the holes and deeper stretches which can be up to eight feet at the downstream end of the river. Popular baits include worms, maggots, casters and bread.
Prices
Day and part-day tickets
March 1 to October 31

Day tickets
Morning tickets
Afternoon tickets
Evening tickets
River Tickets
Adults

Adults
9.00
6.00
7.00
6.00
6.00
Juniors/OAPs

Juniors/OAPs
7.00
5.50
6.00
5.50
4.50
November 1 to end February

8.00am until close only
Adults

Adults
6.00
Juniors/OAPs

Juniors/OAPs
4.50
Day season tickets are also available - enquire at the Lodge for details
How to get there
Packington Somers Fishery is a short drive from the M6 and M42 motorways. From the M6 travel south along the dual carriageway following the signs for Warwick.
At the Stonebridge island with the Malt Shovel pub on the right continue south under the A45 flyover and turn left at the next island, signed Meriden.
You will see the entrance to the fishery and golf club a couple of hundred yards along this road on the left.
Drive past the caravan park and the golf club and you will see the fishery car park and lodge at the end of the track.
From M42, leave the motorway at the junction with the A45 and turn right towards Coventry. After about a mile take the slip road to the left at the Malt Shovel pub and at the island head right towards Warwick.
Turn left at the next island, signed Meriden. You will see the entrance to the fishery and golf club a couple of hundred yards along this road on the left.
Drive past the caravan park and the golf club and you will see the fishery car park and lodge at the end of the track.
Get directions on Google Maps
Comments