Blythe Waters Fishery
Blythe Waters comprises five attractive lakes and a cafe to the east of Solihull. In addition there are facilities for five touring caravans for Caravan Club members.
Key facts about Blythe Waters Fishery
Decent sized carp, bream, tench and roach
Good facilities for disabled anglers
Toilet and shower facilities
Three-acre specimen carp lake
The fishery does not reply to email - phone enquiries only
Blythe Waters offers five attractive lakes set in pleasant rolling countryside between the villages of Hampton-in-Arden and Knowle to the east of Solihull. Although Blythe has rapidly become established as a popular match venue, it is also well suited to pleasure anglers.
Suitable for all kinds of anglers
The fishery has good facilities for disabled anglers, particularly on Cherries Pool which is next to the main car park, and has large and even purpose-built fishing platforms which are suited for the less able anglers. Popular with family groups, Blythe Waters offers concessionary tickets to lady anglers as well as juniors, OAPs and the disabled.
In addition to the angling, there are facilities for five touring caravans for anglers who want to visit the fishery for short stays or angling breaks of up to a month at a time. The site is available for Caravan Club members only.
Stocked with decent sized carp, bream, tench and roach, the fishery also holds a good head of perch, silver bream, gudgeon, golden orfe, daddy ruffe, barbel and a few chub. There are no pike in any of the waters.
On site Clubhouse
Next to the car park is an unmistakable grass-roofed clubhouse. Open every day for the sale of tickets, the clubhouse also serves hot and cold drinks, light meals and snacks most mornings. Details of opening times are posted in the clubhouse window. In addition to the cafe area, the clubhouse also offers toilet and shower facilities.
Adjacent to the still waters, anglers can also fish a one mile stretch of the River Blythe which has been declared a Site of Special Scientific Interest (SSSI). The river contains good numbers of dace, chub, perch and even a few trout, although it is very shallow in summer.
Bridge Pool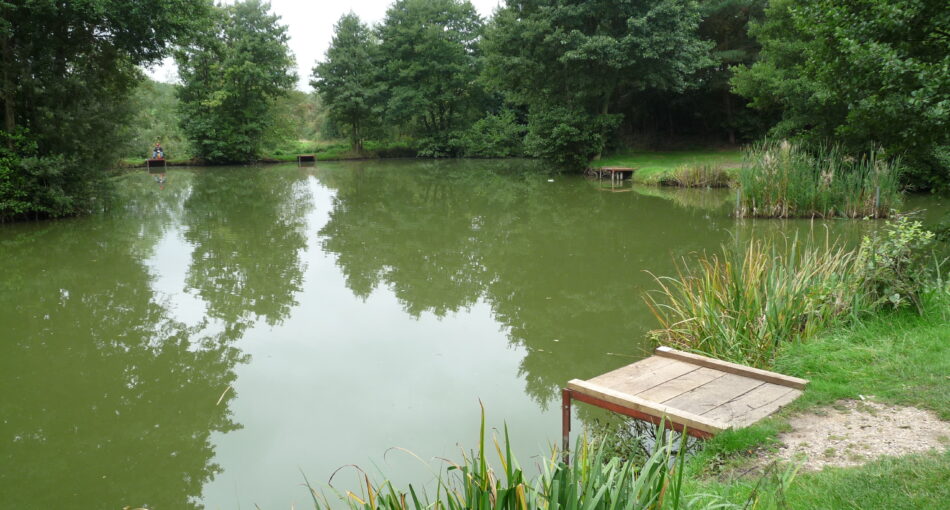 Primary match pool
Bridge Pool is perhaps best known to anglers as the venue's main match pool. It was split into two lakes where the bridge previously spanned the centre. This reduced the size of Bridge Pool from its previous three acres to two acres but created a new pool – Willow Pool – which is used for pleasure angling and matches. With a fairly even bottom and an average depth of five to six feet, the water is easy to float fish, although at Pegs 1-4 and 33-35 the depth falls to 10 feet.
A well-stocked pool
The water is well stocked with medium-sized fish including Common and Mirror Carp to 20lbs, tench to 4lbs, roach to 2lbs, golden orfe to 2lbs, perch over 2lbs and bream to 5lbs. The most commonly used technique is fishing with the pole, whilst those using a rod tend to drop their baits near the islands using either a Method feeder or straight lead.
In summer, many fish are often caught higher in the water with weights of 80lbs or more being taken fairly frequently from the island pegs. Most effective baits tend to be maggot, caster, bread punch, meat, paste, sweetcorn and, in summer, floating dog biscuits, although anglers should note that bloodworm and jokers are not allowed. In common with most other fisheries, Blythe is strictly barbless hooks only.
Willow Pool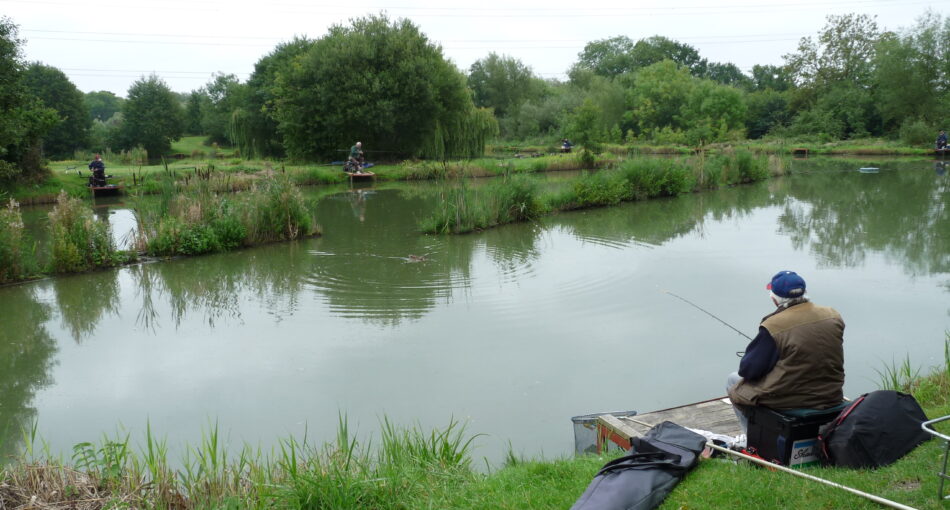 Willow Pool was the far end of Bridge Pool, but has now been turned into a water in its own right with the extension of the spur near the bridge to block off the two waters. The landscaping and tree planting has now matured and the pool has rapidly become a favourite with many of Blythe's regular visitors.
Developed as a mixed fishery with an even depth of about five to six feet, Willow Pool is stocked with carp to just under 20lbs, together with tench and bream to 3lbs and roach and golden orfe to 1lb 8oz.
Cherries Pool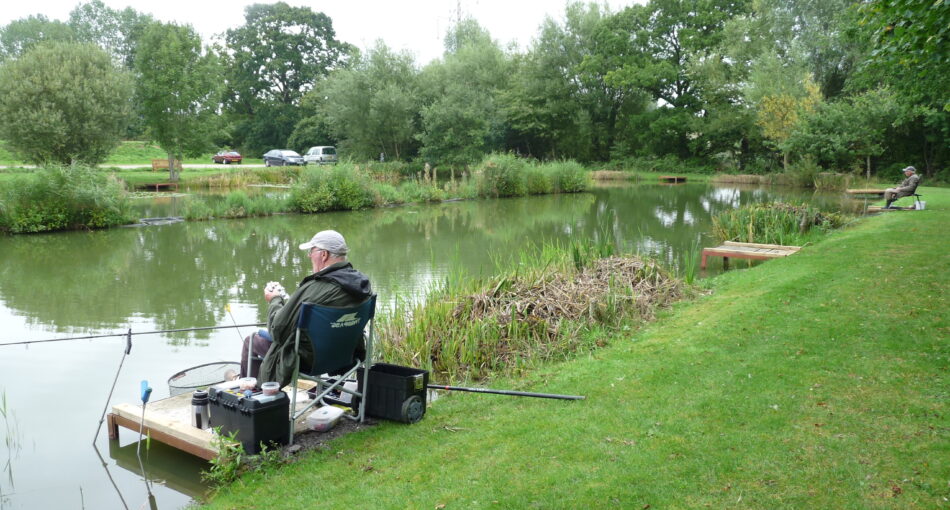 This pool is particularly popular with less able and junior anglers because of its location adjacent to the main car park and the solid platforms which give good access to the water.
With a fairly even bottom and an average depth of between four and five feet, Cherries is easy to fish and tends to be an out-and-out float water using either pole or waggler on the rod. Most effective baits are usually maggot and caster or pellets.
Stocked with various silverfish
The water is stocked with similar species and sizes as Bridge Pool and Willow Pool, although there are probably more tench with specimens to 5lbs being caught regularly, particularly in summer. Because it is shallow, the tench are also often caught on sunny winter days when water temperatures warm up a little.
The large head of small silver fish makes this pool popular with those anglers preferring large numbers of bites rather than having to wait for the larger fish. Cherries Pool holds a good head of skimmers, roach, perch and golden orfe.
Home Pool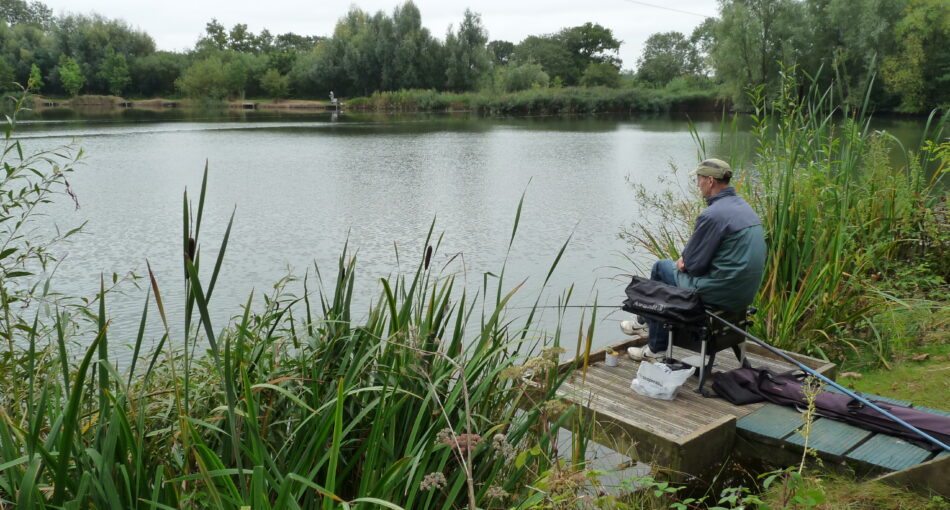 Three and a half acres in size and 13 feet deep virtually throughout, Home Pool was constructed in 1972 as a reservoir for the 90-acre Christmas Tree plantation near Blythe Waters.
Fishing on Home Pool
Once used as a trout fishery, Home Pool is now being developed as a specimen water. It was stocked some 10 years ago with carp of about 12lbs and many of these fish are now weighing in at over 20lbs. In addition there are bream and tench to 5lbs as well as a good head of barbel, golden orfe, roach and rudd.
Shallow round the edge, Home Pool drops off rapidly to its deepest only 15ft out. As a result it is most frequently fished on the bottom using boilies or pellets.
The largest known carp to come out of Home Pool weighed in at 31lbs, although a number of anglers have reported losing fish which they believed were even bigger than this.
Barbless venue
Specimen hunters are reminded that this is a barbless hook venue, that fish cannot be kept in nets or sacks and they they should use an unhooking mat. A night syndicate also runs on Home Pool and details of this cane be obtained in the clubhouse.
Kingfisher Pool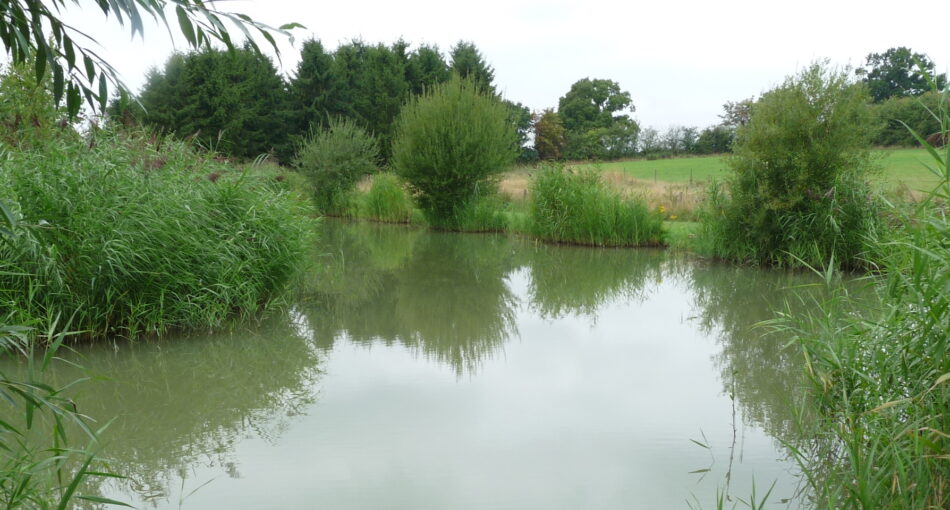 Kingfisher Pool is the newest water at Blythe Waters and holds 14 peg. Designed primarily with the novice angler in mind, this pool has been designed to ensure anglers get plenty of bites and plenty fish.
Stocked heavily with roach, bream, tench, carp and gudgeon, all the fish are currently under 1lb in weight which makes this an ideal water for younger anglers and those taking up the sport to be fairly certain of catching their first fish. Indeed, so far the sport has been so good that in the depths of winter pleasure and match anglers have taken to the pool because they are almost certain to catch fish!
Prices
Closing times vary according to the time of year – please contact the fishery for details. A second rod is charged at £4.00.
Ticket

Times
Adults
Concessionary
Day Tickets

Day Tickets
7:30am - close
7.00
6.00
How to get there
Blythe Waters can be found between Hampton in Arden and Knowle just the village of Barston
It is not far from Junctions 5 and 6 off the M42. On leaving the motorway at Junction 5, follow the signs for Knowle
When you come to the Wilsons Pub on the left take the left turn immediately after it. This road leads to Barston
As you leave the village of Knowle and come down the hill you will see the entrance to the fishery on the right.
Get directions on Google Maps
Comments