Coppice Lane Pools
One of the most successful fisheries in the Midlands, Coppice Lane offers seven waters including pleasure, match and specimen fishing together with new-look cafe and on-line booking system for its Specimen Carp Lake
Coppice Lane Fishery features and facts
Fishing Lodge with cafe and tackle shop
Ladies, gents and disabled toilets
Attractive landscaped pleasure pools
Specimen pool with carp to 30lbs
On-line booking system for Specimen Lake only
Pay at Honesty Box on arrival
Keepnets only allowed in matches
Poolside parking for disabled anglers on Top Pool
Gates automatically close at 7.00pm
Coppice Lane reopens Bridge Pool
Coppice Lane has reopened its Bridge Pool for pleasure and match angling following the introduction of new fish stocks which have included a good head of F1 carp. It has also asked anglers and visitors to note that, although dogs are not allowed around the lakes, they are allowed in the cafe and decking area as long as they are kept on a lead.
Seven attractive fishing lakes in Staffordshire
Originally Coppice Lane Pools was owned by a local farmer who ran the fishery very much as a sideline to his main interests. In 2005, however, this all changed following the purchase of the pools and a 14-acre adjoining field by a group of three local anglers from the same family – Paul, Martin and Lawrence Beckett – the fishery has passed down the family making the current owners Martin and Robert Beckett and Jodie McDonald.
Since taking over the fishery they have implemented a programme of work which has developed Coppice Lane into an attractive, diverse and productive fishery aimed at specimen, pleasure and small club match anglers. Offering a total of seven lakes, it is open from 7.00am until 7.00pm every day in summer and from 7.00am until 4.00pm in winter. For the safety of anglers CCTV now covers large areas of the complex.
Overnight anglers who order takeaway food from local restaurants should note that deliveries should be collected from outside the gate when the gates are closed as there is a £25.00 charge for fishery staff to return to unlock the gates after hours.
Club House
The Lockside Lodge and cafe was taken over by Emma Millard in April 2022 is now open seven days a week from 7.00am until 3.00pm. Run by friendly staff, it offers breakfasts, hot and cold sandwiches, snacks and refreshments to eat in or takeaway. Full details of what is available can be obtained by telephoning 07914 759382. The Lodge also has ladies, gents and disabled toilet facilities which are available 24-hours a day for specimen anglers and sells a range of baits including Coppice Lane's own feeder pellets. Check out their Facebook page at https://www.facebook.com/locksidelodge
Specimen Pool with large carp.
Work was also completed about eight years ago on a new two-and-a-half acre specimen pool which has matured nicely and is proving popular. Aimed at dedicated and experienced specimen anglers, the lake is stocked only with double figure fish and is open to all anglers aged 18 and over. Fish are currently being caught to just under 30lbs with the average size now 20lbs and the lake record an impressive 29lbs 10oz.
Specimen Pool should be pre-booked on-line
Anglers wanting to fish Specimen Pool, including those who want to fish just for a day, should book and pay in advance by registering with and using the fishery's free Clubmate booking system.
The original three pools have been restocked with hundreds of tench, carp and crucians, a move which has put a new lease of life into what were previously predominantly carp waters, transforming Coppice Lane into a mixed fishery which offers the opportunity for anglers to use a diverse range of angling styles to catch a wide variety of fish species. In addition, Willow Pool was opened in 2020.
Match fishing on Becketts Pool
Becketts Pool, is an established one-acre match pool which is designed to cater for all aspects of pleasure and match fishing. Half of the pool is within pole distance to a long sunken island which is covered by a bed of reeds. The remainder of the pool is open water where two islands can be reached by waggler, ledger or feeder. Stocked predominantly with mirrors, commons and tench, Becketts opened in Spring 2007 and offers some great fishing. An informal match held before the opening saw 20 anglers catch more than 450lbs of fish between them in five hours. The individual match record currently stands at 173lbs 14oz and was set by Ryan Burgwin in 2020.
Bridge match fishing pool
Meanwhile, another nicely maturing water is the new 31-peg canal style Bridge Match Pool (right) which was stocked with a mix of carp, tench, skimmer bream, roach and chub and which is not only already proving popular with anglers but also highly productive with excellent catches being reported. With 13-metres from each peg to the opposite bank, the pool has been built with a three-feet deep shelf mirrored on both sides all the way round and a six feet six inch deep track. All the pegs have concrete bases and the pool should prove to be an ideal pole anglers' match venue complete with its own poolside car park and on-site toilets. The Bridge Pool match record now stands at 143lbs which was set by Tony Maj.
Top pool continues to deliver 100lb-plus bags
Top Pool is still very much a carp orientated water with the five-hour match record standing at 159lb, although for pleasure anglers it is not uncommon for 100lb-plus bags to be caught in a session. Being the nearest water to the car park it is also probably the most popular Coppice Lane Pools water.
Bottom and Middle pools
Bottom and Middle pools are stocked with different varieties fish that offer good sport to both novice and experienced angler. The planting of trees, bushes and lilies have also provided additional cover and features to fish to, whilst toilet facilities are now available on site.
Match bookings available
Match bookings are available for clubs with 12 or more members, subject to availability. The pools available for matches include Top Pool (20 pegs), Willow Pool (36 pegs), Becketts Pool (32 Pegs) and Bridge Pool (31 pegs).
Paying for your tickets
Coppice Lane Pools is an unusual venue in that it is one of the few fisheries which has a purpose-built pay station next to the cafe on site. Paying for day tickets is mandatory prior to choosing which pool and peg you want to fish. Anglers should follow the instructions at the pay station, where they will also find details of closing times, and proceed to fish. Anglers found not to have paid in advance are given one of two options – either pay a £10.00 day ticket fee instead of the usual £7.00 – or be banned from the fishery for life! A team of bailiffs visits the pools several times throughout the day and evening.
The changes the new owners have implemented have been well received by both day ticket anglers and season ticket holders. These include restricting the use of keepnets to matches and requiring junior anglers under the age of 16 to be accompanied by an adult.
Fishing tuition is available
Coppice Lane holds regular Saturday Open Matches with the draw being taken at 9.00am and fishing from 10.00am until 3.00pm. Anglers interested in taking part are asked to contact Jamie on 07933 488986. The fishery also provides angling tuition through qualified angling coach Neil Powell. Neil can be contacted through his Facebook page which can be found by searching for 'Neil Powell Angling Coaching'.
On the ground, work has been carried out to repair staging and pegs on all pools and the planting of additional shrubs and trees around Top Lake to enable it to blend more naturally into the surroundings and give increase cover for anglers and wildlife.
Ideal for disabled anglers
Because the approaches to the water and the banks are very flat, Top Pool is ideal for disabled anglers as are several pegs on Middle Pool and the pegs nearest the car park on the new Becketts Pool. Poolside parking is also available for disabled anglers on Top Pool. Coppice Lane welcomes enquiries from disabled angling clubs which would like to hold competitions at the venue.
Recommended baits
Baits allowed at Coppice Lane are maggots, casters, worm, sweetcorn, carp pellets, soft hooker pellets, paste, cubed luncheon meat and bread on the hook only. All other baits are banned. The maximum permitted hook size is Size 12 and anglers should not use floating baits, barbed hooks, method feeders or bolt rigs. Keepnets are allowed only in matches and landing nets must be used at all times. Anglers should note that they must not stand up whilst being photographed holding fish. Also stink bags are not allowed by the pool side and should be left in vehicles. All anglers must have a landing net and groundbait is not allowed.
Top Pool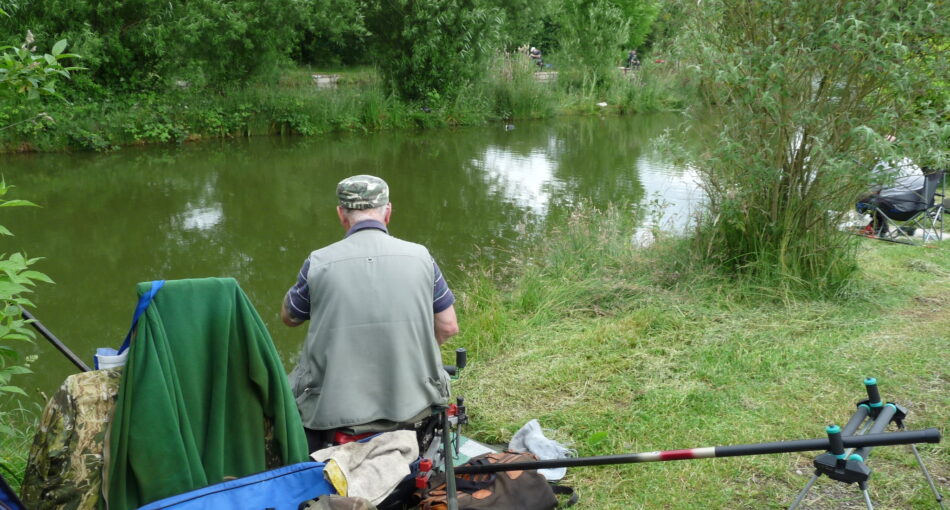 Popular with both pleasure and match anglers, the three-quarter acre Top Pool is the first water you come to on entering Coppice Lane Pools and holds a large head of fish in a concentrated area. Rectangular in shape with a long central island, it has 28 pegs and is deepest at the end furthest from the entrance where a nine-foot hole can be found just off the end of the island before the water shallows to six feet.
Commons and mirrors from 3lbs to 15lbs plus 4lb tench
Along both sides there is about four-and-a-half feet of water whilst out from the entrance bank it is only about three feet deep. The pool was constructed with a shelf all the way round which is about two feet under the surface and runs out about three feet into the water – an ideal spot for picking up cruising carp in the summer months.
Holding predominantly mirrors and commons from 3lbs to 15lbs, Top Pool was restocked a few years ago and all the silver fish distributed between Bottom and Middle Pools. This has turned Top Pool into a predominantly carp water although there are tench to 4lbs.
Ideal water for the pole
An ideal pole water, Top Pool is also popular with waggler anglers whilst many of the locals from nearby Hammerwich and Burntwood also fish it with a swimfeeder, both to the island and in open water. Although it has 28 pegs, it is never used for matches of more than 20 entrants to ensure that there are pegs for pleasure anglers when there is a match.
Although Top Pool has no particularly favoured pegs, some anglers prefer to head for the corners – the entrance end being favoured in summer because it is shallower and the far end in winter because it is deeper.
Fishing against the island
With the central island being 13 metres from both main banks, fishing to it with the pole is popular as it enables anglers to place their bait against the island. Most popular baits for doing this tend to be caster, corn, soft hooker pellets, paste and maggots. Try shallow in the summer and feed pellets lightly.
When fishing the pole in summer, a minimum of a Size 14 elastic with a 14s or 16s hook is recommended. In winter it is recommended that anglers fish light with a Size 10 elastic.
Another popular technique is to fish up in the water at the far end of the pool using pole or waggler whilst other favoured techniques are to fish the swimfeeder either against the island or in open water and to fish the waggler close in to the margins, particularly in summer. Top Pool also fished well in winter with one angler taking 35 carp fishing only a foot deep whilst spraying maggots every cast. However, most anglers tend to go for a more traditional approach in the colder months, fishing worm, maggots, casters, corn or pellets.
Middle Pool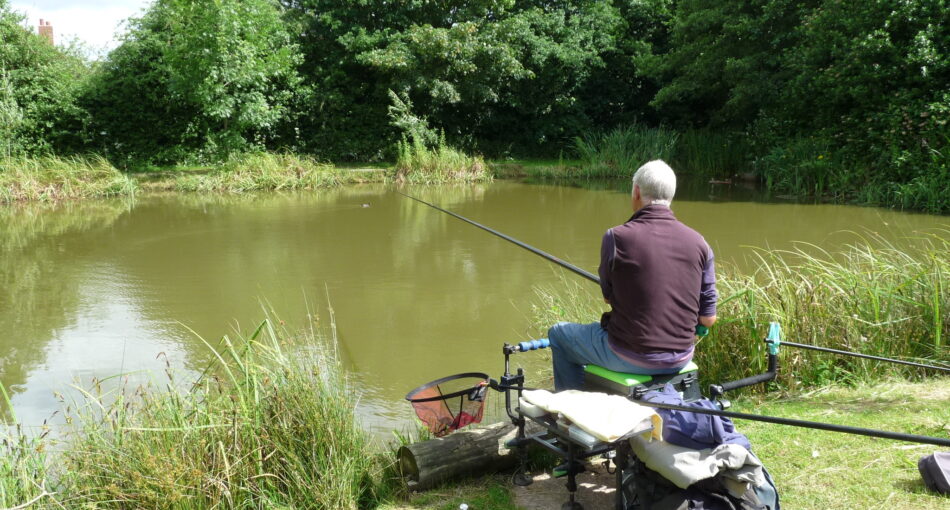 Much work has recently been completed on Middle Pool including removing silt, installing new landing stages removing some of the trees and shrubs which had invaded the water and replacing them with younger specimens. Parts of the pool have also been made deeper and the pool slightly widened.
An attractive natural water
Middle Pool is the place to head to for carp to about 5lbs, crucians and many quality silver fish over the 1lb mark, some of which were introduced when the pools were restocked in February 2010, Middle Pool is an attractive 'natural' water for anglers who like traditional fishing.
Ideal for those who want to get away from the main thrust of things, Middle Pool is oval shaped with an island at one end and a bed of reeds running between it and the bank, pretty to look at but ideal for fish to bolt to once they have been hooked! Around much of the sides, the pool is only two to three feet deep whilst just over five feet can be found just off the island in the main body of the pool and a maximum of six feet or so in the centre. This makes the pool ideal for waggler or pole.
This water holds tench which were stocked about six years ago and are now weighing in at over 2lbs. There are also large numbers of roach and rudd to a similar size and a small head of skimmer bream to over 2lbs. However, the hardest fighting fish are the mirror and common carp which now run up to over 5lbs.
Pole and waggler works well
Most popular techniques are to fish the pole or waggler, either 12 to 18 inches deep in open water with single maggot or caster for the rudd and roach or close in the margins, up against the island or amongst the reeds for the carp, tench and bream. However, if fishing near the reeds you will need to scale up your tackle as the fish know immediately where to head for when hooked.
Middle Pool is a good water all year round and almost anything goes as far as bait is concerned in the summer, whilst in the colder months maggots, pellets, caster, corn and worm work best.
Bottom Pool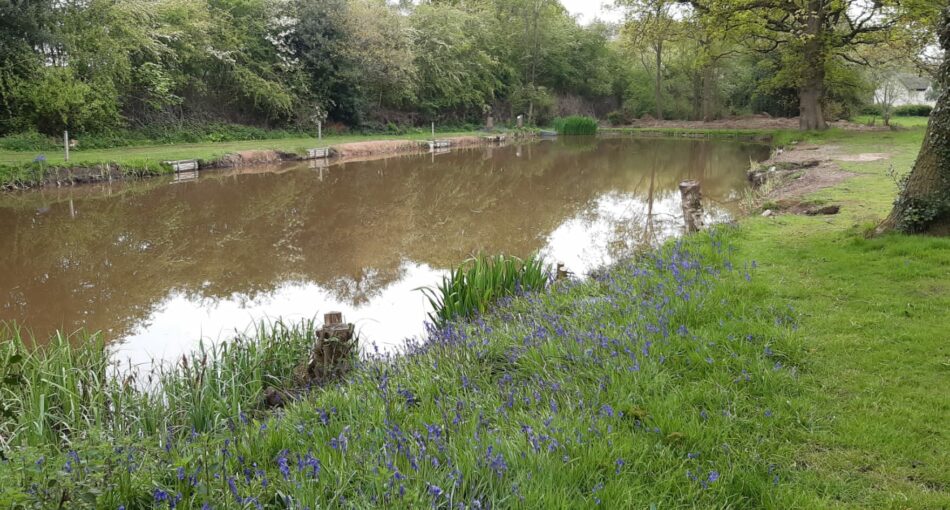 As with Middle Pool, the origins of Bottom Pool are again virtually unknown, believed to be natural farm ponds or ponds created over 30 years ago. Whatever its origins, Bottom Pool is another pretty, out-of-the-way water with some interesting features at its far end. It is an ideal water for anglers who want to get away from the thrust of things.
To improve the fishing, work has recently been completed on opening up the pool by cutting back some of the trees and undergrowth and installing new landing stages. Fish stocks have also been supplemented with the addition of a good quantity of F1 carp and decent sized skimmer bream
An ideal place to head for if you want to fish for the unknown, Bottom Pool is about two to three feet deep around the margins. Whilst shallow at just three feet at its deepest at the inlet end, it drops to between six and seven feet in the centre by the outlet.
Bottom Pool is ideal for anglers of all ages
Stocked with F1 carp, Bottom Pool also holds a good head of silver fish including perch, tench and skimmers to about 1lb 8oz and roach and rudd to about 1lb. There are also good heads of crucian carp which average about 1lb.
A general pleasure water, Bottom Pool is again ideal for pole or waggler with anglers tending to use quite fine tackle and techniques vary from fishing up in the water for the roach and rudd to fishing on the bottom in open water or close into the margins for patrolling fish. Most favoured baits again tend to be caster, corn, soft hooker pellets and maggots in summer and maggots, casters and worm in winter.
Becketts Pool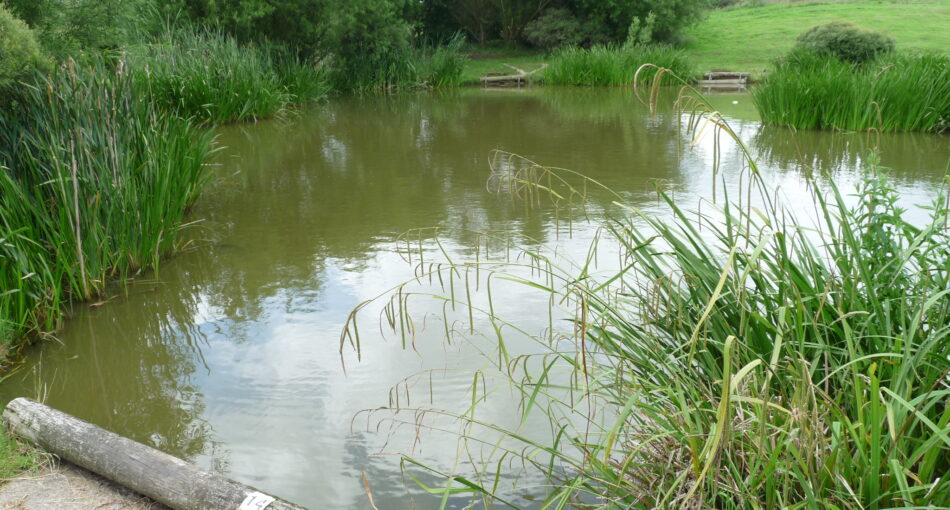 Roughly an acre in size, Becketts Pool is the shape of a guitar with a large base which incorporates two islands and a long straight stretch with a sunken island planted with reeds down the centre. The average depth is about six feet off the ledges and the deepest area is about nine feet. The pool has two inside ledges which will make it ideal for margin fishing. It has 32 well spaced pegs that are easily accessible from the new car park with the remainder being only a short walk away.
There's plenty of vegetation on Becketts Pool
The pool is stocked mainly with mirrors, commons, tench and crucians to 3lbs as well as skimmers, roach and rudd. The carp now run to 16lbs. In one match, 14 anglers caught more than 450lbs of fish between them in five hours. The current record is 134lbs in five hours whilst average weights are around 45lbs. Favoured pegs include Pegs 4, 8, 12, 14, 18 and 25.
It is a pole and waggler angler's dream as there are no snags in any of the pegs, and all have inside reeds which the fish love to congregate around. Generally you only need to fish between four to six meters out just off the ledge. Favorite baits are pellet, corn, casters and paste. Recommendations for set up are Size 12 to 14 elastic, 4lb to 6lb line and 14s to 18s hook. In winter, fishing to the islands with a swimfeeder has already produced good results.
Well set out pegs
The pegs have been designed to cater for all requirements and incorporate a flat concrete base with imprints to give grip in the wet, two keepnet holders for use in matches and an umbrella pole holder. Although there is a small step down to all of the pegs, the water is suitable for accompanied disabled anglers.
For those who like to fish the feeder and waggler, the islands are between 30 and 35 meters away. Either spraying maggots or casters up in the water to tight dropping a light feeder or lead tight to the reeds on the island can produce results.
The far end of Becketts Pool
With depths that vary between six feet down the centre of the track to between eight and nine feet in the deepest areas, the pool has two inside ledges which will make it ideal for margin fishing. It will have about 30 well spaced pegs that are easily accessible from the new car park with the remainder being only a short walk away.
Match bookings are now being taken for Becketts and Bridge Canal Pool for 2022 and 2023. For details of prices and availability please contact Jodie McDonald on 0121 351 5198.
Bridge Canal Pool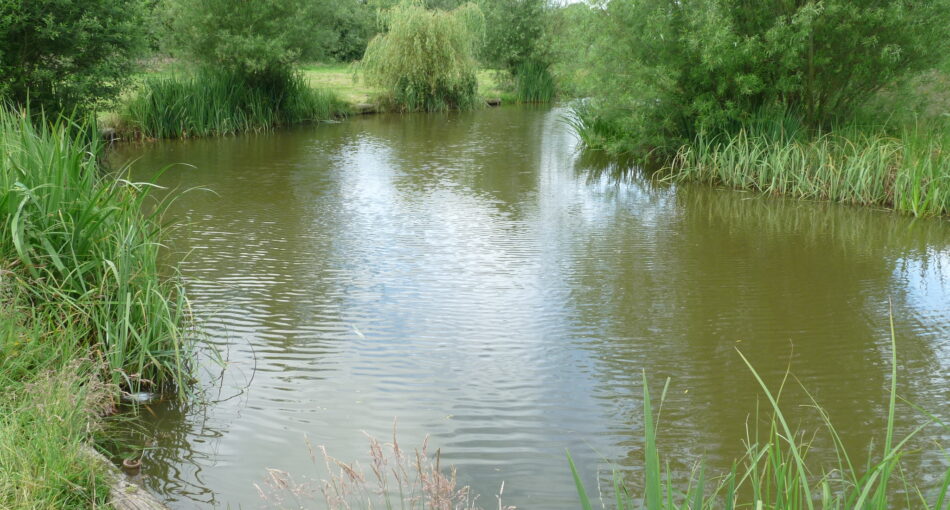 Opened in March 2009, the 31-peg Bridge Canal Pool at Coppice Lane is ideal for pole, waggler or swimfeeder fishing, having been built to give 13 metres to the island from most pegs, a three feet deep shelf all the way round the edge and a six feet deep track in the centre. Stocked with a mix of mirror and common carp between 8oz to 5lbs, tench and skimmers to a similar size and roach and chub averaging 8oz, this is an easy water to fish with good quality pegs and a flat, even bank which is suitable for disabled anglers in dry weather.
Match record over 100lb
The matches that have been held so far on Bridge Canal Pool have thrown up some impressive weights with anglers needing on average between 30lbs and 50lbs to be in the frame. These match weights have been fairly consistent as the pool holds a 50/50 mix of silver fish and carp. One pleasure angler reported netting 105 carp at a sitting and the current match record stands at 100lbs 12oz which was again set by Clive Poole in 2011 with a bream and carp catch taken on paste fished to the island. Anglers should note that keepnets are allowed only in matches.
Because it has been developed as a canal style match water, Bridge Pool has proved popular with pole anglers fishing the long pole to the island or the short pole down the track. So far the most popular technique has been to fish light and to feed little and often. Many anglers also favour fishing the waggler either close into the margins or in the centre of the track, whilst those wanting to fish near the island are also going for small cage feeders or straight through Arlesey bombs.
The most popular baits so far have been soft hooker carp pellets, sweetcorn, paste baits, casters, chopped worm and maggots, all fished over micro-feeder pellets which have been first dampened down. If the success of Becketts Pool is anything to go by, it won't be long before the new Bridge Canal Pool is proving ever more popular with anglers as both pleasure and match weights climb.
Willow Pool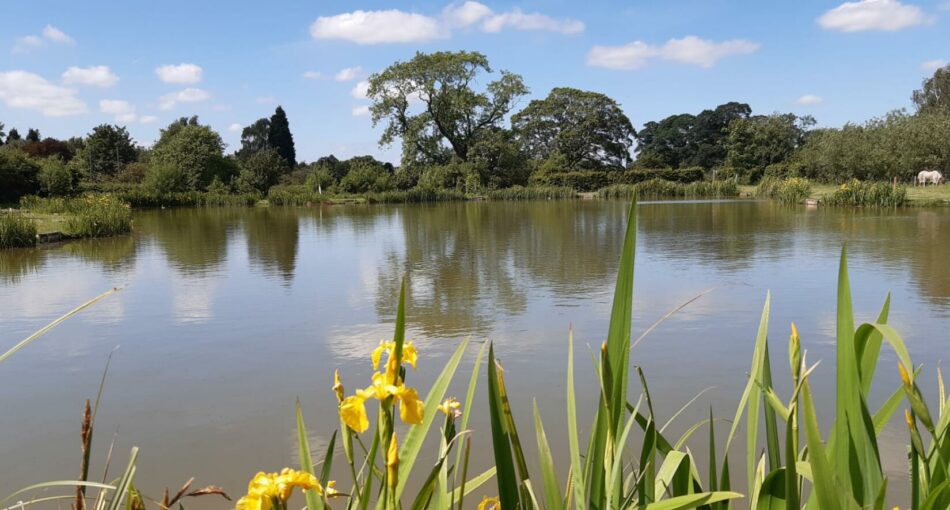 At just over an acre in size, Willow Pool is the latest addition at Coppice Lane Pools. Constructed in 2017 and opened for angling the following year, it is stocked up with carp up to 17lbs as well as a good head of roach, tench, bream, ide, perch, barbel and gudgeon.
The carp like to patrol the inside shelf
The lake offers 26 well-constructed concrete flat pegs and has heavily planted reed lined margins. It is ideal for fishing either pole, waggler or feeder with depths ranging from two to seven feet. The carp in particular like to patrol the inside shelf which runs approximately three metres from the bank and can normally be found following the wind, especially in the summer.
Best baits include pellets, corn, maggots and paste and club matches held on the water generally return weights to 100lbs.
Specimen Carp Lake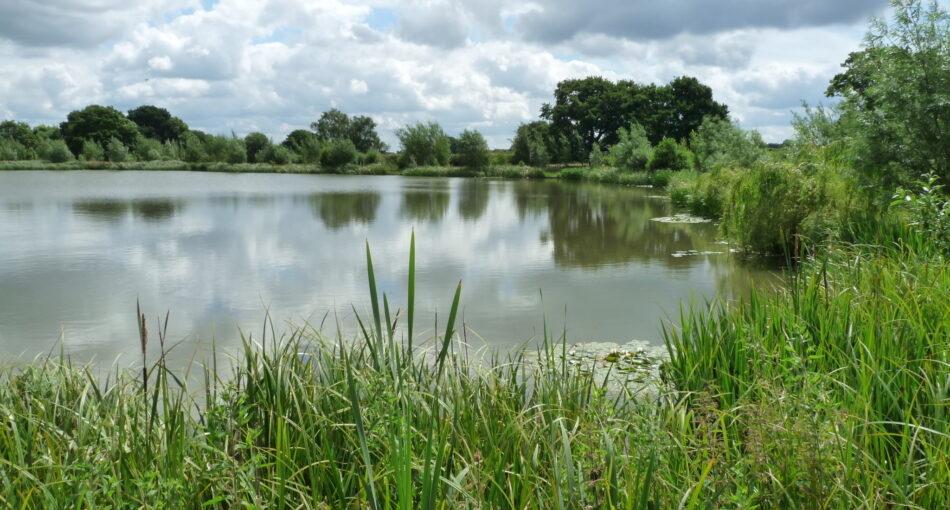 Opened in 2012, the Specimen Carp Lake at Coppice Lane Pools has has matured nicely and has been designed with dedicated and experienced anglers in mind, being stocked only with double figure fish which are now being caught to just under 30lbs with the lake record currently standing at 29lbs 10oz. The average size of fish is now 20lbs.
About three acres in size, it averages five feet in depth with a sunken island and has four spacious grass pegs on either bank of the water. It is available for day tickets and longer stays to anglers aged 18 and over.
Anglers looking to stay for more than a day must book and pay in advance either by visiting the fishery or by making an Internet Bank Transfer to: NatWest Bank; Sort Code: 51-70-32; Account Number: 80582907. Anglers should include their own name, the date they require to fish and desired peg number as a reference. Bookings will only be accepted on receipt of payment. The lake is predominantly stocked with commons and mirrors although about 10 per cent of the fish are leather and ghost carp.
Underwater island feature
Although the water has been dug with a gradually sloping bottom which runs from one to three feet at the car park end down to six feet at the far end, there is a large submerged island about two feet under the surface in the centre of the lake which covers about a third of the total area of the lake. This is where the fish love to hold up in warmer weather and is a good target for summer fishing.
Tried and tested carp fishing methods have worked well so far but it still pays to experiment with techniques and baits. So far most anglers have had success fishing pop-up boilies with anglers saying they do well using zig-zag rigs. Most anglers also bait their swims using pva bags packed with pellets and sweetcorn.
The lake record was held until 2016 by Oldbury angler Craig Wilde with his capture of a 25lbs 6oz common taken in March 2016. Craig, who runs CND Baits, was fishing one of CND's own 12mm King Crab Wafters on a drop back rig about 60 yards out from Peg 1.
Pegs need to be booked and paid for in advance by contacting Jamie on 07933 488986. Jamie should only be contacted before 5.30pm and is not available on Tuesdays or Sundays. For security purposes the gates to the new pool will be locked between dusk and 7.00am.
Prices
Anglers wanting to fish Specimen Pool, including those who want to fish just for a day, should book and pay in advance by registering with and using the fishery's free Clubmate booking system.
Anglers must be 18 or over to fish the new Specimen Pool. Day tickets must be purchased from the Pay Station before fishing. Day Ticket anglers found not to have pre-paid will be charged £10.00. Juniors under 16 must be accompanied – spectators are not allowed without permission. Specimen Pool spectators are charged at £5.00 each (one spectator per peg).
Please note that the gates open at 7.00am and lock automatically at 7.00pm in summer. Details of winter gate locking times are posted by the Pay Station. Anglers who call out the bailiff to be released will be charged £25.00. Angling clubs should ensure they have their own third party liability insurance when fishing matches at Coppice Lane (and other day-ticket venues). Winter Club matches attract a discounted price of £5.00 per peg from November until the end of February.
Ticket type

Adults
OAP/Juniors/Disabled
Day Tickets - (7.00am to 7.00pm)

£8.00 (one rod only)

6.00 (one rod only)

Day Tickets - (7.00am to 7.00pm)
£8.00 (one rod only)
6.00 (one rod only)
Specimen Pool Day Ticket (two rods )

Specimen Pool Day Ticket (two rods )
£17.00
£17.00
Specimen Pool 24-hour Ticket (two rods - 7.00am to 7.00am following day)

Specimen Pool 24-hour Ticket (two rods - 7.00am to 7.00am following day)
£25.00
£25.00
Specimen Pool 36-hour Ticket (two rods)

Specimen Pool 36-hour Ticket (two rods)
£42.00
£42.00
Specimen Pool 48-hour Ticket (two rods)

Specimen Pool 48-hour Ticket (two rods)
£50.00
£50.00
Open matches

'All in'

£16.00
Rules and conditions
No dogs
No keepnet's except matches
Barbless hooks only
1 rod only per person
Maxmium Hook size 12
No Dog meat or cat meat
No boilies
No Trout Pellets
No Hempseed, seed baits and nuts
No Macaroni Cheese
No floating baits
No floating poles
No spinning, or live baiting
No Groundbait
No Joker / Blood worm
No Method feeders or fixed bolt rigs
No Elastication on any feeder rig
No Braided mainline and hook lengths
No free lining, all lines must have a float attached
Fishing from permanent pegs only
How to get there
On the Muckley Corner roundabout drive take the Hall Lane exit.
After about half a mile Hall Lane joins Coppice Lane.
On a right hand bend you will see a small pond on the right and as you come out of the corner a triangle of grass with a road going off to the right.
Take this and the entrance to Coppice Lane Pools immediately on your right.
Get directions on Google Maps
Comments