Alvechurch Fisheries
A well established venue, Alvechurch Fisheries comprises four well stocked waters including pleasure, match and specimen lakes. The on-site cafe has toilets and a tackle shop.
Alvechurch Fisheries features and facts
House Pool recently extended for pleasure anglers
On-site cafe, toilets and tackle shop
Horseshoe Lake suitable for disabled anglers
Suitable for pole, waggler and feeder fishing
Canal Pool match record over 250lbs
House Pool reserved for pleasure anglers
Fishing tuition available
Pool hire available for club matches
A leading pleasure and match fishing venue
A well established and popular fishery which closed down for several years after the previous owners sold the neighbouring house and land, Alvechurch Fishery re-opened in 2009 under new ownership and is undergoing massive changes which are transforming it into one of the Midlands leading pleasure and match venues.
Fully equipped club house
Typical of the improvements which have been made was the completion in summer 2010 of a new clubhouse and tackle shop for anglers. Serving a variety of hot and cold food and drinks, the clubhouse is also equipped with a large screen digital television whilst the tackle shop is stocking a growing range of tackle, clothing and baits. Fishing is now underway on the new Canal Match Pool which has matured very quickly and is consistently throwing up good weights of around 100lbs.
Planned new lakes and stocking
In addition, House Pool has been greatly extended and provided with large purpose-built pegs designed for use by disabled anglers. Work is now also well advanced on the development of a new 4.25 acre big carp runs water – The Roe – which will be run along the lines of Linear Fisheries. Stocked with specimens around the 15lb to 20lb mark, these fish have been allowed to grow on for 12 months prior to the pool opening in July 2022 for anglers who book the new Lakeside Lodge. Anglers looking to book the lodge, called The Lakehouse at Alvechurch, can do so on-line at Alvechurch Fisheries own website.
It is currently expected to open The Roe for day tickets and night fishing in 2023 with anglers also being able to book sessions on-line.
Horseshoe Lake, the first water you come to after leaving the large resurfaced car park, targets both match and pleasure anglers; House Pool has been developed specifically for pleasure anglers; and Arrow Pool has being turned into a 15-peg match and pleasure water suitable for small clubs which don't want to book half a lake. The small Harry's Pool is currently not being used for angling.
Other work has included emptying all the pools, clearing out years of silt, removing intrusive bankside trees and shrubs, widening and improving the banks, building new pathways and bridges to House, Canal and Arrow pools, installing new pegs, landscaping the site and re-stocking the pools with new and existing fish.
Perfect for those wanting to try fishing for the first time
In a move to attract new anglers into the sport, Alvechurch has become one of the few fisheries to offer not only help and advice on fishing but also a tackle hire service where, for £30.00 non-anglers or those new to the sport can hire everything they need for a day's fishing – including the day ticket, tackle and bait. For match anglers, Alvechurch stages regular 20-peg Saturday and Thursday Open Matches during the summer and winter which are well supported whilst clubs can book pegs on Horseshoe Lake or the new Canal Pool for their own club matches and combine these with breakfasts or other meals in the cafe. Anglers are asked to note that luncheon meat should now be used only on the hook and should not be loose fed into swims.
Horseshoe Lake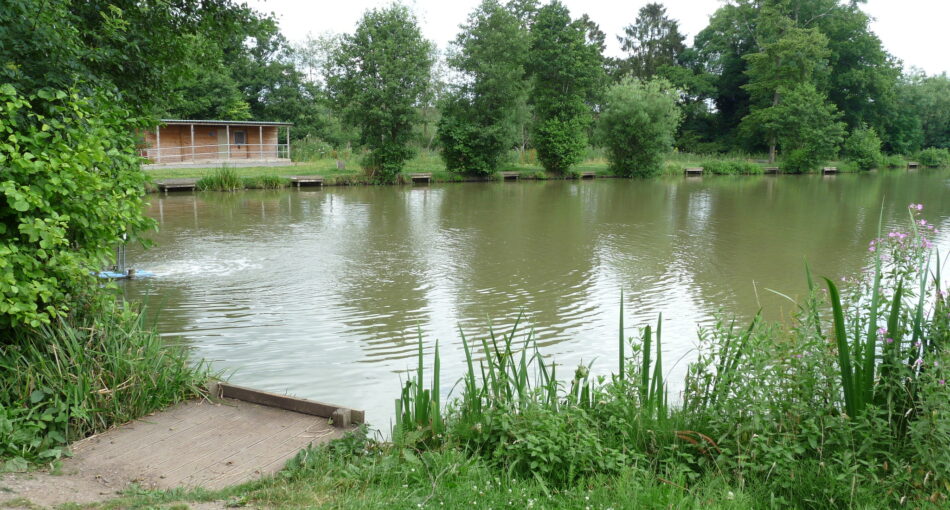 Horseshoe is suitable for disabled anglers
The first water you come to when leaving the large car park at Alvechurch Fisheries, Horseshoe Lake is an acre and a half in size and has 36 purpose-built wooden platform pegs. With flat even banks, it is suitable for disabled anglers. The sides on Horseshoe shelve away giving two feet of water in the margins and an average depth further out of between four and six feet. The lake has a flat even bottom whilst on the banks there are irises, reeds and overhanging trees around much of the lake which provides cover for anglers from the fish and from each other.
One of the main features of Horseshoe Lake is the long central island. This was formerly a long wide peninsula jutting out into the lake which provided several pegs from which anglers could fish. The peninsula was made thinner and severed from the car park bank to turn it into a smaller island. Although this has resulted in the number of available pegs being reduced, it has increased the amount of water available to fish and greatly improved the look of the lake. At the far end of the lake is an attractive large bay (right) where there is plenty of open water.
There's plenty of open water on Horseshoe LakeHorseshoe is stocked with a good range of mid-sized fish including roach, rudd and crucians to about 1lb; skimmers to 2lbs; bream averaging between 3lbs and 4lbs but running to 7lbs; tench to 4lbs but averaging about 1lb 8oz; chub and ide to 4lbs and a small head of hard fighting barbel between 4lbs and 7lbs which are well worth catching.
For those interested in carp, Horseshoe has been stocked with 600 fish between 4lbs and 10lbs which give exciting sport when taken on light tackle. Although the carp are predominantly mirrors and commons, there are about a dozen ghost carp.
Pole in the margins is popular for the carp
The most popular method for fishing Horseshoe Lake seems to be on the pole in the margins. When targeting the carp, most anglers on the pole use an 18 or 20 elastic and size 12 or 14 hook with either soft hooker pellets, paste, luncheon meat or sweetcorn fished over a bed of small feeder pellets. Those after the silver fish opt for a lighter rig of 8 to 10 elastic and 16s hook with double maggot as bait, again fished over a bed of feeder pellets.
The waggler also accounts for a lot of fish both in the margins and up against the island whilst those going to the island also use the open ended feeder packed with maggots, blocking the end of the feeder with paste and fishing two or three maggots on the hook.
Although Horseshoe is popular with pleasure anglers and offers a variety of attractive swims with the opportunity to catch decent bags of fish at a sitting it is also a good competition water with the match record currently standing at 218lbs.
House Pool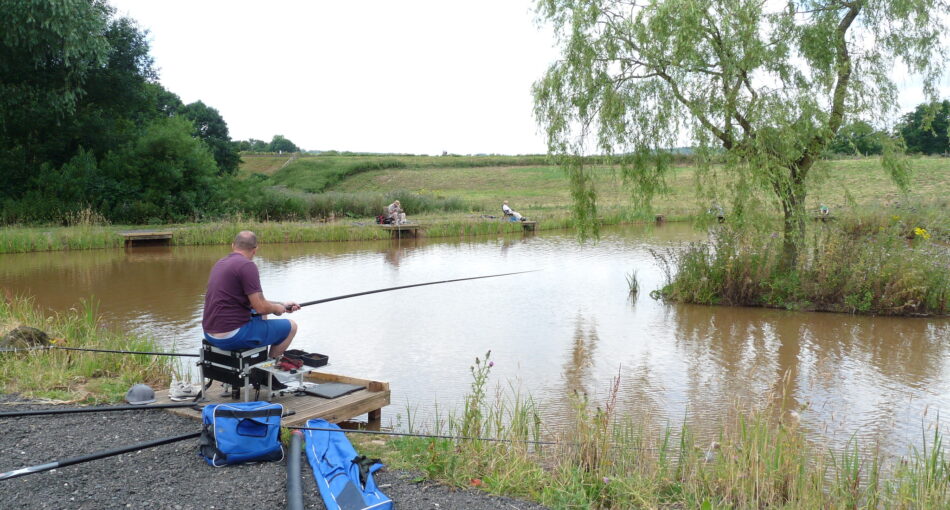 Quadrupled in size
Reserved for pleasure anglers, House Pool has been quadrupled in size to provide some 35 pegs. With three islands to fish to, the pool has a two feet wide, two feet deep shelf running around the edge which then drops gradually to a bowl-shaped bottom with a maximum depth of 10 feet. There are no shelves around the island which have banks that taper to the bottom.
House Pool has been stocked with the fish from the former Arrow Specimen Pool, which has been converted into a pleasure and match pool ideal which is proving ideal for small club matches. This means that House Pool now holds common, mirror and ghost carp to 20lbs as well as tench to 7lbs, bream to 8lbs, barbel to 4lbs, roach to 2lbs, perch to 1lb 6oz and rudd to 1lb.
Although surface fishing is not allowed, good results are being obtained by anglers using the zig-rig which allows baits to be adjusted until anglers find the depth where the fish are feeding.
All techniques generate bites
All techniques seem to work well on House Pool with pole anglers catching well at about eight metres on pellets whilst rod and line anglers are catching decent carp on boilies, particularly 10mm and 15mm Mainline Essential cell boilies which have proved so successful that they are now being stocked in the on-site tackle shop. Because of the good number of decent-sized carp in House Pool, anglers are allowed to use two rods.
A significant feature on House Pool is the construction of three large disabled platforms, each of which will cater for up to four anglers, which will make the pool ideal for disabled groups once they are finished.
Arrow Pool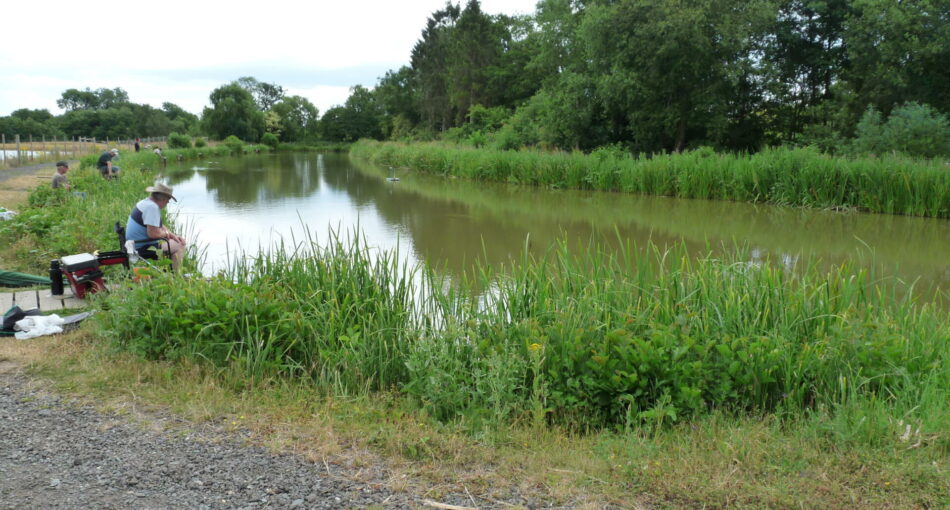 Arrow is now pleasure and match fishing lake
When the current owners took over the fishery, Arrow Pool had been left to its own devices and had become overgrown with bankside trees and vegetation. To improve accessibility, the pool was quickly fully restored and improved with the opening of swims and construction of decent sized bark-chip pegs to make it fishable once again.
Having been stocked with carp it became Alvechurch Fisheries' specimen water. However, problems with anglers fishing overnight resulted in the water being closed for specimen fishing during 2016 and it was subsequently converted into a 15-peg match and pleasure water suitable for small club matches.
The pool reopened in 2017 after being restocked with carp and carp hybrids between 1lb and 8lbs, plus a range of silver fish which included ide to 2lbs, barbel to 1lb 8oz and a good head of roach and skimmers to give all-round variety.
A long thin linear lake about an acre and a half in size, it has plenty of trees and shrubs on the far bank which with fishing allowed only from one side. With a flat and even bottom, it has depths that currently vary from between two to four feet at the entrance end dropping to six feet at the far end. Since reopening Arrow Pool has proved a good 'bites water' with anglers never knowing what they are going to catch next.
Match weights of 100lbs are common.
Canal Match Pool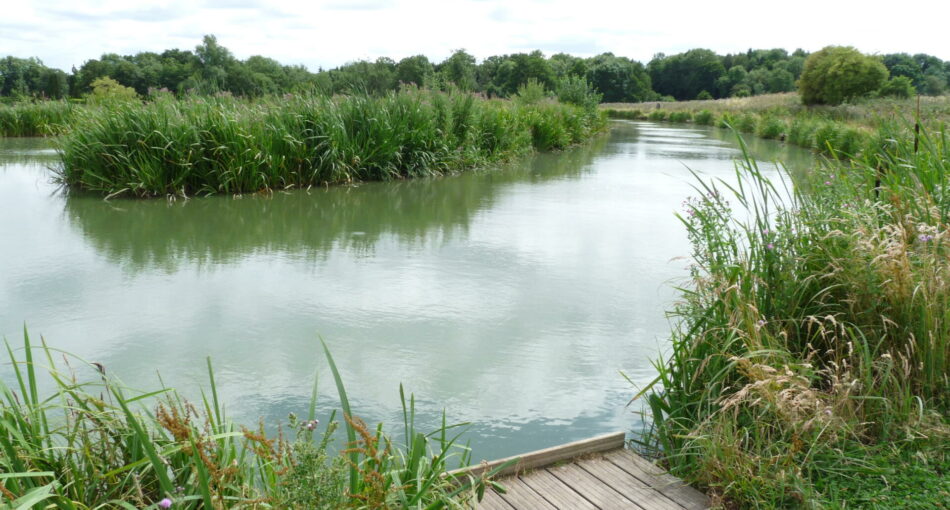 Built using laser technology
Constructed using laser measuring equipment to ensure all pegs present uniform swims where anglers have an equal chance of catching, the 25-peg Canal Match Pool opened for angling in spring 2015 and now regularly throws up match winning weights of between 150lbs and 200lbs. The match record currently stands at 307lbs.
A four feet wide shelf two feet deep runs around the edge of the lake before the sides drop to a six feet deep uniform channel. A similar shelf runs all around the 130 yard long central island which has been constructed 13 metres from each peg. Canal Pool has been stocked with fish including carp which are already weighing in between 2lbs and 4lbs together with barbel and ide, the latter of which are helping to bulk up catches.
The most popular technique so far has been to pole fish 6mm banded pellets whilst feeding 4mm pellets although fishing maggots is pulling in 100lb bags of silvers and good sized ide which have grown on rapidly.
New Specimen Lake and The Lakehouse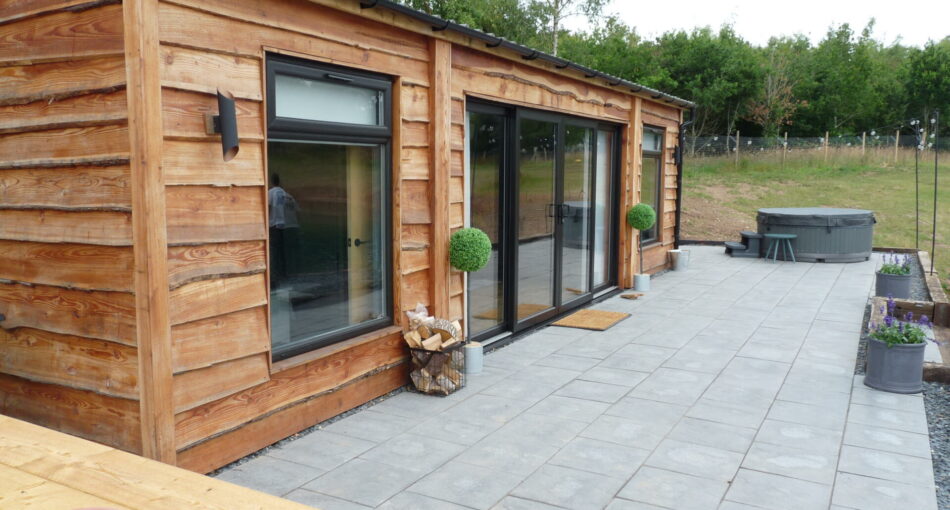 Developed for 2022, anglers staying in the self-catering luxury Lakehouse lakeside lodge have exclusive use of the seven acre Specimen Pool which holds more than 200 carp from 12lbs to 30lbs as well as a small number of tench to 8lbs. A further 50 good sized fish around the 20lb mark are expected to be added early in 2023.
The lodge is designed to accommodate couples and has an open-plan living area complete with large windows and doors which allow guests to enjoy the view out onto the lake. The outside seating area comes complete with BBQ, fire pit and hot tub whilst inside there is a spacious lounge with sofa bed; a double bedroom; toilet and shower; and a well equipped kitchen with oven, fridge/freezer, coffee machine, toaster and kettle. The lodge has Wi-fi, air conditioning, a smart TV with Netflix. Bed linen and towels are provided. Costing £180.00 per night for a two night minimum stay, the fee includes exclusive fishing on the Specimen Pool and free fishing on all on-site lakes subject to availability.
Anyone wishing to book should e-mail thelakehousealvechurch@gmail.com supplying their name, address, telephone number, dates required as well as the names of all guests and age of any children. It should be noted that dogs are not allowed and that single sex groups and party bookings are not accepted.
Fishing Specimen Lake
With depths which vary from two to four feet in the bays and four to six feed throughout the remainder of the lake, Specimen Lake has a fairly flat and easy bottom.
Although little fished – The Lakehouse is also popular with non-anglers – all techniques have so far proved effective with sweetcorn, a bunch of maggots, luncheon meat, pellets and boilies all having taken fish.
For insurance reasons, children under 12 years old are not allowed.
Prices
Tickets can be purchased from the on-site shop. For match or group bookings please call. Matches must be paid for in full if booked within six weeks of the required date. Concessions include; Juniors under 16, the over 65s and disabled badge holders. Juniors must be accompanied by an adult. The fishery is open from 7.30am until 7.30pm in summer and 8.00am until dusk in winter.
Canal, Horseshoe and Arrow Lakes

Adults
Concessions
Day Tickets

Day Tickets
£10.00
£9.00
House Lake

Adults
Concessions
Day tickets

£10.00 one rod £12.00 two rods

£9.00 one rod £11.00 two rods

Day tickets
£10.00 one rod £12.00 two rods
£9.00 one rod £11.00 two rods
Match bookings

Booking rate
No. of pegs
Horseshoe

Horseshoe
£180
30 Pegs
Canal

Canal
£180
27 Pegs
Arrow

Arrow
£130
15 Pegs
Rules and conditions
Landing nets and unhooking mats must not be taken onto the fishery – these are provided.
Anglers are asked to note that to prevent the import of disease from other fisheries, no nets, weigh slings or stink bags are allowed on the fishery.
All landing nets are supplied for pleasure anglers and landing nets and keepnets for match anglers. Night fishing is not available at Alvechurch.
How to get there
Alvechurch Fisheries can be found between Birmingham and Redditch at Barnt Green and is an easy drive from Junction 2 of the M42 motorway in the Midlands.
On leaving the motorway, take the A441 following the signs for Birmingham.
At the first roundabout just after the Hopwood sign turn left onto the B4120 signed Alvechurch/Barnt Green.
Turn right at the next roundabout into Bittell Road (still the B4120) and the entrance to the fishery will be see on the right after about two tenths of a mile.
Park in the car park and obtain your ticket from the office round to the left.
Get directions on Google Maps
You may also be interested in
If you like the look of Alverchurch fishery, you may also be interested in other fishing and holiday venues in Warwickshire, as well as nearby fishing in Worcestershire, Leicestershire and Northamptonshire, all with great places to go fishing.
Comments