Weston Lawns Fishery
A well established four lake fishery in Warwickshire, to the north of Coventry with good coarse fishing and accommodation in lakeside lodges.
A well-established fishery between Bedworth and Bulkington to the north of Coventry, Weston Lawns comprises three lakes which cover two-and-a-half acres, two acres and about three-quarters of an acre respectively.
Pool One, which is now available only to anglers in the lakeside cabins, offers specimen carp fishing as well as fishing for big catfish, tench and perch. Pool Two offers fishing from two cabins and four other pegs which are available to day ticket / 24-hour ticket holders. Pool Three, which is located behind the tackle shop, has 23 pegs and was developed specifically for the pole and matches, although it is proving a popular pleasure water when not in use for contests. Over the past few years, the lakes have continued to mature nicely with a mix of bankside cover and open pegs offering islands, channels and other features to fish to.
Facilities at Weston Lawns
Next to the entrance car park is a new reception area and cafe with a licensed bar which is currently being refurbished and enlarged. The cafe is open from 7.00am until 11.00am for breakfasts and 6.00pm until 9.00pm for evenings meals. It is also open at lunchtimes for sandwiches and refreshments although the licensed bar is open all day.
At present the cafe serves a range of food including full English breakfasts, burgers, sandwiches, baguettes, batches and hot and cold drinks although the menu will be greatly expanded once the refurbishment is complete. Visitors can eat in, take their food away or, for a small additional charge, have it delivered to their cabins or pegs.
Other improvements have included providing new toilet facilities and a hot and cold shower for night anglers. Use of the shower costs £2.00 per person for a single unlimited use. In 2021 it is planned to start upgrading all the Eco-cabins on site.
Fish and Opening times
A relaxed fishery, Weston Lawns opens from 7.00am until 9.00pm in summer and from dawn until dusk in winter. Anglers should obtain their tickets from reception next to the entrance. And with a nicely developing stock of fish which include carp to 36lbs plus some nice sized tench to 9lbs, bream to 7lbs, roach to 2lbs plus catfish to a venue record of 65lbs, there may be times when a day's fishing just isn't enough!
Pool One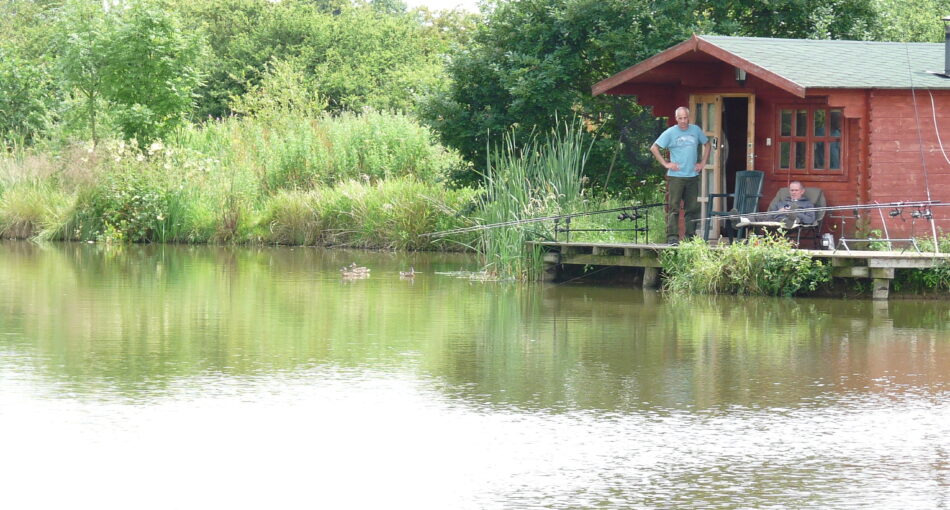 Pool One is the furthest of the Weston Lawns lakes from the car park and is now reserved for anglers in the lakeside cabins. Popular with carp anglers, it is known to hold commons and mirrors to 36lbs as well as ghost carp to 23lbs, grass carp to 6lbs and catfish running between 10lbs and 65lbs with a lot of fish in the 25lbs to 30lbs range.
Record fish caught on Pool One
The fishery record for carp is held by a 36lb 8oz mirror whilst a growing number of carp over 30lbs are now being caught. The largest fish to come out by the end of June 2019 weighed in at 34lbs 7oz and several 20s are now being caught daily.
In addition, perch to 5lbs 10oz and tench into double figures can be taken as well as bream to 12lbs and roach 2lbs. The tench favour ledgered luncheon meat whilst pellets are good for all species.
Fishing on Pool One
Pool One is between six and seven feet deep throughout and many anglers fish boilies, luncheon meat or maggots either on the float, method or more traditional ledger tackle. The use of sweetcorn and a feeder is also popular whilst Weston Lawns own 'Central Tackle' boilies are becoming increasingly successful.
Baits for the carp
A well tried technique is to fish tinned cubed cat or dog food over pellets, although once the fish are in the swim and feeding almost anything seems to work well. Popular pegs for carp anglers are near the old oak tree and those near the overhanging willow tree. Anglers tend to prefer to drop their baits near to the islands when fishing these pegs.
As one would expect for any water which holds carp, floating baits also work well, particularly during the evenings when floating crust, flake and dog mixer all work a treat.
With Pool One's growing reputation as a carp water, modern carping techniques are increasingly being used for longer-stay anglers who are travelling from as far afield as Leeds to fish the venue.
Modern baits such as Active8, strawberry and other fruit flavours are now working well during the summer with fishmeal based boilies and pellets taking over in the colder months.
Well lit pool for night fishing.
Unusually for a fishery, lighting has been provided around parts of Pool One and Two to make fishing easier for night anglers. Whilst they are not football stadium strength, they cast sufficient light for anglers to be able to fish by and do not seem to affect the fishing. Anglers should note that juniors under 16 must be accompanied by an adult.
Pool Two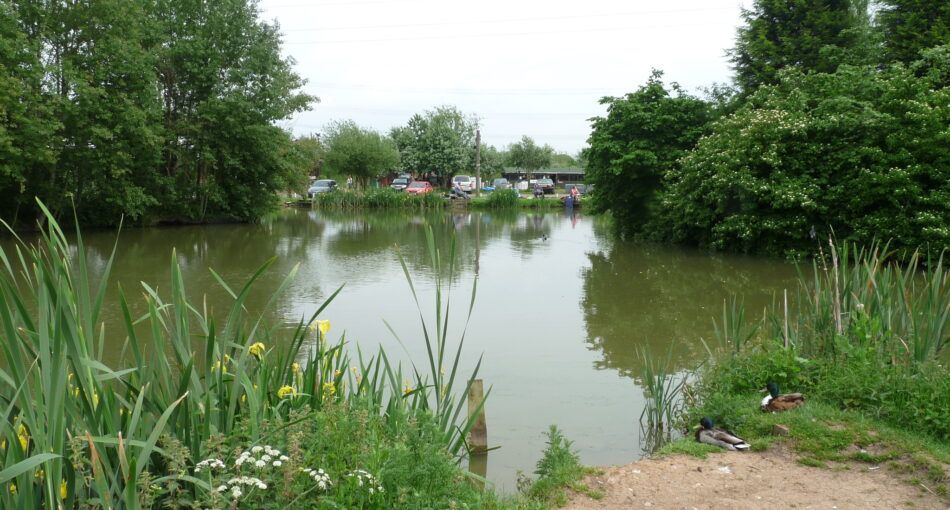 A popular mixed fishery with four pegs reserved for day ticket and 24-hour ticket anglers, Pool Two is the water nearest the car park at Weston Lawns and holds roach to 2lbs, bream to 7lbs, tench to 6lbs and carp to 20lbs. In addition, there are a few catfish which run to 25lbs which, although there are not many, are caught fairly frequently and are attracting a band of anglers who now fish exclusively for them. Most of the catfish are caught on legered luncheon meat.
Fishing on Pool Two
Pool Two is fairly uniform at about five feet deep, although it runs down to about eight feet at its deepest near the outlet end by the electricity pylon. As with many waters, the most successful techniques for fishing Pool Two change from week to week, although using feeder with sweetcorn or worms for the bream and carp usually provides results. Also, an increasing number of anglers are now using pellets and boilies which are proving effective for the carp, particularly in the warmer months.
Pole fishing with maggot, pellets or paste is also successful – using a mix of two parts crushed trout pellets to one part fine white crumb groundbait and mixing the blend into a paste. It is advisable to mix the paste thicker for fishing in the middle or thinner for fishing closer in.
Best places to fish on Pool Two
Many anglers fish the float close in to the islands, but careful casting is called for – as the mass of floats caught in the fringes testifies. Alternatively, it can be just as productive to fish close into the side.
It is also worth fishing slightly heavier than you would normally for roach and bream as the large head of decent sized carp give a good scrap for their size and can be deceivingly strong.
In the summer, a lot of carp are caught in the margins and up against the islands, whilst Peg 27 – known locally as the 'Canal Peg' because the swim between the bank and the island looks like a stretch of the canal – is a well-known hot spot. Here the fish favour the shallow water next to the bullrushes just off the island where the water is about four feet deep.
Pool Three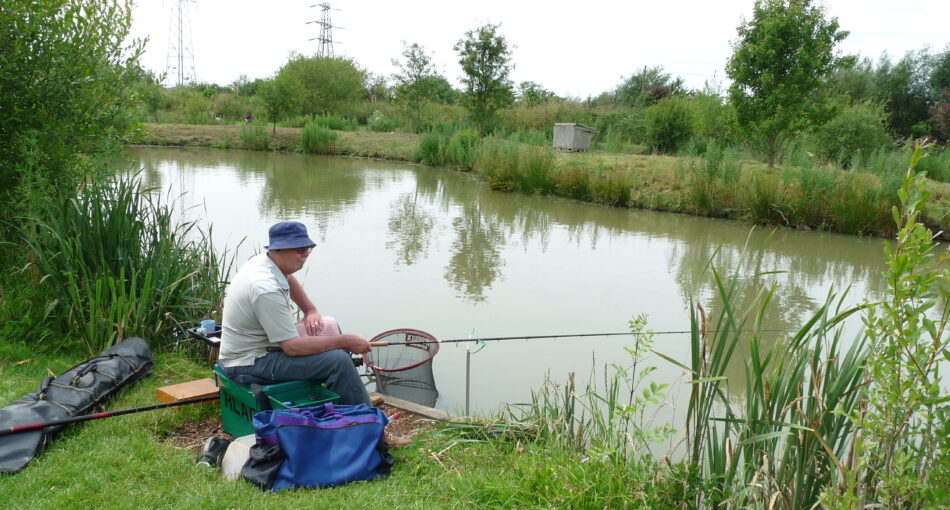 A match and pleasure lake which is ideal for either club events or getting away from it all mid-week, Pool Three holds a good mix of carp and silver fish with roach and rudd to 2lbs but averaging 12oz being the premoninant species backed up with a good head of crucian carp to 1lb 8oz, plenty of skimmer bream, chub between 8oz and 12oz and a small number of tench between 1lb 8oz and 2lbs. In addition, there are a limited number of common and mirror carp to 15lbs.
Well designed for the pole angler
With 23 pegs, Pool Three was completed in 2002 and was designed specifically with the pole angler in mind averaging 13 metres at its widest. Whilst four hour matches are now generally won with between 40lbs and 80lbs, the match record currently stands at just over 114lbs
The banks go virtually straight down to an even bottom at about seven feet whilst coming out from the islands is a three feet deep shelf about three feet wide which is a popular spot with anglers.
Fishing on Pool Three
Whilst most anglers fish Pool Three using the pole or whip, it is also a good waggler water – although reaching the far ledge next to the islands can be a bit risky. As for baits, almost anything goes. Caster and maggots are both probably the most popular baits, sweetcorn is usually effective and an increasing number of anglers are using expander or soft hooking pellets.
Because it is predominantly a silver fish water it pays to use small amount of groundbait mixed with hook samples to attract and hold the fish in the swim.
Willow Pool and Cabin
Opened in 2018, Willow Pool offers anglers a chance to hire a purpose-built three-bedroom fully-furnished cabin which comes complete with exclusive use of its own one-and-a-quarter acre pool. Designed to sleep up to nine people, in addition to the three bedrooms the new cabin is centrally heated and has a kitchen, bathroom and living room.
Outside, the cabin has a full width decking area complete with outdoor furniture which gives anglers direct access to the pool. With a maximum depth of five feet and a flat bottom it is easy to fish and holds common and mirror carp to 15lbs as well as other species similar to those in Pool Three making it ideal for either anglers after decent sized carp or families who just want to enjoy fishing their own exclusive water for whatever comes along.
Prices
Summer opening times 7.00 am to 9.00pm. Winter opening times Dawn until Dusk. Non-fishing visitors are charged at £2.00 per day and £4.00 per 24 hours. Match pegs are available and should be booked by telephoning 02476 991887.
Pools Two and Three

Adults
Jr/OAP/Disabled
Summer Day ticket - 7.00am - 9.00pm

Summer Day ticket - 7.00am - 9.00pm
10.00
7.00
Summer 1/2 day ticket - 12.00pm - 9.00pm

Summer 1/2 day ticket - 12.00pm - 9.00pm
7.00
6.00
Summer Evening ticket - 5.00pm - 9.00pm

Summer Evening ticket - 5.00pm - 9.00pm
5.00
4.00
Summer 24hr ticket

Summer 24hr ticket
25.00
25.00
Winter Day ticket - 8.00am - dusk

Winter Day ticket - 8.00am - dusk
6.00
5.00
How to get there
Travelling either north or south on the M6, leave the motorway at Junction 3 and follow the signs for Bedworth A444.
Heading towards Bedworth town centre follow the signs Bedworth B4029 bearing right at the roundabouts until you drive into King Street picking up the signs for Bulkington.
Weston Lawns Fishery is clearly signed down this road on the left.
Get directions on Google Maps
Comments