Kingfisher Trout Lake
Delightful and informal four acre spring fed lake with rainbow and brown trout to 5lbs, anglers' lodge and tuition available
Key facts about Kingfisher Trout Lake
Attractive four acre lake
Suitable for disabled anglers
Average stock weight 2lbs
Fish to 5lbs regularly taken
Anglers' Lodge with hot and cold drinks
Informal friendly fishery
Attractive spring-fed lake
Kingfisher Trout Lake is an attractive spring-fed four acre landscaped water which celebrates its 30th anniversary in Spring 2022 and offers relaxed trout fishing in beautiful countryside between Bromyard and Leominster in Herefordshire.
Designed with disabled anglers in mind and equipped with casting platforms, the lake is restocked frequently on a 'put and take' basis and offers rainbow and brown trout fishing with an average stock weight of 2lbs but with fish to 5lbs regularly coming to the net.
In addition to the fishing there is a centrally-heated fishing lodge where anglers can enjoy a selection of hot and cold drinks, hire tackle at a cost of £5.00 per day, or stock up on flies and lures.
Staff at the lodge are happy to give help and advice on the best fly to use, depending on the season, water temperature, weather conditions and fish activity. There are also on-site toilets which are suitable for disabled anglers. Accommodation for anglers travelling from further afield can be arranged at a variety of hotels, pubs or guest houses nearby.
Tuition available
For those new to the sport or who have developed bad habits, there is also free tuition on site which can be provided by prior appointment with fishery owner Dennis Wall, a member of the Association of Stillwater Game Fishery Managers and a trout angler of many years standing. In addition, many anglers are happy to share their ideas and tips.
Kingfisher Trout Lake is friendly and informal and the only bans on the water are that boobies and wagglers are not allowed and that a Size 10 long shank is the largest hook permitted.
Kingfisher Trout Lake is also the home to the famous 'Kingfisher Killer' trout fly which was designed at the fishery. Several hundred of these highly effective flies have already been sold by mail order to anglers all over the world. Featured in 'Trout Fisherman' and 'Stillwater Trout Angler', the 'Killer' has proved to be a popular and effective lure in waters up and down the country.
Available in 24 different colour schemes on Size 12 hook standard shank, the flies cost £1.00 each and can be purchased by sending a stamped addressed envelope to Dennis Wall at the fishery address at the top of this page. Further information about the dreaded Kingfisher Killer can be obtained from Dennis on 01885 488464. Anglers who are fans of Facebook can become a friend of Kingfisher Trout Lake by searching for Kingfisher Trout Lake once they log onto the site.
Fishing Kingfisher Trout Lake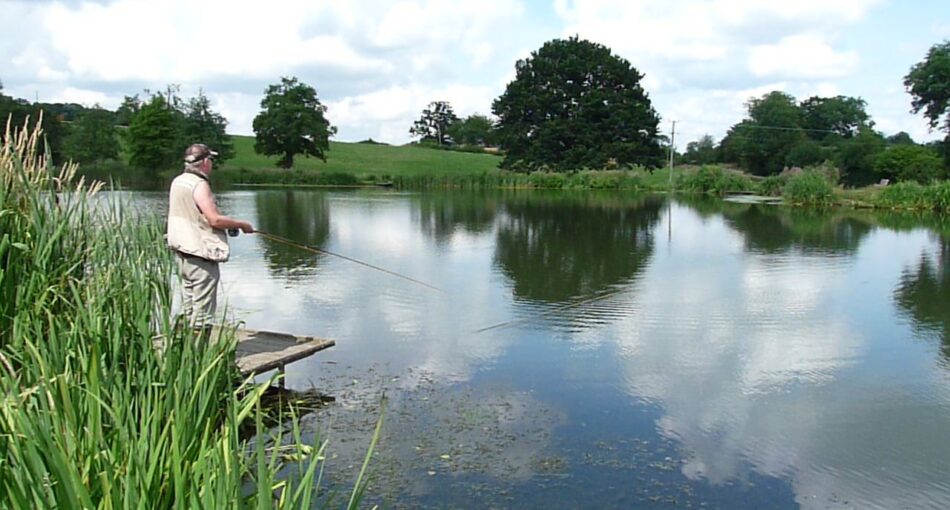 According to fishery owner Dennis Wall, about 90 per cent of the fish are taken on floating line because the fish are free rising. Probably the best patterns are small buzzers whilst dry flies, particularly sedges, also accounted for many of the fish taken.
Reliable patterns
Patterns normally reliable include Montanas, Viva, Cat's Whisker, natural flies and, of course, the deadly Kingfisher Killer – particularly in olive or black. However, most anglers have a good selection of flies in their box and with all aspects of the sport it often pays to experiment.
Kingfisher Trout Lake is much deeper than many lakes of its size, averaging between 12 feet and 14 feet but up to 20 feet in places. This enables the water to stocked to a ratio of about 140-150 fish per acre with the majority of the fish being in the 2lb to 3lb range. However, rainbows of 10lbs have been caught and fish to 5lbs come to the net fairly frequently. Over recent years an average of three fish were taken per angler visit and a further five fish per angler were taken on a catch and release basis.
The water depth also means that the fish can keep cool in the summer months by going deep whilst in winter the reverse is the case with the fish staying down where the water is warmer.
Conditions throughout the lake are kept at optimum levels by the use of silt traps, bypass ditches, regular weed control and a powerful aeration system, all of which combine to maintain the correct ecological balance. This ensures clear water of even temperature all year round, promoting healthy insect life and fish.
There are no 'hotspots'
Because trout are more active than most coarse fish and patrol greater distances there are no 'hot spots' on the lake with anglers standing an equal chance of catching in all parts of the lake.
The location of the fish will tend to be determined by the direction of the prevailing wind and water temperatures, but as the water is normally gin clear first-time visitors to the fishery are advised to approach the waters edge with caution and start by fishing close to the bank as many fish tend to congregate by the bankside.
Only after anglers have explored to shallower water should they gradually work their way further out. Working the water like this will prevent a mistake commonly made at Kingfisher, which is that anglers often march straight up to the waters edge and fish up to 20 yards out on their first cast, thus scaring away any fish between the bank and where they are fishing – a mistake often commonly made by their coarse fishing cousins, many of whom believe you have to fish at distance to be in with any chance of catching when many good fish are taken by other anglers from in the margins.
Try fishing the ledges close in
In addition, there are plenty of ledges around the lake edge where the trout patrol and feed, and it is always worth trying these before heading for deeper water near the island. Having said that, there is deep water close to the bank in places for those who prefer to fish further down. Whether fishing shallow or deep, however, a slow retrieve is recommended after having cast your fly. Most Kingfisher Trout Lake regulars use a steady figure of eight to tease the fly slowly through the water.
Whether you are an individual angler who enjoys combining a day's angling with the tranquility of the countryside or a company looking for a Corporate event with a difference, Kingfisher Trout Lake provides an inexpensive way to entertain friends, clients and colleagues. An added attraction of Kingfisher Trout Lake is that families are welcome and non-anglers can relax and enjoy the peaceful surroundings.
Prices
Anglers should pay at the Anglers' Lodge before fishing – card payments are accepted.
Fishing tickets

Price
Two fish ticket

Two fish ticket
20.00
Four fish ticket

Four fish ticket
30.00
Summer all day catch and release

Summer all day catch and release
18.00
Winter all day catch and release

Winter all day catch and release
14.00
In hot weather speak to the fishery for details of Catch and Release
How to get there
Kingfisher Trout Lake can be found on Green Lane off the main A44 Worcester to Leominster Road (Junction 7 off the M5).
From the M5 follow the signs for Leominster and then Bromyard.
After travelling through Bromyard on the A44 towards Leominster you will find Green Lane about a mile out of Bromyard on the left hand side.
Turn into Green Lane and the entrance to Kingfisher Trout Lake is on the right about a mile down Green Lane and is clearly signed.
Get directions on Google Maps
Comments