Evesbatch Fishery
To be found in the heart of Herefordshire, Evesbatch Fishery offers two lakes in a delightful woodland setting where anglers can catch carp to 20lb together with quality crucians, bream, roach, perch to over 3lbs and even barbel to 6lbs.
Evesbatch Fishery features and facts
Secluded fishing in country setting
Choice of two lakes both holding carp to over 20lbs
Suitable for adults with younger anglers
Toilet facilities available next to Top Lake
Open from dawn until dusk
Day tickets to be purchased in advance
Fishing the lily pads provides good sport in summer
Suitable for pole, waggler and ledgering
Floating baits provide good sport in warmer weather
Fishing the margins can provide good results
Two delightful fishing lakes near Worcester
To be found 13 miles outside Worcester and about a mile off the main Worcester to Hereford road, Evesbatch Fishery offers two lakes in a delightful woodland setting. Popular with local anglers, it is well worth seeking out by those travelling from further afield. Evesbatch is one of those venues where you can be sure of decent weights being caught, mainly carp to 20lb, together with lots of good quality crucians, skimmers, bream and roach, perch to an impressive 3lbs 3oz and even barbel to 6lbs. Red maggots and worms produce well and the larger carp can often be seen feeding on the surface on bright days.
A fantastic all-round fishery
Indeed, whenever Fisheries.co.uk have visited the fishery we have good sessions with common carp including low doubles coming to the net fairly readily. When conditions are right anglers can expect a bite pretty well every cast which makes for a weighty bag of mixed carp and silver fish. Another nice thing about fishing Evesbatch is whatever the size or species, every fish will give a good account of itself and be in superb condition.
For many years Evesbatch was owned and operated Alan's Tackle in Worcester, but the lakes were bought in 2003 by Kevin Ellaby, a keen angler since he was a boy and well known on the local match cirecuit. Since taking over the venue, Kevin has cleared trees, improved the bankside, installed a portable loo on the car park next to Top Lake and intends to keep the fishery as a day-ticket water so that others can continue to enjoy it as much as he does.
Ideal for both novice and experienced anglers, Evesbatch is one of those 'natural' fisheries where the surroundings add to the enjoyment of the sport. However, with carp reputed to run to over 20lbs, stillwater barbel to 6lbs, bream to over 5lbs, crucian carp to around 2lbs, perch to over 2lbs 8oz and a good head of quality roach, you are unlikely to have much time to admire the surroundings once you get stuck into the fish.
Bottom Lake at Evesbatch FisheryBottom Lake, the first pool you come to on entering the fishery, and the triangular-shaped Top Pool, are both at least 40 years old and used to form part of the Evesbatch Court estate which was once owned by the Cadbury family of chocolate fame.
Impressive match records
With a total of more than 50 well-spaced pegs, Evesbatch is available for matches where winning weights top the 90lbs-plus mark. The previous match record of 145lb 14oz which was held by Worcester angler Chris Senter was smashed by Aidie price, a Worcester angler who was pegged on the Top Lake and pole fished meat and corn for an impressive 161lb 8oz. However, even on the infrequent occasions when there are matches there are plenty of pegs available for pleasure anglers. Aidie's catch consisted of carp to 13lb and skimmers. The backing weights were just as impressive with 129lb taking second overall place, 128lb 8oz the third place and 115lb 4oz fourth place.
Open from dawn until dusk, the blend of carp and silver fish make Evesbatch a good year-round venue and it is certainly worth going off the beaten track to find and enjoy this lovely fishery.
Bottom Lake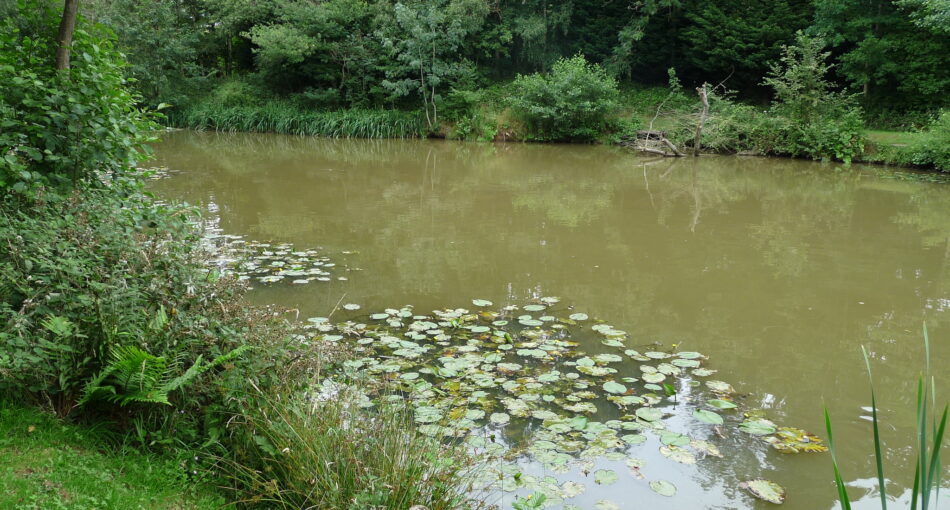 One-and-a-half acres in size, Bottom Lake is probably best known for its carp, the quarry of most anglers who pleasure fish this water, but the quality roach, bream and tench are also worth finding. The water also holds a good stock of pure Crucian Carp which run to 2lbs-plus and which give a remarkable account of themselves when hooked.
A good mix of fish
In addition, local anglers say there are some good chub in the water and with the River Leddon, noted locally for its eels, running between Bottom and Top Lake there are also rumoured to be eels up to 7lbs. Whilst Bottom Lake is surrounded by trees, there is plenty of bank space all the way around, so casting isn't a problem. However, a few trees and bushes hang over the water, and whilst these make ideal features to fish to, care is needed not to become snagged in the branches.
The deepest water is to be found at the entrance end of the pool where up to 10 feet can be found, particularly opposite Pegs 2 and 3. From the entrance, the water gradually shallows to some three or four feet at the far end where there is more vegetation around the bankside and a profusion of lily pads in the water which offer good sport in summer. Similarly, depths at the bankside gradually deepen towards the middle.
With mirrors carp which run to over 20lbs, there is a good head of fish around the 15lb mark and these can regularly be seen cruising just below the surface in summer months. The common carp, thought to be a strain which have grown from wild stock, are smaller and tend to run to over 10lbs.
Effective tactics on the Bottom Lake at Evesbatch
All popular methods work well at Evesbatch with waggler and pole probably being the most predominant. However, fishing The Method with luncheon meat, paste or pellet is very effective for the carp whilst a floating bait such as bread crust, bread flake or dog biscuit works well for the bigger specimens, particularly when fished in open water.
Bait recommendations
Another popular bait is sweetcorn, which is very effective in the early months between March and May but becomes less effective as the fish become wary of being caught on it in summer and autumn. As one would expect, the ubiquitous maggot is also popular but, as with any water, can result in a lot of small fish being caught before the bigger fish move in. Worms are also effective, particularly single lobs, whilst luncheon meat, bread, paste and pellets are also good.
Top Lake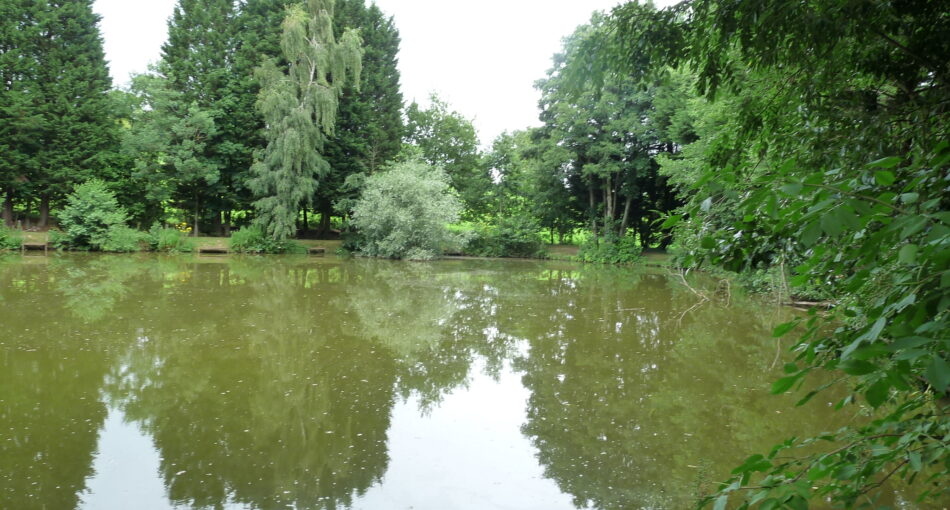 Reached through the gates on the right about 50 yards past the first entrance to Evesbatch Fisheries, Top Lake is often overlooked by visitors to Evesbatch and yet generally speaking holds a similar stamp of fish than its more popular sibling Bottom Lake.
Again, Top Lake is virtually surrounded by trees and offers a delightful setting for a day's angling. However, unlike Bottom Lake, this triangular-shaped water has banks which drop straight to about four feet before gradually running to about nine and 10 feet deep in the centre.
Margin fishing is effective in summer
Because the bankside drops straight into deeper water, fishing the margins is usually productive in the spring and summer months where most popular baits tend to be paste, pellet, bread and sweetcorn fished on the waggler or pole. However, as the weather turns colder in late autumn and winter, fishing in the deeper water in the center of the lake generally produces good results with ledgering and the Method feeder being particularly effective when used in conjunction with most baits.
Barbel running to 6lb
As with Bottom Pool, fishing floating baits in the centre of the lake in summer is good for the carp, particularly mid-week when the water is quieter than at weekends. Although Top Lake is slightly smaller than Bottom Lake at about an acre in size, the general standard of fish tends to be bigger with Mirror and Common Carp, Crucians, bream and tench tending to be the main quarry. In addition, it also holds some barbel which now run to about 6lbs.
Fit fighting fish
However, as one would expect, it is again the Mirror and Common carp which are most regularly fished for, which is a shame because the all the fish are in supreme condition and fight like Trojans.
Prices
Day tickets must be purchased in advance and are available from
Alan's Tackle at 26 Malvern Road, Worcester (Tel: 01905 422107)
Woody's Angling Centre at 67 Whitecross Road, Hereford (Tel: 01432 344644)
The Green Dragon Inn at Bishops Frome (Tel: 01885 490607) which is open weekdays 5.00pm to 11.00pm and all day on Saturdays and Sundays
The Angling Centre on Hinton Road, Hereford (01432 261047
Leigh Sinton Post Office and village store which is open from 6.30am seven days a week
These outlets will advise if pegs are booked for matches and which areas of the lakes are likely to be free. They will also supply the current code for the combination lock to the gates.
Day ticket Prices

Adults
OAP / Under 16s
Day tickets (Dawn to dusk - one rod)

Day tickets (Dawn to dusk - one rod)
10.00
8.00
Additional rods each (Max 3)

Additional rods each (Max 3)
2.00
2.00
Bookings for matches should be made by contacting Kevin Ellaby on 07967 568124 (mobile)
Rules and conditions
Draft – No night fishing
Draft – Barbless hooks only
Draft – Hooking mats essential
Draft – Nets must be dipped
Draft – No boilies or bait boats
Draft – No fires, radios or bit alarms
How to get there
Evesbatch Fishery is about 13 miles from Junction 7 of the M5 motorway. On leaving the motorway take the A4440 signposted for Hereford, Malvern and Leominster (A44).
At the first roundabout turn left and continue straight over the next few roundabouts following the signs for Leominster and Hereford.
At the fifth roundabout turn left and follow the signs for Hereford on the A4103, continuing along the A4103 through Leigh Sinton.
Continue through Storridge and a few miles further on, just before you reach Fromes Hill, there is a small sign on the left hand side of the road saying 'Evesbatch 1 mile'.
Turn right into the small country lane and follow this until you come to a large house called The Brook House on the left. The entrance to the fishery is about 80 yards past here on the left.
A short distance down the track are a pair of gates on the right. The first of these takes you onto Bottom Lake whilst if you carry on a little further up the lane you will see the entrance to Top Lake through a second pair of gates, again on the right.
Get directions on Google Maps
Comments