Boddington Reservoir
This pleasant rural reservoir in rolling countryside has to be one of the Canal and River Trust's most promising fisheries with big nets being taken by pleasure and match anglers alike.
Boddington Reservoir facts and features
Stocked with mirror and common carp
Easy fishing with a 'fish a chuck'
Carp well into double figures
Wheelchair friendly pegs available
Average depth of six to eight feet about a pole length out
No need to cast far to get into the fish.
If you are a pleasure angler seeking a quiet but productive mid-week venue or a match angler looking for a winning bag of 100lbs to 150lbs where every angler is virtually guaranteed to weigh in with 70lbs and the match record currently stands at an incredible 650lbs – Boddington Reservoir between Southam and Banbury is the place for you!
Hugely productive reservoir
This pleasant rural reservoir set in rolling Northamptonshire countryside has to be one of the Canal and River Trust's most promising fisheries – and it is living up to those promises with big nets being taken by pleasure and match angler alike. The fishing is so prolific that catches of 100lbs come from virtually anywhere on the water, the match record having been broken in May 2007 when Southampton angler Dave Pervin took 630lbs in a six-hour match.
Mirror and Common carp
Boddington is stocked predominantly with mirrors and commons which now run into double figures and average around 5lbs to 6lbs, plus good heads of tench to 5lbs, perch to 12oz, roach to 1lb and pike to over 30lbs. Indeed, this is one venue where you can be virtually assured of a good day and will want to go back to time and time again. The quality of the pike fishing was illustrated in February 2009 when Leicester angler Steve Davis landed a specimen which tipped the scales at 40lbs 10oz. Steve was fishing off the dam wall.
Improvement of the facilities
The facilities were improved over the 2006/2007 winter with the construction of more than 80 concrete angling steps which were built into the stonework facing of the reservoir. These give anglers a more even and stable surface from which to fish and, with improvements to the walkway down the right hand side of the reservoir, have greatly improved access to the waterside.
At the same time the car park on the right hand bank was extended to create a further 40 parking spaces and a special wheelchair-friendly peg with its own parking space built at the other end of the northern dam wall. Anglers should note that they should not park on the road running past the entrance to the fishery as the police have been very hot to book drivers for obstructing the main carriageway.
Thousands of carp introduced
The water is open and fairly large at some 65 acres in all. In 1998 it was partially drained to enable netting to be carried out and a large number of the bream and roach were transferred to nearby Clattercote Reservoir. When the water levels returned some 50,000 half-pound mirrors and commons were introduced. These have already reached double figures and and are making Boddington a superb venue which is already chasing on the heels as a match venue to rival its Canal and River Trust neighbours Drayton and Clattercote reservoirs.
The Reservoir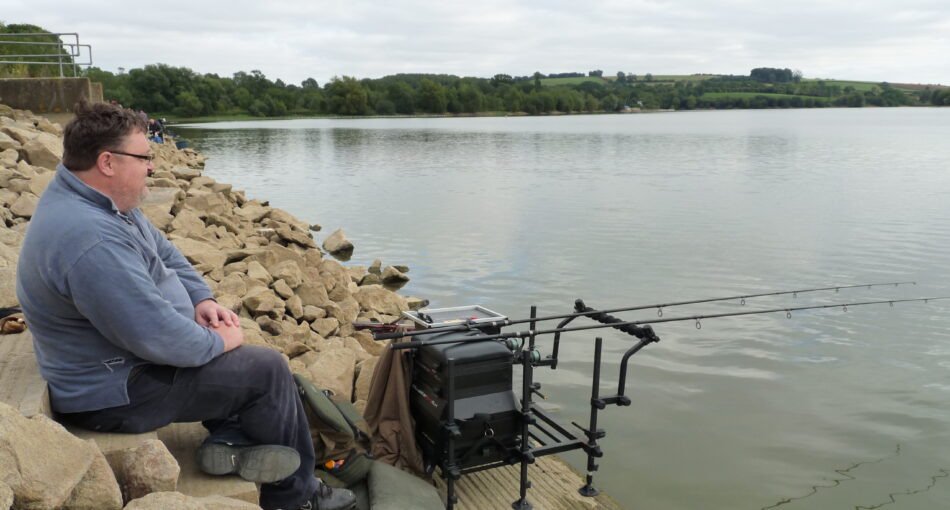 Ideal for match and pleasure anglers alike
Whether you are a serious matchman, a mid-week pleasure angler, someone looking to try out new techniques, hoping to erase the memory of a few recent blanks or simply a parent looking to take their youngster somewhere they are sure to catch fish – Boddington Reservoir offers a treat for everyone.
The reservoir is perhaps best known amongst match anglers with whom its popularity can be judged by the fact that the venue is regularly fully booked at weekends. Its reputation as a pleasure venue means it is also becoming more popular during the week, although with 65 acres to go at it is still an ideal water for the solitary pleasure angler who wants to be sure of a good day's fishing away from the crowds.
And the fishing is so good that, although two rods are allowed, very few anglers dare use more than one rod in case they end up with a fish on each line at the same time. Served by car parks at either end of the road dam wall, all the pegs at Boddington can be reached by a footpath.
Angling restrictions
Angling is not allowed on the left bank of the reservoir by the Sailing Club – members of which stay well away from anglers when on the water – or on the part of the left bank which forms the Byfield Reservoir Nature Reserve – Byfield Reservoir being a smaller water which adjoins the main Boddington Reservoir.
Fishing is also not permitted along the very far right hand bank, but has now been opened on the top left hand bank between the sailing club and the dam wall. This means that about half the water is now available for fishing – some 120 pegs – with an average water depth of six to eight feet about a pole length out.
Fishing techniques at Boddington
Despite its size, most match anglers fish Boddington on a seven or eight-metre pole because whether you are in a competition or fishing purely for pleasure, you do not need to cast any distance to get into the fish.
Having said that, two new alternatives emerged in 2007 with both the infamous bagging waggler – so productive at Canal and River Trust other reservoirs at Earlswood, Clattercote and Drayton – and the new floating candle for presenting surface baits, both being increasingly used by Boddington regulars to great effect.
Preferred baits among anglers
Most popular baits tend to be sweetcorn, pellet, paste or bread although you will probably catch on anything as long as you remember to feed. Having selected your swim, put in a small amount of groundbait laced with loose offerings before tackling up. It usually takes the fish less than half an hour to find a baited swim so you shouldn't have long to wait once you start fishing. To stop the fish from wandering off it also pays to feed regularly with a small amound of groundbait and offerings virtually every cast.
The same applies when waggler fishing. However, because there is a large expanse of open water the surface wind often creates a tow in the water and it therefore pays to set some shot well down the line to hold the bait and float in the swim.
Fishing for carp at Boddington
Because of the large head of carp in Boddington, other popular techniques with pleasure anglers are the groundbait and method feeder, but whichever way you fish it pays to remember that you don't have to go a long way out to find the fish – bait up and they will come to you.
The only drawback with being a solitary angler on Boddington is the healthy head of ducks, a few swans who know that wherever there is an angler there is food – and the host of geese who tend to leave anglers well alone but who can provide somewhat noisy entertainment as they squabble amongst themselves. Although the carp, in particular, can be seen rolling and taking food off the surface in warmer weather, the presence of the birdlife really rules out the possibility of fishing floating baits.
Prices
All permits are available from the bailiff on the bank. Matches must be booked in advance.
Ticket Costs

Adults (1 Rod)
Adults (2 Rod)
EA Concessionary (1 Rod)
EA Concessionary (2 Rod)
Day - Midweek

Day - Midweek
6.00
10.00
4.00
8.00
Day - Weekend

Day - Weekend
7.00
11.00
4.00
8.00
Evening - From 5pm

Evening - From 5pm
4.00
8.00
4.00
8.00
Match Pegs

Price
Daytime matches - midweek

Daytime matches - midweek
6.00
Daytime matches - weekend

Daytime matches - weekend
7.00
Evening matches

Evening matches
4.00
Rules and conditions
Keepnets are not allowed except during matches and Boddington is a barbless hooks only water.
Anglers are not allowed to use nuts, chickpeas or braid as the hook length.
How to get there
From the M1, exit at Junction 18 and follow the signs for the A361.
Pass Drayton Reservoir and go through Daventry keeping on the A361 to Byfield.
At Byfield, take the first right and the reservoir is on the left hand side.
Get directions on Google Maps
Comments