Canaan Farm
One of the Arrow Meadow Fisheries portfolio of exclusive venues, Canaan Farm is a remote half acre pool offering a wide variety of fish which is ideal for two anglers on a large purpose built peg.
Key facts about Canaan Farm
Remote and secure half acre pool
Good mix of silvers including barbel and chub
Pike and zander for predator anglers
Large and spacious double peg
Ideal for 'Dads and Lads'
Toilets and water on site
Canaan Farm is a delightful rectangular shaped and secluded small farm pool in the Leicestershire village of Peatling Parva. About half an acre in size it is ideal for two anglers being equipped with a large bark chip peg at one end.
Fishing the half acre Canaan Farm pool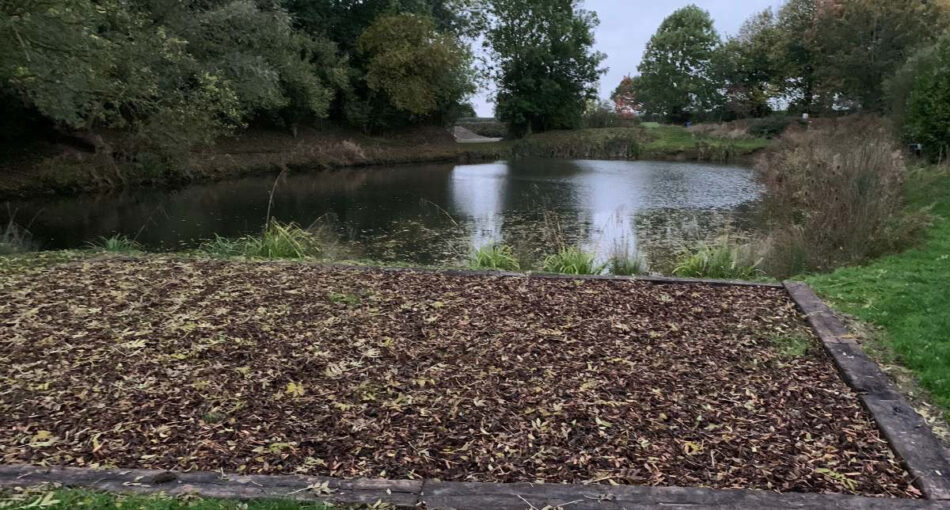 Canaan Farm offers a wide range of species
Stocked with a wide range of fish, it offers anglers the opportunity to mix fishing for common and mirror carp between 7lbs and 15lbs, sturgeon to 12lbs and catfish between 12lbs and 15lbs with dabbling with a float for a wide range of silver fish including roach, rudd, chub, barbel, blue orfe and perch.  In addition there are koi carp to about 4lbs and grass carp to 5lbs.
Canaan Farm will also appeal to the predator angler because it also holds a number of pike and zander.
This pool caters for a maximum of two anglers sharing up to four rods and can be booked for a minimum of 48 hours with slots available from 10.00am Monday to 10.00am Wednesday, 10.00am Wednesday to 10.00am Friday and 10.00am Friday to 3.00pm on Sunday.
Ideal for pleasure anglers and 'Dads and Lads'
Being only small but well stocked with a wide range of fish, it is one of those venues where you don't know what you are going to catch next. In addition to making this a great place for general pleasure anglers who are looking for somewhere to get away from the madding crowd in a safe and secure environment, it is also great for 'Dads and Lads' where parents can take their children and be pretty well guaranteed they are going to catch regularly.
Canaan Farm has sides which pretty well drop down to an eight feet deep flat and even bottom which is desilted every year. Whilst the large double swim is ideal for night fishing for anglers targeting the carp and sturgeon, the grass banks offer several places where you can fish a float from behind bankside cover in the day time.
Boilies, pellets and sweetcorn are popular baits for the carp
As is to be expected, both modern and traditional carp fishing techniques work well for the carp with boilies, pellets and sweetcorn being the most popular baits, although pop-up boilies aren't really needed because there is little or no weed on the bottom. In warmer weather floating baits will also work well when fish can be seen cruising with the bankside vegetation again giving cover for the stalking angler.
Simple waggler fishing works well for the pleasure angler
For the pleasure or novice angler, simple waggler fishing works as well as anything with sweetcorn, pellets, bread, paste, worms and maggots all being popular baits when fished with free offerings given little and often. There is also no need to cast to the middle of the pool as fishing in the margins can often proved to be particularly effective.
On-site facilities include 230 volt socket
Canaan Farm is fully fenced and private with electric gates and has toilets and water facilities on site, as well as a fresh drinking water supply and even a 230v socket in the toilet block. As the fish are also fed regularly, the venue has feed bins containing pellets which can be used by visiting anglers.
Prices
Prices are for two people
10.00am Monday to 10.00am Wednesday
10.00am Wednesday to 10.00am Friday
10.00am Friday to 3.00pm Sunday

£145.00
£145.00
£175.00
A 25 per cent deposit is required on booking with balance due on entry to the fishery
Rules and conditions
Rules and conditions
CANAAN FARM FISHERY RULES
Maximum of four anglers on site per booking – visitors are not allowed
Two rods maximum per angler
No nuts or shelf life boilies. (Arrow Meadow Fisheries can supply house pellets and house boilies at cost price if requested including Dave Mallin Pungent Squid Freezer Bait)
Bivvies should be erected in the designated peg
A 20 per cent non-refundable deposit is required upon booking with the cash balance required upon arrival
Cancellations must be made in writing by e-mail to the Arrow Meadow Fisheries
The main gate must be closed and locked at all times and vehicles parked in fishery car park only
Nets/mats/slings are supplied to prevent the possible spread of disease so none should be brought to the fishery
Rods should not be left unattended or in the care of another angler
All fish to be landed/netted and released/returned using slings provided
STRICTLY No drugs, heavy drinking or loud noise or radios
We allow bait boats on this venue
No fires are permitted
All litter to be taken home by anglers – bins are not provided
All rigs and setup must be checked and verified by Alan prior to fishing
Micro barbs permitted. However, anglers must be prepared to cut hooks with snips if required.
Any snagged fish MUST be reported to Alan immediately
All gates to be kept closed AT ALL TIMES
Shower/toilet block must be kept and left clean
All big fish captures to be photographed on both sides and photographs emailed to Arrow Meadow Fisheries with details of weights
Fish care is the number one priority
Arrow Meadow Fisheries DO NOT accept any responsibility for injury, damage or theft to vehicles or equipment and reserves the right to refuse admission and amend the rules at any time. Abusive behaviour and swearing will NOT be tolerated. The management reserves the right to ask anglers to leave at any time
THE FISHERY OPERATES A ZERO TOLERANCE POLICY FOR ANY BLATANT DISREGARD OF THESE RULES.
How to get there
Travelling from the west make your way to the M69 junction with the A5 south of Hinckley
Take the A5 travelling south east and after Wibtoft look out for Mere Lane on the left
Turn into Mere Lane and follow this through the industrial park continue until you reach a cross roads.
Go straight over into Ullesthorpe Road. Continue until the next cross roads and turn right
The entrance to the fishery is through the first gate on the right. If you turn into the Midlands Roller Arena you have gone past the entrance and taken the second gate on the right.
If travelling north or south on the M1, leave the motorway at the Lutterworth exit and head towards Lutterworth
Follow the A4303 to its junction with the A5. Turn right onto the A5 and look out for Mere Lane on the right
Follow the instructions above for directions from Mere Lane
Get directions on Google Maps
Comments