Temple Farm Fishery
Attractive and informal two-pool fishery with carp to over 30lbs and decent silver fish. Flat grass banks suitable for disabled anglers in dry weather.
Temple Farm Fishery facts and features
Car park next to the main Dave's Pool
Dad's Pool at the far end of Dave's Pool
Dave's Pool suitable for disabled anglers when dry
Good head of decent silver fish
Friendly informal fishery
Ticket money collected on the bank
Easy to fish for all anglers
Suitable for accompanied young anglers
Fishery with links to Knights Templar!
Situated on the borders of Warwickshire and Leicestershire, Temple Farm dates back to the times of the crusades and is so named because the land on which it stands once belonged to the famous – or infamous – Knights Templar. Temple Farm is a 48-acre working farm which incorporates Dave's Pool, a delightful and mature acre-and-a-half water which is served by its own car park and Dad's Pool which can be found at the far end of Dave's Pool. The pool has a central island and is surrounded by even grass banks, which make it suitable for disabled anglers.
Carp to over 30lbs
The pool has been popular with locals for many years and holds a good head of fish including some nice carp to 32lbs plus some quality roach to about 1lb and bream to 4lbs.
Situated just 200 yards from two local pubs in the village of Wolvey, Temple Farm is ideal for those who enjoy a refresher after a hard day's fishing. The fishery is also close to several good quality inns which serve a variety of food.
Dave's Pool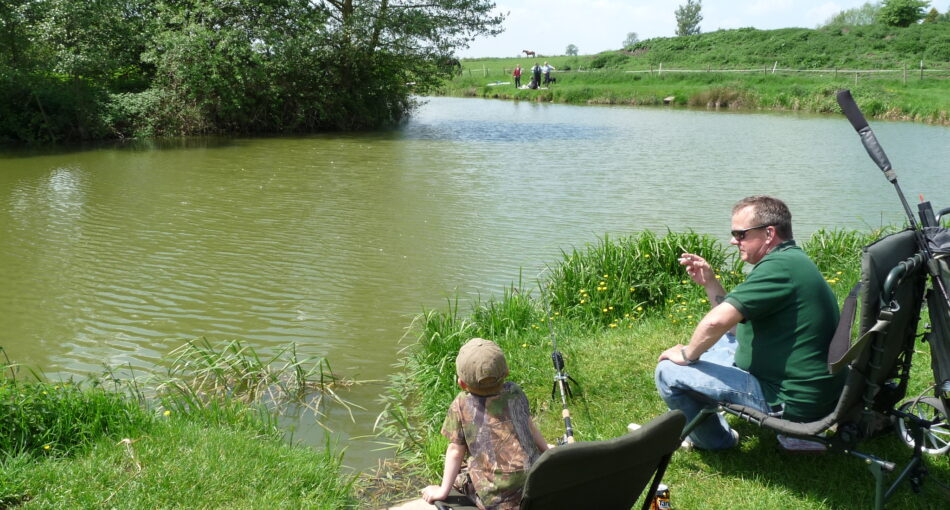 Dave's Pool
Delightfully matured and set is quiet and peaceful countryside on the outskirts of the village of Wolvey, Dave's Pool is a well-established water offering about 31 pegs which give access to open water, fishing the margins or fishing to the tree-clad island.
The spring-fed pool was dug in 1992 and is between six and 12 feet deep in the corner next to the car park rising to between six and eight feet everywhere else.
Easy to fish, the water has a fairly even bottom which rises to about two feet around the small planted islands at the far end of the pool from the car park.
Holding a lot of common and mirror carp around the 7lb to 8lb mark and quite a few between 12lbs and 14lbs which are regularly caught, the pool also holds some mirrors including one which was caught by an angler from Coventry and weighed 32lbs. In addition it is home to some ghost carp to 12lbs.
Dave's can be quiet mid week
Dave's Pool is generally quiet mid-week. In addition to the carp, several anglers are now reporting catching good quality perch to 2lbs 8oz whilst there is also a good head of roach averaging about 8oz and running to just over 1lb plus some good bream to over 4lbs but which average between 1lb and 2lbs. Of particular appeal to younger anglers are the gudgeon which are easily caught and provide a lot of fun for those new to the sport.
Dave's Pool is a popular venue for small club matches and is popular with pleasure anglers on Sundays. Although it has a small following of mid-week regulars, there is always plenty of room for anglers throughout the week.
Informal fishery with few rules
Unlike some large commercial fisheries, Dave's Pool is very informal and there are few rules with the exceptions that jokers, bloodworm and artificial baits are not allowed; groundbait should be used only in feeders; keepnets are allowed only in matches; and anglers should use only dry landing nets.
Apart from that the usual rules apply regarding such things as the use of barbless hooks, that anglers should take their litter home with them and that children under 14 should be accompanied by an adult at all times.
Because of its size, the most popular techniques for fishing the water are with the pole and waggler, although floating baits including dog biscuits, bread and floating pellets can prove particularly effective all over the water in warmer weather.
Popular baits
The most popular baits tend to be luncheon meat, bread and sweetcorn for the carp and caster and maggots for the roach.
When fishing for the carp you don't need to go for the latest gizzmos and techniques. These fish are quite readily taken on the pole or waggler although the waggler is probably the better of the two as it gives more control when playing the fish.
If going for the double figure specimens you need to fish at least an 8lb line and a Size 10 or 12 hook, fishing hair-rigged luncheon meat, sweetcorn or flavoured carp meat. Floating baits are also good in warmer weather.
Most anglers going for the bigger fish tend to bait up a swim close to the island with free offerings and samples of hookbait and fish either the waggler or ledger tackle, where possible clipping up their line once they have found the correct distance to avoid overshooting and landing on the island itself.
Fishing margins can produce nice fish
Fishing close in to the margins can also be particularly successful, especially on warm mid-week evenings when the banks are quieter. This is also a good time to fish floating baits, although this can be done any time that fish are seen taking particles from the surface.
Fishing for the roach and bream is popular with both pole and waggler anglers whilst those wanting to fish the more central parts of the pool at the far end also opt for the swimfeeder packed with groundbait and a helping of maggots, casters and small pieces of whatever is being used on the hook.
If the fish aren't taking on the bottom – where you can be pestered by the gudgeon if using maggots – try fishing up in the water, spraying out a few maggots and casters at regular intervals to keep the fish in your swim and recasting more frequently. Once you get the fish competing for the free offerings be ready for them taking your bait on the drop.
Dad's Pool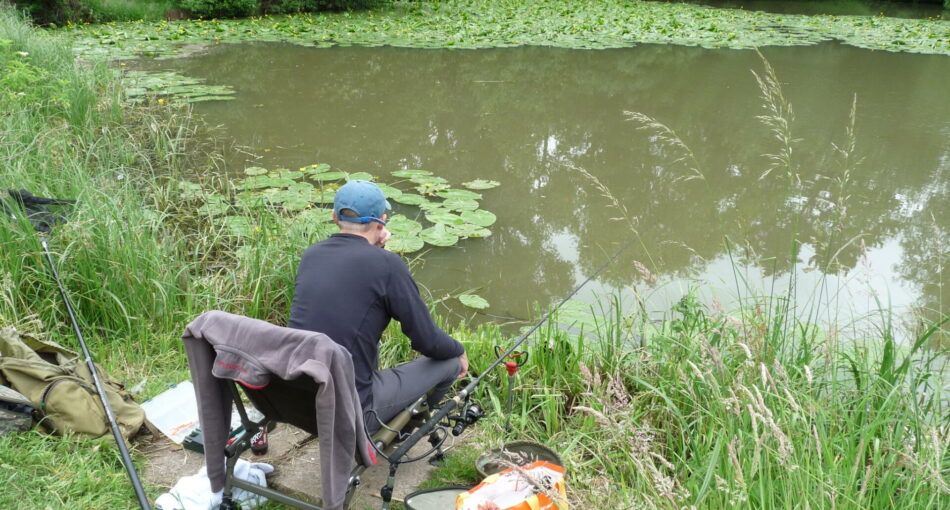 Opened in 2021, Dad's Pool is a delightful medium-sized pool with islands and abundant water lilies which is set apart from the main fishery at the far end of the Dave's Pool. If you love secluded fishing in delightful surroundings, you ought to try this one.
Dad's dates back to Medieval times
Believed to date back to the Medieval times and possibly the late 1200s, Dad's Pool has not been fished in living memory, although it is known to hold a good stock of fish.
About an acre in size, it is generally about four feet deep and has three islands. It can be fished from three of its four banks, the fourth being inaccessible because it adjoins a field and is partially obscured by trees which prevents access for anglers.
No formal pegs
A delightfully attractive water, it has no formal pegs and will appeal to those anglers who like to get away from it all and fish quiet secluded waters where the surroundings and ambience are as important as the number of fish they catch.
Having said that, Dad's Pool is thought to hold a similar stocking to Dave's Pool with plenty of common and mirror carp around the 7lb to 8lb mark and quite a few much bigger fish as well as roach, perch and bream.
Prices
Ticket monies will be collected on the bank. A discount is given in summer for anglers starting to fish after 5.00pm. Children under 14 must be accompanied by an adult. Non-angling spectators are charged at £1.00 each. The fishery is open from 7.00am until 9.00pm in summer and dawn until dusk in winter. Night fishing is not allowed.
Ticket prices

Adults
OAP/Juniors/Disabled
Day ticket

8.00 (max two rods)

6.00 (max two rods)

Day ticket
8.00 (max two rods)
6.00 (max two rods)
Rules and conditions
Do not stand up to photograph fish
Barbless hooks only
Children under 14 must be accompanied
No night fishing
How to get there
Temple Farm is about two miles from Junction 1 of the M69 north of Coventry
After leaving the motorway, follow the signs for Wolvey on the B4109 until you come to a heavily marked crossroads with illuminated warning signs
The entrance to Temple Farm is up the slope about 200 yards after this crossroads just before you come to the T-junction
The entrance to Dave's Pool is a few yards further on near where the B4109 meets the B4144.
Get directions on Google Maps
Comments