Andy's Fishing Lake and Old Barn House
A five acre day-ticket lake holding carp to 20lbs and silver fish including perch over 5lbs with four bedroom luxury cottage within walking distance of the lake for those looking for an ideal angling holiday.
Andy's Lake and Old Barn House key facts
Pleasure catches over 100lbs common
Large car park near entrance
Pay day-ticket fees on the bank
Fishing from dawn until dusk
Depths range from shallow to 20 feet
Suitable for pole, waggler and swimfeeder
Bankside portable toilets
Luxury cottage retreat available for angling holidays
Four double bedrooms sleeping up to eight guests plus infants in cots
Accommodation is family friendly, dogs welcome & includes a hot tub
Andy's Lake is packed with fish
Part of a 450-acre mixed farm in the countryside just a few miles from the border with Wales in Herefordshire and five miles north of Ross-on-Wye, Andy's Fishing Lake has been throwing up some amazing catches since it opened to day-ticket anglers in 2005.
Carp are now regularly coming out between 5lbs and 6lbs whilst fish over the 15lb mark are not uncommon and several fish around 20lbs and 25lbs are now being caught. There's also plenty of room for anglers as Andy's is one of the few large day-ticket venues which does not allow matches.
Since opening the five-acre lake lake has matured nicely. The reeds which were planted in the fringes between one and two rod lengths out at various points around the lake are now well established and provide plenty of cover whilst the banks have been dotted with specimen trees which are being supplemented with plantings of Scots Pine and Weeping Willows. In addition, hedges have been planted around the lake to give further protection from the wind and make the lake increasingly attractive as the new planting develops.
Quality water gives quality fish
Because of the high quality of the water all the fish are in excellent condition and even the smaller ones fight way above their weight – many anglers saying that they have had to take a rest when fishing because their arms ache. Adults accompanying younger anglers also say they rarely get chance to fish themselves because they are too busy helping their children play and net fish!
Facilities
Andy's Lake has a car park and portable toilet near the entrance gate and a rough track roadway leads to all pegs, although anglers are asked to leave their vehicles in the car park after unloading their gear.
Further details about Andy's Fishing Lake can be found at: https://andysfishinglake.co.uk/
Luxury detached cottage for an angling holiday
Within easy walking distance from Andy's Fishing Lake is Old Barn House, a charming cottage that sleeps up to eight guests plus infants in cots in four bedrooms, including one accessible bedroom on the ground floor which is perfect for less mobile members of the family. The property is an ideal base for an angling holiday with complimentary fishing at Andy's Fishing Lake throughout each stay allowing guests to fish as often and as long as they wish during their stay. Additionally, the River Wye is a short distance from the cottage. Alternatively guests can spend their time exploring this delightful part of the Welsh border countryside with its historic market towns, Medieval castles, restaurants and pubs.
The stunning cottage has a hydrotherapy Jacuzzi hot tub, large private mature gardens with gas BBQ which is available from May to October inclusive, outside seating area, outdoor games, ample parking and EV charging. There's even a hammock where you can gaze at the stars away from the lights of the cities and towns. The property is family friendly and welcomes dogs.
For full details of Old Barn House accommodation please scroll down the page or visit their website: https://oldbarnhousehereford.co.uk/ .
Fishing Andy's Lake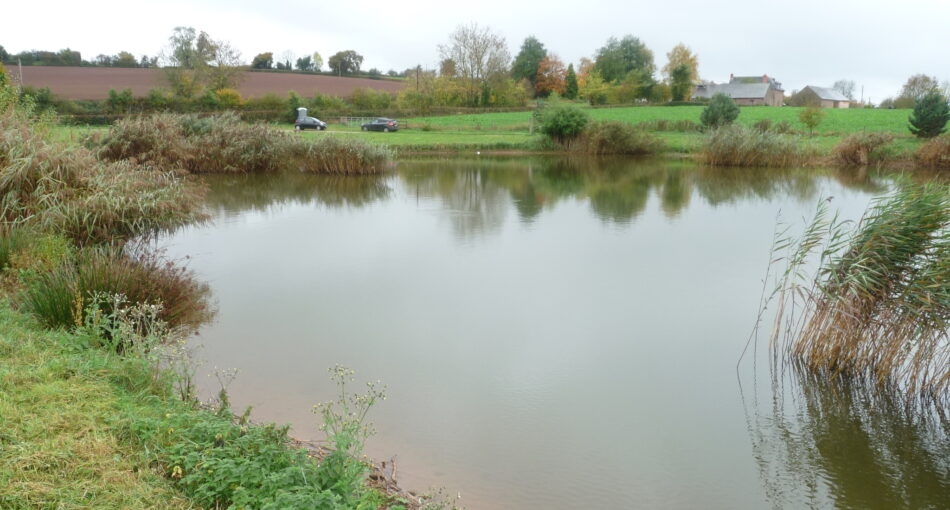 Andy's Fishing Lake
Excavated in 2005 to supply water to a strawberry and raspberry farm, Andy's Fishing Lake was stocked the following year with several thousand mirror, common and F1 carp, roach, bream, tench and perch – the latter having grown well and now run to over 5lbs.
The lake was formed by damming two shallow V-shaped valleys which join by what is now the dam wall, out from which about 20 feet of water can be found.
From here the water shallows with between eight and 10 feet being found where one arm runs towards the conservation wildlife pond. The shallowest water, at just four feet, is in the bay by the car park as you come onto the fishery.
Although the deep water can be good for ledgering for the carp and bream, anglers do not need to fish much further out than a couple of rod lengths with the newly planted margin reeds already proving holding areas for the fish.
Another popular area which has already been throwing up good catches, particularly of carp, are the pegs on either bank near the causeway which separates the main lake from the wildlife conservation lake.
Here between eight and 10 feet of water can be found a couple of rod lengths out and with the causeway and several banks of reeds proving features for the fish, this is well worth a try if the pegs are not taken.
Fishing Techniques for Andy's Lake
Popular techniques here are fishing the pole, waggler or a surface bait in warmer weather when the carp can be seen moving around under the surface.
Whether fishing for the carp or the silver fish, pellets are a good feed and hook bait as this is what the fish were fed on for a couple of years before the lake opened for angling. As a result all species take them readily.
So far the most popular technique for fishing Andy's Lake has been with the waggler, although the pole is becoming increasingly popular with those fishing close in. For those looking to catch silvers, or younger anglers wanting a catch, maggots are the best bait.
Bait for Carp
When fishing for the carp, most anglers use a 10lb to 12lb line strength with Size 8 to 12s hook. In addition to pellet, plain yellow sweetcorn is already proving a killer bait whilst 15mm halibut pellets keep the small stuff away – although you will even pick up 2lb mirrors and commons on these. Although several regulars have tried boilies they say these are not yet readily accepted by the fish.
For anglers who opt to fish the deeper water for the carp, a good technique is to ledger with a cage feeder, packing the cage with a selection of freebies and blocking the end with small amounts of general purpose groundbait.
A feeder fished in the deeper water can also prove effective for the bream, although these have so far proved sporadic with the best catches to date having been taken on sweetcorn, pellets and red maggots.
The waggler has proved most effective so far for those anglers after the roach and rudd, which are already topping the 2lb mark and can put up an initial fight almost as good as the carp.
Ideal roach bait
The bigger roach are not hook shy and will generally take a single piece of yellow sweetcorn on a Size 12 to 16 hook. In common with the carp they will also take a 6mm to 8mm banded pellet, bread flake or paste baits, although fishing maggots will naturally tend to attract the smaller fish.
Running to 4lbs in weight, the tench have so far proved fairly elusive, but the best methods being straightforward waggler tactics with pellets or sweetcorn in the shallow bay by the car park.
Recommended fishing pegs
As a general rule, unless you are heading down towards the pegs next to the causeway between Andy's and the wildlife conservation pool, fish just the other side of the reed beds or further out in the shallow bay next to the car park. Also, don't overlook fishing close in to the margins as the fish are often holding up here.
Regular feeding with groundbait or loose feeder pellets also attracts the fish quickly and holds them in your swim whilst those anglers who fancy surface fishing should use bread, dog biscuits or floater pellets.
Old Barn House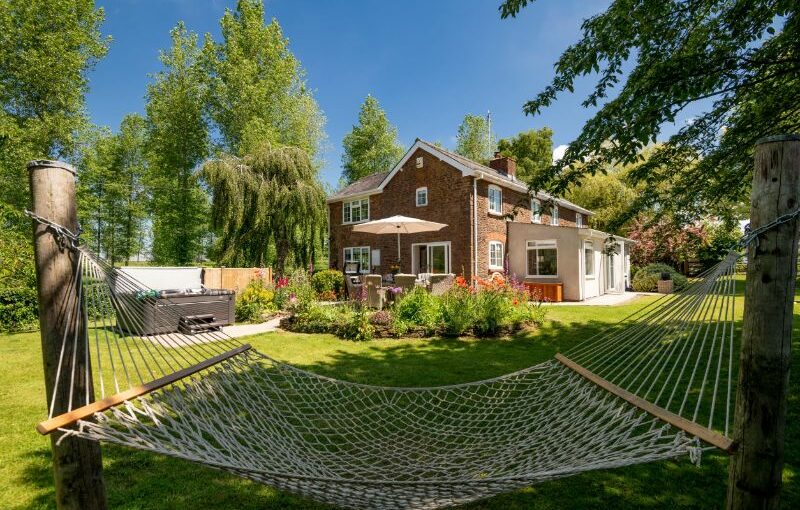 The charming Old Barn House is a delightful four bedroom detached cottage just 350 metres from Andy's Fishing Lake which is set in its own mature garden amidst the rolling South Herefordshire countryside yet close to the major road and motorway networks within easy driving distance of Ross-on-Wye, Hereford, Monmouth, Hay-on-Wye, Symonds Yat and the Forest of Dean.
Luxurious getaway for family and friends
The character cottage provides a luxurious getaway for families and friends with accommodation for up to eight people plus additional infants in cots. The bedrooms include one Superking, one Kingsize and two twin or Superking bedrooms depending on guest preference.
Equipped with Wi-Fi throughout, the cottage has a private outdoor hot tub, an attractive mature garden, ample private parking, electric vehicle charging and has been designed to combine modern luxury and comfort within a delightful rural setting
There's a downstairs bedroom
The ground floor has a large entrance area that is ideal for shoes, coats, dog's bed and other doggie equipment whilst the 'Sycamore' downstairs bedroom has a smart TV and is ideal for less abled guests with twin beds that can be zipped together to make a Superking bed if desired.
The downstairs shower room has a shower, toilet and wash-hand basin whilst the utility has a sink, washer/dryer, clothes airer, vacuum cleaner, broom, dustpan and brush, iron, and ironing board.
Open plan kitchen has everything you need
The open plan kitchen is fully equipped with a full range of utensils, cooking equipment, crockery, cutlery, glassware and serving dishes. There is an electric induction double oven, dishwasher, sink, American style fridge freezer with ice and water dispenser, wine cooler, microwave, George Foreman Grill, kettle and toaster.
The living room has comfortable sofas, smart TV with Netflix and a cosy electric log-effect fire. A sliding door leads onto the patio area.
The dining room is equipped with a stunning oak table whilst the lounge area offers another comfortable seating area with music system incorporating Bluetooth. Both areas overlook the private garden.
The upstairs bedrooms
On the first floor the 'Rowan' bedroom has a King size bed whilst the 'Holly' bedroom has twin beds that can be zipped together to make a Superking bed if desired. The 'Maple' bedroom has a large Superking bed, smart TV and en-suite with bath, shower over the top, toilet and wash hand basin. The first floor also has its own toilet and wash hand basin.
All bedrooms have Hypnos mattresses on beds, hypoallergenic duvets and pillows and Egyptian cotton linen.
Stunning Gardens, Hot tub and outdoor area
The enclosed garden at Old Barn House boasts a Hydrotherapy Jacuzzi Hot Tub, large patio area with comfortable rattan furniture, gas BBQ which is available from May to October inclusive, double hammock, a range of outdoor games and a beautiful mature garden, all overlooking picturesque Herefordshire countryside.
On-line booking system
Old Barn House has an on-line booking system where guests can check availability, pricing and book their stay. A 30 per cent deposit is required when a booking is made with the balance due eight weeks before arrival. Weekly breaks are available Friday to Friday or Monday to Monday, weekend Friday to Monday or mid-week Monday to Friday.
Prices
See below for Andy's Lake Ticket Prices
Day tickets

Adults

Adults
£10.00
Concessions

Concessions
£8.00
After 2.00pm

Adults

Adults
£7.00
Concessions

Concessions
£6.00
Rules and conditions
Nets should be dipped in the tank at the entrance before fishing
Barbless hooks only
Landing nets and mats should be used
No keepnets
Three rods maximum per angler
Fishing is from dawn until dusk
Please park vehicles well away from the edge of the lake
Take all litter home
No BBQs
Under 16s must be accompanied by an adult over 18
Anglers should note that the smaller lake which adjoins Andy's Fishing Lake at the end of the right hand arm is a wildlife conservation pool and should not be fished
Ticket fees will be collected by the bailiff on the bank
After fishing anglers are asked not to feed the swans or ducks with leftover bait
How to get there
Travelling from the M5, follow the motorway to its junction with the M50 and then follow this to Junction 4
On leaving the motorway, take the first exit onto the A40, signposted Ross-on-Wye and Monmouth.
Take the fourth exit off the A40 at the big roundabout and head onto the A49 signposted Hereford
After passing the Penethley Nurseries and Hotel, you will see the A4137 coming in from the left from Symonds Yat. Stay on the A40 and turn left at the next crossroads signed for Orcop
Follow this road for about a mile and you will come to a small crossroads signed Tretire and Pencoyd. Go straight on for a further half mile and you will see the entrance to Andy's Fishing Lake on the right
Get directions on Google Maps
Comments