Stone End House Farm
Attractive well-maintained two pool pleasure fishery with a campsite. Carp to the low 20s with plenty of nice silverfish.
Facts and features about Stone End Farm
Attractive well-established fishery
Quality mirror, common and ghost carp
Crucians, roach and decent bream
Camping and caravanning near lakes
Plenty of bankside cover in summer
Suitable for pole, waggler or ledgering
Pleasure only venue - no matches
A fishery steeped in history
Although little known to all but local day-ticket anglers and regulars who stay on the camping and caravan park for a secluded angling holiday, Stone End House Farm is an attractive and well established venue which has been a fishery since the mid-1980s and offers some of the best stillwater angling in north Gloucestershire.
Situated six miles north of Gloucester on the A417 Gloucester to Ledbury road, just 10 minutes from Junction 2 of the M50 and 15 minutes from Junctions 9 through to 11 of the M5, Stone End is steeped in history. Old documents mention the village of Corse as open common land, subsequently enclosed with fields, apart from eight acres of pleasure grounds at Stone End House. It is within these eight acres of landscaped grounds that the fishery's House Pond, Main Lake and caravan site are situated, all of which front the Grade II listed farmhouse, the house itself overlooking open mown lawns.
The House Pond was originally thought to be a monastic type carp pond in which the fish were raised for food. It was probably created in association with the 14th Century house, which was built by the same craftsmen who built the nearby church. The house was enlarged in the 18th Century after which the Victorians, with their penchant for modernisation, refurbished it to give it its present look – and at the same time drained the House Pond. However, the pond was re-established in 1985 and stocked with common, mirror, ghost and crucian carp as well as bream and roach.
Several years ago all the House Pond fish, including carp to 18lbs, were moved and formed the basis for the stocking of Main Lake. This allowed further renovation of House Pond which was eventually restocked.
Main Lake is very productive
Main Lake, originally a small spring-fed ancient pond, was enlarged in 1998 to just over an acre and now provides some very productive fishing with one angler recently taking 147lb of fish in a three hour evening sitting.
Although matches are no longer held on Main Lake the quality of the fishing can be judged by the fact that before match angling was halted a small club match returned a winning weight of 205lbs – with 174lbs having won a match the previous day – making this a prolific match venue by any standards. This was outdone later in the year by a winning catch of 260lbs.
The caravan site is open all year
The camping and caravanning are provided on two acres of level grass only 60 yards from the lakes. Like the remainder of the grounds it is regularly mown and well maintained. The caravan site is open all year round and offers pitches for caravans, motorhomes and tents. Electric hook-ups are available and there is a basic toilet and hand wash basin but no showers.
Camping and caravanning stays should be booked in advance and those staying on site receive concessionary rates on fishing at the venue. There are a number of excellent pubs and restaurants close by which serve good food as well as a local petrol station and convenience store, bakery, village shop and Post Office.
Stone End holds quality fish
One of the nice things about Stone End Fishery is the quality of the fish, and as a result the venue requires anglers to use an unhooking mat. Keepnets are not allowed and landing nets must be dipped for a minimum of 20 minutes whilst anglers choose a peg and set up their tackle. The use of stink bags is discouraged as they can potentially spread disease,
Anglers should not use any type of bread, the Method feeder, plastic imitation baits or PVA bags. The only other bans are that floating baits, nuts and cat and dog meat should not be used. However, anglers are allowed to use soft boilies and a limited amount of ground bait with in-line feeders. Because the pools are relatively small, buckets of ground bait are not allowed.
Visitors to Stone End Farm are required to observe the 5mph speed restriction because of the possibility of children and pets on the site. They are also warned to keep their baits covered whilst fishing as Stone End's own Collie dogs are extremely friendly and will be only too happy to help themselves to paste, pellets, luncheon meat and even anglers' own sandwiches! Anglers should not to leave baited hooks unattended in the grass on their pegs for the safety of the bird life and visitors pets and are requested not to stand up whilst being photographed with fish.
Main Lake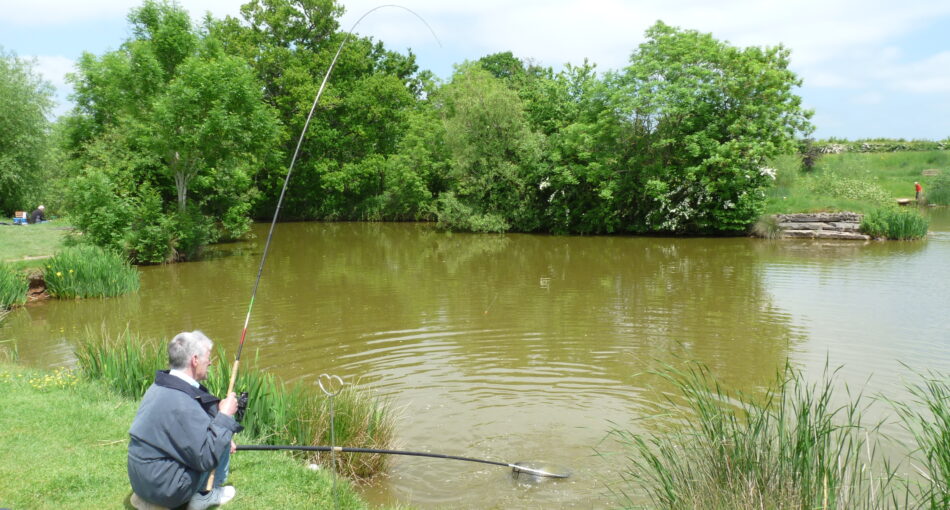 Just over an acre in size with two islands, Main Lake holds 20 pegs and is well stocked with common, mirror and ghost carp into double figures with the average size being between 4lbs and 8lbs.
Double figure fish taken almost daily
Double figure fish are taken almost daily whilst recently several fish between 13lbs and 15lbs have been taken. The biggest known fish to have been taken in the past couple of years have come in at 23lbs 10oz and 22lbs. In addition to its good head of carp, Main Lake is also stocked with bream to over 5lbs and roach to 2lbs which have showed particularly well in recent years.
As you approach the lake, the oldest part of the water is at the far end where Pegs 1, 2 and 3 give access to the original lake which offers well-established natural habitat with five feet in mid open water and two feet in the margins. Although the pegs are not actually numbered they go from Peg 1 anticlockwise to Peg 10 at the outflow and from there round to Peg 20 under the large oak tree.
Peg 1 is a secluded peg
Although some may find the willow and nearby bushes an issue on Peg 1, this is more than compensated for by the fish that can be caught on this secluded peg. Favoured areas are the entrance to the small cove on the left, which is only two feet deep but where plenty of fish hold up, and to the right under the willow. This can prove particularly productive but when landing fish make sure you stop them from swimming under the overhanging ivy.
Peg 2 gives access to the overhanging oak tree for the brave, but you will need to be accurate with your casting and clip off your line once you have found the correct distance. Perhaps easier is to fish the open water or close in to the side, especially on summer evenings.
Peg 3 is one of the most popular and productive pegs on the lake due to a choice of features and swims. Directly in front and to the left depths are four to five feet in open water and about two feet in the margins. Anglers have a choice between casting between the islands or fishing the left hand margin where there is an overhanging willow.
On the pole, a choice spot is an overhanging willow on the island directly in front. Immediately to the right of the peg there is a ledge which runs straight to the island where the bottom drops down to six feet.
Peg 4 hotspot
Peg 4 can be found just before the long straight bank and is six feet deep in the open water rising to shallower water towards the island. The hot spot on this peg is in the near left hand margin under the small ash tree.
Peg 5, 6, 7 and 8 along the straight grassy bank by the track offers a nine feet wide two feet deep flat shelf which dives to six feet in the open water. However, if casting towards the island bear in mind that a shallow ledge protrudes out from the waterfall. These pegs are most productive either in the shallow margins around the bullrushes or where the shallow ledge drops away to about six feet of water.
Peg 9, after the boat jetty, is situated on a bend and has no marginal ledge with the depth dropping quickly into six feet in the open water. Further out in front of the waterfall the depth rises to three feet.
Fish the margins near the reeds
Pegs 10 and 11 are to be found either side of the overflow pipe and are two of the most popular and productive pegs with the regular anglers. It was on Peg 10 that the 147lbs was achieved in a three hour evening competition fishing the pole half way out. However, the majority choose to fish in the margins just out from the reeds.
From Pegs 10 to 16 ledgering out to the island is not recommended because wherever stone can be seen around the island there is a very shallow 10ft wide stone covered shelf and you will snag. However, smaller fish up to 7lbs like to cruise this shallow, warmer water which can often be seen swirling with fins. Some regular anglers fishing Pegs 10 and 11 have found it very productive to fish a very short hook length and smaller hook just off the island.
Pegs 12 to 16 have access to the deepest water in the lake, with nine feet being found out in mid water. Ledgering to the island from these pegs is not recommended whilst fishing the margins, particularly in the evening, often achieves cracking results.
The Pear Tree peg is popular
Peg 17, known as the Pear Tree peg because it has a pear tree behind it on the bank, is a very popular peg. From here you can fish either the margins, six feet deep in the open water in front of you, or ledger out to the cove facing you at the island. If fishing close in, stick to just in front of the bullrushes to your right for the carp and good sized bream.
Pegs 18 to 20 are the most sheltered pegs in windy conditions and are six feet deep in the open water rising to three feet around the island near peg 20. Large carp can often be found tight to the island – but watch out for the overhanging branches.
House Pond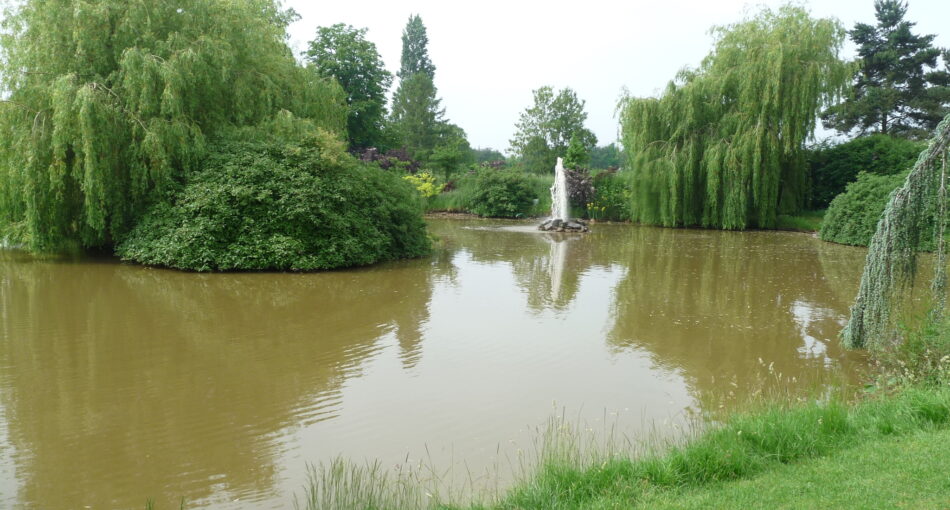 About an acre in size with 12 pegs, House Pond is roughly circular in shape with an island in the centre. It is surrounded by well-maintained grass lawns, a beautiful weeping willow and ornamental trees and shrubs. Although the fish do not run to the same size as those in Main Lake, House Pond is a good water for less experienced anglers or those looking to keep busy during their session.
Hard fighting Germans!
The original stock fish are a hard fighting German strain of fast-growing common and mirror carp which now average 2lbs to 6lbs in weight. These fish are noted for the exceptional sport they give, taking off like torpedoes when hooked. As a result, anglers should not leave their rods unattended. Since stocked, they have spawned well and the resulting home-bred carp are extremely attractive fish which usually represent three quarters of a day's catch. Fish stocks have recently been supplemented with the addition of a large number of decent sized roach.
Unlike many fisheries which use floating aerators to maintain oxygen levels, House Pond has a stone pyramid through which there is a foamer jet fountain which provides excellent aeration when necessary.
As you approach the House Pond, Peg 1 is along the open grassy bank near the house, with peg numbers subsequently placed anticlockwise round to peg 12 near the small weeping willow. Anglers should note that the steep long bank adjacent to the house that borders the back garden is private and must not be walked or used for fishing.
A shallow ledge runs around House Pond
All around House Pond is a five feet wide shallow ledge which gradually and evenly drops to give a wide six feet deep area of water around the island. The deepest area, at nine feet, can be found between the island and the house.
This is essentially true for all the pegs apart from Pegs 10, 11 and 12 where, due to a large raised three feet deep circular pad on top of which sits the fountain, the depths can vary considerably. Between Pegs 9 and 10 there is a three feet deep, 10 feet wide causeway which runs to the island.
Pegs 1, 2 and 3 regularly prove to be in top form and are where a lot of the larger fish can be found. A recent 12lb common was weighed from Peg 5 and it is expected that a lot of the original stock fish will move well into double figures by the end this year. Pegs 1 to 8 have also recently been yielding good catches of roach.
Peg 8 seems to have the edge over its immediate neighbours due to fish swimming in the deeper six feet of water and then being held up by the sudden incline of the causeway at Peg 9. When fishing Peg 8 it can pay to fish half way out into the deeper water to find the bigger fish.
Most popular baits
When it comes to baits, most popular tend to be pellet and paste, luncheon meat, sweetcorn, maggots, casters and chopped worm. although anglers should note that dog and cat food are not allowed because of the preservatives and fat content which is argued can affect the immune system of the fish.
Anglers are recommended to fish a Size 8, 10 or 12 hook depending on the size of the bait – although those going after the original stock fish should use larger baits to avoid the smaller carp and to scale up their tackle a little as these are really hard fighters which don't give up easily.
Prices
Ticket monies are collected on the bank and are for a maximum of two rods. Concessionary prices are available for campers staying on-site. Children under 16 must be accompanied when fishing. Anglers must not leave baited hooks on the ground. Fishing is from 7.00am until 8.00pm or dusk, whichever is the earlier.
Ticket Prices

Adults
Disabled
Under 16s
Day tickets (7.00am - 8.00pm)

Day tickets (7.00am - 8.00pm)
10.00
8.00
6.00
Evening tickets (after 5.30pm)

Evening tickets (after 5.30pm)
5.00
5.00
5.00
How to get there
From the North: Leave the M5 motorway at Junction 8 and go onto the M50. At Junction 2 head south on the A417 for Gloucester.
At the mini roundabout in Staunton turn right, staying on A417.
After leaving the village travel a mile and a half and look for the sign for Church Lane. Turn right into Church Lane.
Continue for half a mile and you will see the entrance to Stone End Farm on right.
From the South: From Gloucester take A417 north, signposted Ledbury. Continue for six miles and after passing village sign for Corse look out for BP petrol station on right.
Three hundred yards past the petrol station turn left onto Church Lane. After half a mile you will see the entrance to Stone End Farm on the right.
Get directions on Google Maps
Comments