Hillview Lakes Fishery
Hillview Lakes offers six fishing lakes, on-site tackle shop, cafe, bar and six well-equipped Scandanavian-style log cabins – with many pegs suitable for disabled anglers.
Key facts about Hillview Lakes
Modern ladies and gents toilets
Accommodation in Scandanavian-style log cabins
Suitable for pole, waggler or swimfeeder
Suitable for disabled anglers
Various onsite facilities
Developed on the site of fields that were previously used to grow cauliflowers, Hillview Lakes now offers a total of five acres of water on an eight-acre site which includes an equestrian centre on land adjacent to the pools with its own new indoor arena (see photograph below) and where lessons with a qualified instructor or hacks can be arranged.
The indoor arena is available for hire whilst the riding school makes Hillview Lakes an ideal venue for an angling or horse riding holiday. For further information on the horse riding telephone the fishery. You can also visit the riding school's own website.
History of the lakes at Hillview Lakes
Owner Keith Hill dug the first lakes, Moorhen and Heron, in 1990 and started work on Canals One and Two eight years later to cater for the increasing demand for match angling. He dug Canals Three and Four in 2000. But the work hasn't stopped there, he has completed work on new ladies and gents toilets which are suitable for disabled visitors and has constructed six well-equipped and spacious Scandanavian-style log cabins which are close to Heron and Moorhen lakes.
Log cabins for angling breaks
The cabins will appeal particularly to anglers looking to enjoy an angling break or holiday with the family – or those simply wanting to combine a tour of the Cotswolds or a visit to Cheltenham Races with a bit of fishing and a chance to chill out in comfort. Another feature is a cafe where breakfasts for match anglers and residents is available and where Keith is developing an expanding range of tackle and baits for purchase at the fishery.
In addition, the fishery has a spacious cafeteria and bar area (right) which is used for functions and when the fishery is busy. There is also Huggy's Tackle Shop which sells a wide range of gear and baits. Huggy's can be contacted on 07891 134717.
A popular venue for many anglers
Because Hillview Lakes is well-established it is often busy at weekends, and even attracts regular visits from well-known anglers such as Lee Richards, Neville Groves, Andy Newton and Leslie Seabright. However, it is just as popular with inexperienced anglers and novices as well as families looking for a pleasant day out by the waterside where they can be sure of catching plenty of fish.
Pleasure anglers and those after the bigger carp will probably opt to fish Moorhen or Heron lakes, both of which are rectangular in shape with central islands. Moorhen has plenty of bankside vegetation with yellow irises which flower in late spring whilst both have other clumps which provide cover – useful for those who want to fish close in by the side where the fish patrol in summer.
Many pegs on the fishery are also suitable for disabled anglers who should drive to the far end of the car park where they can leave their vehicles on the same level as the lakes. Although the Canals will be more of a struggle for disabled anglers to reach, they should be able to find plenty of suitable pegs on Moorhen and Heron.
Chalets at Hillview Lakes
For those looking to enjoy a short break or angling holiday at Hillview, the chalets come in two types – Swan and Kingfisher. Both are built to the same high standard with Swan designed to sleep six and Kingfisher to sleep four. Click here for more details on these spacious and well-equipped modern chalets. A change to Hillview Lakes' bait policy, the regulations covering the use of pellets has been relaxed with anglers able to use coarse fish feeder pellets bought on site and their own soft-hooker pellets.
Accessibility and further facilities
Another recent feature at Hillview Lakes is Huggy's (left), the on-site tackle shop that sells a wide range of fishing tackle. As a general rule there are no particular snags when fishing the lakes at Hillview. However, anglers fishing near the aerators should remember that the fish know where the electric cables run to the bottom and that, once hooked, they will invariably try to swim around them to snag anglers' lines and get free.
Ideal match venue
Hillview Lakes is also a good match venue with the fishery record currently standing at 400lbs, set by Winchcombe's Andy Bruton who fished sweetcorn over pellet from Peg 22 on Heron. Andy netted 50lbs of silver fish and 350lbs of mixed carp. As if this wasn't enough, the following nine anglers all had weights over 300lbs!
In summer, Hillview holds regular mid-week Open Matches on Tuesdays and Wednesdays when the draw is taken at 4.00pm with fishing from 5.00pm until 8.00pm and on Tuesdays when the draw taken at 2.00pm with fishing from 3.00pm until 6.00pm. There are also five-hour weekend matches every Saturday where 300lb winning catches are not uncommon. Anglers can keep up to date with what's happening at Hillview Lakes by following their Facebook Page
Moorhen Lake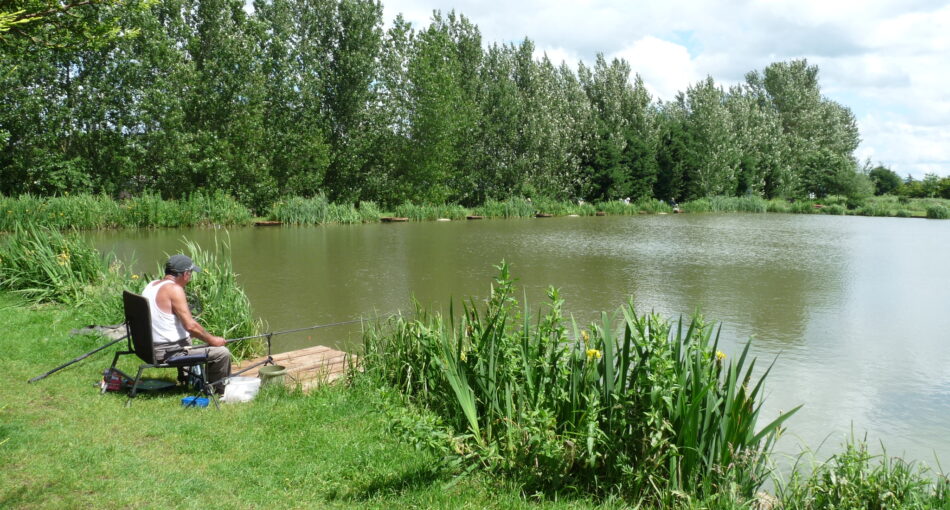 Rectangular in shape with a central island, Moorhen Lake is about an acre-and-a-half in size and holds 20 well-spaced pegs with room for more anglers who want to fish from the grassed bankside.
A mostly carp lake
About 80 per cent of the fish in Moorhen are common, mirror, ghost or crucian carp, the commons and mirrors being the biggest running to 20lbs, although the average is probably between 3lbs and 4lbs.
The ghosties run to 18lbs and average about 4lbs 8oz whilst the crucians, which were amongst the first fish to be stocked in Moorhen, now run to between 1lb 8oz and 3lbs. In 2011 a further 6,000 F1 carp were introduced to boost stocks and these are now coming out at between 3lbs and 4lbs.
A variety of smaller silverfish
The remaining 20 per cent of the fish are made up fairly equally of silver orfe between 2lbs and 4lbs 8oz, bream from skimmers to 4lbs, roach and rudd to 1lb 8oz and some handsome perch which have been caught at just over 4lbs and which average between 2lbs and 3lbs – good fighting fish by any standards.
Immediately out from the bank Moorhen shelves down to about four feet deep about nine feet out with the remainder of the pool being about six feet deep.
Fishing spots on Moorhen lake
Suitable for pole, waggler or swimfeeder, Moorhen is a good option for winter fishing as it is a little deeper than Heron Lake. With no particular hot spots anglers stand an equal chance of catching wherever they fish. In summer it usually pays to fish the margins or within six feet of the bank on the bottom or up in the water when the sun is out and the fish are cruising just under the surface. Although floating baits are not allowed, regular feeding with small amounts of hookbait and fishing a foot to two feet deep in warm weather should keep the fish around you.
For the remainder of the time, put down a bed of Hillview's feeder pellets or hook samples and fish over them using meat baits, sweetcorn or soft hooker pellets for the carp and casters and maggots for the silver fish.
Maggots and casters are also good for all species in winter, as is sweetcorn which seems to be a popular year-round bait at Hillview although meat rarely does the trick in cold weather. In winter it can also pay to fish towards the islands with the waggler or swimfeeder packed with hook samples, although fish can usually always be found in deeper water in winter.
A match record on Moorhen
Until September 2014 Moorhen held the venue match record, set in 2011 by Cheltenham's Steve Ford with a mainly carp catch which weighed in at 305lbs. However, Moorhen's record has now been broken by Dave Huggins from Tewkesbury who fished Peg 18 and took 60lbs of silver fish and 337lbs of carp for a total of 397lbs – although even this was not enough to reclaim the venue record of 400lbs set by Andy Bruton.
Heron Lake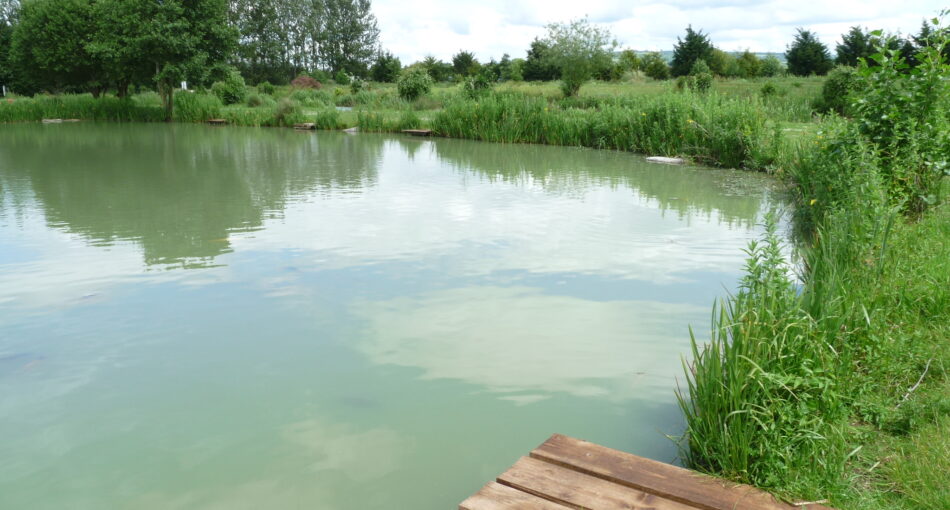 Although the 20-peg Heron Lake is a similar size to Moorhen, it is not quite as deep with up to three feet of water being found up to 15 feet from the bank and about five feet of water in the centre around the two islands. Stocked to a similar ratio, Heron can be fished using the same baits and techniques.
An easy water to fish
Again Heron can be classed as an easy water because the large number of fish means that anglers don't have to go in search of their quarry, start feeding with pellets or hook samples and they should soon come to you.
However, because there are no particular features to hold the fish in any one area for long, you should again keep feeding little and often to hold the fish in your swim once you start catching – if you don't they will probably quickly move on to the angler next to you who is doing a better job of feeding them!
Ideal baits on Heron Lake
Once again, soft hooker pellets, luncheon meat, maggots, casters and corn are all good baits fished in close to the side or out to the islands. Pole, waggler and swimfeeder are again favourites, but because anglers are not permitted to use groundbait at Hillview Lakes swimfeeders should be packed with hook samples. Anglers wanting to get far out into open water are probably best advised to use a loaded waggler and to try to be as accurate as possible when catapulting feeder pellets or hook samples into their swim.
Soft hooker pellets, maggots, casters, worm and corn are all good baits and in warmer weather it is well worth fishing close in on the shallower parts of the lake as the fish have been seen milling around in the mud looking for food.
Plenty of vegetation on the banks
The trees and bankside vegetation which line the near bank provide plenty of cover whilst the far bank is more open. And with the chance of catching some of the bigger fish which make their way into Pleasure Lake from Specimen Lake, this is very much a water to keep your eyes on.
The Four Canals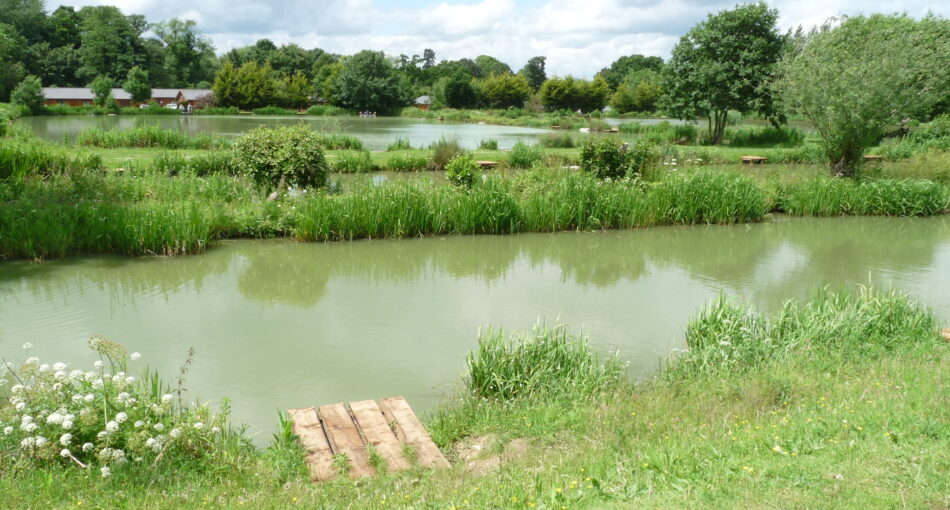 A series of canal-like waters
Holding a total of 56 pegs – 14 on each water – the four canals at Hillview Lakes are separate from each other and can be found at the very top end of the site. All four are 11 metres wide and designed for the pole.
All four have been built to the same design having a shallow ledge along the pegside banks before dropping off quickly to a maximum depth of about five to six feet. The bottom then rises in two steps to the far bank, the first being about three feet six inches deep and the second about a foot deep immediately off the far bank.
Fishing on the Four Canals
In summer it pays to fish either close in to the near bank or right up to the reeds on the far side, the pole enabling anglers to get right onto the one-foot deep ledge where the fish can often be found feeding.
Whether fishing for pleasure or in a match, it is recommended that anglers start fishing on the far side and then gradually bring the fish over to their feet as the day goes on by regularly feeding small amounts of free offerings in the earlier part of the session. In winter start fishing on the three-foot-six shelf slightly out from the far bank and then drop into the deeper water in the centre.
When fishing matches at Hillview Lakes it pays to remember that the rules are slightly different than those for pleasure anglers. All baits must sink and no liquidised or riddled baits should be used. All soil or peat must be emoved from worms and no bloodworm or jokers can be used.
Matches on the Four Canals
For match anglers, Hillview Lakes holds regular Wednesday, Saturday and Sunday Open Matches. The draw for all three is taken at 9.30am in the club room with fishing from 10.30am until 3.30pm. The cost is £20.00 all-in. Best baits for summer tend to be luncheon meat, sweetcorn and chopped worm whilst in winter maggots, casters and worm all come into their own.
Although matches are regularly won with catches over 100lbs, the Canal match record was set by Dave Huggins with a mainly carp catch which weighed in at 326lbs, beating the earlier record set by Lee Edwards at 296lbs 8oz.
Prices
Day Tickets:
Concessionary tickets are available for OAPs and Juniors under 14. Residents in the chalets can fish free of charge from dawn until dusk
Day Tickets

Times
Cost (1 Rod)
Cost (2 Rod)
Adults

Adults
8am-7pm
10.00
15.00
OAP/Jr/Disabled

OAP/Jr/Disabled
8am-7pm
9.00
14.00
Match Bookings

On two of the canals

-

150.00

Match Bookings
On two of the canals
-
150.00
Match Bookings

on Moorhen or Heron

-

150.00

Match Bookings
on Moorhen or Heron
-
150.00
Rules and conditions
All nets to be stretched out on arrival at the fishery.
No stink bags or net bags to be taken out of the car park.
Nets must be stretched out behind peg before the match and only placed in the lake five minutes before the match starts.
There is a maximum of 75lbs of fish per net. Any weight found to be over the limit will be deducted from the 75lb limit. If four nets are used with an even spread of fish the net limit will not apply.
Loose fed pellets must be fishery pellets bought on site and must be fed in pellet form and not wetted down. Slightly dampened to ensure they all sink is acceptable.
Paste must be made only from fishery pellets and must be lowered in and not cupped in.
A maximum of two tins of meat is allowed minimum 4mm cubes.
Method feeders are not allowed.
Bankside vegetation must not be pulled out or cut down.
Only barbless hooks to maximum size 12 to be used.
No Floating baits, hemp, bloodworm joker or groundbait.
Rods or poles must not be left unattended in the lakes.
How to get there
Twyning is just off Junction 1 of the M50 motorway.
Travelling north or south on the M5, join the M50 motorway and leave at the first junction signed Tewkesbury (A38).
At the roundabout take the second exit onto the A38 heading for Twyning and you will see the entrance to Hillview Lakes and Nursery signed on the left hand side as you come round a bend.
Turn left and immediately right into the drive to the nursery.
There is car parking all along by the greenhouses and beyond. The lakes are up to the left.
Get directions on Google Maps
Comments