Pipehill Fisheries
Five attractive pools on an informal pleasure-only fishery with plenty of car parking near the lakes. Suitable for both newcomers and experienced anglers.
Key facts about Pipehill Fisheries
Good for pole, waggler or ledger fishing
No stink bags, keepnets or floating baits
No groundbait, boilies, bread or hemp
Plenty of car parking near the pools
Pay fees in the Honesty Box
Alders and Hollybush the two oldest waters
All pools are easy to fish
A popular and well-established fishery not far from the Muckley Island roundabout on the A5 Tamworth to Cannock road just east of Lichfield, Pipehill Farm has a total of five attractive pools including two new waters which have matured quickly and are already throwing up decent catches of carp and silver fish.
History of Pipehill Fisheries
Developed as part of a diversification project on a 500-acre arable farm some 15 years ago, Pipehill Fisheries started life as an old duck pond and a nearby hole in the ground which for generations had been used for tipping. Now the old duck pond and hole in the ground are Alders and Hollybush Pools, two very attractive and intimate tree-lined waters with plenty of vegetation on the bankside and beds of lilies and reeds in the water. The diverse fish stocks range from some specimen sized gudgeon to commons and mirrors well over 20lbs.
Willow Pool, the newer pool, resulted from joining two adjacent stock ponds and now provides a rectangular-shaped water with a central island making it ideal for pole fishing although other techniques also work well. Opened for angling in 2013, Birch and Chestnut are the two newest pools and can be found by taking the track to the left at the near end of Alders Pool. At the far end of the fishery, these have matured quickly and are popular with pole, waggler and ledger anglers.
Important information to know
Anglers should place the money for their day tickets in the honesty box at the entrance where anglers complete a payment slip and place it with their peg fee in the sealed box. Anglers are asked to note that stink bags, keepnets and floating baits are not allowed. Permitted baits include casters, maggots, pinkies, squatts, worms, carp pellets in moderation, sweetcorn and luncheon meat. Groundbait, boilies, bread and hemp are also not allowed and the maximum hook size is Size 12. A full list of rules can be found on the Pipehill Fisheries website at www.pipehillfisheries.co.uk.
Although there are few facilities at Pipehill, there is plenty of car parking close to the pools and toilets on the left under the bridge which leads to Alders Pool. Because the site is fairly flat, many of the pegs at Pipehill are suitable for disabled badge holders.
Alders Pool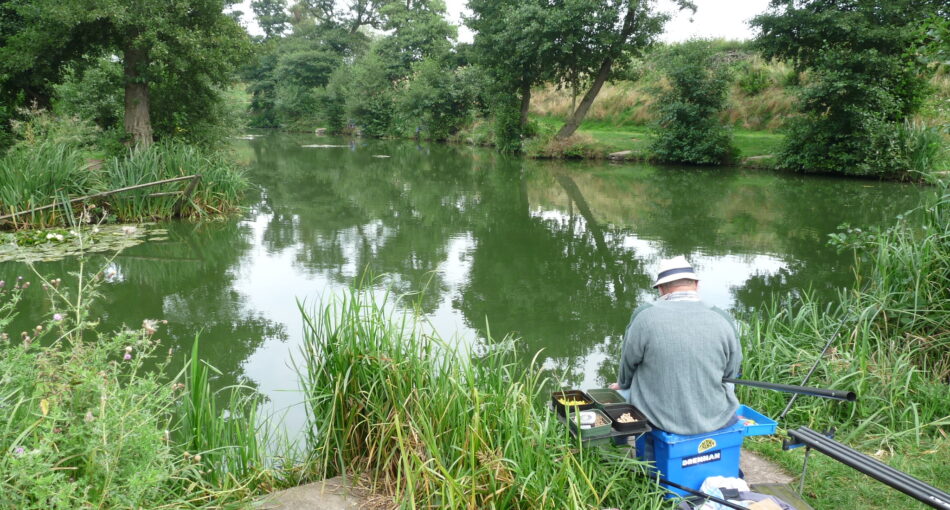 Accessing Alders Pool
Alders Pool is the water furthest from the entrance to Pipehill Fisheries and can be reached by parking in the main car park and walking under the railway bridge. Disabled Badge holders can drive their cars under the bridge and park near the pool. A one-and-a-half acre U-shaped pool with a peninsular running down the centre which gives access to both parts of the water, Alders has 40 well-spaced concrete pegs and a mix of both intimate and more open water swims.
A pool generally 5-6 feet deep
Most of the pool is between five and six feet deep with banks which are cut at about 45 degrees to the bottom. The beds of lilies down the left hand arm as you approach the pool grow on a raised shelf which is only about one foot six inches deep and forms a great holding area for the carp in the warmer summer months. The deepest part of the pool is in the left hand bay at the far end where up to eight feet of water can be found, making this a popular spot for the fish in winter.
Fish in Alders Pool
Alders holds a good head of common and mirror carp, some which reach 22lbs with a decent number of fish in the 11lbs to 15lbs range and a lot of fish around the 5lbs to 6lbs mark. In general, Alders holds the biggest fish of the Pipehill waters.
There are also good numbers of crucian carp to 2lbs with plenty of fish around the 1lb mark but, despite the large stock of crucians, catching these fish can sometimes be erratic but they provide great sport when they are on the feed. In addition to the crucians there are also some crucian/koi fantail crosses, tench to about 1lb 8ozs, roach and rudd to a similar size, perch to about 2lbs and bream to nearly 2lbs. There are also some nice ghost carp to about 5lbs.
Fishing method on Alders Pool
Alders is popular with both pole and waggler anglers with a lot of anglers fishing a 3lbs to 5lbs line and Size 14s to 18s hook, although those after the carp scale up to about an 8lbs line and Size 12 hook. Most popular baits for the carp include luncheon meat or sweetcorn fished over a bed of feeder pellets whilst those after the silver fish use maggots, casters, worm, soft hooker pellets, sweetcorn or smaller pieces of luncheon meat than they would use if going after the carp.
Popular pegs on Alders Pool
Popular pegs on Alders include the first bay on the right as you come onto the pool, fishing towards the pipe on the left-hand arm and fishing towards the island in the main body of the lake at the far end. However, anglers fishing to the island should be aware that under the surface around the island are the roots of an old oak tree that once grew on it and that this area is not only snaggy but also a favourite bolt hole for fish once they are hooked, making it advisable to scale up your line strength when fishing this part of the pool and being prepared to turn fish quickly.
Hollybush Pool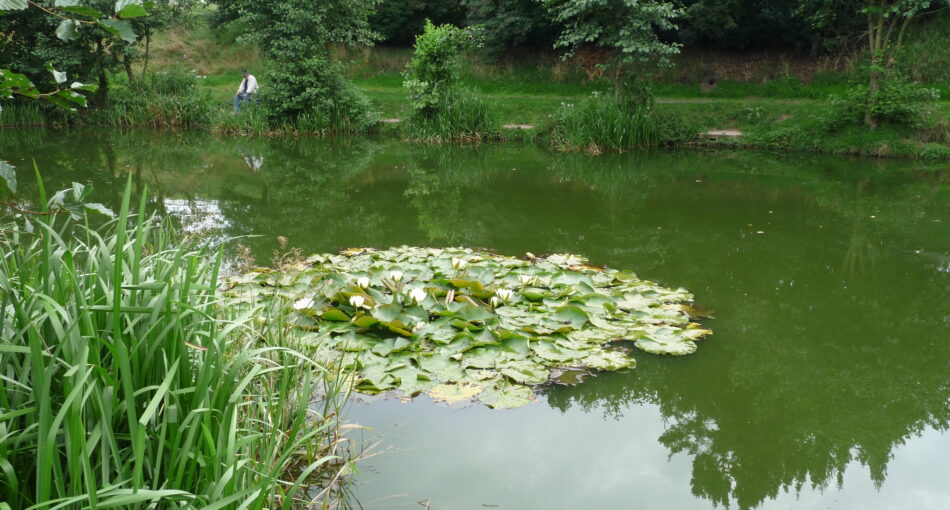 Like Alders Pool, Hollybush Pool is another stunningly attractive water with loads of features to fish to. To be found to the right at the end of the entrance track, the entrance to Hollybush is directly off the car park. About an acre and a quarter in size with 20 hard pegs, Hollybush has a small island at the entrance end and several beds of lilies and reeds which all make interesting and attractive features to fish towards.
Fish found in Hollybush Pool
Although the fish are not as large as those found in Alders Pool they are much the same species, with the occasional carp to just under double figures but plenty between 2lbs and 4lbs as well as ghosties to 6lbs, crucians again to 2lbs, tench to about 12ozs, roach and rudd to 1lb 8oz, perch to about 1lb and bream to just over 1lb. Stocks were supplemented early in 2012 with a further 600 commons and mirrors as well as 200 bream and 100 tench and perch.
Like Alders, Hollybush has banks which are cut at 45 degrees down to an even bottom which is about four feet six inches deep. This makes Hollybush a fairly straightforward water to fish with either pole or waggler.
A popular pool with both regulars and newcomers
Because Hollybush has plenty of features it is popular with regulars and newcomers alike. As is to be expected, the most popular pegs are those at either end of the pool and those within casting distance of the island. Fishing to the beds of lilies is also popular as once again this is where the fish tend to hang out.
Because the fish in Hollybush tend not to be as large as those in Alders anglers can get away with fishing lighter tackle with line strengths of between 3lbs and 4lbs being used by the majority of anglers to a Size 16, 18 or even 20 hook.
Popular baits on Hollybush Pool
Popular baits with many anglers again tend to be small pieces of luncheon meat, sweetcorn, maggots and soft hooker pellets all fished over a bed of feeder pellets whilst in winter maggots, casters and worm generally produce good results.
As with many waters, it pays to feed the swim by putting out a couple of handfuls of pellets before you tackle up and follow these with half a dozen or so pellets and samples of hook bait at regular intervals whilst fishing, particularly after having just caught a fish to keep the remainder of the shoal in your swim.
An appropriate pool for younger anglers
Because Hollybush is fairly shallow it is a good place for parents and grandparents to take younger anglers when they are introducing them to the sport or teaching them to fish. The hard banks and pegs also make it suitable for less able-bodied anglers, although the more severely disabled may need help getting to the water's edge.
Willow Pool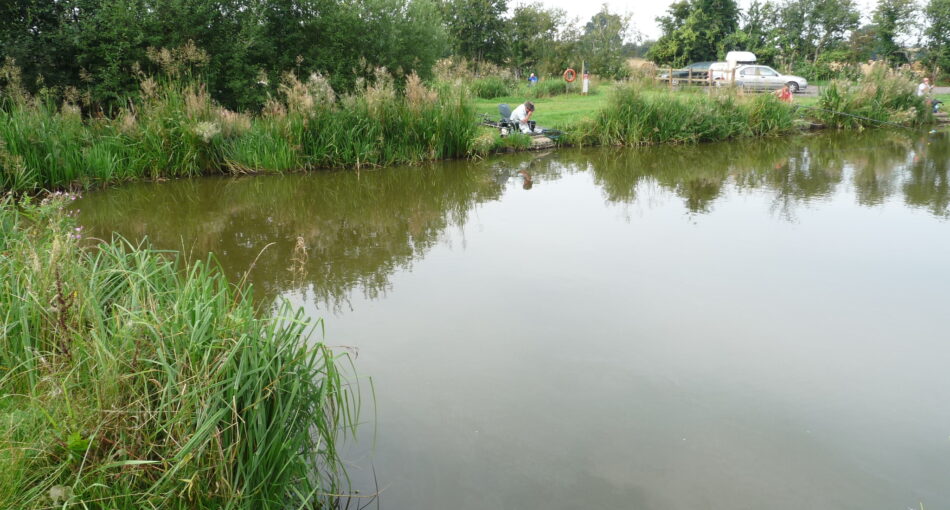 A small rectangular pool with a central island running down the spine and 20 well-spaced pegs, Willow Pool is a popular pleasure water. Stocks were supplemented early in 2012 with a further 300 commons and mirrors making Willow a predominantly carp water.
Stocked with a mix of Carp and Roach
The most recent of the three Pipehill Fisheries waters having been completed only four years ago, Willow has fewer features than either Alders or Hollybush and is stocked mainly with a mix of carp and roach. To ensure the fish are of a decent standard, the pool is netted every year and the smaller fish removed. Willow has banks which slope to a four feet six inches deep central track and the island can be reached easily with the pole.
Because the banks are more open than the other two waters, this is popular with groups of two or more anglers as they can see each other and converse more easily.
Fishing technique on Willow Pool
Again a popular pole and waggler water, Willow holds commons and mirrors averaging between 5lbs and 6lbs with the odd fish to 9lbs, a good head of ghosties to 6lbs, and a large number of stock carp to about 1lb. To improve the fishing, all the roach which were previously in Willow Pool were removed and transferred to Hollybush in Winter 2011.
Popular baits on Willow Pool
Most anglers going for the carp again tend to use luncheon meat, sweetcorn or soft hooker pellets fished over a bed of feeder pellets as the fish in Willow are well used to feeder pellets because they are fed regularly with them when the water has not been fished for a day or two. Good baits for the roach are sweetcorn, casters, maggots and tail end of the worm.
Birch Pool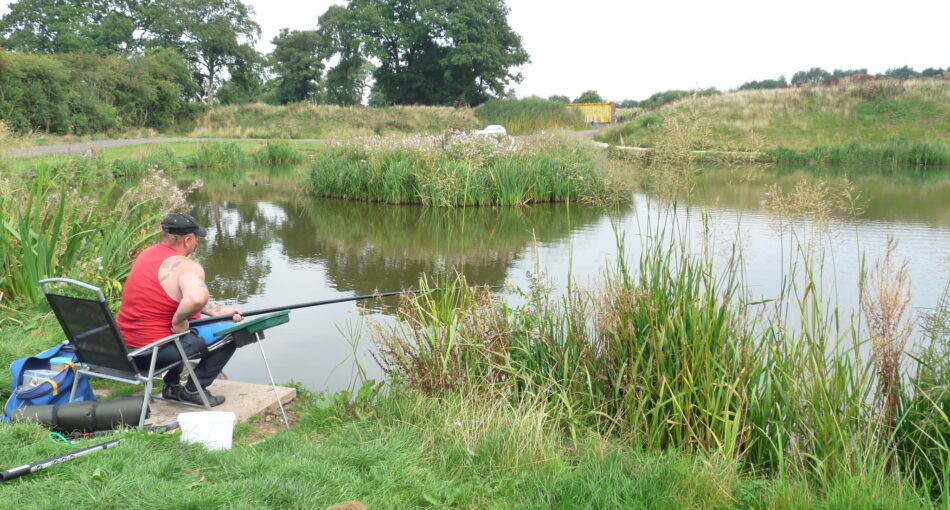 The first of the two new pools you come to when you follow the track to the left in front of Alders Pool, Birch Pool was created over the winter of 2011 and opened for fishing in 2013. It has a total of 20 well spaced pegs.
A mix of fish to catch
Stocked with a mix of carp and silver fish it holds commons, mirrors, ghosties and F2s as well as chub, tench and barbel. The carp average between 3lbs 8oz and 4lbs but run to 13lbs. With an average depth of about five and a half feet and a flat and even bottom, the pool has a two-foot deep three-foot wide shelf which runs all the way round the water and which has been planted in parts with reeds and irises.
Birch pool's features
The main feature of Birch Pool is a large island about 11 metres from the bank which is accessible from about half of the pegs. Again the island has a shelf running all around it. The remainder of the pegs provide fishing in open water and is good for pole, waggler and feeder fishing.
Technique on Birch Pool
Already a popular pole and waggler water, most anglers tend to fish towards the island, although once hooked the fish need to be turned quickly as they tend to bolt into the reeds. Another popular technique is to fish close into the margins, a method that is particularly successful when there are fewer anglers fishing the pool.
The most successful baits include expander pellets, sweetcorn and luncheon meat, particularly when fished with small but regular offerings of feeder pellets trickled into the swim.
Chestnut Pool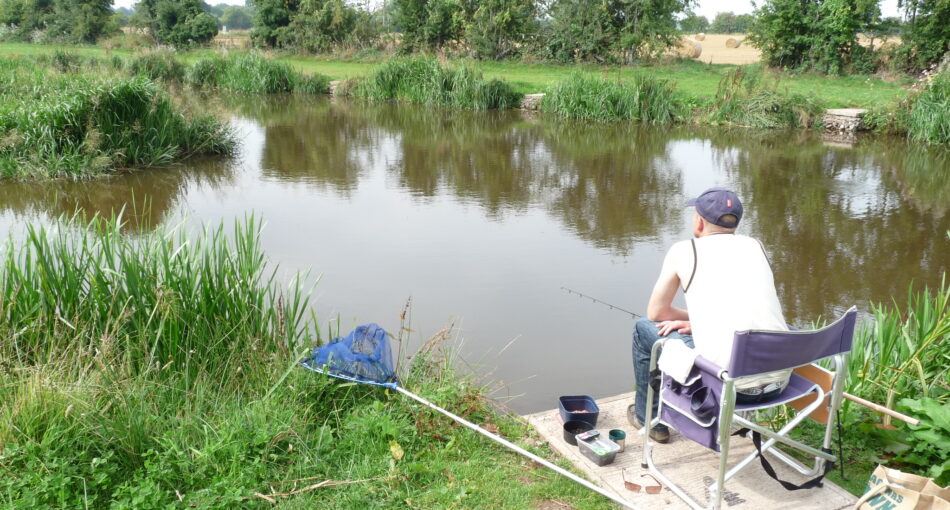 Chestnut Pool is the water furthest from the entrance at Pipehill Fisheries and can be found down the track just past Birch Pool. Slightly smaller than Birch Pool it has 14 pegs set 10 metres apart and again opened for fishing in 2013. Its main feature is a sunken island about two feet under the surface which has been planted with reeds.
Similar to Birch Pool, with an underwater shelf around the margins.
The contours of Chestnut Pool are much the same as Birch Pool being an average of about five feet deep with an underwater shelf running all the way round the margins and the island. Again it holds a mix of commons, mirrors, ghosties and F2s as well as chub, tench and barbel but the fish tend to be smaller with the carp averaging about 1lb 8oz and running to about 5lbs.
Fishing on Chestnut Pool
Like Birch Pool, Chestnut Pool has already established itself as a popular water with anglers fishing in the margins, to the island and in open water. Because the fish tend to be smaller than in Birch Pool anglers can fish lighter tackle and popular baits have again proved to be sweetcorn, luncheon meat and soft hooker pellets although maggots and casters also work well as the fish seem prepared to take anything offered. These are best fished in conjunction with free offerings of feeder pellets.
Prices
Please purchase your ticket from the Honesty Box before fishing. Juniors under 16 must be accompanied. Summer tickets from April to October. Winter tickets from November to March.
Summer Tickets

Adults
OAP/Jr/Disabled
Day (7am-9pm)

Day (7am-9pm)
7.00
6.00
Afternoon (12pm-9pm)

Afternoon (12pm-9pm)
6.00
5.00
Evening (5pm-9pm)

Evening (5pm-9pm)
5.00
4.00
Winter Ticket

Adults
OAP/Jr/Disabled
Day (dawn-dusk)

Day (dawn-dusk)
6.00
5.00
Afternoon (12pm-dusk)

Afternoon (12pm-dusk)
5.00
4.00
Rules and conditions
It is worth familiarising yourself with the rules before fishing at Pipehill. A full list of rules can be found on the Pipehill Fisheries website at www.pipehillfisheries.co.uk.
How to get there
Pipehill Fisheries is a short drive from the Muckley Island roundabout on the main A5 between Tamworth and Cannock.
From the east follow the A5 signs for Tamworth and then Burntwood and Cannock.
At the Muckley Island roundabout take the A461 towards Lichfield and the entrance to Pipehill Fisheries will be seen signed on the left after about a mile and a half.
Get directions on Google Maps
Comments