Mill Farm Fishery
Three lake fishery which has produced several British record silver bream plus decent sized carp and silver fish
Key facts about Mill Farm Fishery
Attractive three lake fishery
Two pleasure waters and specimen carp lake
Home to several British record silver bream
Close season from New Year to Easter
Regularly featured in the angling Press
Established on the site of former grassland, Mill Farm Fishery offers three lakes which are nicely matured and have been featured regularly in the angling Press with local angling writer Andy Little being a regular visitor to the fishery. Perhaps Mill Farm Fishery's biggest claim to fame is that several times it has earned itself a place in the record books with the capture of the British Rod Caught Record silver bream and is now a regular haunt for anglers who feel there are still bigger fish to come out of the venue. The latest fish, which weighed in at 2lb 14oz, was caught by Phil Morton.
Mill Farm was developed by Jeremy Stuart Smith and forms part of the 120-acre Bury Mill Farm. A beef farmer and supplier of plants and trees through Mill Farm Plants, Jeremy is an enthusiastic conservationist who wanted to create a wooded lake which would attract wildlife. He chose the present site because it was suitable only for use as grassland. The result was the current Mill Pond which soon attracted as many anglers wanting to fish it as it attracted an abundance of wildlife.
Mill Farm – where angling and conservation go hand in hand
Realising that angling and wildlife conservation could work hand in hand, he later went on to develop the current Specimen Lake and in 2000 built Hammer Pond which is used for pleasure angling only lake to keep pressure off the other two waters. Other features at the site include a car park for more than 30 vehicles and a timber-built anglers' lodge which incorporates ladies, gents and disabled toilets and a large room and seating area overlooking the lakes where anglers can use facilities for making tea and coffee, meet before matches or heat food in the microwave. Because the fishery is supplied with water from its own borehole oxygen levels can be maintained even in hot summers.
New Year to Easter close season
Despite these concessions to modern day angling, the fishery is in many ways run on traditional lines. The pegs are not concreted but left as natural as possible and Mill Farm imposes a close season which starts on New Year's Day with the fishery re-opening on Good Friday. This gives fish have an annual holiday and helps to keeps them and the site in prime condition.
The end result is that Mill Farm Fishery offers a countryside venue where anglers can go alone or with members of the family for a relaxing day's pleasure fishing, where specimen hunters can look to catch carp to 30lbs and where clubs can hold their matches without fear of overcrowding.
Mill Farm Fishery has few rules
Although there are few rules, anglers are requested not to use groundbait, boilies or Method feeders and keepnets are not allowed. Night fishing is not available. The fishery is open from 7.00 am until sunset every day in its open season and angler should start fishing and pay the bailiff when they do their rounds.
Mill Pond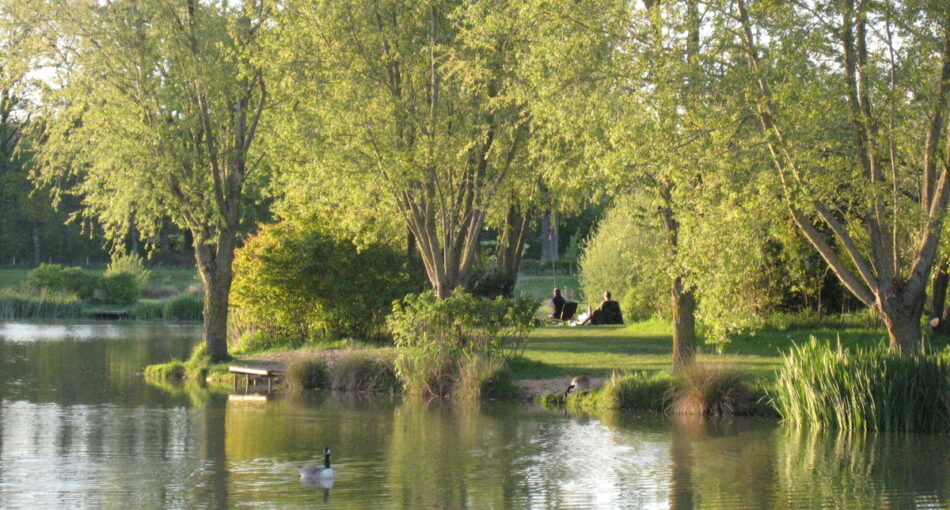 At three acres in size and with 40 natural pegs, Mill Pond is a spacious and attractive water with plenty of bankside cover, bays and an island to fish to. At just two to four feet deep at the entrance end and shelving gradually down to about seven feet around the island, it is an easy water to fish with pole, waggler or ledger.
Mill Pond is easy to fish
A water with a bowl-shaped bottom, Mill Pond has no special holes and an even bottom which makes it easy for anglers to fish more than one swim without having to alter their float settings and rigs.
Stocked with common, mirror and ghost carp which range from a few ounces to 25lbs, crucian carp and roach to 2lbs which are caught regularly, perch known to run to 4lbs 8oz and averaging about 2lbs, and tench to 9lbs and averaging between 4lbs and 5lbs, Mill Pond is a rewarding as well as attractive water to fish.
As for the silver bream – it is believed there could even be a new British Record in the water. Neil Hulme's record fish was taken from between the trees from Peg 21 since its capture several other specimens have been caught which have come near to the record. Neil was pole fishing and is believed to have used 2lb line straight through to a 20s hook, 0.6gr float with a red and white maggot bait.
Mill Pond is popular with pole, waggler or feeder
Mill Pond is popular with pole, waggler or for those who want to get far out, feeder anglers, with maggots, casters, sweetcorn, luncheon meat and bread flake doing well for all species. The bigger perch also like a bunch of maggots or worm baits.
As one would expect, those after the carp and bigger tench and bream favour either large pellets – up to 20mm for the carp – luncheon meat, large paste baits or bread, although boilies are not permitted. In summer when the fish are on the top it is also worth taking either dog biscuits or an unsliced loaf and using pieces of floating crust.
Another popular method for those after the carp and other larger fish is to use a pva bag stuffed with particles and samples of hookbait. Anglers fishing this technique are recommended to use a 6lb line fished straight through.
Many anglers like to fish toward the island
Because of its even bottom there are no particular hot spots on Mill Pond although many anglers like to fish toward the island. Fishing the margins is also productive and should not be overlooked, and with a day ticket covering two rods it often pays to fish one bait in open water and have a second rod ledgering the margins.
Mill Farm bailiff Adrian Brown, himself a keen angler, is always happy to give help, advice and and up-to-date information on what and where are fishing well at the venue.
Mill Pond is also a great place for newcomers to the sport and younger anglers to cut their teeth. Being only shallow and full of fish, it gives them the opportunity to learn whilst at the same time offering them a good chance of catching plenty of fish whatever their stage of learning. it is also a good place for more experienced anglers to test new techniques and baits.
Specimen Lake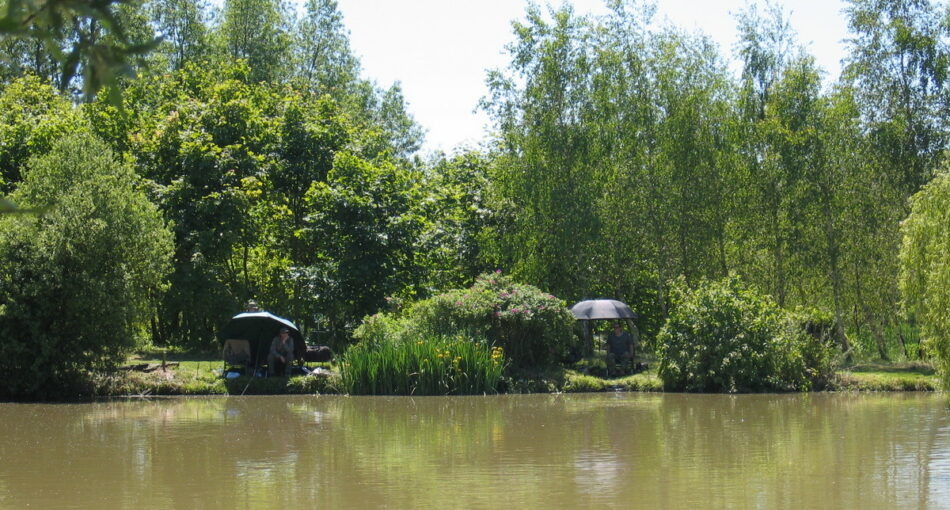 Mill Farm Fishery's Specimen Lake is four acres in size and has 18 well-spaced natural pegs. Featuring two islands, it is slightly deeper than Mill Pond with four feet of water at either end running down to six and seven feet out from the banks along the centre of the lake. The deepest water is to be found between the two islands where there is a channel which runs between six and 10 feet deep.
Specimen Lake has few fish under 10lbs
There are few fish in Specimen Lake under 10lbs and the water holds a fairly even mix of some 300 double figure common, mirror and ghost carp, more than 50 of which are known to be over 20lbs with several now approaching or topping the 30lb mark.
Although boilies are not allowed, pellets prove just as effective and popular with a favoured technique for bottom fishing being to use pva bags stuffed with hook samples. Many anglers also use 20mm halibut pellets hair rigged with between three and six freebies on a pva stringer.
Another popular technique, particularly in warmer weather, is to fish dog biscuit or bread on the surface, either in open water if the fish can be seen coming to the surface or close in by the edge.
There's plenty of open water on Specimen Lake
Whichever technique you are using, it is recommended anglers fish at least a 6lb line and a size 8 hook. Although a 6lb line may seem on the light side, there are few snags and a lot of open water on Specimen Lake so most hooked fish can be played quite far out and only brought to the bank once they are ready to net. Unhooking mats should be used once they are on the bank.
Although halibut pellets are known to work well, other flavours are well worth a try and successful on their day, particularly Scopex and fruit flavours such as strawberry and raspberry. Naturally, more traditional baits also work well with worms, plain and flavoured varieties of sweetcorn and bread probably heading the list of most suitable alternatives. Bread works well both when fished as flake or as bread paste and whilst a good bunch of maggots are usually effective everywhere they will tend to pick up the smaller nuisance fish.
Hammer Pond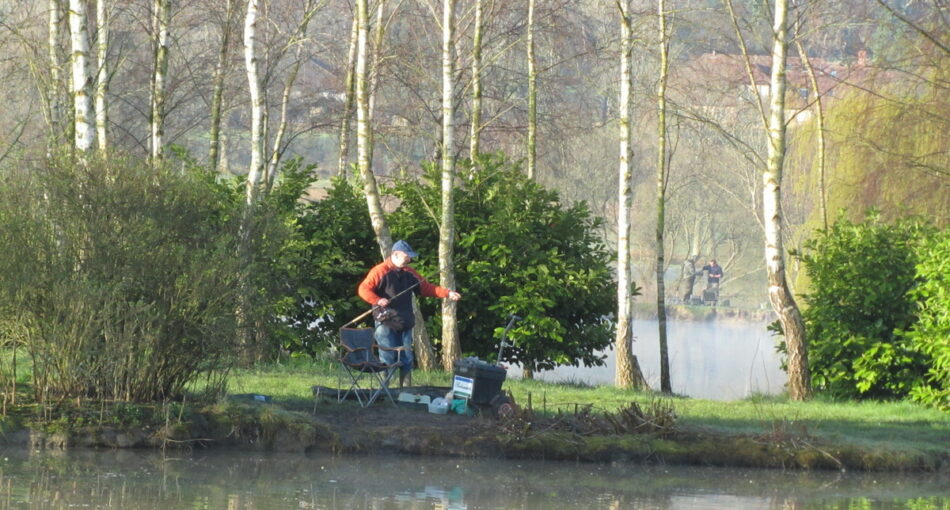 Hammer Pond is a large and straightforward venue which offers pleasure anglers a third alternative at the venue. Built in 2000 and allowed to settle for a couple of years, Hammer is stocked with similar stamp and size of fish to those in Mill Pond with the silver fish making it a good year-round water for anglers. As with the other waters, keepnets are not allowed on this lake. As one would expect, fishing the pole and waggler are the most popular techniques, although fishing the feeder also works well.
Whilst many of the roach are currently around the 6oz mark, they run to just over 1lb. The perch average 8oz and to 1lb, the silver bream between 6oz and 1lb. The stocks of crucian carp and tench are somewhat bigger with the crucians averaging about 1lb and going to 2lbs and the tench nearly all weighing in between 3lbs and 4lbs. The mix of fish makes this water ideal for younger anglers and those looking to practice techniques or baits.
Prices
There are no concessionary rates at weekends and bank holidays
Mill Pond

Day ticket
Evening Ticket (5.00pm until close)
Adults

Adults
12.00
8.00
Juniors/OAP

8.00 (weekdays only)

8.00

Juniors/OAP
8.00 (weekdays only)
8.00
Hammer Pond

Day tickets
Evening Ticket (5.00pm until close)
Adults

Adults
12.00
8.00
Junior/OAP

8.00 (weekdays only)

8.00

Junior/OAP
8.00 (weekdays only)
8.00
Specimen Lake

Day Ticket
Evening Ticket (5.00pm until close)
Adults

Adults
15.00
8.00
Junior/OAP

Junior/OAP
15.00
8.00
How to get there
Mill Farm Fishery is situated just off the A29 at Bury about three miles south of Pulborough in West Sussex
Leave Pulborough on the A29 heading towards Chichester
After passing through Watersfield take the right turn onto the B2138 signed Fittleworth and Petworth
Almost immediately is a road to the left signed West Burton, the entrance to the fishery is about 300 yards down here in the left
Get directions on Google Maps
Comments