Chequered Lake
Stocked with carp to 30lbs as well as a selection of silver fish, Chequered Lake is a two acre fishery in the heart of Shropshire
Key facts about Chequered Lake
Delightfully attractive two acre lake
A fishery deep in the countryside
Set deep in the heart of delightful Shropshire countryside just outside the market town of Whitchurch, Chequered Lake is owned and run by angling journalist Andy Nicholson who runs the all-encompassing 'Angling News' website. During his career, Andy has written for many angling publications and has produced several angling programmes and films for broadcasters including the Discovery Channel and mainstream TV.
A former Managing Director of Shakespeare Tackle and a keen angler all his life, Andy developed Chequered Lake some 25 years ago with the help of Billy Makin, the founder of Makins Fishery which must be considered amongst the country's pioneering and most highly successful pleasure and match commercial coarse fisheries.
The two-acre Chequered Lake is stocked with a mix of fish including common, mirror and a few ghost carp to 30lbs; perch and bream to 3lbs; Old English crucian carp, roach and rudd to 1lb 8oz and some tench to over 7lbs. Despite its size, it has only between 15 and 20 'natural' pegs and offers both traditional coarse fishing as well as fishing for carp using modern techniques.
Superb stalking water
Almost completely surrounded by trees and bushes and with a central island, it is also a superb stalking water, particularly in summer when fish can be taken from almost anywhere. It has to be said that this is a delightful venue with few, if any, concessions to modern commercial coarse angling.
The pegs are all grass, there are no toilets, tackle shop, cafe or behind-the-peg parking – all that is on offer is a quiet venue where the fishing is what you make it and where the angler is up against fish which were stocked as juveniles from the Environment Agency 20 years ago and have been left to their own devices ever since.
Which all goes to make Chequered Lake a cracking old fashioned venue which is open from dawn till dusk at a fiver a go whatever time you turn up. It also offers night fishing by prior arrangement to anglers who have the right equipment, skill and are known to the fishery.
Chequered Lake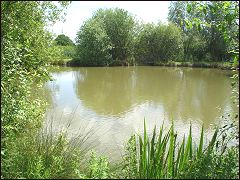 It is difficult to imagine at ground level that Chequered Lake is actually almost a rectangular lake with a star shaped island in the centre, surrounded as it is by trees, shrubs and bushes and with wooden bridges across to the island which may feel a bit springy but which are in fact quite solid and secure.
An interesting venue
This all combines to make a most attractive and interesting venue which, even when there are other anglers about, offers peaceful and secluded fishing as it used to be in the days of Richard Walker and other pioneers of the sport. And with common, mirror and ghost carp to 30lbs and averaging between 15lbs to 20lbs, plus tench to over 7lbs with most over 3lbs and a good head of 3lb perch, there are some decent fish to go for.
There are also some big shoals of bream, roach and rudd with many of the bream topping 2lbs, the roach touching 1lb 8oz and the rudd 1lb. By and large it is these fish which most anglers go for, fishing the pole or waggler with maggots, caster, chopped worm or pellets.
Winter is popular for perch fishing
Those seeking out the perch tend to fish mostly from the end of October to early Spring, normally baiting with worm and loose feeding with pieces of chopped worm or chopped worm and maggots.
The contours of the lake are fairly uniform with banks which slope at 45 degrees down to a maximum depth of 10 feet of water wherever you fish, apart from by the bridges where the bottom shallows up top only three or four feet. The water is also shallower round the old staging which runs out into the water and which is an attractive feature for fish to hold up by – although you naturally have to be alert and turn fish away from the supports as soon as you get a bite.
Although there are no lilies or plants in the open water, there are plenty of marginal plants around the edges which provide cover for both angler and fish and which provide good margin fishing for patrolling fish.
Great for floating baits
Because of the large head of carp, Chequered Lake is a great venue for floating baits with dog biscuits, floating crust and pellets all being popular and successful, particularly during the evenings in warmer weather. Because the fish are used to quite a lot of bread being thrown into the water they take these baits quite readily.
Other popular baits for the bigger carp include hair-rigged and side-hooked boilies, luncheon meat and worm whilst sweetcorn, chopped worm, maggots, cat food and smaller pieces of luncheon meat are good all-round baits for other the species and the smaller carp.
In addition to stalking both the open water and the margins with floating baits, many anglers fish just above where the sloping bank meets the bottom between one and two rod lengths out.
The shelf is good for waggler anglers
Waggler anglers not targeting the bigger carp tend to fish mostly on the shelf or up in the water, feeding little and often to attract the fish into their swim and then keep them there. Popular pegs tend to be those in the island where anglers can fish either close into the side or close to the reed beds which run along the far bank.
Prices
Fees are collected on the bank.
All anglers

Day tickets

Day tickets
5.00
Night ticket

Night ticket
20.00
How to get there
Travelling North: From Junction 15 of the M6, take the A 5182 and then turn left onto the A53 for Market Drayton.
Shortly before Market Drayton you will cross the A529. Turn right onto the A529 heading for Audlem and in Audlem turn left onto the A525 towards Whitchurch.
As you approach Burleydam look out for a sign to Old Woodhouses on the right. Take the road to Old Woodhouses and the entrance to the fishery is a couple of miles along here on the left.
Heading south on the M6, leave the motorway at Junction 16 and follow the A500 towards Nantwich.
Shortly before Nantwich pick up the signs for the A530 to Whitchurch. After Aston and Newhall the A530 meets the A525. Turn right onto the A525 towards Whitchurch
As you approach Burleydam look out for a sign to Old Woodhouses on the right. Take the road to Old Woodhouses and the entrance to the fishery is a couple of miles along here on the left.
Get directions on Google Maps
Comments