New Farm Fishery
Three pool carp and silvers fishery with Bed and Breakfast accommodation plus camping and caravanning
Key facts about New Farm Fishery
Pleasure fishing for carp and silver fish
Three well maintained waters
Silvers include bream and tench to over 5lbs
Crucians to 2lbs in Mark's Pool
Fishing from 7.00am to 8.30pm in summer
B and B accommodation in modern rooms
Caravan park with electric hook-ups and shower block
Developed on the site of a former dairy farm in the heart of the Cheshire countryside, New Farm Fishery has three well maintained lakes which offer pleasure fishing for carp and silver fish; a large camping/caravan park with hard standing 'super-pitches'; a heated toilet/shower block which is also available for use by anglers; and a modern clean and spacious Bed and Breakfast annexe with well-equipped bedrooms and light and airy dining room.
New Farm Fishery is the brainchild of Mark Rowland who started developing the venue about 10 years ago when his parents gave up dairy farming. Since then his aim has been to provide quality fishing and accommodation which will appeal to people who enjoy being in the countryside with the comforts of being at home. The two larger lakes were dug in 2006 and are over an acre in size whilst the third smaller water is a former farm pit which Mark had enlarged several years before so that he would have somewhere of his own to go fishing.
Closed for day tickets
New Farm has closed its doors to day ticket fishing is now only open to members and people staying on the touring park and in the Bed and Breakfast accommodation. Anglers interested in membership should contact Mark via email from this site.
The caravan park accommodates 24 touring vans or camper vans on hard standings which are equipped with electric hook-ups, water supply and grey water waste. The site is near the lakes and shower block and is accessible all year round. Please note that the campsite is for adults over 16 years of age only.
Bed and Breakfast accommodation
The Bed and Breakfast accommodation offers quality rooms which each have their own en-suite. The accommodation comprises two double rooms, three twin rooms which can be converted into doubles and a family room. Modern, clean and spacious, the rooms are equipped with flat screen television with DVD player and tea and coffee making facilities whilst the dining room is tastefully decorated and serves English and Continental breakfasts for BandB residents.
Hard standing pegs on Middle Pool at New Farm Cheshire FisheryAll three lakes are well stocked with a mix of carp and silver fish. The biggest fish are the carp which run to 25lbs in the 14-peg Carp Lake whilst Middle Lake has a good variety of silvers including bream and tench which run to over 5lbs. Mark's Pool is about a third of an acre in size and is a delightfully intimate water which has carp into double figures, some lovely crucians to 2lbs and tench to 4lbs.
There's always plenty of room for anglers on the lakes
A feature of New Farm is that because there are no non-resident day tickets or matches there is always plenty of room for guest anglers which makes it a pleasant venue for a weekend or midweek break or even longer angling holiday.
Carp Lake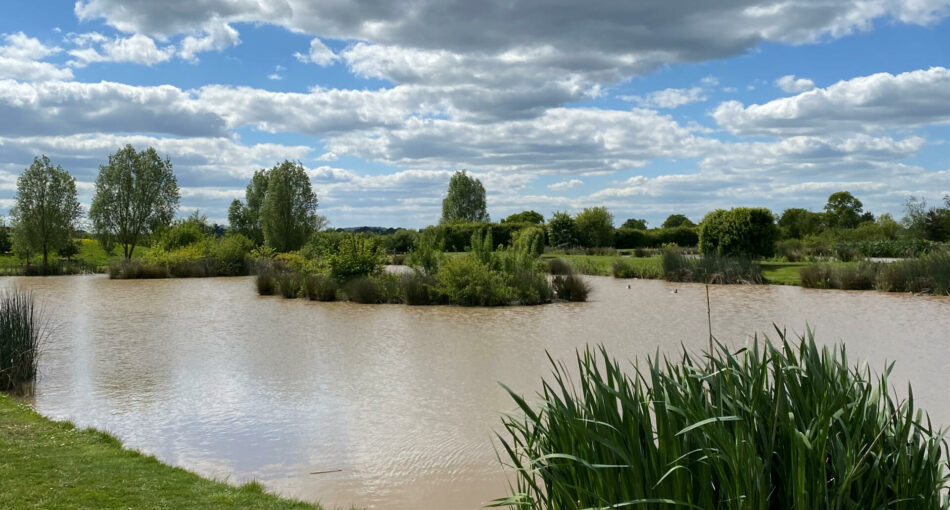 Although it is just over an acre in size, Carp Lake has only 14 well spaced hard stone pegs which were installed in Spring 2011. This gives anglers plenty of space between swims. With a central island, Carp Lake has a four feet deep shelf along the far side from the entrance which extends about 14 feet into the lake before the banks drop off to a flat and even bottom between six and seven feet deep before rising steeply against the island.
Average size of fish is between 8lbs and 14lbs
The near bank has sides which drop at about 45 degrees to the bottom, which is slightly deeper than the nearside bank at between seven and eight feet deep. Carp Pool was stocked in 2007 with common and mirror carp which are now known to run to 25lbs whilst the average size of fish is between 8lbs and 14lbs. These are all nice clean fish, many of which have never been caught before because the water is known only to a few locals and a small number of regular anglers who stay at New Farm for a week's fishing.
All pegs produce well
Another nice things about Carp Lake is that it is not 'peggy' with all pegs produce equally well. Whilst some of the anglers who have fished Carp Lake use modern carping techniques, this is not necessary. Many of those who know the lake fish either the float or ledger with luncheon meat or sweetcorn. Decent sized chunks of meat between a quarter and half an inch square work well and tend to pick out some of the bigger fish whilst two or three kernels of sweetcorn can be equally effective.
Fishing the margins is good
As with most fisheries these days, fishing the margins is a favourite, either on the four feet deep ledge off the far bank or down the slope on the near bank, whilst fishing towards the island with a ledger also produces good results. However, in the past couple of years most of the biggest fish have come from swims in open water.
Whichever technique you choose it pays to feed the swim gradually with a handful of free offerings at the start of a session and then a few samples of hook bait throughout the session. Other baits worth having with you include expander pellets fished over a bed of feeder pellets, maggots, worm and bread, although anglers should note that floating baits are not allowed.
Middle Lake - Mixed Fish Lake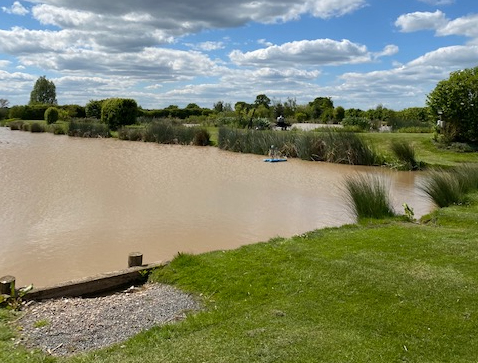 Middle Lake is another water which is just over an acre in size. With a long central island runing down its spine it has 14 well spaced pegs and is stocked with a mix of F1 carp to about 1lb 8oz and a mix of silver fish, including barbel to about 1lb, which means the lake fishes well all year round. The biggest fish are the bream and tench, both of which run to over 5lbs in weight. There are also good heads of golden tench and golden orfe to about 3lbs plus chub and some very pretty crucian carp both of which top 2lbs.
A pleasant open water with plenty of room
Middle Lake is deepest around the island where between seven and eight feet of water can be found. Along the entrance bank there is a four feet deep shelf and another which runs virtually the full length of the long far bank as you approach the lake from the car park. Much of the open water at the entrance end gives seven feet of water with the lake shallowing gradually to about five feet at the far end.
Middle Lake appeals mainly to pleasure anglers out for a relaxing day's fishing or a few hours by the waterside where they don't know what they are likely to catch next – and without the threat of being broken by a big carp. Because of its depths, Middle Lake is an ideal water for both pole and waggler anglers with the most popular technique again being to fish either on the shelves in the margins or out towards the islands where some anglers prefer to fish a cage feeder packed with free offerings.
Fishing technique and tackle
Because of the size of the fish anglers do not need to fish heavy tackle and in most cases, a 2lb to 3lb main line with Size 16 or 14 hook will suffice. As there is plenty of open water and no snags even the bigger fish can be played out safely without fear of losing them. Good all round baits on Middle Pool tend to be sweetcorn, maggots and worm although small cubes of luncheon meat also work well for all species.
When fishing Middle Pool it pays to bait up the swim with a couple of handfuls of groundbait mixed with hook samples and then feed free offerings little and often throughout the session. It also pays to adjust your depth until you find where the fish are feeding.
Mark's Pool
At about a third of an acre in size, Mark's Pool is oval shaped with a small island and no hard standing pegs, anglers being allowed to fish wherever they want to on the grass banks of this open water snag free water. It can accommodate about six anglers in comfort. Mark's Pool is easy to fish because much of it is fairly shallow with five feet of water at the pointed entrance end and between four and five feet of water all the way down the left hand bank as you approach the pool and just six feet down the right hand side. The deepest water is about eight feet deep just off the far end of the island.
The oldest of the New Farm Fishery waters, Mark's Pool was originally a field drainage pit which was filled in many years ago before being re-dug and enlarged by Mark about 15 years ago to give him somewhere of his own to fish.
Mark's Pool is attractive and intimate
Although fairly small, it is an attractive and intimate water with plenty of decent fish to catch including mirror and common carp to 11lbs with an average stamp of between 4lbs and 5lbs. Because these fish have rarely, if ever been caught they give a good account of themselves when hooked and are in pristine condition. In addition to the commons and mirrors, Mark's Pool holds some beautiful crucian carp to 2lbs and a good head of tench to over 4lbs.
Being fairly shallow, Mark's Pool is an ideal pole or waggler water with most anglers fishing close into the sides or in the deeper water at the far end of the pool. Once again fishing to the island is also a good tactic whilst those who find it a bit of a struggle to fish a float in eight feet of water can again opt to use a small swim feeder packed with goodies.
Because Mark's Pool holds only carp and tench it tends to fish best in the warmer months when the most popular baits are sweetcorn, maggots, soft hooker pellets and small pieces of luncheon meat. Again, because there are no monster fish in the water, anglers can fish on the lighter side with 4lb to 5lb line and Size 14s or 12s hooks for the carp and 3lb to 4lb line and Size 14s or 16s hooks or even 18s for the crucians and tench.
Prices
Fishing is from 7.00am to 8.30pm in summer and dawn to dusk in winter (night fishing is not allowed).
Residents Angling tickets

Price
Middle Lake and Mark's Pool (two rods max)

Middle Lake and Mark's Pool (two rods max)
5.00
Carp Lake (two rods max)

Carp Lake (two rods max)
8.00
How to get there
New Farm is situated south east of the historical city of Chester and the border with North Wales just 15 miles from the M6 motorway
From the M6, leave the motorway at Junction 16 and take the A500 towards Chester and then the A51 towards Nantwich
After travelling through Burford, Barbridge and Calveley turn right off the A51 onto Long Lane (watch out for New Farm's sign located close to the junction)
New Farm can be found two miles down this quiet country road on the right hand side
Drivers are advised to watch their speed on the A51 as there are speed cameras along this stretch of road
Get directions on Google Maps
Comments