Butlers Hill Fishery
To be found on the Warwickshire border with Oxfordshire near Great Rollright, Butlers Hill offers three attractive pools in a rural setting.
Key facts about Butlers Hill Fishery
Open 7.00am to 8.00pm in summer or dusk in winter
Night fishing by prior arrangement
Selection of tinned baits available on site
Grassed ramps to pools for disabled anglers
Ticket monies from on-site caravan or on bank
Suitable for pole, waggler or ledger fishing
Floating baits good in summer
Improved venue facilities
Further improvements have been made to the fishing at Butlers Hill over the past few years with the continued development of the pools, the introduction of night fishing, the provision of toilet facilities and the creation of grassed ramps to make access easier to all three waters.
Butler Hill can also now accommodate up to five caravans and 10 tents for members of the Caravan Club at prices which range from £10.00 to £15.00 depending on the number of occupants. In addition, anglers can now purchase a selection of tinned baits including luncheon meat and sweetcorn at the site.
Fish stocking at the Butlers Hill
Early in 2019 some 50 carp to 8lbs were stocked in Island Pool as part of an ongoing programme which saw 20 good sized common carp between 5lbs and 10lbs stocked two years ago and the introduction before that of some 70 common and mirror carp into Island and Middle pools which ranged in size from 3lbs to 5lbs. These earlier two stockings of fish have now grown on and are providing good sport and adding to weights for both pleasure and match anglers.
The match record for Butlers currently stands at 209lbs which was set on Island Pool with the winner coming from one of the shallow pegs at the back of the island which is always a popular holding area for the fish as the water warms quickly whilst the trees provide shade from the sun.
Continuous improvements to Butlers Hill
Previously used as irrigation lakes for a nearby fruit farm, the two Butlers Hill pools provide a friendly and informal fishery which is not too commercial but which is ideal for pleasure anglers and small club matches.
As part of the ongoing improvements, the overgrown far bank on Island Pool, the first pool you come to on entering the fishery, has been cleared and platform pegs created, excess bankside vegetation has been removed, overgrown trees and shrubs pruned back and steps built up the bank to Middle Pool.
The venue also now has two car parks, one at the entrance which serves Island Pool and the other at the end of the track in front of you as you drive into the fishery which serves Middle Pool. Even the names of the pools have been changed – from the rather impersonal titles of No 1 and No 2 to the more descriptive Island Pool and Middle Pool. The former Far Pool is now no longer used for fishing and has become the venue's stock pool.
In addition to improving the actual fishing, the owners are making the venue more accessible for disabled anglers with the creation of grassed ramps to the pools. To prevent predation by otters the two pools have also been protected with otter fencing.
Although keepnets are allowed, no fish over 3lbs should be retained and plastic baits should not be used. There are no other bait restrictions.
Tickets at Butlers Hill
Ticket money is collected from anglers either on arrival or on the bank once they have started fishing and anglers wanting to night fish the pools should note that the gates are locked at last light and open again at 7.00am. Only one spectator is allowed per angler at night.
Island Pool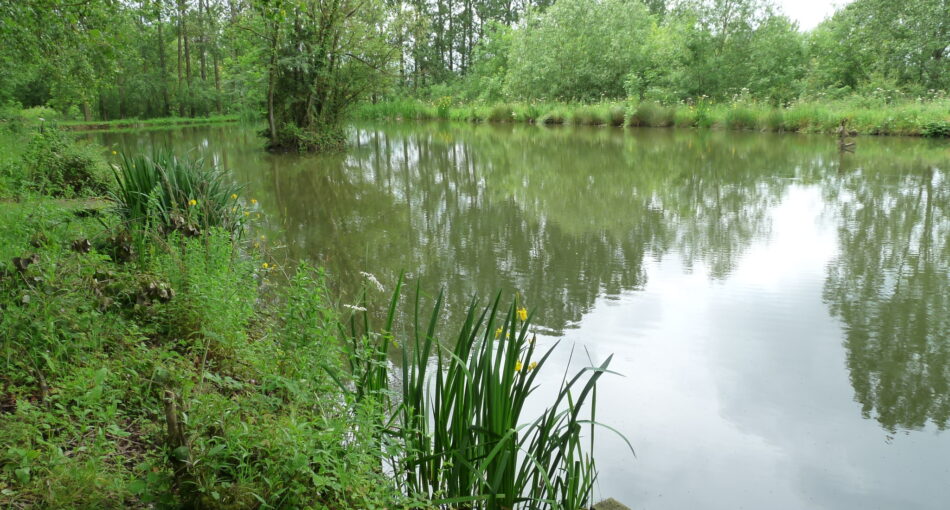 This one-acre pool, which is up to 12ft deep by the overflow near the entrance, holds mirror and common carp to over 20lbs; ghost carp into the teens; roach, rudd and crucians to over 1lb; and bream and tench to 3lbs.
Like the other pool at Butlers Hill, it fishes well on both rod and pole whilst float and ledger techniques are equally effective. In summer, floating baits are particularly successful for anglers after the carp, which can usually be seen cruising just under the surface on warm evenings, and the chub which take bait readily off the surface.
The banks drop sharply to about five or six feet deep around the edges and for much of its depth whilst the two islands have ledges around them before shelving to the bottom.
Ideal fishing on Island Pool
Whilst many anglers fish successfully in the open water in the centre of the pool, it is often more effective to fish either just under your feet or to use a ledger or two or three swan shot on a running ledger to reach the island ledges where the fish patrol. Trying to reach the ledges with a waggler can be tricky because of the overhanging branches.
Great for both traditional and more modern carp fishing techniques
The biggest carp which were previously stocked in Far Pool have been transferred to Island, making it popular with many carp anglers who use both modern and traditional techniques and baits. Because of its depth it also fishes well in winter. Indeed, one February an angler fishing the pole took over 45 fish weighing between 3lbs and 8lbs in one sitting baiting with small pieces of luncheon meat and loose feeding pellets.
Bait for catching the silver fish
Best baits for the silver fish are maggots, worm, sweetcorn, luncheon meat, cat food and pellets whilst anglers after the bigger carp rely on all of the above plus boilies of various flavours.
Middle Pool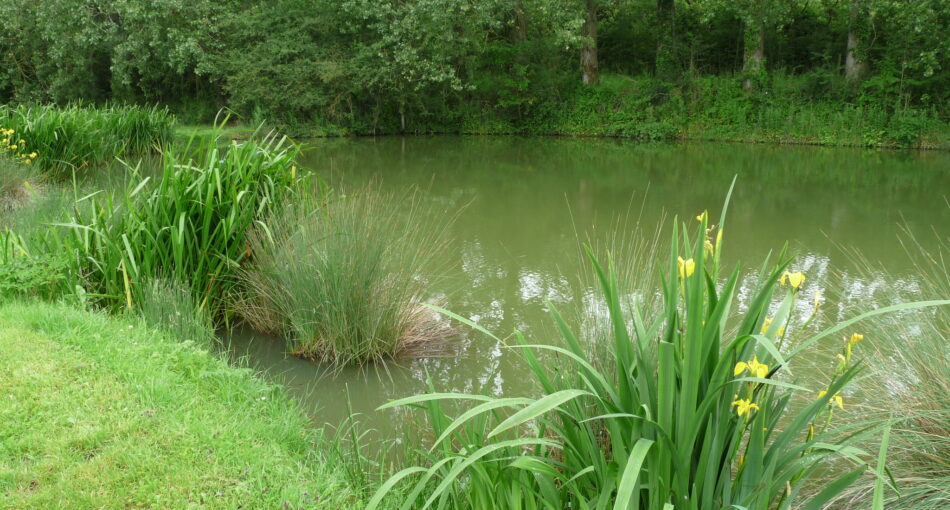 Well stocked with various fish
Much shallower on the whole than Island Pool, this is another one-acre water which averages about four feet throughout most of its length and is stocked with roach to 2lbs; rudd to 1lb; bream to 5lbs; and mirror and common carp which run well into double figures. In addition, the water is home to a good head of smaller ghost carp which provide lively sport well into the colder months.
Whilst the water fishes much the same as Island, because it is shallow and has a silty bottom it is usually more coloured. Because of this anglers can often tell when the fish are on the feed because they stir up so much mud that parts of the lake become noticeably more cloudy. This means it is always worth having a walk round the pool before tackling up to pick a swim where the fish already have their heads down.
Also popular among carp anglers
Like Island Pool, Middle Pool is also popular with serious carp anglers and can be a very rewarding water to fish with the lake record being a 23lb mirror.
Like Island Pool, Middle Pool has banks which shelve steeply to the bottom and with rushes along the sides and far end there is always plenty of cover for anglers fishing either close in or stalking the carp. A few years ago new platform pegs were installed along the far bank of the lake to make angling easier from this side of the water.
Float fishing on Middle Pool
Being a shallow pool, most anglers tend to float fish Middle Pool and it is very popular with pole anglers using casters, maggots, sweetcorn, luncheon meat and pellets. Boilies, dog food and larger pellets are all good for the carp, as are floating baits fished both close in by the side and in open water during warmer weather for the carp.
Prices
Anglers aged Under 12 must be accompanied by an adult. Night fishing by prior arrangement – telephone 07939 512912 to book. Matches are charged £8.00 per peg.
Ticket Prices

Adults
OAPs and Under 16s
Day Ticket

Day Ticket
8.00
7.00
Night Fishing

Night Fishing
16.00
15.00
24-hour Ticket

24-hour Ticket
24.00
23.00
Rules and conditions
Although keepnets are allowed, no fish over 3lbs should be retained and plastic baits should not be used.
How to get there
Butlers Hill Fishery is three-quarters of the way along the A3400 between Shipston-on-Stour and Chipping Norton.
Travelling south, continue through Long Compton and start up the hill as you leave the village. Over half way up is a road to the left signed to Great Rollright.
Take this and the first left again which has Butlers Hill Farm on the corner.
Continue down this lane for about 200 yards and the entrance to the fishery car park is on the right.
Get directions on Google Maps
Comments