Bury Hill Fisheries
One of the country's most attractive and prolific season ticket fisheries near Dorking in Surrey
Key Facts about Bury Hill Fisheries
Part of a 200-year-old estate just 20 miles from London
Three lakes available for members
One of the UK's top pike and zander fisheries
Fishing on Old Lake from banks or punts
Great fishing for big tench, bream and crucians
Boathouse complex with cafe, shop and toilets
Fishery is permanently staffed
Old Lake now closed for fishing
Notice to all anglers
Whilst our retirement plans continue, we have strived to keep the lakes open for as long as possible to the general public. We can now confirm that The Old Lake will finally close its doors to angling on Monday 6th February 2023, meaning that Sunday 5th February will be the very last day that anyone can fish the Old Lake.
The remaining lakes will remain fully open for Day Ticket angling until Tuesday 28th February 2023, after which date, restricted fishing will continue on Bonds, Milton and Temple Lakes for members of the Bury Hill Angling Club only. Anyone wanting to join our membership schemes should contact the fishery on 01306 883621 as quickly as possible, as membership places are very limited.
Stunning Fishery in the Surry Foothills
Bury Hill deserves its reputation as one of the country's most beautiful and prolific day and season ticket fisheries. Open throughout the year with the exception of Christmas Day, Boxing Day and New Year's Day, it is part of a 200-year-old estate which, although only 20 miles from London, lies in a secluded valley at the foot of the Surrey hills which is noted for its outstanding natural beauty and abundance of wildlife.
The fishery offers four lakes totalling 22 acres of water and includes a new Specimen Carp lake plus access to nearby Claremont Lake which is owned by the National Trust and lies in magnificent landscaped surroundings. Fishing on both Temple and Claremont lakes is available on a membership basis only and numbers are restricted.
Nationally renowned as a summer carp and mixed fishery, in the autumn and winter Bury Hill is one of the UK's top spots for pike and zander. Offering sport for pleasure, match and specimen anglers, fishing is either from the bank or from two-man punts. Whether you are after 30lb-plus English carp, a three-figure net of specimen tench or a double figure zander, you can find it there.
Onsite tackle shop and facilities
On-site facilities include all-weather car parks, a boathouse complex with shop and ladies and gents toilets, plus a cafe which serves home-made hot and cold meals, snacks, sandwiches, refreshments and confectionery. Full English breakfasts are served daily and can be booked in advance for visiting clubs.
The shops sells a range of end tackle, angling accessories and baits as well as live and dead bait for predator hunters after the pike and zander. For those choosing to fish from the banks, angling is from large purpose-built platforms which provide safe access to all swims and comfortable fishing. The fishery is permanently staffed and is therefore suitable for younger anglers, OAPs and the disabled, all of whom benefit from concessionary day and season ticket rates.
Angling courses available
Resident bailiffs are on hand to give help and advice, whilst newcomers to the sport or those looking to brush up on their skills can sign on for the fishery's 'Pro-Fish' angling courses. The courses run throughout the year and cover general coarse fishing, fishing for big carp, angling for father and son, and Pike and Zander fishing. In addition, private tuition is also available.
Club match bookings are welcome, although the numbers are controlled to avoid over-fishing. The boathouse can be used for making draws and announcing results whilst the cafe offers full sit-down catering for up to 50 anglers serving breakfasts, hot meals and snacks from 7.00am at weekends and Bank Holidays or earlier by arrangement. Full barbecue facilities are also available.
Ideal for fishing Events
In addition to club bookings, Bury Hill Fisheries is an excellent venue for Corporate Days and events with three lakes available for booking by the day, as are the boats. The fishery can lay on everything from simply a day's pleasure angling to staging a match or holding a more specialised carp, pike or zander fishing day. Where less than 10 anglers are taking part, the fishery offers a special evening's carp fishing and Barbecue. Arrangements can also be made for an angling celebrity to join your party to make your day an event to remember.
Bonds Lake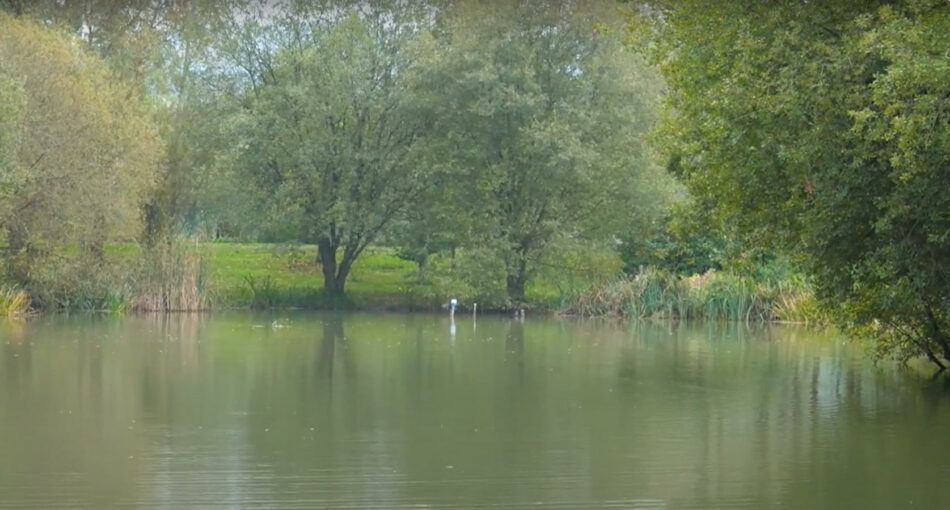 Situated just a few hundred yards from Old Bury Hill Lake, Bonds Lake and Milton Lake were completed in 1990 since when extensive landscaping has been carried out. Both waters have established a solid reputation for themelves and are equally as popular with anglers as the main Old Bury Hill lake.
Bonds Lake is the smaller of the two waters at two acres in size with 20 swims. This 'runs' water provides hectic action and is a great place for carp crunching with large numbers of fish.
8lbs carp, plus roach and tench
Described as being a youngster's dream, it holds plenty of carp to 8lbs as well as a good head of tench and roach, making it an ideal year-round fishery for both pleasure and club anglers.
A venue for beefy pole elastic or powerful float and feeder rods, Bonds regularly out-fishes all the other lakes due to the head of greedy carp. Method feeders or a straight leger cast to the island or down the margins with mini pop-ups on hairs is a successful way to catch the lake's carp, though pole anglers also catch their share on banded pellets over fishmeal groundbait.
Catching fish on Bond's lake
Pleasure catches of 10 or 20 carp are commonplace in the warmer months and the top match weight of over 300lbs makes it a good venue for club bookings. Bonds is a comfortable water to fish, being only four to five feet deep throughout although where there are lilies the bottom is even shallower at between two and two-and-a-half feet.
A pretty lake which is surrounded by irises with a large island in the centre, Bonds requires careful feeding and good baits are often all that is needed to bag up. Finesse is less important with so many fish competing for food, making the action hectic at times.
Milton Lake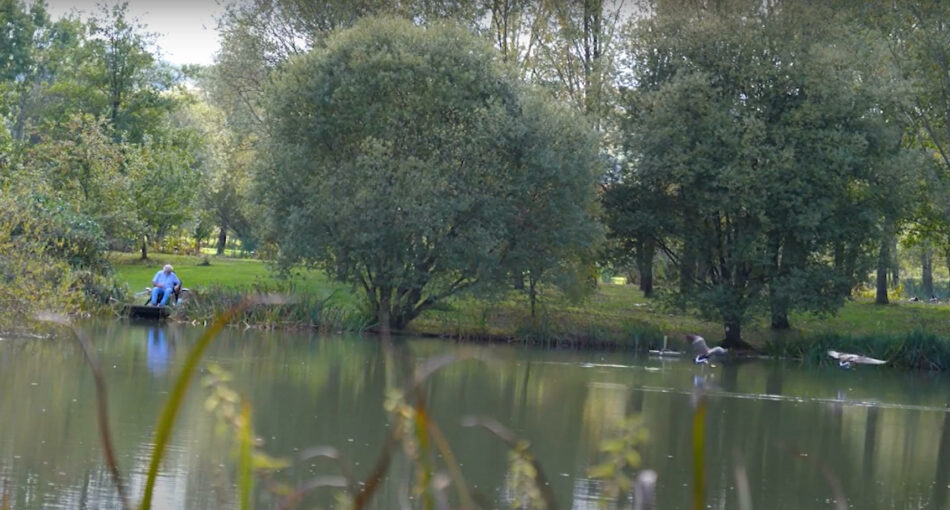 An ideal Tench and Crucian water
Bury Hill's Milton Lake was been described by angling personality John Wilson as: "One of the top tench and crucian carp waters in the country." When the lake is on form, 50 to 100 crucians can be caught at a sitting.
At three acres and with 30 pegs, Milton is larger than Bonds Lake and is noted for its huge stocks of crucian carp which run to just under 4lbs and tench to 7lbs as well as decent stocks of roach to 3lbs, rudd, golden rudd, skimmers, bream and smaller carp. This mix provides good year-round fishing with exceptional spring, summer and autumn angling when 250lb pleasure bags and 100lb match weights are regularly reported.
Fishing on Milton lake
With a depth of between two and five feet, although slightly deeper in the centre, it is a straightforward water to float fish on either pole or waggler. Fishing close in can pay dividends as there is a shelf which runs to about two metres out and fish can often be found patrolling this.
Once the water warms up, flavoured sweetcorn or small meat cubes fished under a waggler set slightly over depth are good baits. Trout pellet paste also makes for a good hookbait in warmer weather.
The policy in developing Milton has always been to limit both numbers and sizes of carp present which allows anglers who enjoy sport from crucians, tench and other smaller species to find a quiet corner.
All methods work at Milton from pole with its superior presentation at close quarters, against the reeds or lily pads, to waggler fishing. A feeder or ledger bomb are good for exploring further out or when conditions make float fishing tricky.
Soft hooker pellets, red or white maggots, casters, corn, worms, bread and meat are all reliable baits, and small balls of groundbait introduced on a regular basis seem to concentrate the fish.
Temple Lake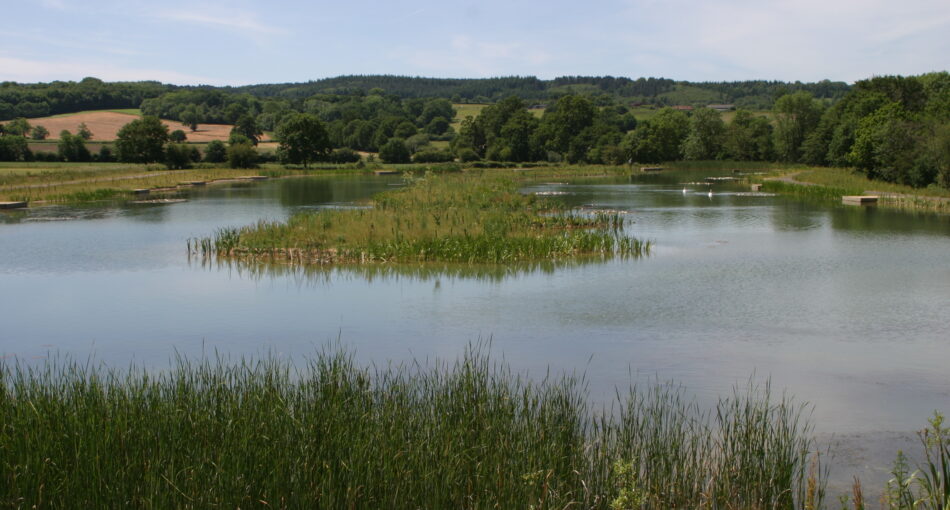 Situated directly behind Old Bury Hill Lake alongside mature parkland, Bury Hill's four acre Temple Lake is designed specifically for large specimen carp fishing and holds more than a dozen 30-pounders, at least two fish that are over 40lbs, an more than 90 20lb-plus pedigree English carp. The lake has four islands running down its centre which divide the two fishing banks. Hundreds of underwater features have been created on both the banks and islands creating fish holding points.
Described as Old Bury Hill's land of the giants, depths vary between six to 10 feet along the main channel with all swims having access to a choice of water depths to suit all weather conditions.
Plenty of space between anglers
To ensure each angler has plenty of space between swims, the new lake has just 15 large four-metre by four-metre purpose-built pegs designed to take the biggest bivvies and latest equipment. These have been set a minimum of 30 meters apart to provide fewer than four swims per acre.
Constructed from wood, the swims jut out into the lake to ensure a good depth of water right to the edge to allow the safe landing of big fish. The swims are free draining and have been lined with bark for comfort. The lake has breathtaking views and has been extensively planted with thousands of irises, reeds and lilies whilst the surrounding banks have been planted with hundreds of semi-mature trees.
Well documented carp
Temple's carp have been documented from stocking, ensuring that both members and fishery staff know exactly what the venue contains. Each carp has been tagged with a permanent microchip that allows it to be recognised through a unique 16-digit code, as used on valuable dogs, cats and other animals. The tags are invisible and harmless but allow staff and anglers to identify each carp with a hand-held scanner and to monitor its growth rate and capture patterns precisely. They also ensure that each carp is positively identifiable, for unrivalled fishery security.
Facilities on Temple Lake
Additional works have included a new access path from the boathouse to and around the new lake, a new toilet and kitchenette situated close to the new lake and a shower unit, which is located in the existing boathouse. The new lake is not accessible to visiting day ticket anglers and instead operates on a membership basis, with anglers paying an annual membership fee and a day and night ticket to fish. Advance booking is required for Temple Lake.
Membership on the lake
Membership is limited to anglers aged 18 and over although juniors are able to fish with an adult under a shared membership ticket, provided that both fish from the same swim. All anglers applying to join are carefully vetted to ensure they have the suitable equipment and the necessary experience to handle big fish.
The £350,000 project has resulted in the creation of a prestigious, purpose-built lake stocked with extremely large carp. Anglers interested in becoming a member of what must surely be one of the country's big fish waters should contact the fishery.
Prices
Bury Hill is open from 7.00am until 30 minutes before sunset or 9.00pm at the latest. Closing times are posted by the shop entrance. Boats 7.00 per person. Season tickets are limited to 100 per season and allow fishing from sunrise to sunset.
Day Tickets

One Rod
Additional Rods
Adults

Adults
14.00
6.00
Jr/OAP/Disabled

Jr/OAP/Disabled
12.00
6.00
How to get there
Bury Hill Fisheries can be found just off the main A25 Dorking to Guildford road less than a mile out of Dorking town centre.
The entrance to the fishery is clearly signed on the right hand side when travelling from Dorking.
There are also frequent train services from London and Horsham to Dorking station which is a short bus or taxi ride from the fishery.
Get directions on Google Maps
Comments