Angel of the North Fishing Lakes
Award-winning three lake pleasure fishery at Bassets Lookout near Chester-le-Street in County Durham with cafe and shop selling fishing bait and tackle. Awarded Gold Standard by Fisheries Accreditation Scheme, with tuition available from PAA coaches
Facts and features of Angel of the North Fishing Lakes
Awarded Gold Standard Fishery
Coaching available onsite
Onsite cafe and tackle shop
Pathways and flat banks around all pools
Day and season tickets available
Regular Open Matches available
Huge 500lb catches regularly taken
Awarded the Gold Standard by the Fisheries Accreditation Scheme, Angel of the North Lakes is part of a 64-acre farm just a few minutes drive from the A1 near the Washington Service Area and must be amongst one of the most progressive fisheries in the UK.
Three exceptional lakes
With three lakes, a reception-cum-cafe which serves food and drinks as well as a wide range of tinned and packet baits and a limited amount of tackle including rods, reels and whips, the fishery also stocks various colours of maggots with the exception of reds as well as worms and casters. It has clean and modern ladies and gents toilets, an education centre and a team of Professional Anglers Association coaches to Level 2 who offer both individual and group tuition for all levels of abilities.
Angel of the North is unusual in that the fishery is run by husband-and-wife team Ann and Arthur Adlington who are devout animal welfare enthusiasts. Their prime aim is to ensure that the health of fish and best angling practices rank equally high in their priorities.
A real focus on environment, biodiversity and conservation
To this end they not only run courses on angling but also offer a wide range of programmes and workshops focusing on the environment, biodiversity, conservation, animal welfare, aquaculture and equine management. The courses take in subjects as varied as dry-stone walling to the management of wildflower meadows.
It is not surprising, therefore, that they insist on a competent standard of angling. Indeed, all new visitors are given an informal introduction to the fishery and are asked to read the rules and ask any questions before being allowed to fish.
Anglers are asked to take extra care
At the same time, first-time visitors are told that all fish, however small, must be landed and unhooked in a landing net and only handled to be photographed. This may sound a little extreme until Ann explains that when small fish are 'swung in' their spines and internal organs are stretched and as a result the fish grow up either stunted or deformed. Another tip to reduce stress on fish it to turn them upside down before unhooking them. Apparently, this releases endorphins which calm the fish.
It has to be said that when Fisheries.co.uk visited Angel of the North there was not a single damaged fish in two separate nets of fish – one weighing 66lbs, the other 22lbs. The proof of the pudding, as they say, is in the eating!
Well respected by all anglers
Another proof is that when we visited the fishery there were plenty of anglers about. A group of a dozen or so youngsters were receiving coaching on the delightful Bassett's Pool whilst anglers on both main lakes were catching and couldn't speak too highly of the way Angel of the North is run. The fish were pristine and hard fighting, there was little or no litter on the banks and even the younger anglers were keen and well behaved making the fishery a pleasure to visit, they said.
Ann said: "I was criticised at first for introducing some of the rules on fish handling and the like but because of my background in animal welfare I have to make sure my livestock is top rate. It has taken several years, but we now receive a lot of very positive publicity because anglers realise that most of what we ask is just common sense and benefits the anglers themselves in the long run," she added.
Young anglers are educated
A nice touch is that, on their first visit all youngsters are given a full-colour booklet on angling which includes tips on fishing and buying the right tackle, illustrations of the different fish species they are likely to catch, diagrams of knots and a 'log book' section where they can keep a record of their early angling catches.
All three lakes at Angel of the North are in pristine condition with the pegs well-spaced and plenty of bankside vegetation. They should also improve over the coming years following the planting of several thousand trees, including several specimen varieties. With plenty of car parking, 'hexapath' pathways and flat banks around the pools, Angel of the North is suitable for disabled anglers and will not become overcrowded as fishing is allowed on only half the available pegs.
Wednesday mid-week daytime Open matches in 2021
With an entry fee of £25.00 all-in including a Golden Peg, Angel of the North is again to hold regular Wednesday daytime Open Matches in 2021 and continue with its Saturday open matches. The matches proved a great success in 2020 with records falling regularly (see below). If you would like to know more please contact the fishery on 0191 410 0449 or 07867 557974.
Angling tuition restarts in April
Costing just £25.00 per person per hour, angling tuition will be available at Angel of the North between April and October in 2021. The price covers everything needed including tackle, bait and Environment Agency Rod Licence. Please contact the fishery for details.
Lookout Lake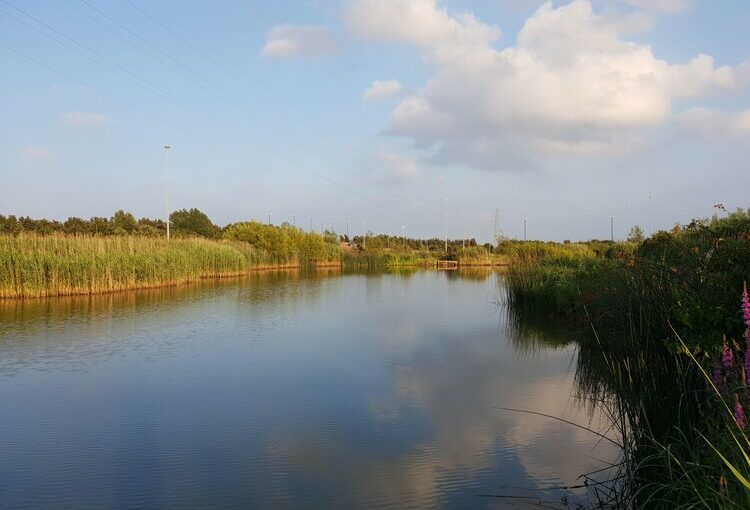 Capable of holding 75 anglers but never allowed to be fished by more than 30 at any one time, Lookout Lake is the water nearest the entrance to Angel of the North and is the fishery's main mixed pleasure water.
Lookout is known to hold a good mix of decent sized fish including crucian carp to an impressive 4lbs 1oz and averaging about 2lbs; green tench to 10lbs 5oz with the average between 5lbs and 7lbs; golden and blue tench to 3lbs; blue and golden orfe to 1lb 10ozs; ide to 3lb 8oz; roach and rudd to 1lb 12oz; dustbin lid bream to 10lbs 4oz and perch to over 3lbs.
And that's not to mention the carp, the best commons, mirrors and ghosties of which now go to over 20lbs with 3lb to 6lb fish being the average size. There are also some koi carp which run to about 10lbs.
Those going after the carp do well fishing 10 or 12mm pellets, quarter to half inch cubes of luncheon meat, maggots or even mussels, although anglers should note that floating baits and boilies are not allowed and that they should not loose feed meat or corn.
The best pegs for carp
The best pegs for the carp are said to be Pegs 1-3, 16A, 24-25, 33 and 42. Whatever species you are targeting, the waggler works well in warm weather while the pole is also popular. If the weather is windy – as it often can be in the North East – go onto the swingtip with free-running ledger tackle. Balanced tackle takes plenty of fish and the keynote is to keep things simple.
Whichever peg you fish, it pays to feed a swim to your left and one to your right at most two metres out from the bank. Fish on the bottom in cold weather and anything up top a foot deep in summer.
Keep feeding
Feeding the swim is critical to attracting fish into your baited area and then keep them there, feeding more hook samples and pellets in summer and little but fairly frequently in winter as little as three or four small pellets every few minutes. When loose feeding it is always a good idea to throw it high so it makes a splash as it hits the water and attracts the fish.
Good Tench pegs
Good pegs for the tench are those giving access to the channels at each end of the island and Peg 21. On these pegs, you need to plumb the depth accurately and fish dead on depth using chopped worms, maggots or casters. When going for the tench anglers are recommended to use 8lb line to a 5lb hook length and size 12 hook.
Sweetcorn, casters, maggots and pellets all work well
Although difficult to catch in cold weather, good bags of crucians, skimmers, ide and perch can be taken throughout much of the year on sweetcorn, casters, maggots and pellets – a good all-round bait at Angel of the North. These fish love hanging about near the island with the big fish being found at the bottom of the shelf in about six feet of water.
When going for the crucians 8lb line to a 5lb bottom is again recommended but drop down to a Size 16 hook and fish dead on the bottom. For general year-round fishing, the rudd can be taken on the drop after getting them to feed up in the water by throwing in samples of hook bait and using either single or double maggot, pellets or casters on the hook.
The roach also fall readily to maggots, casters and pellet with the fishery's own pellets being particularly successful, especially when soaked in warm water and left to chill down in a fridge overnight.
Bowes Lake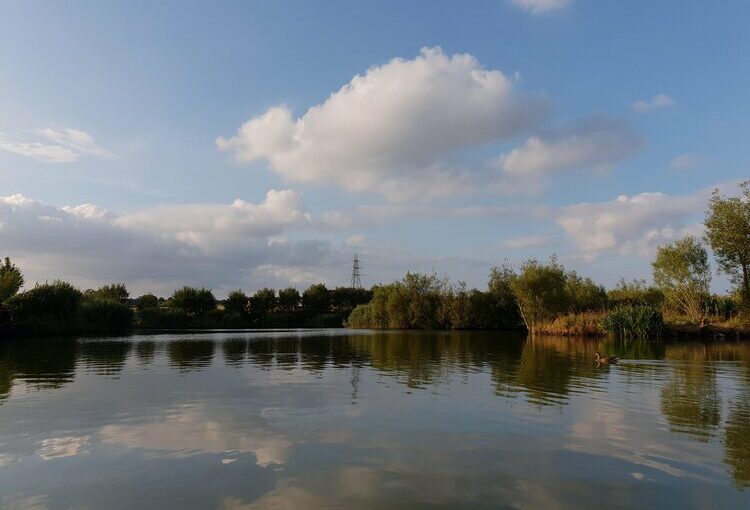 Holder of the venue match record at 602lbs, Bowes Lake is classified as the Angel of the North's mixed carp water with good heads of commons, mirrors and leathers. At three-and-a-half acres it is similar in size to Lookout Lake and has two small central islands.
Carp to 31lb have been taken
Aimed at the pleasure and match carp angler rather than the out-and-out specimen hunter, Bowes holds a lot of fish in the 5lbs to 8lbs range, about 100 around the 10lb mark, a similar number between 15lbs and 20lbs and quite a lot of fish running into the low 20s. The biggest fish to come out so far was a 31lb 7oz female common which was taken on three maggots waggler fished on a Size 12 hook.
Indeed, with the pole and swimfeeder, the waggler is again one of the three main methods for fishing this water, although ledgering to about a foot from the island can prove deadly.
Where to fish on Bowes Lake
Like Lookout and Bassetts the banks drop to about three feet in depth before hitting a three feet wide planting shelf and falling away again by another three feet to a maximum depth of six feet, although on both Lookout and Bowes there are no shelves around the islands.
Fishing the margins can be stunning in warmer weather and anglers using the pole are recommended either to fish in the sides or between six and seven metres out at the bottom of the marginal shelf.
Although all pegs usually fish well, the recognised 'hot spots' tend to be Pegs 1, 3, 5, 13, 17, 19, 21, 23, 25 and 37 to 40 – but don't worry if you can't get any of these as all parts of the lake can produce well in the right conditions.
Fishing in the winter
In winter or on colder days it can pay to fish between the islands from Peg 3 or Peg 23. Fishing from Peg 19 by the inlet can also be very productive. If fishing Pegs 1 or 40, fish in the margins for a bite a chuck, but be warned, some big fish have come from these pegs so you may need to scale up your tackle and be prepared for a fight.
Anglers are asked to note that on this lake there is a minimum recommended line strength of 14 elastic, 8lb line and a maximum of Size 12 hook – although you don't need to go large as a 29lb carp was once taken on the pole using just a Size 16!
Bassett's Pond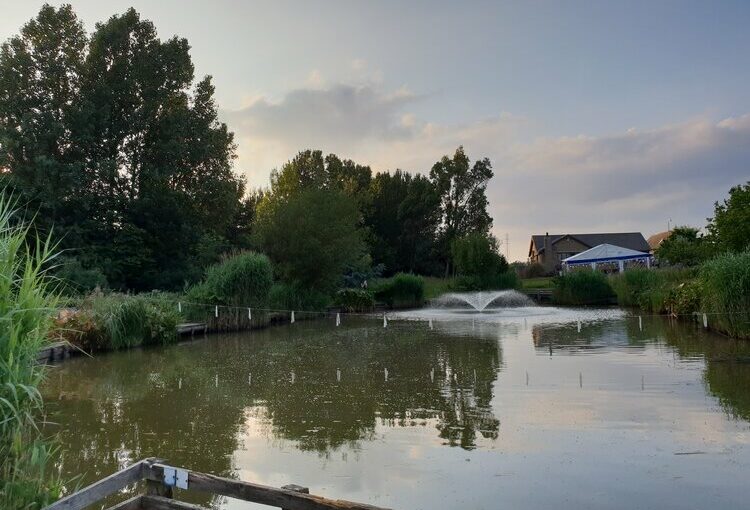 About a third of an acre in size, Bassett's Pond is a delightful pool stuffed full of fish which is ideal for younger anglers, beginners and those who want to be sure of catching a good bag of fish. It offers a total of 14 pegs, two of which are purpose-built for disabled anglers.
Well sheltered if a bit windy
Especially appealing in bad weather because it is so sheltered, Bassett's holds a good head of original stock carp to 6lbs which came from the famous Horseshoe Lake, although the average size of the majority of fish is between 12oz and 1lb.
Other species include handsome crucian carp averaging 1lb with some bigger than this; roach and rudd to 1lb 8oz and averaging a healthy 1lb; golden tench averaging 1lb 4oz; green tench to about 1lb; ide to a similar size; blue and golden orfe to 1lb 4oz; some ghosties to 2lbs 8oz and koi carp to 9lbs.
Where to fish on Bassetts
Whatever time of year you fish Bassett's Pond it pays to tuck in as tight to the side as you can get, fishing the top of the shelf at about two-feet-six-inches deep. Whilst you may need to drop down to the bottom where six feet of water can be found in extremely cold weather, this is best done only after you have first tried the margins and again you need to stay as close to the sides of the shelf as you can.
What are the best baits?
Best bait on Bassetts is either single or double maggot fished on fairly light tackle and once again it pays to feed little and often with a few freebies to keep the fish going.
In summer 6mm soft hooker pellets or yellow sweetcorn fished over a bed of Angel of the North's own feeder pellets can also be very successful, although you obviously need to feed heavier and more often than in cold weather. For some reason worm and caster do not produce well on this water so they are best left at home.
Which techniques work well on Bassett's?
All float fishing techniques work well on Bassett's but whether you opt to fish the whip, pole or waggler you need to rig up with 4lb line to a 3lb hook length and a Size 14 or 16 hook.
All-in-all it is easy to see why Bassett's is used as the training pool for youngsters as it is very attractive with easy access from the car park and plenty of bankside vegetation. Being easy to fish with a good selection of species, it should appeal equally to experienced anglers as to beginners and is well worth a visit if you want to be fairly sure of catching plenty of fish.
Prices
Day tickets must be purchased from reception prior to fishing. A limited number of Season Tickets are available for 2021 at £475.00 (adults) and £400.00 (concessions). Non-angling guests are charged at £5.00. All anglers must use a landing net and unhooking mat when handling fish.
Day ticket prices and times

Adult
Concessions
Day ticket one rod (8.00am - 8.00pm or dusk)

Day ticket one rod (8.00am - 8.00pm or dusk)
15.00
12.00
Day ticket two rods (8.00am - 8.00pm or dusk)

Day ticket two rods (8.00am - 8.00pm or dusk)
23.00
20.00
Non fishing guest (anytime)

Non fishing guest (anytime)
5.00
5.00
Seasonal opening times

Open
Close
January & December

January & December
8.00am
4.30pm
February & November

February & November
8.00am
5.00pm
March & October

March & October
7.30am
6.00pm
April & September

April & September
7.00am
7.00pm
May to August

May to August
7.00am
8.00pm
How to get there
If you are approaching from the North on the A1 - Pass the Angel of the North signposted Birtley and the A167 and then take the next slip road signposted A1231 and Sunderland, known locally as the Bowes Incline.
Turn left at the roundabout toward Wrekenton (Rockcliff Way) then turn left after approximately 50 metres into the entrance for Angel of the North Fishing Lakes.
If you are approaching from the South on the A1 - Pass Washington Services and take the next slip road signposted Birtley and the A167
Do a U-turn at the roundabout to bring you back onto the A1, heading South.
Keep to the inside lane and take the next slip road off signposted A1231 and Sunderland, known locally as the Bowes Incline.
Turn left at the roundabout toward Wrekenton (Rockcliff Way) then turn left after approximately 50 metres into the entrance for Angel of the North Fishing Lakes.
Get directions on Google Maps
Latest upates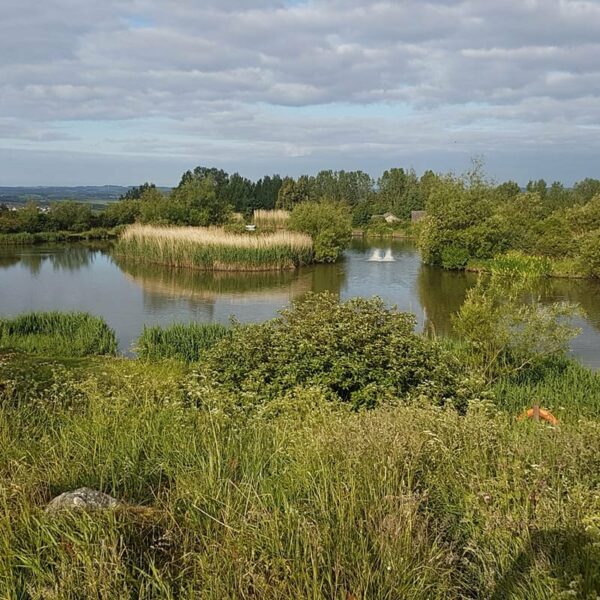 Angel of the North Fishing Lakes records tumbled with a huge haul of 602lbs taken by Angel regular Andy Hudson setting a new lake record on Bowes in the autumn.
Comments