Yeo Farm fishing and holidays
Part of a 12th Century 146-acre riverside estate, Yeo Farm offers fishing breaks and angling holidays with a difference alongside a two mile stretch of Devon's River Avon
What's on offer at Yeo Farm Estate
Two miles of private fishing on River Avon
Salmon, sea trout and brown trout fishing
Hire of luxury Devonshire farmhouse
18ft diameter Tipi bell tent camping
Airstream caravan available
Wild swimming in part of the river
Residents can also fish nearby stillwater trout fishery
Yeo Farm specialises in offering angling holidays with a difference.
Providing everything from exclusive rental of a six bedroom luxury farmhouse for families and groups to riverside camping, Yeo Farm will appeal to those who are looking for an angling holiday with a touch of class as well as to those who prefer alfresco living and outdoor dining whilst staying in one of the eight spacious and well equipped riverside tipi wigwams, their own tent or campervan, or Yeo Farm's trendy on-site Airstream caravan.
Tastefully decorated luxury farmhouse
To be found to the north of Kingsbridge in a delightfully rural setting, Yeo Farm's luxury farmhouse is tastefully decorated with a modern clean interior which provides everything a family or group could desire including private arctic hot tub and sauna. It is available for a minimum stay of three nights.
The six bedrooms sleep up to 13 people. Three of the rooms have Super King beds with one of these rooms having its own en-suite bathroom. Another bedroom has a King size bed whilst a fifth comes with two single beds and the sixth with a King size bed and a single bed.
In addition to the hot tub and sauna, Farmhouse guests have access to all the facilities on site.
12-acre Safari style camp
An alternative is Yeo Farm's 12 acre safari style camp which will appeal to anyone who loves the outdoors. In addition to the watertight tipi wigwams there is a large and luxurious safari canopy with large dining table, lights and heater whilst outside there are fire pits, BBQs and picnic tables.
Each tipi wigwam is well equipped with smoke flaps, rain hoods, carpets, a comfortable double bed, chest of drawers, candles, lights, storage space as well as solar shower bags and fresh water. All that visitors need to take is their own bedding, pillows and linen.
For guests who enjoy shooting, Yeo Farm provides a rough shoot and can arrange for guests to enjoy clay shooting and target shooting.
Two miles of Devon's River Avon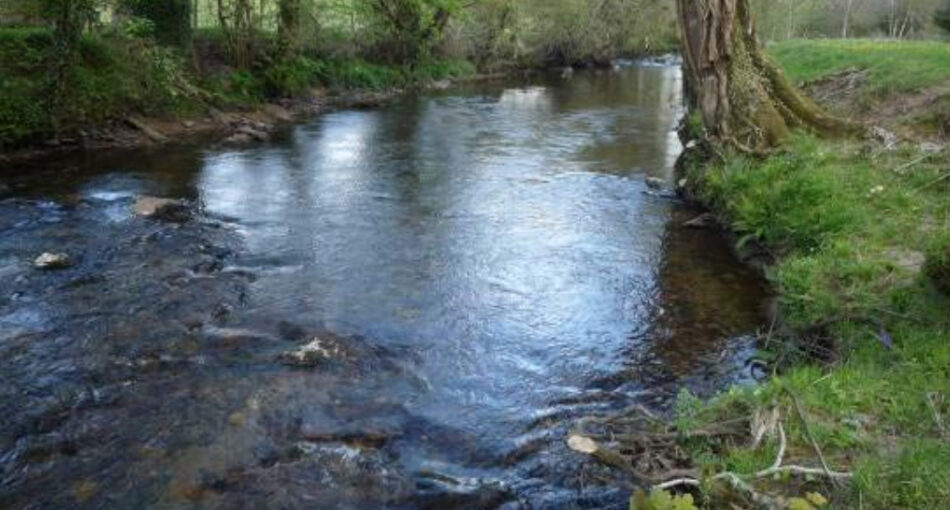 An interesting water with a good reputation for its brown trout, the Avon provides salmon and sea trout fishing in spring and autumn and delightful dry fly fishing during the summer.
One of the finest trout streams in the West Country
Although not fished as much as some of the other rivers in Devon, it is widely regarded by those who know it as one of the finest trout streams in the West Country.
A good fly and spinning river, Yeo Farm's section of the River Avon offers a mix of lovely pebble runs and riffles with about half a dozen pools and extends from Topsham Bridge near Loddiswell upstream for approximately two miles. The top boundary is marked by an old Victorian boat house. Being only relatively shallow through much of its length there is no need to wade to reach the fish.
Important for salmon and sea trout
Because Yeo Farm is only four miles from the estuary, this section of river is classed by the Wild Trout Trust as very important for migratory salmon and sea trout.
Although there are not a lot of holding pools for larger migratory trout or salmon, there are several superb pools which hold good numbers of fish during summer. In between the pools there are long sections of shallow glides and riffles.
An excellent spate river
An excellent spate river, there are usually good runs of sea trout from late August through to November with fish between 2lbs 8oz to 6lbs being taken. The salmon are usually seen from September through to the end of November. In 2021, about half a dozen fish were caught, the best of which tipped the scales at 17lbs before being released. The Yeo Farm stretch also holds a good stock of indigenous brown trout to about 1lb 8oz.
Because the Avon at Yeo Farm is not a large river, seven to eight feet long rods are recommended. Anglers targeting the salmon tend to fish orange and white or gold and speckled red Meps spinner or various patterns of tube fly to a 10lb line.
Meps spinners and wet fly patterns work well
Meps spinners and wet fly patterns tied to lighter 6lb or 7lb lines tend to work well for the sea trout whilst lighter lines are needed for the aggressive brown trout which give a good account of themselves when hooked.
Good dry fly patterns for the brown trout include Black Gnat, Daddy Long Legs and mayflies whilst anglers who prefer to fish wet flies find the ever popular Coch-y-Bondhu and Spider patterns attract the takes.
Residents can also fish a nearby stillwater trout fishery
As an alternative to the fishing the river, residents who fancy a change can also fish the nearby Newhouse stillwater trout fishery at Moreleigh which is affiliated to Yeo Farm.
Wherever guests choose to fish, Yeo Farm can also cook and serve your catch to add that extra taste of luxury during your stay.
Prices
Please contact Yeo Farm for details of availability and prices
How to get there
Take the M5 south to the end of the motorway
Continue onto Devon Expy/A38 following signs for Plymouth/Torquay/A380
Take the A3121 exit towards Ermington/Modbury/Yealmpton/A379
Turn left onto Kingsbridge Road and follow the A3121
Slight left onto B3196
After Sampson Agricultural Services and South Devon Chilli Farm make a sharp left towards Topsham Bridge
Get directions on Google Maps
Comments