Portsonachan Angling Holidays
Describing itself as Loch Awe's Best Kept Secret, Portsonachan offers a range of accommodation for a perfect Scottish angling holiday
10 good reasons to visit Portsonachan
Stunning hotel oozing character and charm
Selection of pet friendly accommodation
Woodland lodges with private hot tub, sauna and BBQ
10 stylish Lochside apartments
Boats and fishing tackle available
Portsonachan Hotel and Self-Catering Lodges is arguably the most picturesque holiday destination in Argyllshire. Its spectacular location and breathtaking views won it 'Scotland's Most Scenic Hotel and Lodges Award' in 2022.
Portsonachan is offering visitors to Fisheries.co.uk a special introductory offer: One night stay for two people sharing a twin room including Full Scottish Breakfast with fishing and boat membership with one gallon of fuel for £200 or a two night stay including two days fishing and boat membership for £350
A wealth of angling opportunities in stunning surroundings
Situated on the banks of  Loch Awe, Portsonachan offers the opportunity to combine a holiday in stunning Scottish scenery with a wealth of opportunities for coarse and game fishing, golf vacations, sailing on the loch or simply discovering the West Highlands.
Some 24 miles long and quite narrow, the loch is the longest freshwater loch in Scotland and offers a mix of shallow, sandy, rocky and reedy areas to fish to. Portsonachan is one of the largest riparian owner's of the Loch. As a result guests can fish on the loch from a boat and the hotel's foreshore free of charge for all variety's of fish with boats and equipment available.
Famous for its record breaking brown trout and big pike
Although Loch Awe is famous for its wild brown trout, having broken the British rod-caught record four times in the last decade, It is its reputation for good mixed bags of 8oz to 3lb trout that attracts the majority of anglers. The trout season runs from March 15 to October 6 whilst coarse fishing is available all year round. Please note, however, that in keeping with strict Scottish tradition, angling for salmon is not allowed on Sundays.
In addition to fantastic trout fishing the loch also has a reputation for its very large pike with the current record standing at an impressive 35lbs 8oz. Pike fishing is open all year and can provide some excellent winter sport particularly in the larger reedy bays when fishing from the shore or boat.
Portsonachan has a range of accommodation
Portsonachan has a range of accommodation options including staying in the main hotel, one of the pet friendly Coach House apartments, the 10 one-bedroom stylist Lochside apartments or a self-catering Woodland Lodge. Dog beds and bowls are available on request and treats and toys are provided for four legged guests.
The Portsonachan Hotel
Each of the rooms at the Portsonachan Hotel are individually decorated giving each one its own unique feel. All rooms have an en-suite bathroomn and come with TV, tea and coffee making facilities and hairdryer.
Three types of room are available including standard double or twin, loch view double or twin and a loch view family room.
The Coach House
Set in a picture perfect location, the Coach House offers pet friendly one and two bedroom apartments, suites and standard double and twin rooms.
The one bedroom self-catering apartment comes with a double bedroom, bathroom, kitchen and lounge suite and some with sofa bed whilst the two bed self-catering apartment has a double bedroom, one twin room, a bathroom, kitchen and living area with sofa bed.  The self catering two bedroom Coach House apartment has a double bedroom, one twin room, two bathrooms, kitchen and living area with sofa bed.
In addition to the apartments the Coach House also has a one bedroom suite which comes with breakfast in the hotel, a double bedroom, bathroom and living area with sofa bed. The cosy Coach House double or twin room also has en-suite facilities.
The Woodland Lodges
The Woodland Lodges provide a wonderful wilderness experience with all the modern amenities.
Situated on the banks of Loch Awe are several self-catering traditional log cabins which provide a perfect get-away destination for holidaying with friends or family. Some of the lodges offer a hot tub and sauna and are fully furnished with everything you need in a  "home from home" holiday including a fully fitted kitchen.
The Woodland Lodges come in three formats. The three-bed lodges sleep one to six although extra people can be accommodated on request. It comes equipped with three bedrooms, two bathrooms, a private outdoor hot tub, sauna and barbeque.
The two bed lodges can sleep up to six people and offer two separate bedrooms, two bathrooms, a lounge, kitchen and dining area. A sauna and hot tub are also offered.
The one bed lodges can sleep up to four people and offer a separate bedroom, bathroom, kitchen, lounge and dining area.
​Lochside Apartments
The one bedroom Lochside Apartments offer a self-catering option located just steps away from the hotel. With a full furnished double bedroom featuring en-suite bathroom and contemporary shower room downstairs, the apartments have a fully fitted kitchen and lounge area. Private patios which are accessible through French doors enable guests to take in the stunning scenery as  they overlook Ben Cruachan and Loch Awe.
The Cruachan Restaurant
The Cruachan A La Carte Restaurant offers fresh local and seasonal produce with a focus on the best that the West of Scotland has to offer. With beautiful loch views, it also caters for vegetarians, vegans and guest with particular dietary requirements. A takeaway service is available.
A flyover of Portsonachan
There's great fishing to be had on Loch Awe
Famous for its wild brown trout, having broken the British rod-caught record four times in the last decade, Loch Awe is also a great coarse fishery with a full mix of coarse fish including large pike which are known to run to an impressive 35lbs 8oz, as well as a decent head of salmon.
Portsonachan is one of the largest Riparian owner's of the Loch and our guests can fish on the Loch from a boat and the Hotel's foreshore free of charge for all variety's of fish.
Fly and coarse techniques both work well
Most anglers going after the brown or rainbow trout and char tend to fly fish using wet varieties or loch patterns on size 10 to 16 hooks, although traditional coarse fishing techniques using a float or ledger with worm or maggot is totally acceptable. Spinning Mepp, Rapala or Toby lures is also successful, although anglers are advised to fish fairly light tackle using up to 6lb breaking strain line.
The first few months of the season generally provide the best fly fishing for wild brown trout, before fish move into deeper water, and at the back end of the season when the fish move back into shallower water. Traditional drift fishing over shallower water during these times can  produce nice baskets of hard fighting brown trout averaging 12oz with fish of 1lb to 2lb not uncommon.
The trout fishing season runs from 15 March to 6 October.
Loch Awe is great for pike fishing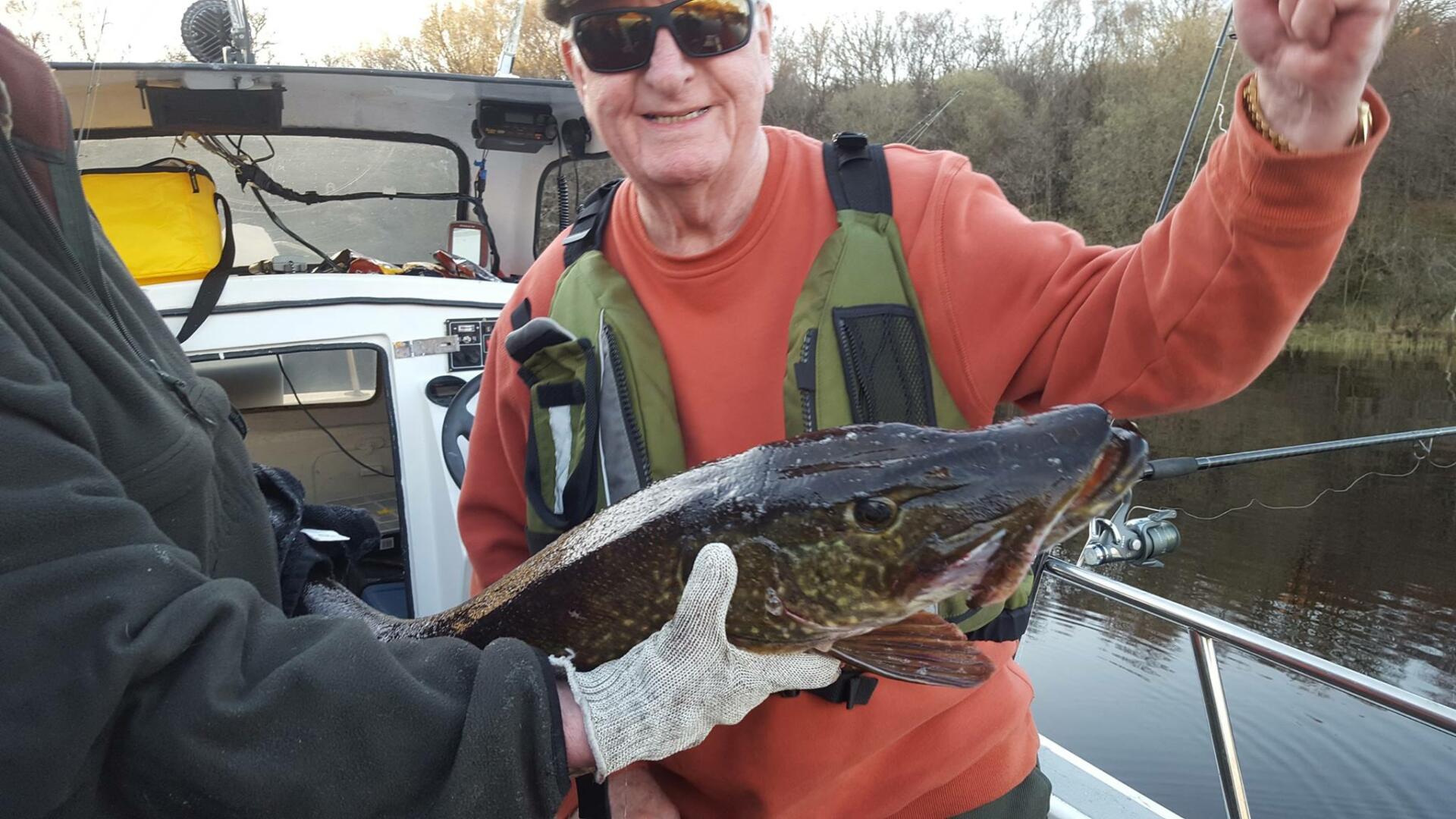 In addition to general coarse fishing for perch, roach and eels, Loch Awe is great for year round pike fishing with the winter months providing excellent sport from the shore or boat, particularly in the larger reedy bays. The most popular method is to fish a dead bait such as mackerel, herring, sardine, sprat or smelt  on a wire trace and using two or three Size 6, 8 or 10 treble hooks. Anglers should note that fish with live baits is not allowed.
Fishing for pike by Kilchurn Castle is covered by a separate permit which is available through Kilchurn Pike Fishing. Permits cost from £6 per day. Phone 07884 183905 for details.
A good guide to fishing Loch Awe can be found at https://loch-awe.com/things-do/fishing-on-loch-awe/ .
There's plenty more game fishing nearby
In addition to fishing Loch Awe, Portsonachan is also an ideal venue for fishing local rivers including the River Orchy, the main spawning stream for the Loch Awe system with an annual catch in the region of 300 salmon. In 2014 the Dalmally and Craig Lodge Beats were combined to form the River Orchy – Dalmally Fishings – Beats 1, 2 and 3 situated on the middle and lower reaches of the river amid the majestic scenery of Glen Orchy. To the east is the 2,529 ft Beinn Udlaidh and to the west, Beinn Donachain, 2,125 ft. The minor public road (B8074) runs alongside the river between Bridge of Orchy and Inverlochy just east of Dalmally.
Visit www.riverorchyfishing.com for more information.
At Inverawe three trout lochs and a salmon river offer the opportunity for a great day's fly fishing for anglers of all abilities. The lochs are stocked daily with prime hard fighting fish whilst one ticket covers fishing on any of the three lochs – the Hydro Loch down by the river, the Inverawe Lock which overlooks the house and the Lily Loch which is situated in the woods. The Lily Loch is catch and release only.
The mile and a half of the River Awe provides some excellent if not challenging salmon and sea trout fishing. The Angling School is ideal for the beginner or those who want to freshen up on their technique.
Morning tickets are available between 9.00am and 10.00 and afternoon tickets between 1.00pm and 2.00pm.
For more information visit https://scottishtrout.com/fisheries/inverawe-fishery/ .
Comments