Nine Oaks Holidays and Angling Centre
Day ticket coarse and trout fishing plus holiday accommodation near New Quay. Interesting pools with plenty of features.
Nine Oaks Holidays and Angling Centre facts and features
Three coarse and three trout pools
Anglers Lodge, toilets and tackle shop
Welsh Tourist Board Four Star accommodation
Purchase day tickets on arrival
Carp to 20lbs plus bream to 10lbs and tench to 7lbs
Rainbow, blue and brown trout to 7lbs
Equipment provided if required
Half-price fishing tickets for residents
Many pegs suitable for disabled anglers
Nestling in the Welsh countryside in a naturally beautiful setting just a few miles inland from the coastal villages of New Quay and Aberaeron on Cardigan Bay, Nine Oaks Holidays and Angling Centre offers some excellent day-ticket coarse and trout fishing plus holiday accommodation.
4-star accommodation
To be found on the outskirts of the little hamlet of Oakford, the venue currently provides two coarse lakes, three trout lakes and a former stock pond which has been converted into a childrens' pool. The accommodation is some of the best available in the area and is suitable for both fishing or family holidays with two 4-star apartments within the curtilage of the owner's bungalow and two static caravans. For further details of current offers on accommodation and to book, please visit the venue's own website.
Run by Graham Dalton and his wife Michelle who took over the fishery November 2022, the couple have carried out extensive work removing and cutting back trees which had become intrusive around the pools.
A brilliant family fishing holiday
For anglers who want to stay at Nine Oaks there are two Welsh Tourist Board Four-star rated apartments in the main house and two caravans near the pools. On site there is an Anglers' Lodge and toilet where visitors can make their own free tea or coffee. Residents who want to fish the trout pools also receive half-price fishing on catch and release tickets.
Although Graham and Michelle don't currently serve food, anglers can have it delivered from nearby take-aways.
Adjoining the lodge is a small tackle shop which sells everything anglers need for a day's fishing including rods, reels, terminal tackle and accessories for both coarse and fly fishing.
Potential visitors to Nine Oaks can check accommodation availability and prices on Nine Oaks' own website, a link to which can be found higher up this entry. Please note that the venue offers reduced rates for visitors who book directly with them, so potential guests should telephone or email the fishery directly rather than use the booking link on their own website which leads to a third-party booking agency.
Access and tickets
Unlike some fisheries, there are no bait bans at Nine Oaks but as with most other fisheries anglers should use only barbless hooks. Anglers should purchase their day tickets on arrival at the fishery – which opens at 7.30am on weekdays and at sunrise at weekends and Bank Holidays. Fishing is allowed from opening until sunset. Access to the fishery is permitted before the arrival of the owner, anglers are requested not to enter private areas, climb gates, cause disturbances or create unnecessary noise. Anglers who arrive early should purchase their day ticket when the shop opens. The shop generally closes at 6.30pm in summer.
A great coarse and trout fishery
With carp running to 20lbs, roach to over 2lbs, golden and green tench to 6lbs, bream to an impressive 10lbs, grass and koi carp to 10lbs and reputedly eels to over 2lbs which are rarely fished for, the coarse fishing is nicely varied and fairly straightforward, whilst Main Coarse Lake, with its bays, promontories and abundant trees, shrubs and bankside vegetation, provides plenty of features to fish to.
The fly-only trout fishing is equally impressive with rainbow, blue and brown trout to 7lbs in all three trout pools, making Nine Oaks a truly rounded fishery for stillwater anglers of all tastes, whether just looking for a pleasant day's fishing whilst on holiday or on the scout for more serious sport. It is hardly surprising then that Nine Oaks is developing a reputation as a quality fishery where the surroundings are as important as the angling, where families and children are welcome and where the accommodation is homely and clean within easy striking distance of some of the best beaches and resorts on the west Welsh coast.
Night Fishing
Night fishing is by prior appointment and is subject to specific safety conditions including that, for safety reasons, there must be at least two anglers fishing together using a maximum of two rods each and using a bivvy, tent or similar all-night cover. Anglers must not take petrol or similar combustible material near the sides of the lakes and should always use an unhooking mat. Anglers should also go equipped with at least one proper Night Lantern or lighting for the base area and should wear a headlight. Waterproofs are recommended and spare warm clothing and a blanket should be available in case of accidents.
Match Fishing
Competitors should retain only a maximum of 50lbs of fish in any one keep net. Automatic disqualification and maximum points will be imposed if this rule is not adhered to. Competitors should also use a maximum of two keep nets, one for silver fish and the other for carp. No mixed nets of fish.
At the weigh-in, all fish of 5lbs and over should be weighed separately, witnessed and recorded, then released and at the end of the match all competitors must clear their peg of all rubbish and belongings.
Keep up-to-date on Facebook and Instagram
Anglers can keep up to date with latest developments and Special Offers at Nine Oaks by visiting their Facebook and Instagram pages.
Main coarse fishing lake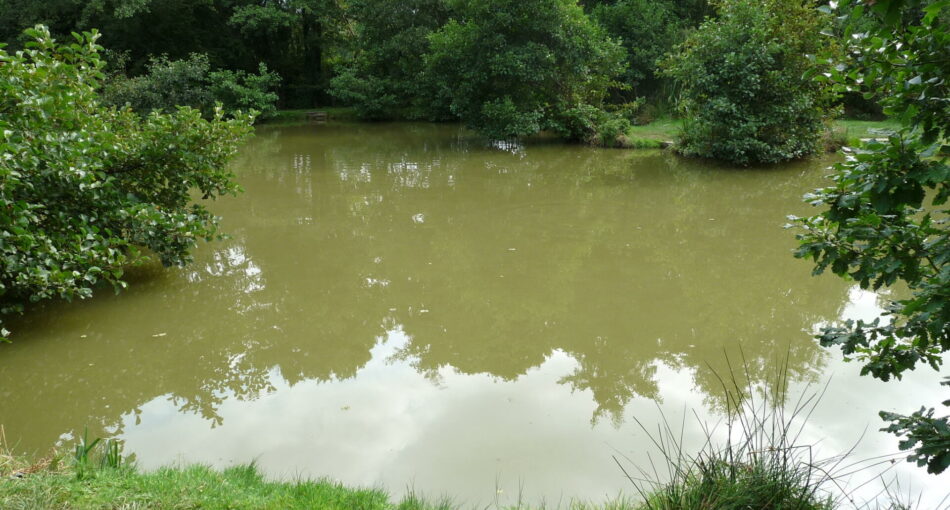 The largest and most popular of the Nine Oaks' three coarse pools, Main Coarse Lake is easily accessible from the car park and is surrounded by well maintained level grass banks plus plenty of trees, shrubs and marginal plants which make it an attractive and easily accessible lake for both able bodied and disabled anglers.
Some stunning Koi hybrids and grass carp
At one-and-a quarter acres in size, with 35 pegs and mainly between three and four feet deep throughout, Main Lake is an easy water to fish and holds a good variety of species including common and mirror carp to the mid-20s but averaging 5lbs to 6lbs; ghosties to 15lbs; and some mirror/koi hybrids which are known to run to 15lbs. There are also a few grass carp which run to 10lbs and which are dogged and determined fighters.
Tench to 7lb and good sized bream
In addition to the carp there are good heads of silver fish including roach to 2lbs-plus and averaging 12ozs, green and golden tench known to run to 7lbs with several fish having reportedly been netted to 9lbs, eels to over 2lbs and bream averaging 3lbs to 4lbs although the largest bream to have been caught was too large to fit into a 24-inch landing net.
Loads of features in a beautiful setting
The ease of fishing, accessibility to the water and the variety of species make Main Lake popular with both young and older anglers, experienced and inexperienced with all standing a good chance of catching decent fish. Another attraction of Main Lake is that it is full of features including plenty of bays, an undulating bed with gullies and drop offs and plenty of overhanging trees, bushes and bankside vegetation to provide cover for anglers and fish alike.
There are few snags and the bottom comprises mainly clay and stones which provide a clean bottom. This means that margin fishing is excellent and popular either on the bottom or on the surface with a good number of fish being taken close in. The overhanging trees and bankside vegetation also mean that stalking the margins for carp in summer can be very productive. Indeed, the fishery has been rated by 'Improve Your Coarse Fishing' magazine as amongst the six best fisheries in the UK for surface fishing for carp.
Although Main Coarse Lake is not deep, it is definitely worth plumbing the lake to find the hidden features. Ledger fishing on Main Lake can be very productive with either a standard bomb or Method feeder packed with Vitalin and sweetcorn with two corn kernels in the hook.
What baits work well?
When it comes to baits, as with most fisheries almost anything goes, although most popular and successful on Main Lake tend to be sweetcorn, soft hooker pellets, maggots and bread fished on the bottom. Floating bread, bread crust or bread flake which is allowed to sink slowly through the water can be deadly during balmy summer afternoons and evenings whilst the fish seem to be particularly partial to luncheon meat smeared in peanut butter!
Dog biscuits and bread crust fished on the surface early morning and evening are also popular, as are pieces of tinned tongue, cat food or raw sausage fished in the margins with a pole float for sensitivity for the lightning fast takes. Don't attempt to fish Nine Oaks using 'big pit' tactics as it pays to fish using 4lb to 6lb line with a suggested maximum of 8lbs and recommended hook sizes of 10s or 12s tied straight through – a technique which doesn't even put the roach off! Thick lines and big hooks, however, will put them off.
House Pool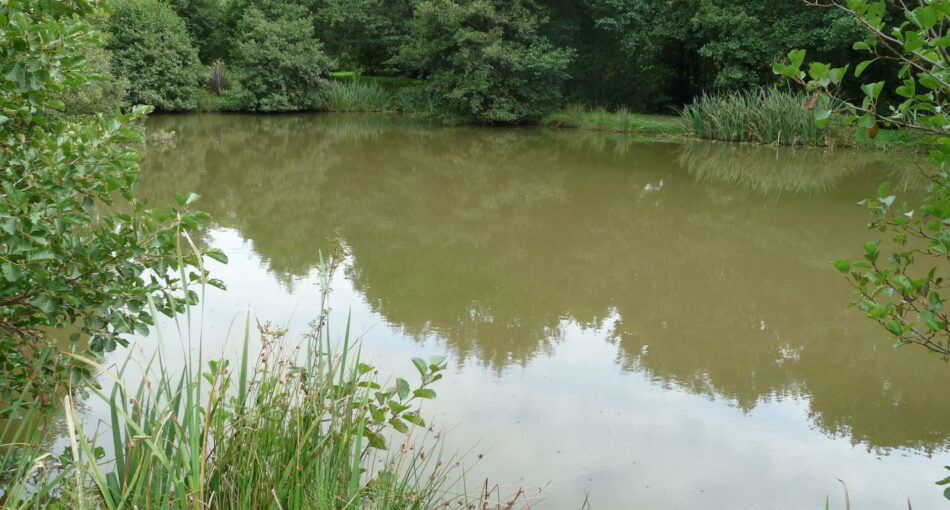 On entering the fishery, House Pool is on the left. Smaller and more uniform in shape than Main Lake, it has a nice bed of lilies which provide a good feature to fish to and a good depth of between eight and 10 feet. About half an acre in size and offering a total of 12 pegs, House Pool holds a 40/40 mix of carp and roach with about 15 per cent bream and skimmers and five per cent tench. The carp include commons, mirrors and ghosties up to 23lbs plus at least three grass carp which go to 16lbs.
Roach to over 3lbs have been caught
At an average of three-quarters of a pound and running to two-and-a-half pounds, the roach are in beautiful condition with a lovely blue sheen. A few years ago one angler reported he had caught a 4lb specimen which he said measured 14 inches from the tip of its nose to the fork of its tail. The tench run to about 5lbs and average between 2lbs and 3lbs whilst the bream run to 4lbs with plenty of 1lb-plus fish and good sized skimmers.
Unlike Main Lake, House Pool has a three-to-four feet deep shelf about six feet wide which drops off quickly to between seven feet a rod length out from the bank. The depth in the centre is between nine and 10 feet. Even by the lily pads the water is between five and six feet deep, and here it pays to fish mid-water on the waggler, off and not in the lilies.
As with Main Lake, House Pool has few snags, but because of the carp anglers are again recommended to use size 10 or 12s hooks and 4lb to 6lb line. Pole anglers should step up accordingly or they too will be broken as a Size 12 elastic will be stretched to the limit when a decent fish takes the bait.
Easily lose track of time fishing on House pool
The fishing can be prolific in House Pool, which is why it is becoming increasingly popular with Nine Oaks' regulars. Again, once up the slope to the pool the banks are suitable for disabled anglers. With its peace and tranquillity it is easy to forget time on House Pool – which makes it a great place to get away from other anglers and at the same time stand a good chance of catching decent sized fish.
Again, as with the Main Lake, one of the secrets of House Pool is that presentation is paramount and anglers should keep things as simple as possible. Fishing sweetcorn, maggots, bread or pellets over a bed of pellets is a great way to start fishing and should lead to positive results. Fishing floating bread or dog biscuits can also produce excellent results on warm afternoons and evenings.
Weir, Pallen and Derwen Trout Pools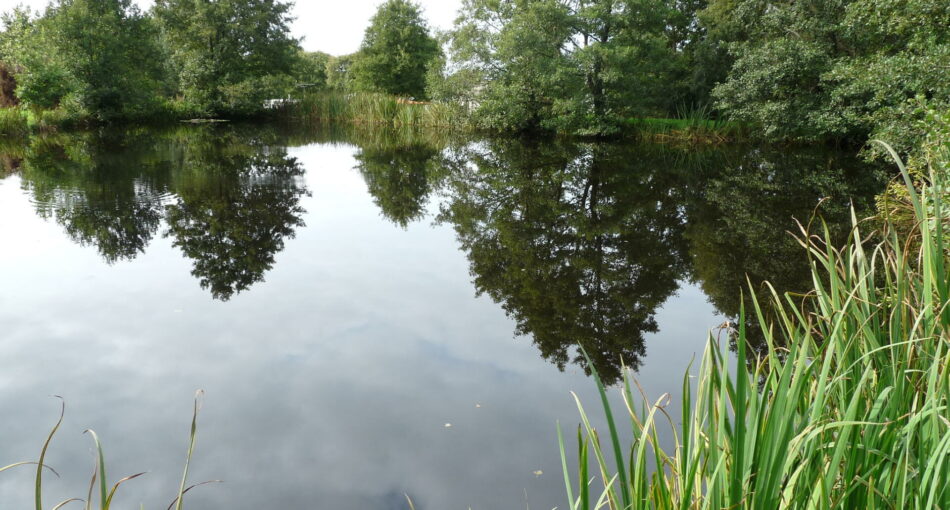 Stocked with rainbow, blue and brown trout in the 2lbs to 5lbs range, Weir, Pallen and Derwen Trout Pools are well established waters in a delightful setting with the fish often to be seen cruising around the pools. However, seeing the fish and being able to catch them are two completely different things!
Available on both 'Catch and Take' and 'Catch and Release' basis, all three pools are single fly-only waters with depths ranging from eight to 13 feet and with sloping sides which go straight to the bottom. Weir and Derwen are the largest of the three waters offering some six fishing stations each whilst Pallen, the smallest, has four stations.
Fishing on all three pools has been greatly improved since Graham and Michelle bought the fishery following the removal or cutting back of many intrusive trees and shrubs which were making casting difficult.
Change flies often
As one would expect, anglers are advised to watch closely to see which type of fly are rising from the water and then try to imitate them as best they can. This can often mean changing flies regularly until you find which the fish are taking. Certainly the better anglers change their flies regularly and not at half-hour intervals.
Most anglers fishing Weir, Pallen and Derwen tend to use a floating line with a sinking tip, particularly with a Gold Head, Damsel or Diawl Bach fly. In Derwen, however, the fish are known to be partial to a pink coloured fly.
A natural feel to the pools
Because all three pools are surrounded by trees and shrubs, casting can be challenging in places and anglers need to be adept at the flick or side cast to avoid becoming tangled in the trees. However, this adds to the charm of the waters giving them a very 'natural feel whilst at the same time providing anglers with cover from the fish in the clear water.
Comments