Yet-y-Gors Fishery and Campsite
Enjoy a peaceful fishing holiday on four well stocked lakes with camping
What's on offer at Yet-y-Gors
Four well stocked fishing lakes
Comfortable static caravans
Hardstandings for motorhomes, caravans and tourers
Modern wetrooms and showers
Well behaved dogs welcome
Open all year for fishing
Angling tuition available
Offering both day-ticket fishing and angling holidays near Fishguard in Pembrokeshire, Yet-y-Gors has four lakes, four and six berth static caravans and a campsite with facilities for tourers, motorhomes and grass tenting on a peaceful 17 acre site. The venue also has an on-site Bait and Tackle Shop which stocks maggots and other bait and a variety of terminal tackle.
The lakes suit anglers of all ages and abilities
With the emphasis placed on making Yet-y-Gors a friendly and relaxing venue, the fishing lakes are well stocked with carp and a range of silver fish to suit anglers of all ages and abilities, from specimen hunters to those who simply love wasting away a few hours watching a float and catching whatever comes along.
In addition to being available for those staying at the venue, the fishing is also available on day ticket for locals and visitors to the Pembrokeshire area. Even if you're not staying at Yet-y-Gors you can still turn up and fish!
For details of upcoming matches anglers should visit the fishery's Facebook Page at https://www.facebook.com/yetygors.
Static caravans
Both the four berth and six berth static caravans at Yet-y-Gors have views across the lakes.
The four berth caravan will sleep up to four people and has a twin bedroom and a double bedroom. It features a full sized, fully equipped kitchen plus a spacious living room. With lots of comfortable seating, the living dining area has wide windows looking out over the site and onto the lakes. A fold out dining table is perfect for family meals and evening card games. There is a TV with a built in DVD player. The kitchen is fully equipped with utensils, cutlery and crockery. It has a fridge, microwave, oven and grill with four gas burners, kettle and a toaster. The shower room has a shower, toilet and basin. There is also a handy spare room for luggage.
With its two twin bedrooms and one double bedroom, the six berth van will sleep up to six people comfortably. Offering plenty of comfortable seating, the living and separate dining area have wide windows looking out over the site and onto the lakes. The dining space is perfect for family meals and evening card games. There is a TV-DVD player. Like the four berth caravan, the six berth is fully equipped with utensils,  cutlery and crockery. The kitchen has a fridge, microwave, oven and grill with four gas burners, a kettle and a toaster. The comfortable double bedroom has wardrobe space for clothes and luggage while the two twin rooms with two beds in each are great for children, couples and friends who don't mind sharing! There is a good sized bathroom with shower plus another room with a toilet.
Hard standing pitches
For motorhomes, caravans and campervans, the 11 metre by five metre hard standing pitches have room for an awning and a parking space for one car. They are available with or without electric hookups with 8kwh of electric included in the price of the pitch. The hardstanding pitches look out over the lakes and come with full access to the site's  modern washrooms. All the hardstanding pitches with electric hookup are alongside the main Woody's' Lake.  Additional electricity can be purchased and the cost of any
additional electric bought but not used will be refunded.
For those for whom electricity is not essential, there are also two individual pitches with hardstanding but no electric hookup overlooking 'Caspars' Lake. These are ideal for small motorhomes or campers.
Tents
Yet-y-Gors also offers a variety of tent pitches to choose from classic field camping, lakeside camping on Caspers Lake or walk in camping on the 'Island'. Some of the tent pitches are near the hub of the site with facilities nearby whilst others are secluded with views over one of the lakes. Parking nearby is available for some pitches. For others, although there is no access for cars, Yet-y-Gors can help with transport of equipment.
Camping facilities
The two wetrooms provide hot showers plus sink and mirrors and are cleaned regularly to ensure maximum comfort and hygiene whilst the two washing up rooms have hot running water and plenty of space.
Keep up to date with what's on at Yet-y-Gors by visiting their Facebook page at https://www.facebook.com/yetygors.
Fly-over of Yet-y-Gors fishery and campsite
Woody's Lake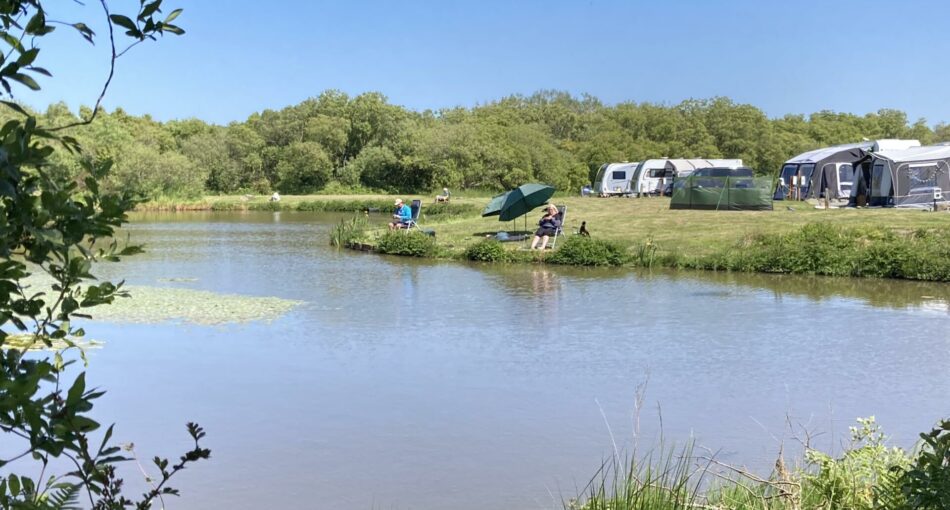 With 17 well spaced pegs, Woody's Lake is a general fishing lake holding carp to 20lbs and a mix of silvers to about 5lb 8oz including bream and tench to 2lbs. Existing stocks of carp were supplemented with 800 smaller commons and mirrors last year which are growing rapidly and are already over 8oz,
About 100 metres long and 50 metres wide, depths vary with the deepest water being found furthest from the island where it up to nine feet can be found and four feet close in. The top end is shallower ranging between two and three feet with deeper water being found in the margins before it shallows further out.
Because of the varying depths it is essential that anglers plumb their swim before fishing  because a few feet can make all the difference between fishing on the bottom and not.
Woody's is popular as a float fishing water on both waggler and pole, most baits work well with sweetcorn, pellets and luncheon meat being particularly effective.
Rocky's Lake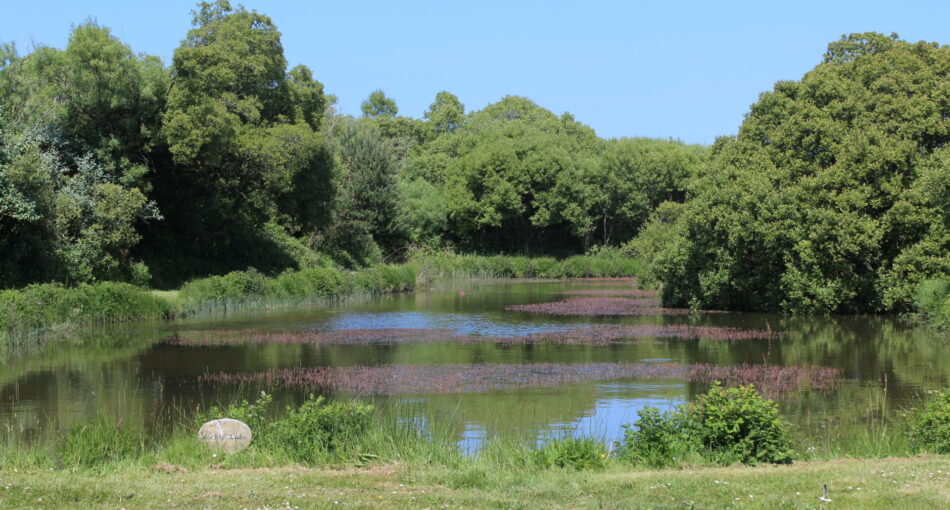 Offering 10 pegs, Rocky's Lake is a long narrow pool which is being developed as a tench, crucian carp and silverfish lake. The lake was stocked with an additional 400 tench and 300 crucians early in 2022 to compliment the many mature fish to that were already in the water.  Rocky's also holds a good head of bream to about 3lbs as well as roach and rudd to 12oz, skimmers, gudgeon and even eels which go to 3lbs.
Rocky's Lake is quite weedy in parts with depths that vary from two and a half feet to nine feet. Some of the pegs drop straight down to five or six feet under your feet whilst others only offer two feet in the margins, so once again it pays to plumb the depth where you are fishing.
Pellets, bread, red maggot and luncheon meat are all effective for the tench whilst anglers fishing for the crucians are recommended to fish light with Size 18 or 20s hooks to 2lb line and use maggot, bread or sweetcorn baits.
Baileys Lake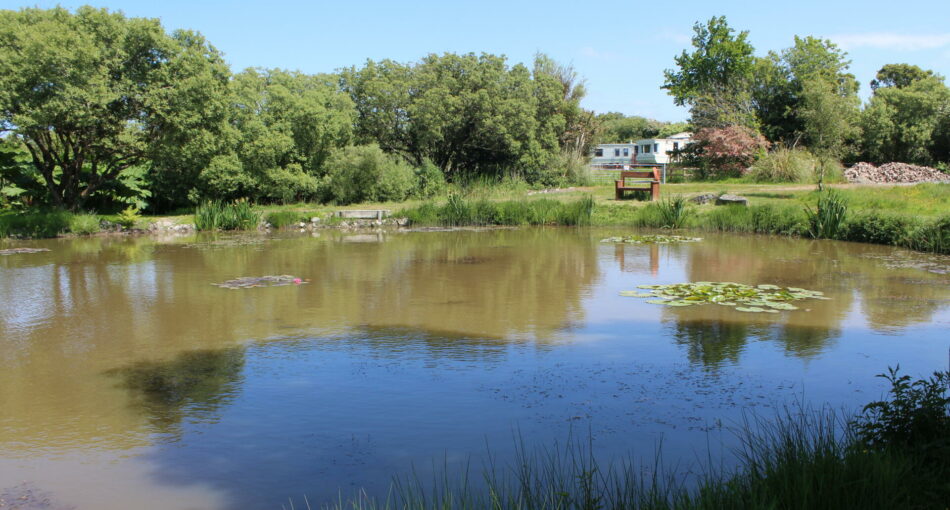 Baileys Lake is Yet-y-Gors' second general fishing lake. Smaller than Woody's at about a quarter of an acre in size, it again has 10 pegs, one of which has a track where you can drive to a concrete hard standing peg which has been designed to make it suitable for disabled anglers.
With with it's own charm and beauty, Baileys is very shallow with a maximum depth of just over three feet. This, combined with the fact that it is heavily stocked with roach, rudd, perch, skimmers and gudgeon makes it an ideal water for younger or inexperienced anglers who can expect to catch a fish virtually every cast when fishing maggots.
To add further interest, fish stocks have been supplemented with the addition of 100 tench, 100 crucians and 300 F1 carp.
Baileys Lake is an ideal water for fishing the pole or waggler with maggots, sweetcorn, bread and luncheon meat all virtually guaranteed to catch plenty of fish.
Caspars lake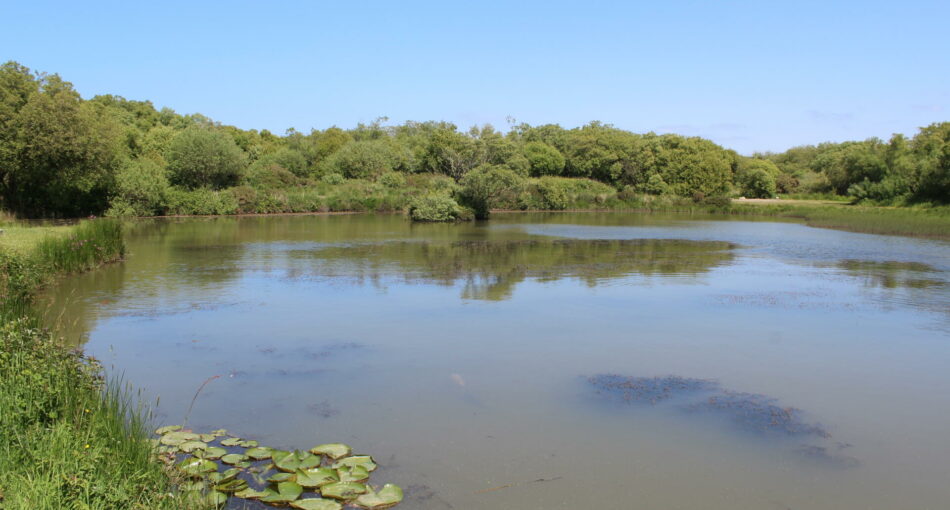 At about half an acre in size and opened in 2023, Caspars Lake has been developed as Yet-y-Gors' main carp lake and holds hard fighting grass carp to an impressive 20lbs as well as commons and mirrors to 15lbs and ghost carp to about 12lbs. It is believed the only silver fish in the lake are rudd.
Although the majority of the lake is only three to four and a half feet deep, there is an eight feet deep hole off Peg 1.
The majority of anglers fishing Caspars use modern and traditional carp fishing techniques with a variety of flavours of 16mm boilies or pellets fished over a bed of free offerings and hemp.
Having said that, some anglers prefer to fish a waggler using maggots, bread, sweetcorn or luncheon meet as bait.
Although plumbing the depths is not important when fishing modern carp fishing techniques, it is worth doing for anglers fishing a waggler, particularly is they are wanting to fish the deeper hole off Peg 1.
Prices
Prices and opening times
The fishery is open all year  for fishing from 8.00am until half an hour before dusk. In winter anglers are advised to contact the fishery before travelling as the owners sometimes take time off.
Night fishing is not allowed.
Concessionary rates apply to those in receipt of a state pension, registered disabled or aged 12 to 17. One child under 12 years old can fish free of charge when accompanied by an adult and fishing on the same peg. Additional children under 12 are charged at £5.00.
There is a two rod maximum on all lakes.
General Day Tickets

General lakes
Adults

Adults
£9.00
Concessions

Concessions
£7.00
Carp Lake

Adults

Adults
£12.00
Concessions

Concessions
£10.00
Fishing Tuition

Per hour with your own equipment (bait included)

Per hour with your own equipment (bait included)
£20.00
Per hour with equipment supplied (bait included)

Per hour with equipment supplied (bait included)
£25.00
Comments