Rosefern Pool
Also known as Rose Fern Lake, this delightful lily pad pool holds a variety of silver fish plus carp to double figures. Ideal for all ages and abilities.
This little known but delightful pool is hidden from the main A44 Worcester to Leominster road as you enter the market town of Bromyard. For many years it was run as a syndicate water but opened for day ticket angling early in 2019 and has already attracted a small but faithful local following.
Plenty of fish and an abundance of lily pads in summer
Believed to be home to some 22 different species of fish including common, mirror and ghost carp, roach, rudd, perch, tench, crucians and some very attractive bronze-coloured roach-rudd hybrids, the pool has an abundance of lily pads and bankside vegetation giving. Since opening for day ticket angling carp to 30lbs are reported to have been caught.
Rosefern Pool is unusual in that for many years it formed part of the garden to an old stone cottage. As a result it has an abundance of unusual bankside features including sculptures, seating areas, statues and a barbecue area.
Caravan spaces in hard standing car park
Although there are no facilities, at one end of the pool is a large hard standing car park where the owner offers camping and caravaning spaces.
Rosefern is an informal venue and anglers should start fishing. Day tickets fees will be collected on the bank.
An easy water to fish
Being an easy water to fish it is ideal for younger anglers and those who want to catch a decent number of fish in a short time. Anglers under 16 years of age must be accompanied by a responsible adult. Although keepnets are allowed they and landing nets must be dry before being used to prevent the introduction of disease from other fisheries.
Rosefern Pool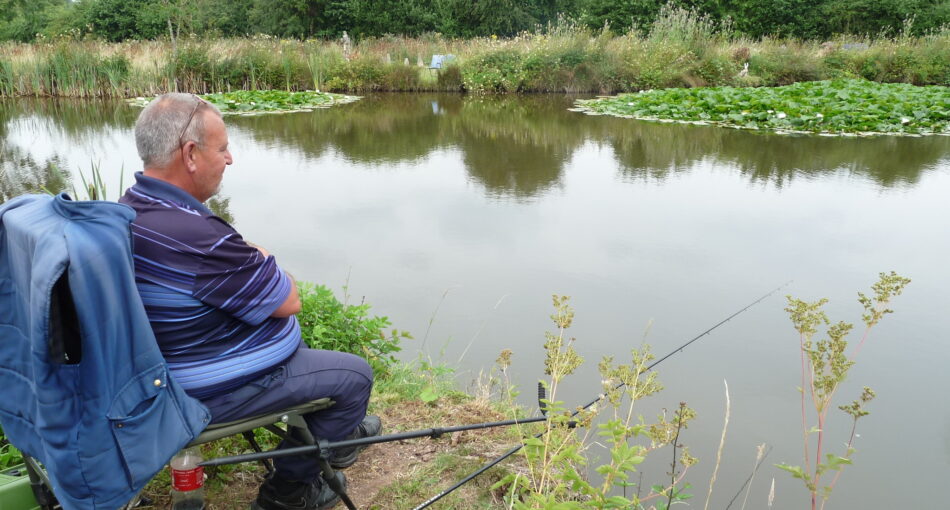 Rosefern Pool is about an acre and a half in size and pear shaped, being narrower at the car park end where there are several pegs which are idea for anglers who do not want to walk far but which offer attractive open swims between the beds of lily pads. This is also the shallowest end of the pool where between four and five feet of water can generally be found with the peg immediately next to the car park offering fishing into a clear open bay.
There are no formal pegs – fish where you want
Although there are no formal pegs, clearings between the bankside shrubs and grasses mean anglers can fish wherever they can get into the water and there are plenty of open spaces and even a small island peninsula running out from the right band bank as you look up the pool from the car park.
The pegs at the far end give access to the widest and most open part of the pool where up to eight feet can be found. This section is most popular with anglers who prefer to fish open water rather than risk being taken into lily pads if they hook a decent fish.
Even the smaller carp give a good account of themselves
Because the water has been little fished over the years all species are in pristine condition and give a good account of themselves. Even the 2lb and 3lb commons and mirrors give a scrap worthy of fish double or treble their size.
When it comes to baits, sweetcorn, luncheon meat, bread, pellets, casters and worms all work well although anglers who fish maggots find themselves pestered by the smaller roach, rudd and roach-rudd hybrids. Anglers who have tried fishing boilies say they have struggled to get a bite.
A quickly sinking bait gets through the smaller fish
Because of this it can pay to have a quickly sinking bait to get through the smaller fish which are up in the water whilst regular feeding with small amounts of groundbait and hook samples mixed with hemp helps to create a bed on the bottom of the pool which enables the bigger fish to move in.
Anglers should also not be afraid of fishing larger baits on larger hooks as the fish are not hook shy. A quarter to half inch cube of luncheon meat fished on a Size 6 hook doesn't put off the even roach-rudd hybrids which are a beautiful golden bronze colour and regularly come out at over 1lb.
Prices
Fees are collected on the bank. Fishing is from dawn until dusk. Juniors under 16 must be accompanied by an adult.
Day ticket fishing prices

All anglers

All anglers
8.00
Rules and conditions
Landing nets, unhooking mats and keepnets must be dry before being used
Junior anglers under 16 must be accompanied by an adult at all times
How to get there
Travelling from the M5 or Worcester, Rosefern Pool is situated on the right hand side of the main A44 Worcester to Leominster road opposite Holden Vintage and Classic just before Bromyard.
Anglers driving from Wales, Leominster or Hereford should make their way to the A44. After driving through Bromyard towards Worcester they will find the entrance to the pool on the left just before they reach Holden Vintage and Classic and the Bromyard Household Recycling Centre on the right.
Get directions on Google Maps
Comments