Meadowlands Fishery
Well established two lake carp and silvers fishery on the outskirts of Coventry which is rapidly establishing itself as a serious runs water. Night fishing available.
Key facts about Meadowlands Fishery
Well established two lake fishery
Pleasure, match and carp fishing
24-hour tickets available
Plenty of double figure carp
Runs water with specimens to 27lbs
Regular nets of 200lbs of carp in summer
Open from 7.00am in summer
Behind the peg parking on Warren Pool
New for 2023 – Night Fishing now available
Meadowlands – a well established carp, match and pleasure fishery
Comprising two former sand and gravel pits which cover a total of 17 acre, Meadowlands is a well established carp, match and pleasure fishery situated next to the Keller factory between Ryton-upon-Dunsmore and Southam.
In addition to its established reputation as a leading Midlands match and pleasure venue, it is now earning itself a reputation as a productive carp runs water with a large head of fish in the 10lbs to 15lbs range and much bigger specimens which run to a verified 27lbs. As a result, in 2023 it introduced night fishing for anglers who pay a £25.00 membership joining fee and who then pay £20.00 per 24-hour session. Bait boats and spodding are allowed although there is a maximum of two rods per angler. Whilst there are no rig rules the use of barbless hooks is compulsory
Otter fencing has improved catch rates
The installation of otter fencing around the one-mile perimeter of the site has also benefitted anglers' catch rates, particularly for the carp and bream. It is also said to have led to a noticeable increase in fish growth rates, particularly amongst the head of bream.
With its diverse stocking policy, Meadowlands is a popular pleasure and competition venue with winning weights for Open matches regularly coming in at between 100lbs and 150lbs. The venue and Lambsdown Lake match record, set in 2022, currently stands at an impressive 610lbs whilst the Warren Pool record is 590lbs.
On-site facilities
On-site facilities include car parking for anglers fishing Lambsdown Lake and a reception which serves hot and cold drinks as well as the fishery's own feeder pellets and a limited amount of tinned baits including corn and luncheon meat. There is also an on-site ladies and gents toilet. Warren Pool is served by a track which runs along both sides of the lake allowing behind the peg parking.
Lambsdown Lake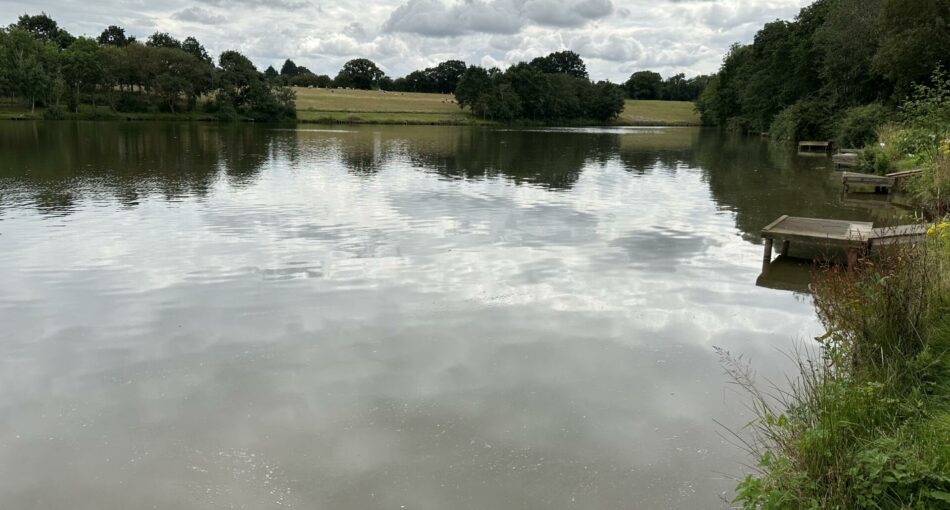 At 17 acres in size and with 72 pegs, Lambsdown Lake is the largest of the two Meadowlands waters and offers anglers a choice of fishing styles and species thanks to its varied depth and diverse stocking.
Up to 14ft deep along the Keller Bank which runs below the entrance road, Lambsdown shallows to between three and four feet at the narrow end near the entrance and up to seven feet along the dam wall. Depths are generally between seven and nine feet.
The water is believed to hold one of the largest stocking ratios of fish in the country with summer anglers reporting catches of up to 300 fish at one sitting. Stocked 50/50 with decent sized carp and a good head of silver fish including bream, tench, roach, rudd and perch, along with its sibling Warren Pool it is gaining a reputation as a productive runs water with a good head of double figure fish between 10lbs and 15lbs but with plenty of bigger fish which now run to 27lbs.
Lambsdown is also a popular match water with good catches being taken on the pole, waggler and feeder especially when used with maggots, casters, worm and, for the bigger fish, sweetcorn. Weights of 200lbs of carp regularly win summer matches on Lambsdown with 50lbs nets needed to be in the frame in winter. The match record currently stands at 610lbs taken by Phil Canning in summer 2022.
When it comes to pleasure fishing on Lambsdown, the most popular methods in summer include method feeder, waggler or straight lead on the rod whilst pole anglers do well with paste under the float or in the margins.
In summer, 8mm carp pellets, paste and luncheon meat all work well, but with such high fish stocks Lambsdown is a very hungry lake and all baits work well on their day.
Because depths run to 14ft in parts Lambsdown is also a very productive winter venue. Although there are no particular hot spots, winter fishing is always best in the deeper water, especially for the bream, whilst on the right days in summer the shallower water produces good catches. Swims off Pegs 4 to 14 are the deepest where between 12 and 14 feet of water can be found.
When fishing Lambsdown the secret is to build up a tight swim and cast accurately into it, clipping off the line to ensure consistent distance every time. Use groundbait or pellets around an Method Feeder – elasticated feeders are allowed – and bury your bait for best results.
Another good technique, particularly in summer, is to fish pole and paste feeding 6mm fishery pellets. Anglers can also feed about a dozen pellets or hook samples regularly with meat, maggots, casters and pellets all being good baits. Start at 11 metres out until the fish move closer when they can be caught at about three metres.
Warren Pool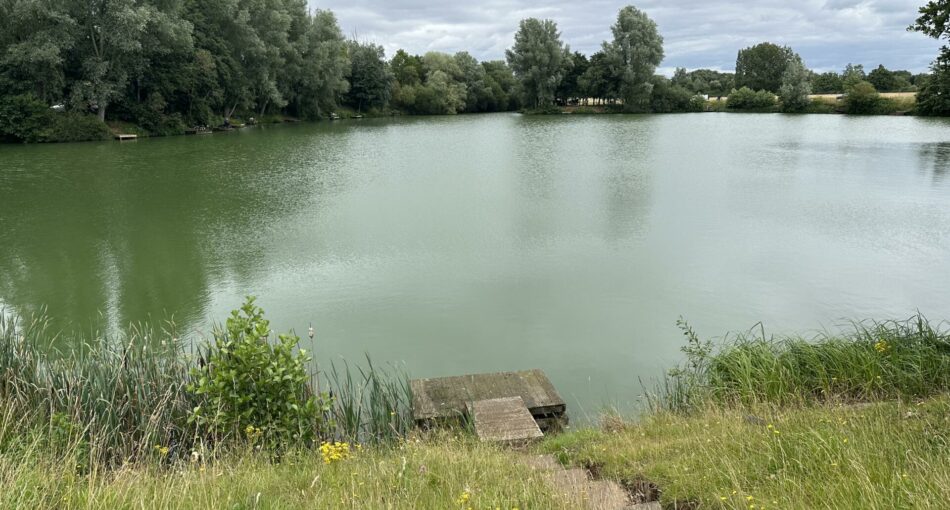 At five acres in size and with 36 pegs, Warren Pool has a similar stocking as Lambsdown Lake making it another good runs water.
Much shallower than Lambsdown at only four feet deep for the most part, Warren Pool does go slightly deeper towards the far end off Pegs 18 and 19 where about five feet of water can be found. The pool shallows towards the bank between Warren Pool and Lambsdown Lake around pegs 31 to 35 where between three and four feet can be found. This is a favourite haunt for carp anglers, whilst the landing stages down the left hand bank are also favoured pegs for the carp.
When it comes to techniques, most anglers fish the pole with maggot, caster or meat baits on the bottom over a bed of hemp. As with Lambsdown, regular loose-feeding with free offerings of hook bait is essential to keep the fish in the swim. For the carp, the most popular summer method is to fish the pole with paste or double corn feeding the fishery's own 6mm feeder pellets.
Although the pool is shallow, another popular technique for both pleasure and match anglers is to fish a Method feeder with 8lb main line and 6lb hook length to a size 16 or 18 hook. Summer anglers using the pole are recommended to use a 10,12 or 14 elastic with 3lb or 4lb hook line, again to 16 or 18 hook.
The match record for Warren currently stands at 590lbs set by Warren Jennings in summer 2020.
Prices
Meadowlands prices
Pleasure/specimen/matches

Day tickets

£10.00 one rod

£15.00 two rods

Day tickets
£10.00 one rod
£15.00 two rods
24-hour ticket (available after paying £25.00 a year membership)

24-hour ticket (available after paying £25.00 a year membership)
£20.00 two rods
-
Matches

£10.00 per peg booked

See below for whole pool hire

Matches
£10.00 per peg booked
See below for whole pool hire
Matches on Warren are whole pool only. If you pay for half the pegs you can have the whole pool. £10 peg fees with a minimum of 16 anglers (£160 minimum) Matches on Lambsdown we generally peg the biggest match on 1 to 33, (Deeps x 33) next on 51 to 72 (far x 22) and then 33 to 50 (pump x 16) we don't use peg 34 in the middle of the bay so it leaves a gap between clubs and or sections. Whole of Lambsdown minimum is 54 anglers (2 pegs miss one) £540 The whole fishery is a minimum of 70 anglers. 54 and 16, every other peg on Warren, and 2 miss one on Lambsdown £700
Rules and conditions
Fishery feed pellets only (6mm limit on Warren Pool)
Nets must be dry before being put in just before the match starts
Barbless hooks only
80lb net limit. Two nets for carp, one silver
Nets with over 80lbswill only count as 80lbs
Silvers 60lbs limit
All rubbish must be taken home
See the rules board at the fishery on arrival
No dogs
No braid
How to get there
Travelling north or south on the M6, leave the motorway at Junction 2 and follow the A46 signed Warwick until you reach the A45 at the Toll Bar End roundabout.
Take the left turn onto the A45 and about half a mile the slip road to the left which leads to the former Peugeot factory and the A423.
Follow the road round by the former Peugeot factory and go straight over the next roundabout. The entrance to Meadowlands Fishery is clearly signed on the left immediately after the Keller factory.
From Leamington and Warwick, take the A445 to Ryton on Dunsmore and at the Sky Blue Connection roundabout turn right down the A423 and follow the directions above.
If travelling from the south on the M1, at Junction 17 take the M45 towards Coventry and then the A45.
Turn left at the second large roundabout onto the A445 towards Bubbenhall and Leamington and at the next roundabout turn left again onto the A423.
The entrance to Meadowlands Fishery is clearly signed on the left immediately after the Keller factory.
Get directions on Google Maps
Comments