Estate Lake Knowle
Part of the Arrow Meadow group of venues, Estate Lake offers exclusive fishing for groups of up to four anglers on a weekly, mid-week or weekend basis. Ideal for discerning carp anglers.
Key facts about The Estate Lake Knowle
Exclusive fishing for up to four anglers
Secluded secure and private rural location
Suitable for less able bodied anglers
More than 150 carp to just under 30 lbs
Available for full week, mid-week or weekend hire
Nets, mats and slings provided - do not use your own!
Four new purpose built swims
Toilet, water and electric socket on site
The old Estate Lake at Knowle is among the first of a fast growing portfolio of select venues being offered by Arrow Meadow Fisheries for exclusive use by small groups of discerning and experienced anglers.  It is aimed specifically at those who are looking to enjoy a fishing break with a difference away from the hussle and bussel of modern day ticket and longer stay commercial fisheries.
Because of the quality of the fish and to prevent the possible spread of disease, anglers must use the landing nets, unhooking mats and slings provided by the fishery. All you have to bring is your bivvie and other gear. The venue is pet friendly.
The Estate Lake at Knowle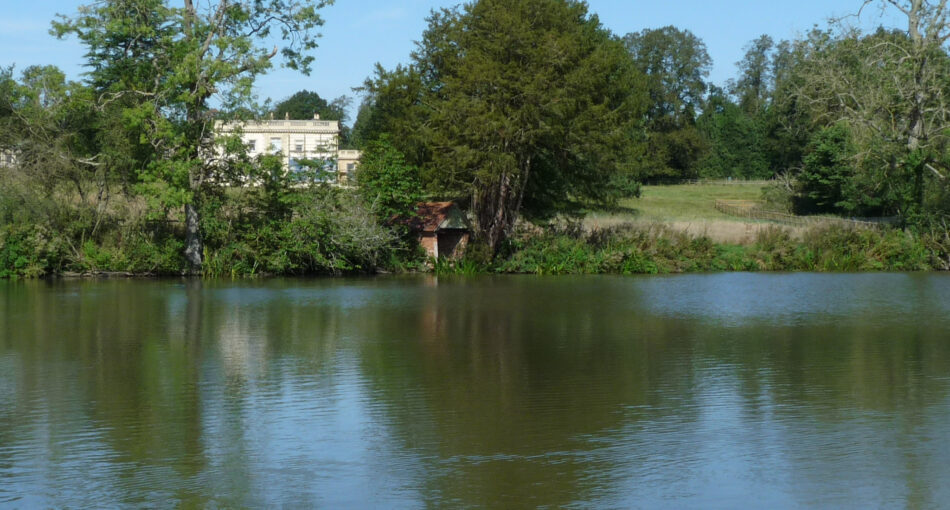 Set in a secluded location near Knowle in the West Midlands, the two-and-a-half acre Estate Lake is reached down a gated woodland track which leads to the lake and a hard standing parking area.
Depths vary between two and seven feet
Drained a couple of years ago to remove the existing fish stocks and decades of silt, the triangular shaped lake now varies between two and seven feet deep with a two feet deep shelf running out along the entrance bank and between two and four feet off the left hand bank. Depths then drop to six and seven feet off the left hand bank and about four feet off the entrance bank with a shallow gravel bar about three feet under the surface between the two islands. Out from the boathouse is a six feet deep former swimming hole.
A bait boat will help you reach the distant swims
Fishing is easy from both entrance and eft hand bank but there is no access to the boathouse bank which is overgrown. Because of the size of the lake and because the water off the boathouse bank is difficult to reach the use of bait boats is recommended for anglers wanting to reach the more distant and otherwise inaccessible swims.
Although the lake is stocked predominantly with carp anglers in mind it also holds a decent head of silver fish  including tench to about 3lbs as well as crucian carp, perch, roach and rudd.
Modern carp techniques work well on Estate Lake
When fishing Estate Lake most anglers use modern carp fishing techniques baiting their chosen swims with a mix of particles and feeder pellets and using 14mm to 15mm Active krill wafters or straightforward krill, Dave Mallin's squid or Mainline Cell boilies. Similar sized or slightly smaller pellets are also very effective so it  can pay to fish one bait on one rod and another on a second rod to see which thee fish prefer on the day.
However, unlike on many carp fisheries, floating baits or Zig Rigs don't tend to work, possibly because the fish are not used to taking food off or just under the surface.
Although there are no particular hot spots for the carp, in warmer weather it is worth fishing towards the islands or on top of the gravel bar between the two islands with margin fishing being popular in the evenings. In colder weather, head for the deeper water out from the left hand bank  or the former swimming hole out from the boathouse.
Why not have fun with a waggler while you're waiting for the carp!
Because Estate Lake is such an attractive water and because watching a float still holds a great allure for many anglers it is also worth setting up a waggler rig and fishing for some of the tench, crucians and other silver fish using sweetcorn, luncheon meat, hooker pellets or even maggots, chopped worm, bread or casters while you are waiting for a run on the carp rods.
Rules and conditions
THE ESTATE LAKE FISHERY RULES
Maximum of four anglers on site per booking – visitors are not allowed
Three rods maximum per angler
No nuts or shelf like boilies. (Arrow Meadow Fisheries can supply house pellets and house boilies at cost price if requested including Dave Mallin Pungent Squid Freezer Bait)
One man bivvies only which should be erected in selected swim area
A 20 per cent non-refundable deposit is required upon booking with the cash balance required upon arrival
Cancellations must be made in writing by e-mail to the Arrow Meadow Fisheries
The main gate must be closed and locked at all times and vehicles parked in fishery car park only
Nets/mats/slings are supplied to prevent the possible spread of disease so none should be brought to the fishery
Rods should not be left unattended or in the care of another angler
All fish to be landed/netted and released/returned using slings provided
STRICTLY No drugs, heavy drinking or loud noise or radios
We allow bait boats as we feel they would be an advantage on this venue
No fires are permitted
All litter to be taken home by anglers – bins are not provided
This venue is suitable for experienced anglers only
All rigs and setup must be checked and verified by Alan prior to fishing
Micro barbs permitted. However, anglers must be prepared to cut hooks with snips if required.
Any snagged fish MUST be reported to Alan immediately
All gates to be kept closed AT ALL TIMES
No access on foot to the out of bounds bank
Shower/toilet block must be kept and left clean
Please keep the location of the fishery private and do not share the location via social media or any other forms of communication.
All fish captures to be photographed on both sides and photographs emailed to Arrow Meadow Fisheries with details of weights
Fish care is the number one priority
Arrow Meadow Fisheries DO NOT accept any responsibility for injury, damage or theft to vehicles or equipment and reserves the right to refuse admission and amend the rules at any time. Abusive behaviour and swearing will NOT be tolerated. The management reserves the right to ask anglers to leave at any time
THE FISHERY OPERATES A ZERO TOLERANCE POLICY FOR ANY BLATANT DISREGARD OF THESE RULES.
How to get there
Details about the exact location of Estate Lake, directions of how to get there and codes for the gates will be given upon booking. The map above only shows Knowle town centre.
Get directions on Google Maps
You may also be interested in
Arrow Meadow Fishery
Comments