Ingestone Fishery
Stunning members-only two-mile stretch of the River Wye between Ross and Hereford famous for salmon and barbel fishing
10 good reasons to join the coarse and salmon syndicates
Family-run, private estate stretch of the River Wye
Two miles of pristine river between Ross and Hereford
Some of the best middle Wye salmon and coarse fishing
Tranquil, secluded and completely unspoiled
Members only - membership available
Guest can fish with members on day ticket
Riverbank vehicle access along entire two mile stretch
Salmon and barbel speciality venue
Opportunities now exist to join the 'Kingfisher' coarse and salmon syndicates at Ingestone. Exceptional fishing for salmon, trout and specimen coarse fish including big barbel, chub and pike on this historic, prestigious and productive 40-swim section of the middle Wye near Ross.
Members have full access to the entire fishery on any day with coarse fishing available from June 16 to March 14 the following year and salmon fishing from March 3 to June 15 for spinning and fly fishing and now – for the first time – from September 1 until the end of the season on October 17 for fly only fishing.
Although night fishing and bivvies on the bank are prohibited, the fishery has access to two on-site lodges, one of which accommodates two people at a cost of £40 per night whilst the other accommodates up to five anglers at a cost of £80 a night. Whilst not owned by the fishery, syndicate organiser Ray Harris can be contacted directly to provide accommodation availability and booking options.
Members notify the fishery in advance about when they want to visit using Ingestone's online form or by email, phone or text. The online calendar in the private members section of the website is automatically updated and gives all members full transparency on expected fishing numbers on any given day.
There is direct riverbank access for members vehicles along the entire two-mile stretch which includes two riverside fishing huts fully stocked with everything required for a snack, hot brew, cold drink or just a well-deserved rest. Members are free to roam and fish the entire fishery completely at their own pace and both the accommodation and the riverbank are dog friendly.
Kingfisher Syndicate organiser Ray Harris, who used to own three fishing tackle shops in Kent and has fished this stretch of the river for 20 years, is happy to meet prospective members and give them a guided tour of the beats and facilities available.
Steeped in history, privately owned, beautifully maintained and never over-fished, Ingestone Fishery is a jewel in the crown for the middle Wye.
Ingestone Fishery from the air
The two mile Kingfisher Syndicate stretch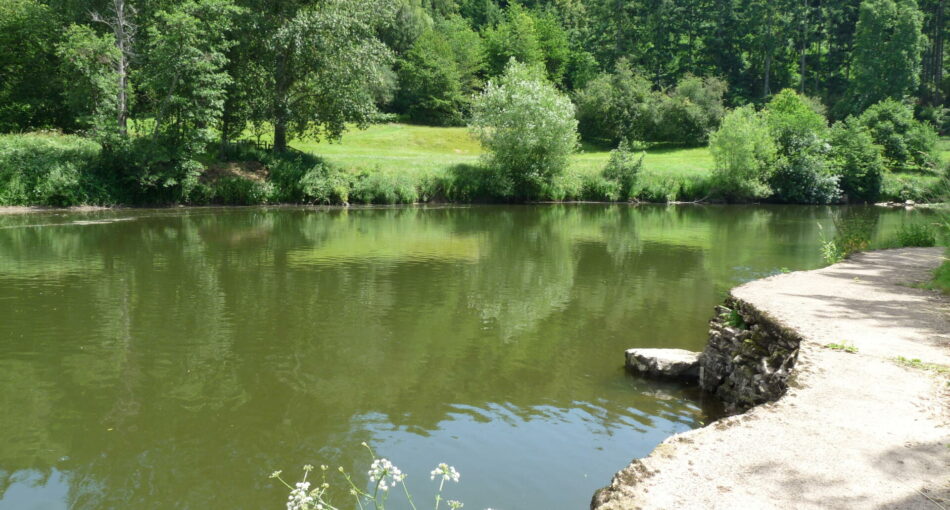 Offering fishing for salmon, trout and coarse fish including barbel to an impressive 14lbs plus big chub, pike and other silver fish, this two mile stretch of the middle Wye can be accessed throughout its length by vehicle, meaning there's no need for lengthy walks to get to your favourite beat or roam up and down the length on foot.
The coarse fishing
Ingestone Fishery is a prolific barbel and chub stretch with members travelling from throughout England, Wales and even overseas to take advantage of fishing an exclusive, productive, beautifully maintained and easy access venue in glorious surroundings. Whilst the 20 or so 'Kingfisher' syndicate members enjoy the fantastic coarse fishing, it should be noted that some members are tempted by the history of Ingestone's Salmon fishing and take advantage of discounted dual membership!
Anglers are allowed to fish two rods but must go equipped with a decent sized unhooking mat to prevent damage to the fish. As with most other fisheries these days, barbless hooks are preferred and bivvies and fires are not permitted, although there is a BBQ available for members in the larger of the two salmon huts.
A 6lbs to 8lbs barbel is average
With the average size of the barbel coming to the net being between 6lbs and 8lbs and fish having been caught to 14lbs as well as chub averaging about 4lbs but running to an impressive 8lbs, its not difficult to see why members love this stretch of river. In addition there are some big pike, eels averaging about 4lbs and a good head of healthy roach, dace and perch.
Because you are always likely to hook into a double figure fish, a minimum line strength of 10lbs is recommended with most anglers fishing 8mm to 10mm drilled krill or halibut pellets or 12mm meat flavoured boilies hair-rigged to a Size 8 or Size 10 hook.
Trotting maggots or sweetcorn can be great fun
Anglers targeting the silver fish have great fun trotting maggot, sweetcorn or worm as these are popular baits for the chub, roach and dace although they often pick up the barbel as well, particularly in parts of the river where the fast water slows down to a more gentle pace. When float fishing four or five BB shots gets the bait down quickly and helps to prevent being pestered by small fish up in the water.
As is to be expected, meat baits are popular with both the barbel and the chub, although for some reason smaller cubes of meat work better than big lumps.
When it comes to fishing for the pike, taking a roaming approach and spinning with a silver lure seems to work best.
Going for the salmon and trout
Ingestone's history lies in its salmon fishing. The fishery has over 100 years of fascinating handwritten ledgers dating back to the late 1800's documenting some truly astonishing salmon catches. Whilst the glory days of multiple 30lb plus salmon a day on the Wye are sadly confined to history, Ingestone is still one of the most productive salmon stretches on the Wye – evidenced by the current Wye Salmon Association records. Ingestone regularly produces fine specimens in its early Spring and late summer season. Plenty of open space enable snag-free casting to some of the most productive pools and runs.
Anglers who fancy spinning in the Spring are recommended to use a nine or 10 foot rod capable of taking fish up to 30lbs and have at least 300 metres of 25lbs to 30lbs breaking strain line on their reels as the fish can strip a lot of line off the reel when they make a run.
Popular spinning lures
Popular spinning lures include silver and red, gold and black or yellow Mepps as well as Devon Minnows and Killer Flying 'C' lures. Anglers should note however that only single barbless hook lures are allowed on the Wye these days so anglers should nip off surplus hooks on triple hook lures and crush the barbs with pliers to make them barbless.
Whilst salmon anglers often have their own preferred selection of flies, generally speaking in this section of the Wye popular flies include Ally's Shrimp, Cascade, Willie Gunn, Green Highlander and Hairy Mary.
September to October salmon fishing is fly only
In 2022, Ingestone Fishery introduced salmon fishing from September 1 until the end of the season on October 17, but  during this period only fly fishing is allowed.
Trout and Grayling fishing
Although trotting a float with worm or maggots can be an effective way of catching the trout or grayling, there is nothing quite like picking them up on the fly, and the Ingestone Fishery stretch is ideal for this.
Under normal river conditions, wading gives easy access to many of the pools although there are a good number of areas where anglers can cast easily from the banks.
Popular wet flies include Damsel Nymphs, Hares Ear, Bibio, Spider patterns, Black Gnat, Olives, Sedges, Pheasant Tails, Soldier Palmers and the ever popular Coch-y-Bondhu.
For dry flies, Klinkhammers, Parachute patterns, Black Gnat, Olives, Sedges, Ribbed Hares Ear and Pheasant Tails all work well on their day.
The Cottage accommodation at Ingestone Fishery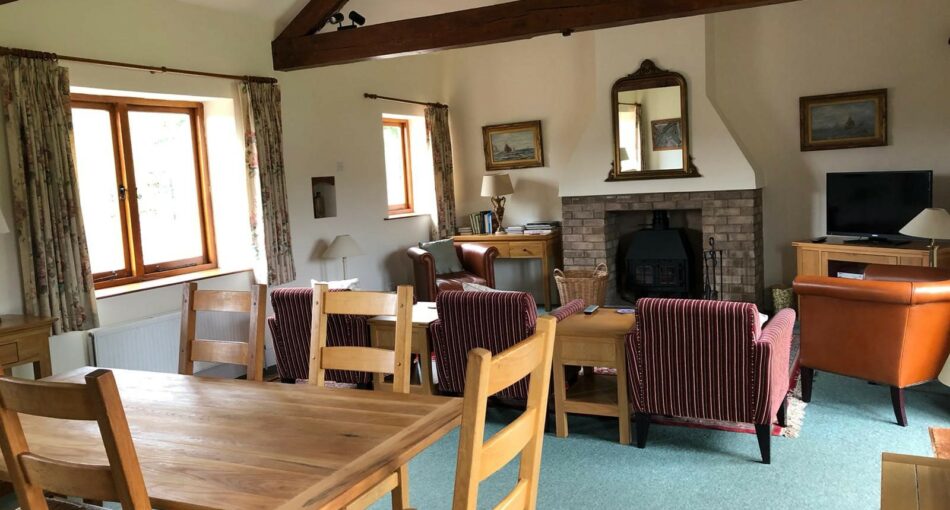 Whilst not owned by the fishery, there are two on-site holiday-style lodges that are available for syndicate members and their guests when they are fishing at Ingestone.
The larger lodge accommodates up to five people at a cost of £80 per night and comprises two twin bedded bedrooms and a single room, two bathrooms, a large fully equipped kitchen and a spacious lounge.
The smaller lodge accommodates two people at a cost of £40 per night and has a twin-bedded bedroom, a bathroom and a kitchen/lounge.
Syndicate organiser Ray Harris can be contacted directly to provide availability and booking options.
Prices
Prices for coarse and salmon fishing annual membership
Membership Prices

All anglers
Guests fishing with member (per day)
Salmon syndicate membership

Salmon syndicate membership
£999
£40
Kingfisher coarse syndicate membership

Kingfisher coarse syndicate membership
£900
£15
Comments