Field Aston Reservoir
Your chance to fish a three-acre private fishing lake in tranquil Shropshire countryside with carp to 35lbs plus quality tench and silver fish
10 key facts about Field Aston Reservoir
Exclusive hire of the reservoir for up to four anglers
Available for six day hire
Oak framed lodge with modern toilets and showers
Carp to 35lbs plus quality silvers
Four double and four single pegs
Nets, weigh slings, mats, etc provided
On-line booking available
Adults with children over 10 years old welcome
Walking distance of fabulous local pubs
Field Aston – the home of specimen sized fish
With decent head of carp to 35lbs plus about 120 around the 20lb mark, Field Aston Reservoir also offers the opportunity to catch specimen tench to 12lbs and perch to 4lbs as well as good sized roach and rudd. In addition there are a number of European Wels catfish to 70lbs, although these are gradually being removed to enable the stocks of carp to develop and grow.
Available for exclusive use by groups of up to four anglers for up to six days at a time, Field Aston will appeal to discerning anglers looking to catch quality fish in the serene rural surroundings of the Shropshire countryside.
Although there is no accommodation on site, the fishery has the benefit of a modern lakeside oak lodge comprising two fully-equipped washrooms plus a work surface with kitchen sink for washing up and two fridges. Eco-friendly washing up liquid, hand wash and toilet paper is provided but anglers should provide their own towels.
A former carp syndicate water
Before being taken over by lifelong anglers Matt Mole and his father in 2018, Field Aston had previously been a carp syndicate water where the previous owner had spent years developing great fish stocks. Matt has now built on this legacy by redesigning the grounds, installing new fishing pegs and building the new oak framed lodge.
A maximum of six people are allowed on the site at any one time, although this can be made up of a combination of four anglers and two guests or three anglers and three guests or any combinations adding up to the total of six.
Dogs are not allowed on the site at present.
A panoramic view of Field Aston Reservoir - home to some pristine fish
Field Aston Reservoir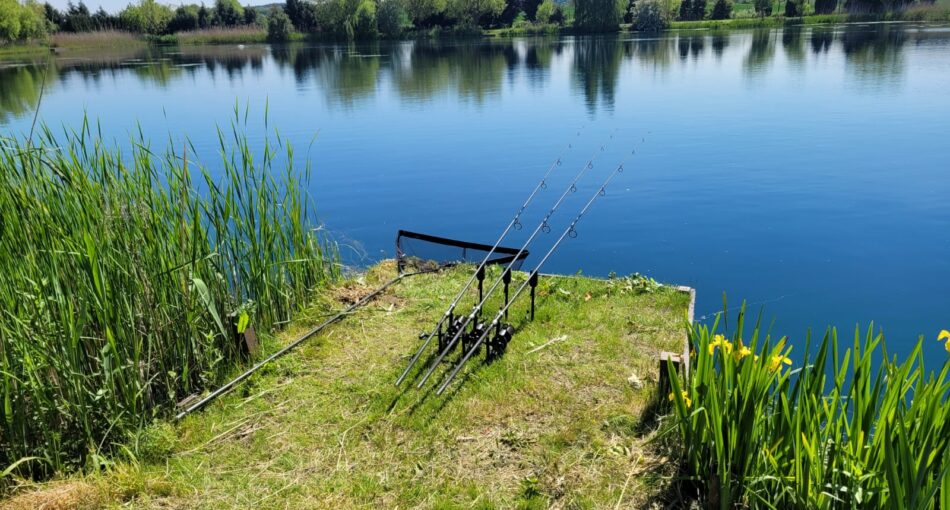 Field Aston Reservoir has been designed to give anglers the maximum amount of water to fish by reducing the original number of swims from 16 to eight. As a result, with four double swims and four singles, the water can now comfortably accommodate up to four specimen anglers each using up to three rods.
The depths are pretty uniform but range between eight and 10 feet with the average being eight feet with 10 feet hollows, although the south bank holds the deeper areas. The reservoir bottom is largely made up of soft clay with some silty areas and weed beds, although the margins are made up of rubble to reduce bank erosion. There are no major snags apart from several beds of lilies, so fish can be played safely throughout most of the water.
Although the reservoir has been little fished in recent years, those who have been successful say that one of the secrets of fishing Field Aston is to remain quiet. The carp in particular are known to move around a lot and be somewhat spooky so subtle tactics such as fishing over large beds of bait can be counter productive.
When it comes to bait, most things work well although most anglers who have caught good fish tend to fish a 12mm pop-up with small amount of free offerings. Sweetcorn has also proved to be a successful bait – but as with any new water it pays to experiment.
Prices
On arrival a member of staff will be on site to greet them hand over the gate code, check EA licenses and issue nets, weigh slings, mats etc. On departure, please clear all rubbish and hand back all provided equipment.
Non-fishing guest are allowed, however the venue has an absolute maximum occupancy of six people.
No children under the age of 10 years old for health and safety reasons.
Bookings can be made here through Field Aston's online booking partner Catch.
Friday 8.00 am until Sunday 6.00pm

Exclusive use for up to Four Anglers

Exclusive use for up to Four Anglers
£440 including VAT
Monday 8.00am to Wednesday 6.00pm

Exclusive use for up to Four Anglers

Exclusive use for up to Four Anglers
£380 including VAT
Friday 8.00 am until Wednesday 6.00pm

Exclusive use for up to Four Anglers

Exclusive use for up to Four Anglers
£800 including VAT
Rules and conditions
Bookings cannot be made by people under the age of 18 years.
Bookings are subject to the following terms and conditions:
 It is the responsibility of the person making the booking to ensure that all anglers and guests read, fully understand and accept the fishery rules and these terms and conditions.
Anglers can bring non-fishing guests, however, there is an absolute maximum occupancy of six people allowed on fishery.
All anglers and guests agree to abide by the fishery rules. Any individual in breach of the rules will be asked to leave the venue without refund.
The management accepts no responsibility for injury, loss, damage or theft to persons, cars or equipment whilst on site. Those using the site do so at their own risk.
Only those anglers, guests and their vehicles booked on are allowed on site. Anglers must not allow access to anyone else and the gate must be locked at all times.
The lake, carpark and facilities are monitored by CCTV for the prevention and detection of crime. Anyone caught visiting the site who has not booked will be treated as trespassers.
The management reserves the right to check anglers and guest vehicles for fish moving equipment such as water tanks, nets, slings, mats, cradles, etc. Please do not bring these on to the site.
How to get there
The fishery is situated to the south of Newport in Shropshire , , . It has excellent
One mile from the centre of Newport
24 miles from Shrewsbury
42 miles from Birmingham
Good road access from the A41 and M54 motorway.
Get directions on Google Maps
Comments