Blueberry Fields exclusive carp fishery
Opening in June 2022 – book your session now!
Hidden away at the end of a farm track which winds through strawberry and blueberry fields in the heart of the Herefordshire countryside is the delightful tree-lined Blueberry Fields carp fishery.
Key facts about Blueberry Fields carp fishery
One of the Arrow Meadow Fisheries exclusive venues
One and a half acres in size
Available for exclusive use of up to six anglers
Fully fenced and secure site
Portable loo on the bankside
Clean ladies and gents toilets and showers at the farm
Escape from the world at Blueberry Fields
This delightfully rural one-and-a-half acre lake on the outskirts of the historic Herefordshire market town of Ledbury is one of the growing number of exclusive big carp and pleasure venues run by Arrow Meadow Fisheries and offers anglers a chance to get away from it all in a tree-lined and remote setting.
Blueberry Fields Lake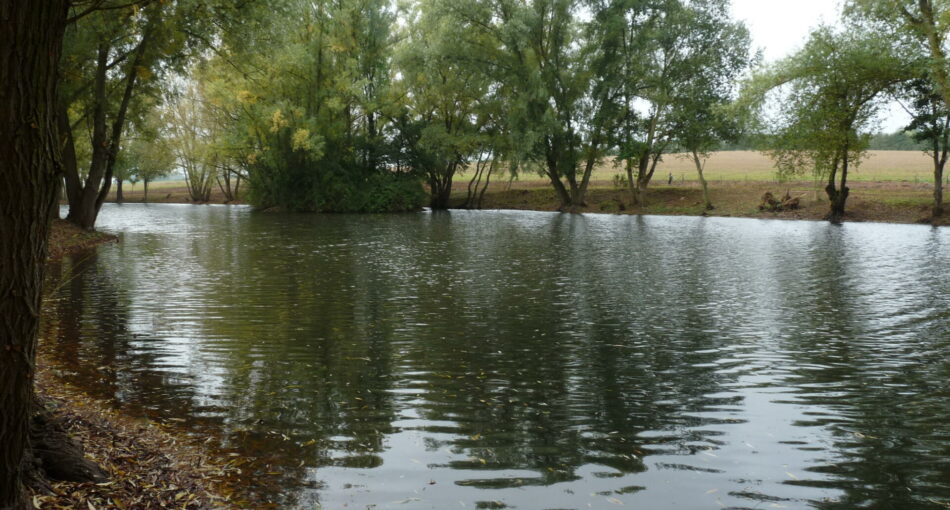 Available for up to six anglers for week-end, mid-week or week long angling breaks, the site has been otter fenced and equipped with four large double sized pegs with plenty of space for bivvies. In addition there is ample car parking space, benches and fire bins while modern and clean toilet and shower facilities are available for use at the farm, making the fishery ideal for female anglers.
Carp to 30lbs
Averaging about nine feet deep with a maximum depth of about 12 feet, Blueberry Fields was desilted four years ago and stocked with 90 quality carp by the local farmer which now run to about 20lbs. These have subsequently been supplemented by Arrow Meadow Fisheries with a further 30 carp weighing between 10lbs and 30lbs from  Mark Simmonds, VS Fisheries, AJS Fisheries and White Water Fisheries. This has taken the total number of stock fish to 110. It is thought that there are no carp in the water under 10lbs.
Although carp are the main quarry, for anglers who fancy dabbling with a waggler, the lake has also been stocked with tench over 3lbs and perch.
Wafters worked well during test fishing
Although the lake has been little fished, carp anglers who have test fished the water before it opened say 12mm carp wafters are a good starting point fished with a Size 6 or Size 4 hook and 10lb or 12lb line, although most modern and traditional carping techniques worked well using a mix of baits. Micro-barb hooks are allowed.
Since stocking, the fish have also been fed regularly with pellets which are kept in bins on the site and which visiting anglers are welcome to use as the fish are used to them.
Rules and conditions
Maximum of six anglers on site per booking – visitors are not allowed
Three rods maximum per angler
No nuts or shelf life boilies. (Arrow Meadow Fisheries can supply house pellets and house boilies at cost price if requested including Dave Mallin Pungent Squid Freezer Bait)
Bivvies only which should be erected in selected swim areas
A 20 per cent non-refundable deposit is required upon booking with the cash balance required upon arrival
Cancellations must be made in writing by e-mail to the Arrow Meadow Fisheries
The main gate must be closed and locked at all times and vehicles parked in fishery car park only
Nets/mats/slings are supplied to prevent the possible spread of disease so none should be brought to the fishery
Rods should not be left unattended or in the care of another angler
All fish to be landed/netted and released/returned using slings provided
STRICTLY No drugs, heavy drinking or loud noise or radios
No fires except in the fire bins provided
All litter to be taken home by anglers – bins are not provided
This venue is suitable for experienced anglers only
All rigs and setup must be checked and verified by Alan prior to fishing
Micro barbs permitted. However, anglers must be prepared to cut hooks with snips if required.
Any snagged fish MUST be reported to Alan immediately
All gates to be kept closed AT ALL TIMES
Shower/toilet block must be kept and left clean
All fish captures to be photographed on both sides and photographs emailed to Arrow Meadow Fisheries with details of weights
Fish care is the number one priority
Arrow Meadow Fisheries DO NOT accept any responsibility for injury, damage or theft to vehicles or equipment and reserves the right to refuse admission and amend the rules at any time. Abusive behaviour and swearing will NOT be tolerated. The management reserves the right to ask anglers to leave at any time
THE FISHERY OPERATES A ZERO TOLERANCE POLICY FOR ANY BLATANT DISREGARD OF THESE RULES.
Comments