Arrow Meadow
Exclusive hire big carp venue which regularly yields specimens over 30lbs in attractive and secure setting
Key facts about Arrow Meadow Fishery
Attractive four-and-a-half acre setting
One acre 'Big Carp' Specimen lake
Third of an acre mixed fish Pleasure Pool
Available for mid-week, weekend or longer hire
Carp to 37lbs in Specimen Lake
Three purpose-built bivvie pegs
Toilet and shower facities
Electric and water supply
Former home of 'Tight Lines' presenter Terry Thomas
Opened in 2021, Arrow Meadow was the first of the Arrow Meadow exclusive hire big carp and pleasure fisheries to be opened to anglers and has rewarded visitors with  many 'Personal Best' specimens to 37lbs.
Set in the grounds of former home of 'Tight Lines' presenter Terry Thomas next to the River Arrow, the fishery is full of features and offers mid-week, weekend or full week exclusive hire of the Specimen Carp Lake and adjacent smaller Pleasure Pool which is full of silvers.
First stocked in 2019, the one-and-a-half acre Specimen Carp Lake now holds common and mirror carp to over 30lbs with a good number of doubles to 20lbs. The biggest fish to come out so far weighed in at 33lbs 5oz. The Pleasure Pool holds a mix of carp, tench, chub and roach and is great for anglers who want to take a break from big carp fishing and have a dabbled with the float.
Going fishing at Arrow Meadow doesn't mean you have to leave modern life entirely behind. The venue comes with its own shower and toilet facilities, electric sockets and even wi-fi.
Fishing is by on-line booking only from Arrow Meadow's own website. Once booked, the exact address and directions are emailed to anglers who receive a key fob for the main gate on arrival so they can come and go as they choose. In addition the fishery provides its own landing nets, unhooking mats and slings to ensure bio-security and anglers are even provided with a bucket of the house feeder pellets on arrival.
Specimen Carp Pool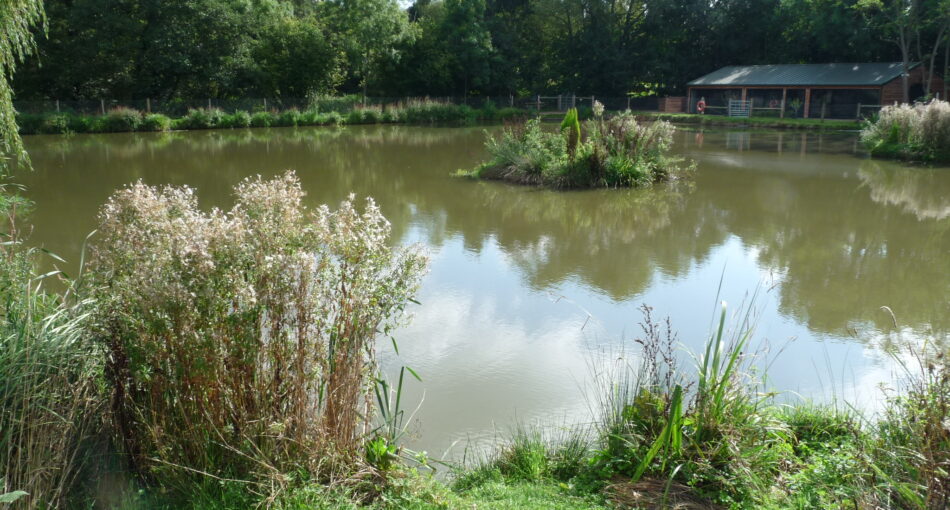 Built by serious carp anglers for specimen carp anglers, Arrow Meadow's one-and-a-half acre Specimen Carp Lake offers plenty of features to fish to with three islands, shelves which run around the margins, deeper holes and plateaux further out.
On average the lake is about six feet deep and for most anglers offers the opportunity to catch the fish of a lifetime being stocked with at least 10 carp to over 30lbs and more than 40 mid-20s. The biggest fish caught to date is a 37lb mirror carp called Betty which was taken by Droitwich butcher Adam Cainnes on a barrel wafter topped with sweetcorn.
A delightfully secluded and secure venue, the lake is available for up to two anglers at any one time and with three large woodchip pegs there's plenty of room for bivvies and tackle and plenty of water to fish.
In addition to being a top-class ledgering water, Specimen Lake is also a lovely stalking water but whatever your favourite technique, anglers are recommended to use a minimum 12lb line strength and Size 4 wide gape barbless hooks, feeding their swim with either pva bags packed with loose feed or introducing a light scattering of small free samples.
In addition to using their own baits – sweetcorn goes down well with the fish – a nice feature of Arrow Meadow is that anglers can use the venue's own 14mm Aller Aqua house pellets which are available free of charge on site. The venue has also launched its own bait range of AM1 14mm red fishmeal boilies.
Mixed Fish Pleasure Pool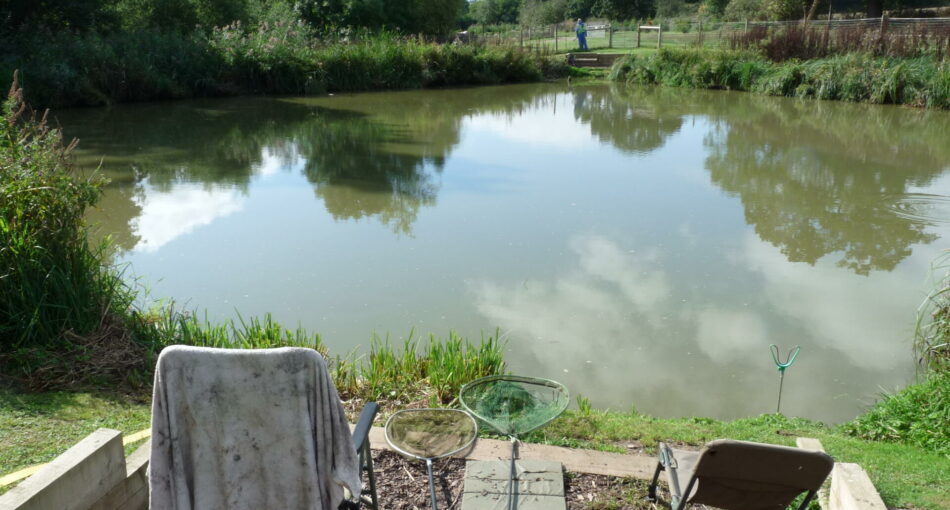 Anglers who fancy a break from the serious job of tracking down big carp on the Specimen Lake can also enjoy a spell of more casual fishing on the mixed fish pleasure Pool.
As its name implies, this small informal pool holds a good mix of fish including common and mirror carp, tench, chub and roach and requires a much lighter touch than the main lake with waggler fishing in the margins or open water with maggots, sweetcorn, small cubes of luncheon meat and even prawns being popular baits.
As with most pleasure fishing, it pays to introduce a handful of small feeder pellets combined with hook samples little and often to attract the fish into your swim and to keep them there.
All in all, Pleasure Pool offers a nice touch of fun for those who fancy a bit of dabbling in between monster hunting!
Join the Seven Lake Syndicate Super Ticket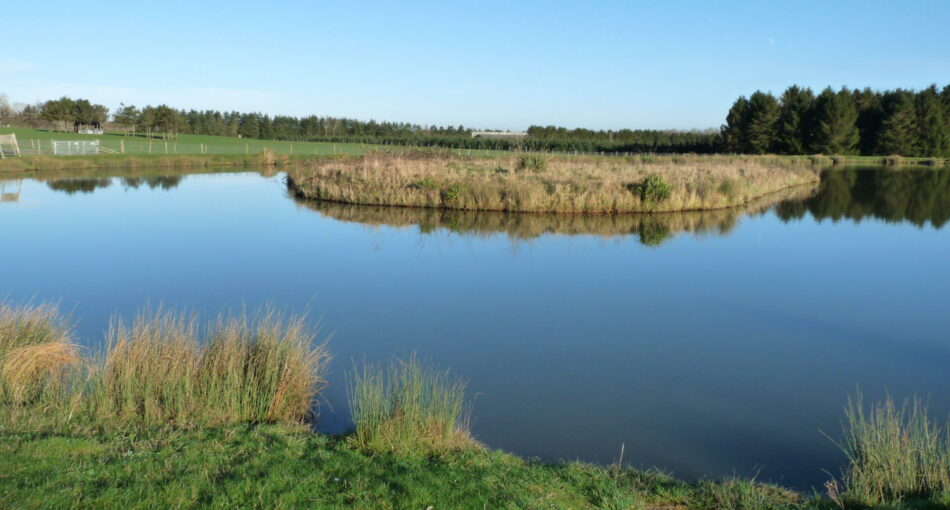 Available for 2023, Arrow Meadow has launched a new Seven Lake Syndicate Super Ticket which gives anglers the ability to fish seven lakes on four venues in the Midlands at a single cost of £850 a year.
With the facility to pay in two instalments, the ticket covers four pools at Leigh Sinton Fishery as well as Arrow Meadow's Malvern View Lake, its Arrow Pit in the grounds of Ragley Hall Estate and the 10-acre Lamb Pool near Malvern.
Anglers interested in receiving more information should complete the syndicate's enquiry form.
Comments