A12 Cuton Lakes
Attractive 'Big Fish' pleasure, match and specimen venue with carp to over 40lbs plus double figure bream, tench and pike.
Facts and features of A12 Cuton Lakes Fishery
Large pleasure and match lake
Members only Specimen Lake
Double figure tench and bream
Fishing for double figure pike
Once a venue which was little fished, A12 Cuton Lakes has been developed over the past few years into an increasingly popular fishery for both pleasure anglers and those after the big carp, tench and bream which it now holds. To be found next to a lay-by on the main A12 London to Ipswich road at Chelmsford in Essex, A12 Cuton Lakes are just a few minutes drive from the large Army and Navy roundabout, Chelmer Village and an Asda supermarket.
Getting to A12 Cuton Lakes
Although the lakes are literally just a stone's throw from the A12 they can't be reached from the main road. Instead, you have to leave the A12, drive through Chelmer Village and then out into the countryside – which is probably why until recently the lakes had only been fished by a few local anglers or passers-by who were prepared to clamber down the road bank, jump a stream, find a way through the fence and then pick their way through boggy marshland to the bankside. All this whilst risking picking up a ticket for illegal parking in the lay-by!
Naturally filled lakes
A12 Cuton Lakes were created between 23 years ago when gravel was extracted from the site to build the A12 and later the M25 motorway. After extraction finished the lakes filled naturally, fed by groundwater, three springs and floodwater whenever the nearby River Chelmer topped its banks. As fish started to find their way into the lakes from the river, local anglers started to take advantage of the free fishing and over the years the lakes built up a decent head of roach, rudd, bream, tench and carp.
In 2003, the lakes were bought by Neil Copeland, a life-long angler and director of a local company which repairs water mains. Since then Neil has tirelessly set about clearing the overgrown site of dead trees, five-feet high scrub, brambles and nettles and has installed land drains to eradicate the waterlogging which made the lakes a precarious place to fish. In addition he had more than 2,000 metres of security fencing erected around the site and oversaw the planting of more than 4,500 willow trees which will screen the fishery from the A12 and help to deaden the road noise.
Cuton is a well-designed fishery
After damming off and deepening the top end of the lake to create what is now the Match Pool, he set about laying a roadway down one side of the site and building spacious gravel and wooden pegs, several of which have been designed specifically for disabled anglers.
He then created a dam wall between what is now Specimen One Lake and Specimen Two Lake, a move that has again improved the venue. In addition to carrying out more landscaping and tree planting, Neil also hopes further to improve the fishery by including a cafe, tackle shop and purpose-built ladies and gents toilets.
Match Lake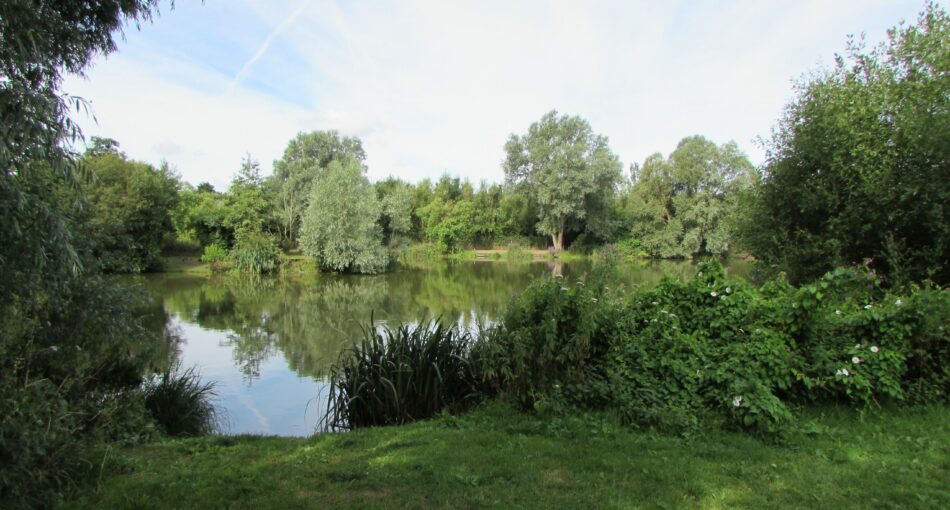 Holding 40 well-spaced gravel, timber and wood chipping pegs, several of them designed specifically for disabled anglers, Match Lake was created by damming off part of the narrow end of Specimen Lake and deepening the shallow parts, using the spoil removed to create an island at one end which has now matured nicely. Opened to anglers at the beginning of May 2005, Match Lake is about two-and-a-half acres in size and can accommodate matches of 40 anglers or less at any one time.
The depth of Match lake varies
Although not uniform in depth or width, Match Lake has been designed with the pole angler in mind and runs to about eight feet deep along the far bank and between four and five feet everywhere else. Night fishing is not allowed on Match Lake.
Stocked with mirror and common carp between 1lb and 8lbs, roach between 2oz and 1lb and skimmer bream to 1lb, Match Lake has also been stocked with perch, tench and rudd and has been designed to be a lake where anglers can catch a lot of fish easily.
It has also been designed very much with the pleasure angler in mind and when landscaping has been completed should be a very attractive competition water that is easy to fish and an excellent spot to try out new techniques, tackle and bait.
As with any water holding a good head of small fish, best techniques are fishing the pole or waggler with pellets, paste, maggots, caster, worm and for those going after the carp, luncheon meat and sweetcorn. Spraying coarse fish feeder pellets little and often should attract the fish into the swim and hold them there once the bites start coming.
For details of availability for matches please telephone 01245 461651 or 07946 847703
Specimen One Lake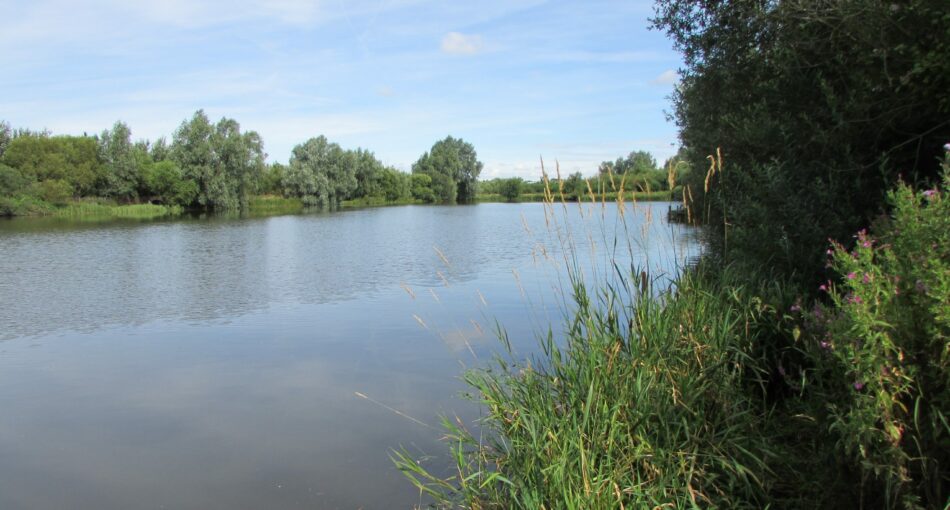 The largest of the three A12 Cuton Lakes waters, Specimen One Lake is the large lake you see from the A12 and is the most obvious choice for anglers going for the bigger fish. It is already proving popular with the majority of anglers who visit the venue and is proving a great hit with overnight and weekend carpers.
Carp to over 40lb and tench to double figures
Since Specimen One Lake opened in early 2005, carp to just over 40lbs have been caught as have some big tench and bream to double figures, the bream going to over 15lbs. There are also some big perch and a good head of roach and rudd.
A nice pike from Specimen One LakeIn addition, Specimen One Lake is also a locally renowned pike water with the biggest known fish caught to date being 33lbs. Because of this, it is proposed to open the water to winter pike fishing from October 1 each year with anglers being allowed to fish live or dead bait using bait caught in the lake. However, because of the risk of crossing other anglers' lines, spinning will not be allowed and anglers should fish only from their selected peg as roaming is not allowed.
Where to fish on Specimen One Lake
At six acres in size, Specimen One holds 25 purpose-built pegs plus grassed areas which have not been formally pegged on which anglers can bivvy up and gain easy access to the water.
As one would expect for such a large water, depths vary considerably with about eight feet being found in the bays and all around the sides, some 10 feet off the two main peninsulas and 12 feet out towards the centre of the lake from the far bay at the extreme left-hand end of the water as you come onto the lake.
Gravel bar a good feature
However, there is an interesting feature running the full length down the middle of the lake from the peninsula where Specimen One Lake meets Specimen Two Lake. Depths along this gravel bar vary from six to seven feet and once located this is an obvious target for fishing for the carp.
What baits work well on Specimen One Lake?
When it comes to baits and techniques, again almost anything goes – the only baits which are banned being nuts, pulses and seeds. Whilst most anglers going for the carp tend to use hair-rigged boilies fished to the central gravel bar or along the bank to pick up patrolling fish, others go for a straightforward waggler using baits as small as single or double maggot.
Many anglers opt for both ledger and waggler options, fishing hair-rigged boilies, clusters of sweetcorn or larger pellets on one rod and soft hooker pellets, maggots, sweetcorn or worm closer in on the waggler with the other rod.
When targeting the tench and bream, fishing the reed-lined bays baiting up with coarse fish pellets, groundbait and hook samples is a popular technique, fishing over the bed of groundbait with a bunch of four or five maggots, worm, pieces of sweetcorn, bread-based baits, soft hooker pellets or casters, casters and worm expected to be most effective in winter.
Most techniques and baits work well
Having said that, some of the larger tench and bream to have been taken so far have fallen to anglers fishing boilie baits for the carp – so once again there is no right or wrong way to go about fishing this water.
Waggler fishing worm and maggots is obviously a favourite for the perch, whilst anglers going after the roach and rudd should try fishing at all depths, particularly up in the water in warmer weather for the rudd. Spraying maggots, casters or small coarse fish pellets with every cast should attract the fish and help to keep them there. Night fishing is allowed on Specimen One Lake.
Specimen Two Lake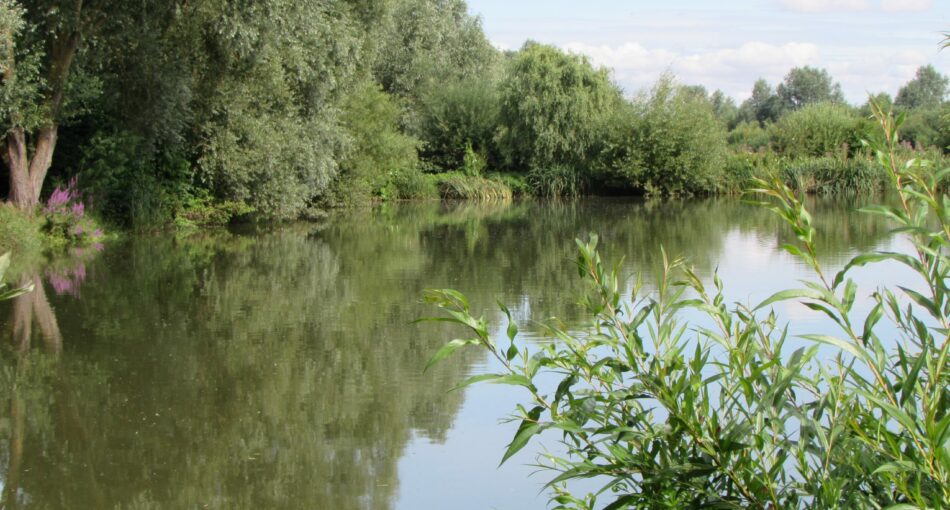 At about four acres in size, Specimen Two Lake is separated from Specimen One Lake by a newly created dam and has a pontoon bridge which not only divides the lake in two but also and gives access to the far bank from the car park. Until 2007 it was known as Pleasure Lake but had its name changed to reflect the stamp of fish which it now holds.
Water depth on Specimen Two Lake
Anglers fishing the far bank will find about eight feet of water fairly close in, rising to about six feet in the centre and between four and six feet along the entrance bank. The lake is shallowest at the Match Lake end where it is only three to four feet at its deepest, the water deepening as it runs towards Specimen One Lake with a maximum depth of 11 feet in the centre by the floating pontoon bridge.
As with all three Cuton Lakes waters, Specimen Two Lake has so far been little fished, but within weeks of opening two large bream nearing double figures and several tench to over 10lbs were taken from the bay on the right hand far side of the lake. In addition, carp to 30lbs have been taken by overnight and weekend carpers.
Techniques that work well
Because the water has been little fished, anglers should try various techniques and bait to find and hold the fish. Both pole and waggler fishing do the trick, whilst some anglers have been using the swimfeeder to get to the deeper water out from the pegs to the left as you come onto the water.
However, because of the quality stamp of fish in the lake it pays not to go too light as, when hooked the fish tend to bolt for the nearest cover making it essential to keep them in open water until they tire.
Baits that work well
Soft hooker pellets, luncheon meat, boilies, maggots, casters, worm, bread and corn are all good baits and in warmer weather it is well worth fishing close in on the shallower parts of the lake as the fish have been seen milling around in the mud looking for food.
The trees and bankside vegetation which line the near bank provide plenty of cover whilst the far bank and deeper water to the left as you come onto the lake from the car park are more open. Although there are no particular 'hot pegs', the shallow water pegs can prove particularly good in summer whilst the bays are also a favoured spot for those anglers who have started top fish A12 regularly.
Fishing floating baits is also worth a try when the fish can be seen moving on the surface, with both bread and dog biscuits being equally effective.
Specimen Two Lake is also known to hold a good head of decent pike, although anglers fishing for these should note that lure fishing is only allowed from the purchased swim as roaming is not allowed. Night fishing is available on Specimen Two Lake.
Prices
Please note that a £10.00 Annual Membership is required to fish Specimen One Lake. Membership runs for 12 months (£10.00 membership required). Single, double and treble swims are available for one, two or three anglers.
Match Lake / Island Pleasure

One Rod
Two Rods
Half day (six hours)

Half day (six hours)
7.50
10.00
Full Day (12 hours)

Full Day (12 hours)
10.00
15.00
24-hours

24-hours
30.00
30.00
36-hours

36-hours
50.00
50.00
48-hours

48-hours
60.00
60.00
60-hours

60-hours
75.00
75.00
72-hours

72-hours
85.00
85.00
Specimen One Lake

Price
Full Day (12 hours)

Full Day (12 hours)
20.00
24-hours

24-hours
35.00
36-hours

36-hours
55.00
48-hours

48-hours
70.00
60-hours

60-hours
90.00
72-hours

72-hours
100.00
Specimen Two Lake

Single Swim (one angler)
Double Swim (two anglers)
Half day (six hours)

Half day (six hours)
10.00
20.00
Full Day (12 hours)

Full Day (12 hours)
20.00
40.00
24-hours

24-hours
30.00
60.00
36-hours

36-hours
50.00
100.00
48-hours

48-hours
60.00
120.00
60-hours

60-hours
75.00
150.00
72-hours

72-hours
85.00
170.00
How to get there
Take exit 28 off the M25 heading East on the A12. Leave the A12 at Junction 18 and follow the signs to Chelmsford A414 Maldon Road.
Go straight across the first roundabout and at the second roundabout take the second exit.
Continue along the A414 dual carriageway until you come to the the Army and Navy roundabout where there is a small flyover.
Take the fourth exit A138 Chelmer Road and go over the river Chelmer.
At the next roundabout take the second exit on the Chelmer Village Way and go past the retail park on the left.
Take the second exit at the next roundabout (ie.straight over) and continue along Chelmer Village Way before turning right at the first turning into Sandford Mill Road.
Follow to the end of the road and you will come to the sewage works, turn right outside the sewage works into Brook End Road.
Continue until you see a hump back bridge, and on your left you will see the entrance to the lakes. Continue along the concrete road until you come to the lakes. Please use car parks provided.
Get directions on Google Maps
Comments