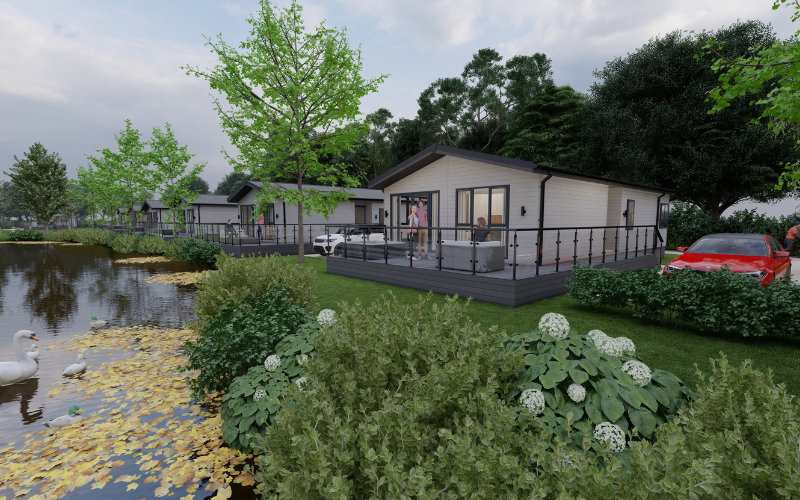 Derwent Oaks Lake and Country Park
For sale – a 'Home from Home' with a lake of your own!
SPECIAL INTRODUCTORY DEALS AVAILABLE
End of season stock clearance
Anglers can now have use of their own private fishing lake with the launch of a new luxury lakeside lodge development in Yorkshire's East Riding which comes with its own private fishing lake.
Nestled between the picturesque villages of Sutton upon Derwent and Newton upon Derwent just eight miles south east of the historic city of York, Derwent Oaks features not only luxuriously appointed modern lodges but also a landscaped fishing lake which is reserved entirely for the use of lodge holders.
At just over two acres in size, the lake is a former sand quarry which will accommodate about 20 anglers and is stocked with a good mix of carp to 20lbs and silver fish which run between 3lbs and 6lbs. It has a fairly uniform depth of 2.5 metres in the centre.
A further neighbouring lake is available to lodge holders on day ticket.
Within driving distance of coarse and game fishing rivers
In addition to the lake, an additional appeal of Derwent Oaks for anglers is that it is within easy striking distance of some of Yorkshire's finest coarse and game fishing rivers. the River Derwent is on its doorstep whilst the River Tees and the smaller River Esk run to the north and the River Ouse and its tributaries to the south. It is also within easy reach of many Yorkshire attractions including the fabulous Yorkshire coastline which is less than an hour by car. All told, there's plenty of offer for both coarse, game and sea angler.
Ideal for anyone looking for a relaxing rural home-from-home break, Derwent Oaks has a 12 month season, is pet friendly and has an on-site restaurant and bar which is open from Fridays to Sundays.
Several styles and size of lodges available
The lodges are available in different styles and sizes and have two bedrooms and are luxuriously equipped with modern appliances and furniture.
For more information and photographs about Derwent Oaks Lake and Country Park read our in-depth feature on the exciting new opportunity at https://www.fisheries.co.uk/anglers-can-buy-a-home-from-home-with-a-lake-of-their-own/
Find out more
For further details including availability and pricing please complete the enquiry form below.
Want to get the latest properties?
If you would like to receive updates and notification on when new properties come to market, then why not sign up to receive our regular email
Want us to help you sell your property?
Do you have a property or fishery that you would like to list on this page? Just get in touch with our team now