Spring Rock Fishery
Two-and-a-half acre specimen carp lake and similar sized day-ticket pleasure lake in stunning setting with anglers' pods and caravan site.
Key facts about Spring Rock Carp Fishery
Mirror and common carp to 32lbs
Majority of fish between 14lbs and 30lbs
Limited to six anglers at a time
Waterside log pods with fridge, heater and TV
Nets, cradles and slings provided
Attractive day-ticket pleasure lake
Exclusive whole lake hire available
Adults only site - no children
Caravan park with electric hook-up and water
Spring Rock – big carp in stunning surroundings
To be found in stunningly beautiful and remote surroundings just off the A44 near Llandrindod Wells, Spring Rock Fishery comprises a two-and-a-half acre clay bottomed specimen carp lake and a similar sized pleasure lake which is available on day ticket. The caravan site is ideal for caravans, motorhomes and camper vans with electric hook-ups and water on the pitches.
Wi-fi throughout the site
Spring Rock is unusual in that a Wi-fi signal is available throughout the site. There are also modern and clean Ladies and Gents toilets on site.
If you are looking for an attractive adults-only fishery in the middle of remote Welsh countryside where angler numbers are restricted to a maximum of six at any one time on the Specimen Carp Lake, Spring Rock fits the bill. There are three lakeside log pods and two regular bivvy swims which gives everyone plenty of room and their own section of water.
Modelled on one of the Celtic Lakes fishery waters, the main lake is available for minimum bookings of 24-hours. The specimen lake at the fishery opened for angling early in 2008 and has matured nicely since then. The lake was drained and remodelled in 2018/2019 to remove the underwater features and excessively deep areas to produce a smooth and even bottom two metres deep over much of the lake. After refilling it was restocked with 70 of the original fish between 14lbs and 30lbs to give a mix of commons and mirrors together with a few of the larger koi and about 20 of the larger crucian carp to 2lbs.
Although there are some 10 pegs around the lake only half a dozen anglers are permitted to fish the water at any one time.
New day-ticket Pleasure Lake
The two-and-a-half acre Pleasure Lake was added in 2019 and holds a good mix of commons and mirrors to 14lbs as well as a good head of beautiful crucian carp to 2lbs 8oz. This water is available on day tickets.
Set in a delightful and remote setting, Spring Rock has three spacious new lakeside log pods, a car park and modern and clean toilets and showers. The three log pods can sleep two people comfortably and come equipped with a TV, fridge and heater and offer more luxury than a regular bivvy while still retaining a natural feel.  The fishery's remote location means that anglers looking to stay several days should go well equipped with tackle and everything they need for food and cooking, although there there is a petrol station with shop and cafe in nearby Crossgates and plenty of shops, takeaways and a small tackle shop in Llandrindod Wells.
To ensure bio security is maintained, landing nets, cradles and slings are provided for all anglers. Pellets which are used to feed the carp are available for purchase on site at £2.00 per kilogram.
Sample the delights of Spring Rock Specimen Lake
Spring Rock Specimen Carp Lake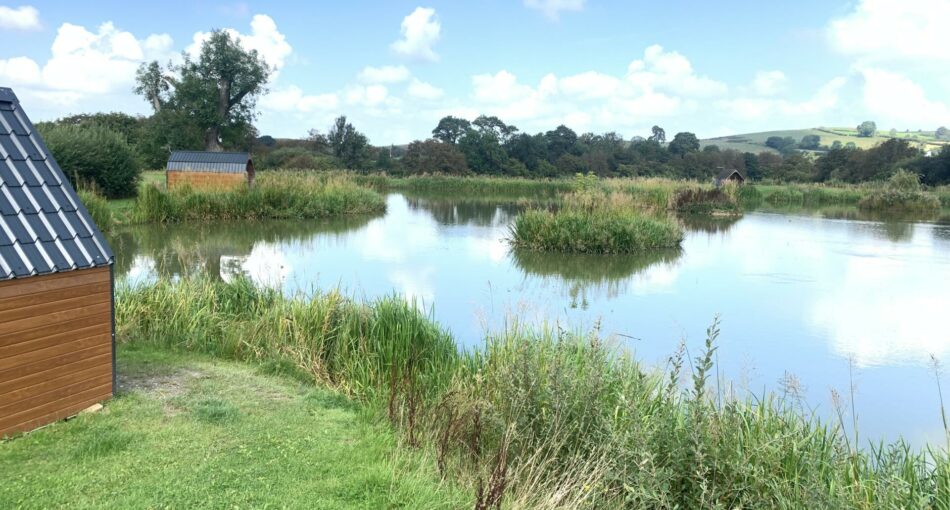 Spring Rock Lake offers plenty of bankside cover and has three central islands which give anglers features to fish to. Depths range from just a few feet in parts of the margins to between five and seven feet further out.
Although there are about 15 natural grass bank pegs around the lake, visitor numbers are restricted to six at any one time to prevent anglers encroaching into neighbouring swims or over casting someone else's line.
Popular pegs
Although there are no particular hot spots, popular pegs are those along the entrance bank, along the left hand side as you approach the water and along the far bank, all of which give good access to the islands and the channels between them. The bay to the right as you come onto the fishery is slightly shallower than the remainder of the lake, although it often produces good results particularly in warmer weather.
The water around the majority of the margins is quite deep at between six and seven feet off the entrance banks to eight feet along the left hand bank and the bank opposite the entrance. The bottom then shallows up to about six feet in the main body of the lake and to about four feet in the channels between the islands.
All techniques work well
Anglers going after the commons and mirrors fish both modern and traditional carping techniques, fishing either in open water or towards the islands and the channels in between them. However, hooked fish need to be steered towards open water to prevent them bolting for sanctuary through the channels and going behind the islands where they are almost impossible to get out.
Another feature of Spring Rock is that whilst boilies are a popular bait it is essential that they are good quality or they will simply be ignored. Ten to 15mm Mainline, Cell, Nutrabaits and Trigger all produce good results with spicy baits appealing to the fish. The fish also take readily on 6mm, 8mm or 10mm light coloured carp pellets.
Anglers should note that halibut pellets and trout pellets are not allowed and that only barbless hooks can be used, with most anglers fishing a Size 8 or 10 to a 12lb line and running leads.
Spring Rock is regarded by some anglers as a challenging water with the fish reacting best to a stealthy 'one bite at a time' approach: a single pva bag filled with pellets and cast tight to one of the islands often produces but anglers should not ignore the margins – the Spring Rock carp are often taken down the inside.
Spring Rock Pleasure Lake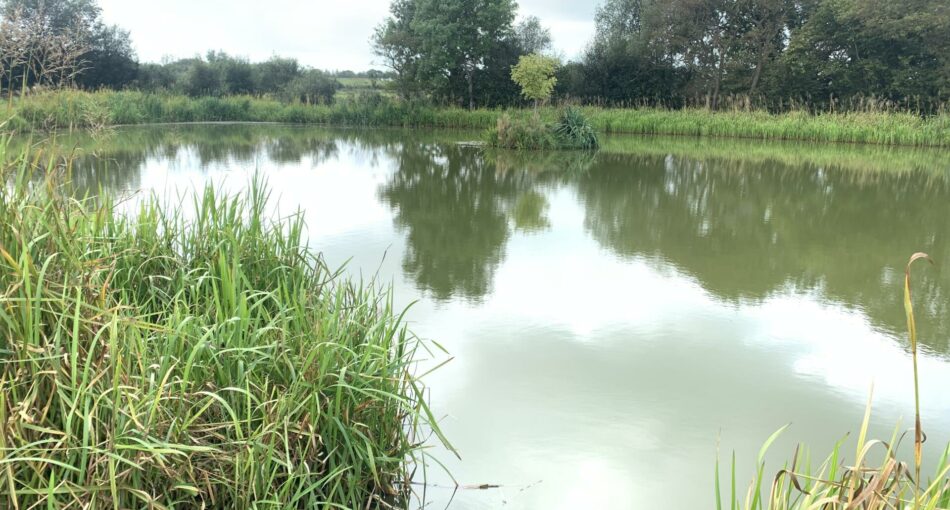 At two-and-a-half acres in size, Spring Rock's rectangular shaped day ticket Pleasure Lake has four islands along its spine and a bottom which gradually slopes to a maximum of six feet.
Opened in 2019, it is stocked predominantly with common and mirror carp to 14lbs but averaging a healthy 5lbs to 8lbs as well as a large head of crucian carp to 2lbs 8oz and averaging about 1lb. There are also a good number of silver fish including roach and rudd.
The fishing is from grass pegs along the bank nearest the entrance track and caravan park. As there are no pegs along the reed-lined far bank anglers, will need to use ledger tactics if they want to fish these swims.
Float fishing is popular for the crucians
Float fishing is probably the most common method used on Pleasure Lake, particularly for the crucians, with anglers fishing maggots likely to catch a decent bag of mixed fish in one sitting. As owner Andrew Griffiths says: "If you can't catch on here using maggots you can't catch anywhere!".
Other popular baits include sweetcorn, bread, luncheon meat and soft hooker pellets.
When fishing Pleasure Lake it pays to use fairly light tackle, particularly if you are after the crucians. Because you don't need to cast long distances a fairly light float and Size 16 hook to 4lb line is strong enough for even the bigger carp. One tip, though, is to play the fish in open water before trying to bring them to the net. The pegs are cut into channels between the reeds and lively fish will make a bolt for cover as soon as they see the net.
Prices
Spring Rock prices are for a minimum stay of 24-hours with the exception of Pleasure Pool. Because only six anglers can fish at any one time it is advisable to book in advance. Whole lake hire is available with or without pods for individuals or groups of up to six anglers.
Specimen Pool

24-hour bivvy ticket
24-hour ticket including Pod - one person
24-hour ticket including Pod - two anglers sharing
Guests/visitors (per 24-hours)
All anglers

£20.00

£55.00

£70.00

£5.00

All anglers
£20.00
£55.00
£70.00
£5.00
Pleasure Pool

Day Ticket only
All anglers

All anglers
£10.00
Whole lake hire - Specimen Pool

Per 24 hours

Per 24 hours
£100.00
Pleasure Pool

Pleasure Pool
Not available
Caravans, motorhomes and campervans

Price (for two adults) includes electric hook-up

Price (for two adults) includes electric hook-up
£22.00 per night
Rules and conditions
Only cradles, nets and weigh slings provided are to be used – damage bond deposit required on arrival £50
No fires or BBQs on grass
No floating baits/surface fishing
Two rod limit
Anglers must have an Environment Agency rod licence.
Anglers must have a carp care medi-kit and treat hook holds, damaged scales, etc
Fish to be returned to the water ASAP!
Ensure all nets mats slings are wet prior to use
Keep fish over cradle for photographs
Barbless hooks only
Alarms must have remote receivers
No keep nets
No fixed leads or fixed rigs
No sacking of fish
No trout pellets or tiger nuts
Fish to be kept at ground level at all times
Stay close to rods at all times, unattended rods will be reeled in
Only booked guests/visitors allowed
Anti-social behaviour will not be tolerated, please keep noise to a minimum.
No alcohol or drugs allowed on site
Radio/TV allowed on low volume
No litter
Please do not throw unused bait in margins and clean dropped/spilled bait
Rules may change at any time please check upon booking
Bailiff's word is final.
Arrive without the required items above and you will not be fishing (no refund offered!)
How to get there
Spring Rock Fishery is just a short drive and well signed off the main A44 Worcester to Aberystwyth road
If traveling on the M5 north or south, leave the motorway at Junction 7 and follow the signs for Hereford and the A44, passing over about six roundabouts until you see the sign for Bromyard A44
Stay on the A44 all the way past Bromyard travelling through Leominster and then across country towards Llandrindod Wells
After passing through Llandegley take the first lane to the left after passing the Bulk Household Waste Centre on the left. You will see a banner for the fishery on this junction
The entrance to the fishery is about a quarter of a mile down this narrow lane on the right
Get directions on Google Maps
Comments